The Macallan distillery is on an absolute mission so far this year. Just last month it announced its new ultra-modern and structurally incredible $255m Speyside distillery, and, to kick off June, is launching its oldest and rarest commercially available poison to date.
The 72-year-old single malt was distilled during the 1940's post-war years and subject to an unrivalled maturation process, finding itself some seven decades later within what The Macallan have labelled "The Genesis Decanter."
So the two big developments in the Scotch whisky brand go hand in hand, it seems, with the 72-year-old's decanter and presentation box molded from design cues found in the new distillery. This Burgess display case, to be completely honest, is almost as intruiging as the whisky, championed by French luxury glass designer Lalique and enclosed by ultra-refined timber from cabinet makers NEJ Stevenson (cover image).
---
---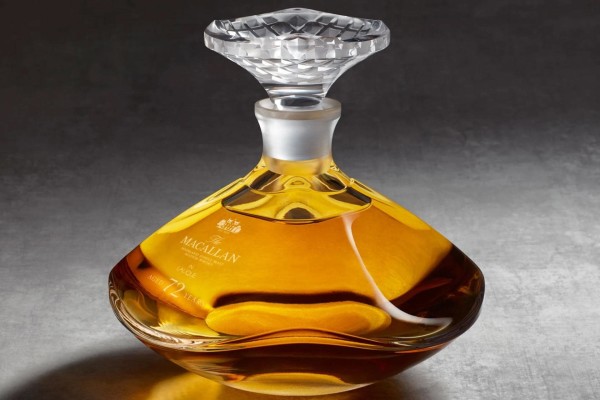 Only 600 bottles of The Macallan 72 will be made available, and Master Distiller Nick Savage spoke of the esteemed nature of this particular drop.
"For its seventy-two years of maturation, the deceptively light color hints that this is not an ordinary single malt. Reminiscent of a time gone by, it carries an exquisite balance of strong, sweet oak with the peaty spirit shaping its refined character. The whisky delivers surprise after surprise as aromas of fruit follow distinctive hints of peat, all the way through to the back of the mouth where it is finished off with a lingering hint of rich fruit and oak. Although delicate throughout all aspects, it provides an intense experience which acknowledges the distinguished history of The Macallan."
One of the limited-release single malts could be yours for roughly $80,000 AUD, with it being a safe bet that it'll only appreciate as time goes on, as did these 1920's Macallans that recently became the most expensive whisky ever sold.