Whisky – sorry, let me rephrase – good whisky is all about the long game. Until some hare-brained genius decides to meddle with the very fabric of reality and actually create a time machine, there's simply no skirting around the years required to age a decent drop. No one know this better than Young Henrys and Tim Claydon, who are finally offering up their 18-year-old Australian whisky: Ramblin Man.
The story of how this entire release came to be start with Tim's father, Bill Calydon – motorcyclist for the Australian Navy, avid whisky lover, and Newtown local (in that order, apparently). In the year 2000, Claydon got his hands on two casks of freshly-distilled Tasmanian whisky; one for each of his children.

After the elder Claydon passed, Tim – who was then the owner of iconic Newtown venue The Vanguard and a "close friend of Young Henrys" – decided his inheritance should be something shared and appreciated with the world. What we now recognise as Ramblin Man found its way to the YH headquarters in 2016, where it was "lovingly" transferred into Australian Apera Sherry casks for the final stretch of aging, and bottled two years later. Which brings us to present day.
Young Henry's Ramblin Man whisky has a nose of right citrus, pekoe tea, orange zest, burnt brown sugar, vanilla custard, raisin, walnut, and honey. Featuring a balanced palate of sweet malty, cereal notes, and orange marmalade upfront through to chewy caramel and French oak, it's finished with candied lemon peel and Leatherwood honey. The sweet spices and fruity viscosity apparently ensures a "thick, chewy, oily, and long finish."
---
---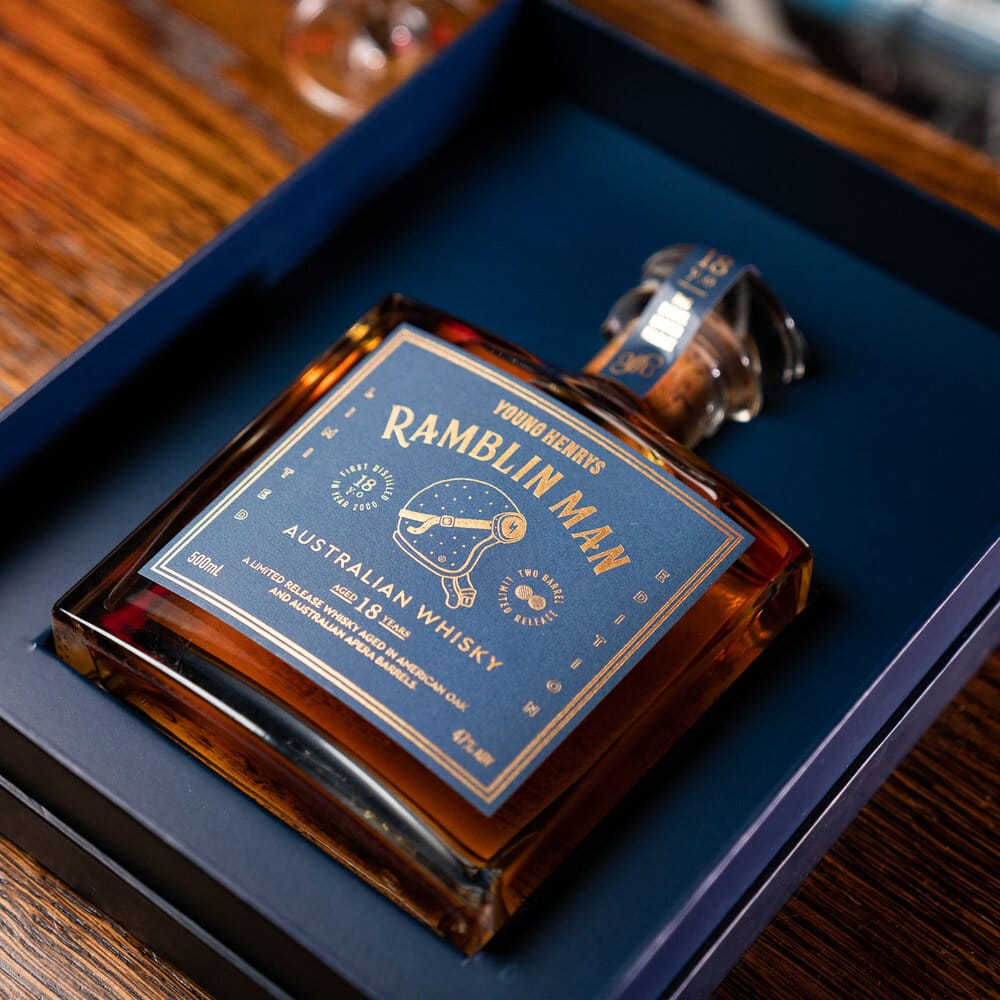 RELATED: Drake's Whiskey Is Now Available To Buy In Australia
"Ramblin Man has been a really interesting and unique project for us and has now spanned many years," says Oscar McMahon, Co-Founder of Young Henrys.

"It is such a pleasure to have been able to work with such a refined and beautiful spirit, especially when there is the added weight of a family story intertwined. I am really happy that the two barrels of this whisky are now married and will shortly be seeing the light of day."
"The Ramblin Man Whisky will forever hold a place in my heart as it will always bring me wonderful memories of my father and his passion for whisky," says Tim Claydon.

"It is a privilege to have such a high-calibre Whisky named in his honour."
Young Henrys has limited its Ramblin Man whisky to just 381 individually numbered bottles. Given the sheer scarcity, anyone interested in sampling the Claydon's 18-year-old will need to cough up $450.
Best get in quick while there's still stock kicking about.