If there was any kitchen appliance that has rocketed in popularity over the past few years, it's the not-so-humble air fryer. These hefty, bucket-like air frying devices are now an essential fixture in any modern kitchen, running through a list of benefits regarding both health and convenience to help the useless and the experienced alike pump out pretty much anything that requires baking, re-hydrating, roasting, or re-crisping. The demand for air fryer ovens has led to plenty of choices when trying to land on the best air fryer for you. That's where BH slides in to help, with this handy buyer's guide to all the air-fried questions you could possibly have.
Despite its ubiquity, there are still plenty of people out there that are not quite sure what an air fryer is, what an air fryer does, and what you can cook in an air fryer. Some blokes clearly don't even know how to spell 'air fryer'… 'air friars' gets a decent amount of searches each month.
Whether you think of them as turbo-charged convection ovens in curvy bucket form (reasonable) or a whole new category of countertop cooking altogether, the only thing you really need to take away is that an air fryer is a viable alternative to an oven, a healthier alternative to deep-frying foods, and a relentless time-saver in the kitchen.
---
---
---
How Does An Air Fryer Work?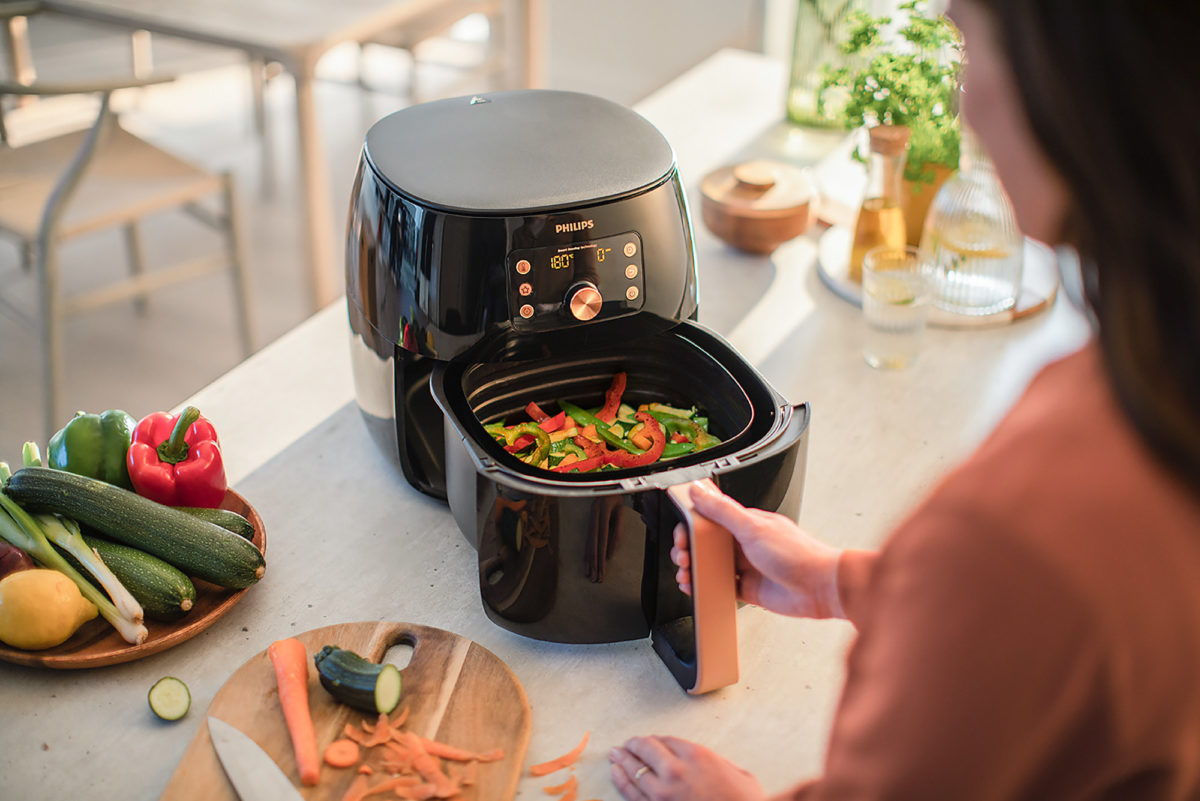 An air fryer shares the same function as a convection oven given it uses a fan to circulate hot air around food. The most important differences are the reduced size, which means a higher temperature is reached faster, and the design with features like a perforated tray to help heat circulate faster. As such, cooking times can vary greatly between an air fryer and a convection oven – important to note if you're planning on following a recipe that's been written with a convection oven in mind.
The original Philips Air Fryer patented a specific function called Rapid Air Technology in 2010, introduced to cook great tasting food with as much as 80% less fat. It's all about how hot air is circulated around the food while it cooks in the basket, aimed at cooking evenly to achieve that fried textural finish on foods with little to no oil. It does this in a fraction of the time it'd take in a conventional oven.
Even though Philips is the only brand that features Rapid Air Technology, they all more or less do the same thing. There's a heat source in the top section of an air fryer – depending on specific design – that usually works with a large fan to circular hot air evenly over food. This design helps food cook quickly, while perforated trays help quicken airflow and the smaller chamber sizes help with higher heat. The rapid circulation helps make the food crisp in a similar way to deep-frying, just without using much oil.
Air fryers are often confused with traditional frying methods, so it's important to note that, despite the name, air frying isn't actually the same as frying food. You are placing the food in a perforated basket and the air fryer is blowing hot air around it with a force substantial enough to cook and brown the surface of the food with a convection effect. That's the long-short of how these things work.
However, because air fryers can reach high temperatures at a very rapid rate, there is a greater risk of actually burning the food inside. That's why not all air fryers are made equal, and with some of the best air fryers to buy you'll find various other features like adjustable temperature control, smart sensing technology, and automatic shut off, all designed to help air fry as effectively and efficiently as possible.
RELATED: These Are The Best Coffee Machines In Australia For Home Baristas
---
Our Picks For The Best Air Fryer In 2022
Philips Airfryer XXL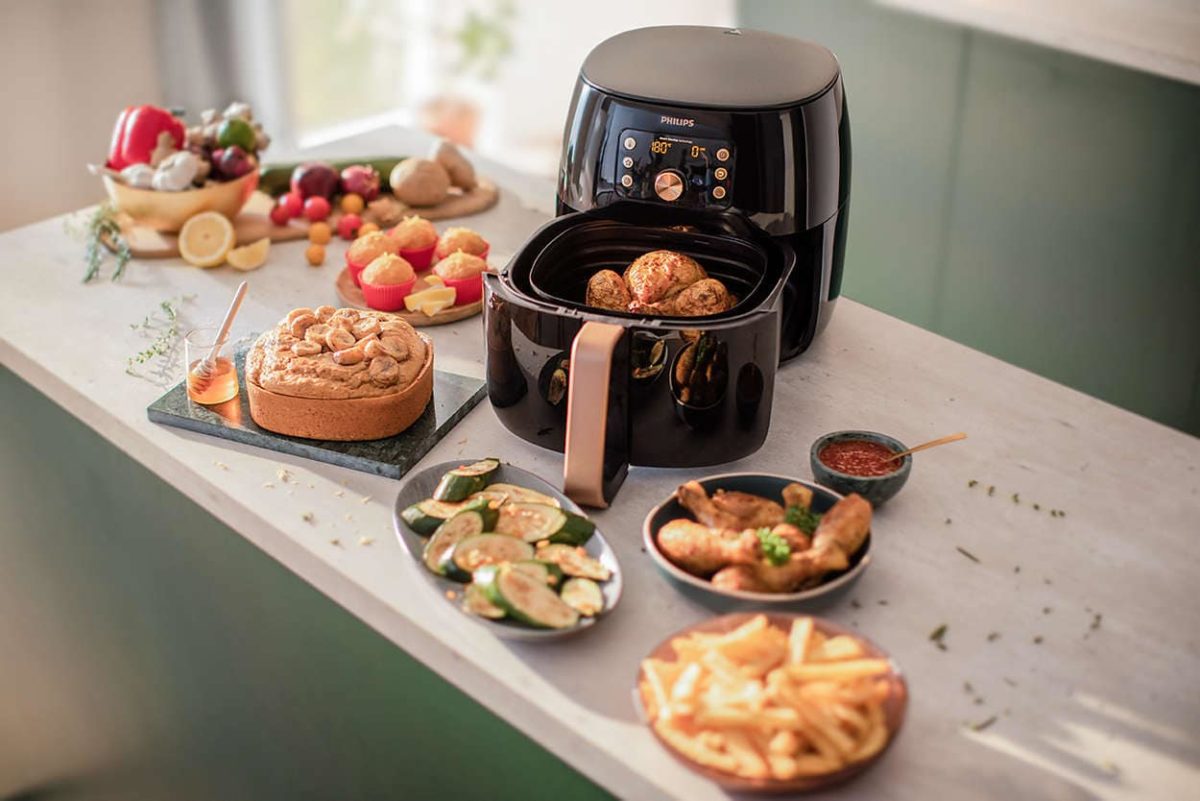 If you're looking for a new air fryer and price is not an issue, your top pick should be the Philips Airfryer XXL Premium. The primary reason is the size, with a 7.3-litre capacity meaning you could cook up a whole roast chicken or handle those hefty bags of chips in one go. Most of the complaints about air fryers online see to point towards the limited capacity, so a model like this goes a long way in solving that issue.
---
---
With all parts being dishwasher-safe, it's easy to maintain this large capacity air fryer despite its imposing size.
Philips also pack a bunch of technology into their flagship airfryer, like Smart Sensing technology that adjusts the time and temperature according to different pre-sets for different food types. A 'keep warm' mode is also included so you can sync all your cooking methods for better pacing in the kitchen, as well as a Twin TurboStar design for enhanced performance so you can cook some foods with up to 90% less fat.
It's the only air fryer that makes sense if you've got the cash. Although do note that you'll need to fork out a bit more if you want to make the most of your new air fryer – Philips make numerous accessories like a non-stick double layer rack and a basket divider.
If this high-end device is too expensive, and large, than what you'd need, go for the Philips Daily Collection Airfryer, which is a slimmed-down and more straightforward version that strips away the extra technologies but keeps the adjustable settings.
Capacity: 7.3L
Max Temperature: 200°C
---
Ninja Air Fryer Deluxe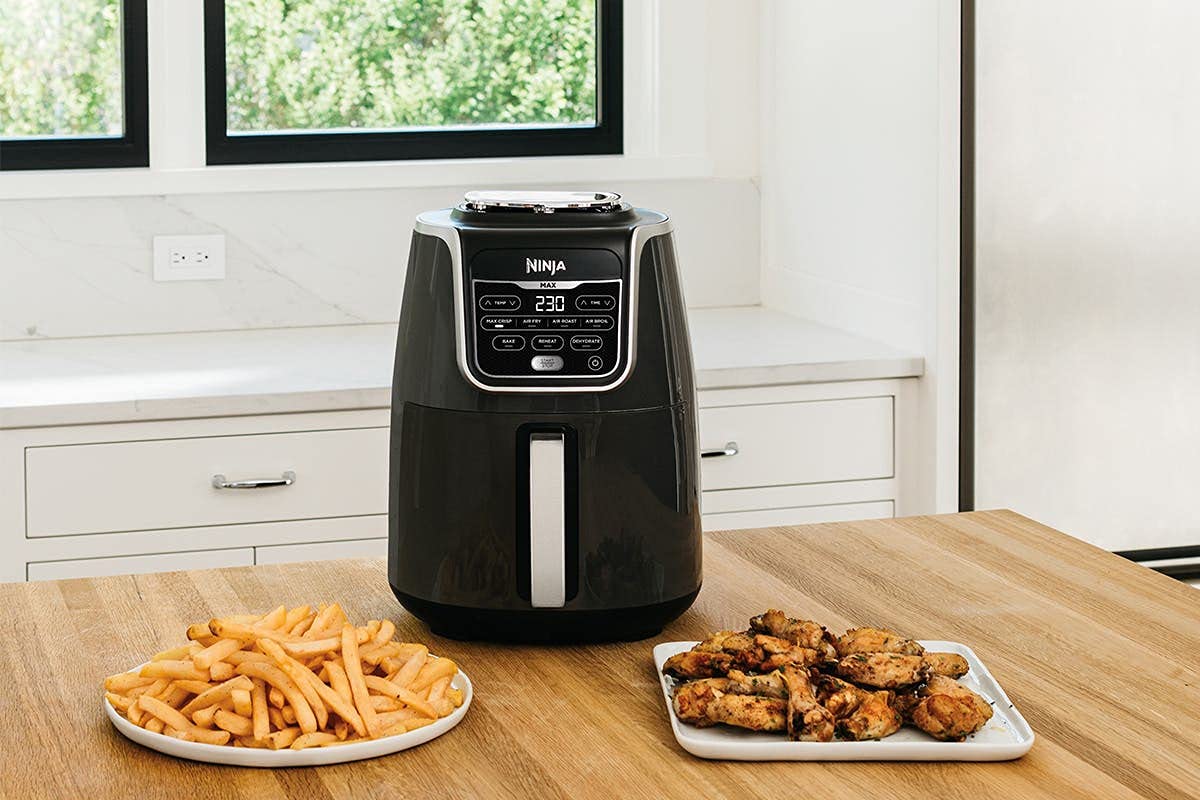 The Ninja Air Fryer Deluxe (also known as the Ninja Air Fryer Max) keeps things nice and manageable with a 5.2-litre capacity so you can prepare big batches of food at once. That's enough for a 1.4 kg bag of French fries.
A wide temperature range and superior speed is the main reason to choose the Ninja Air Fryer Deluxe. The primary feature is a MaxCrisp Technology which delivers 240-degrees of superheated air in the ceramic coated basket to cook food up to 50% faster than your typical fan oven. On the bucket you'd find six customisable cooking functions to help with automation, with options like max crisp, air fry, air roast, bake, and dehydrate.
Capacity: 5.2L
Max Temperature: 240°C
---
---
---
Instant Pot Vortex Plus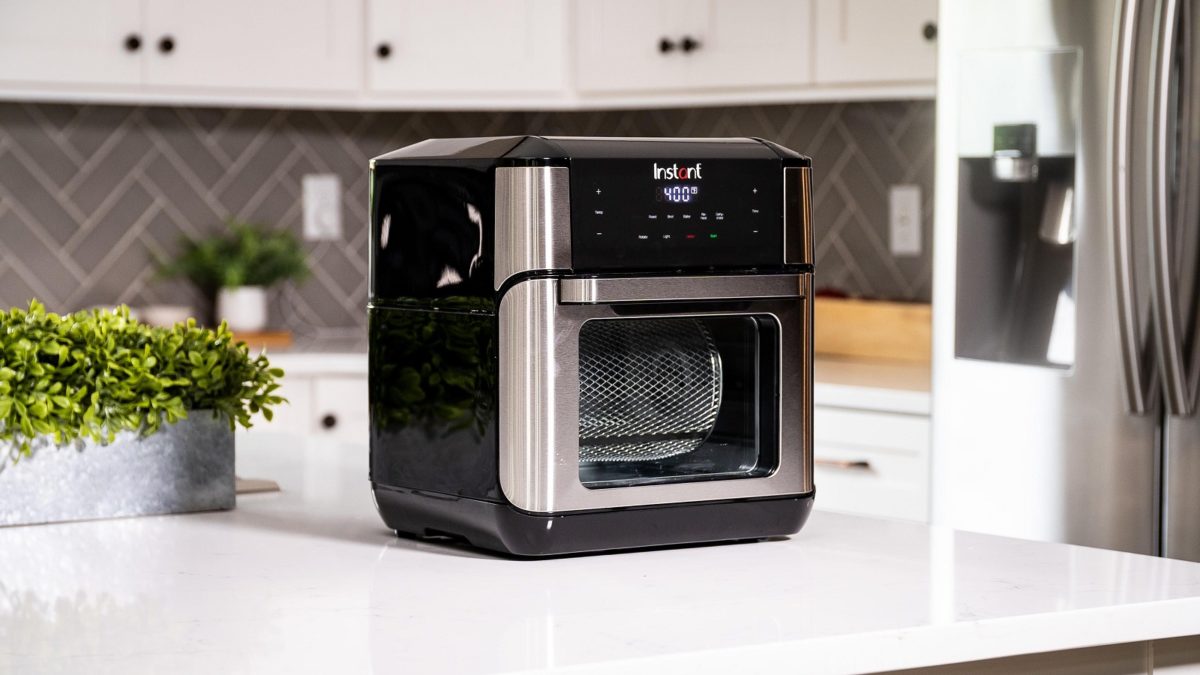 The Instant Pot Vortex Plus puts in some serious work when it comes to the best air fryer you can buy in Australia. With a hefty 10-litres of capacity and seven smart programs, there's not much this top-rated air fryer can't hammer.
The distinction here is an option to rotate for rotisserie-style cooking that would be ideal for cooking crispy potato fries, chicken wings, and roasted vegetables. Design is also a nice bonus here, featuring a more squared stainless steel body as opposed to a rounded one, giving you more cooking space in the basket.
Capacity: 10 L
Max Temperature: 200°C
---
Kitchen Couture Digital Air Fryer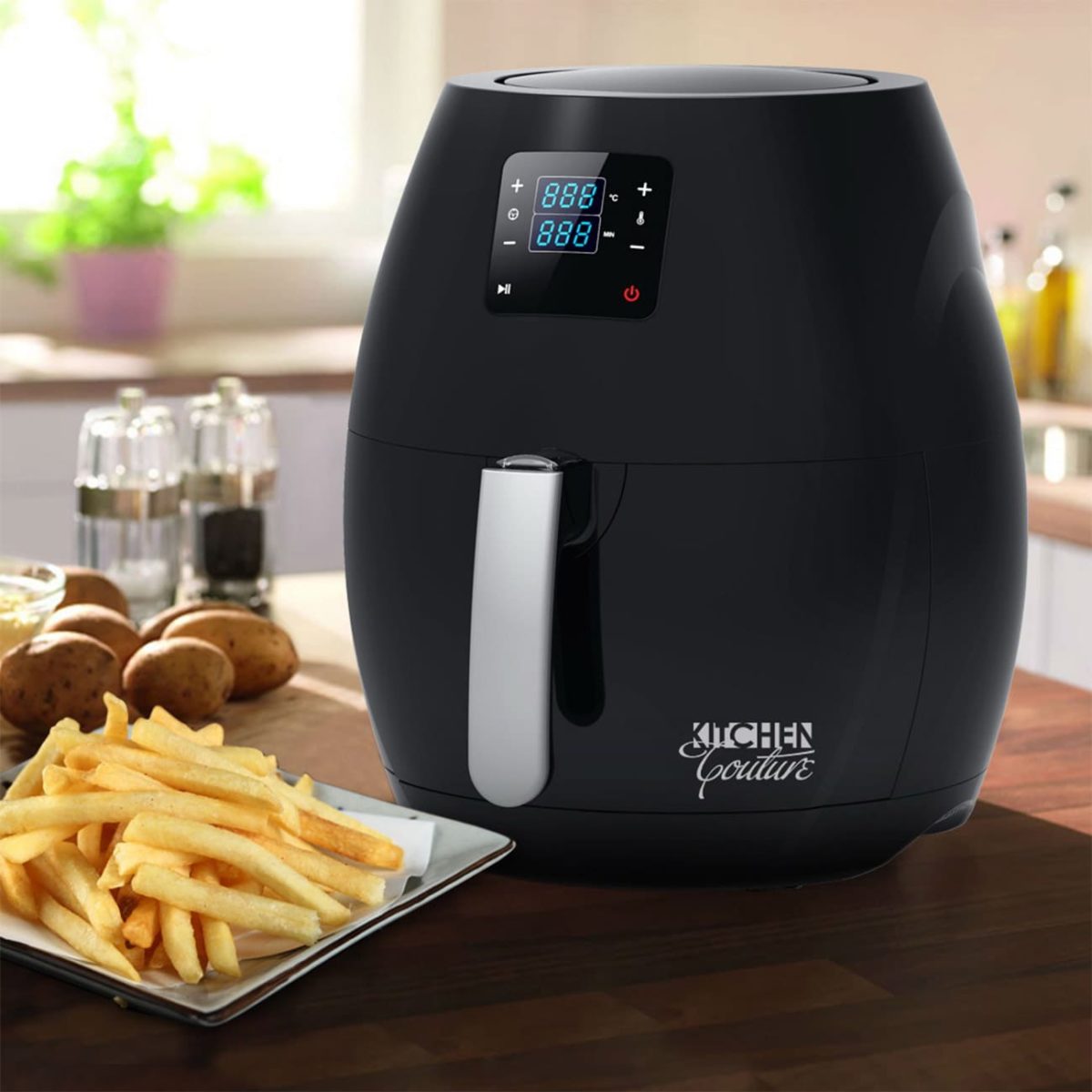 The Kitchen Couture Digital Air Fryer is all about user-friendliness, featuring one of the better interfaces of any air fryer. The touch screen can quickly heat the appliance up to 200-degrees, getting the 7-litre basket nice and hot so you can heat food evenly across multiple cooking modes.
While it lacks the advanced technologies of the more expensive Philips Airfryer XXL, at a bit over $100 it makes much more sense to go for something like this Kitchen Couture appliance if you want to take advantage of the health benefits and convenience without committing to much spend.
Capacity: 7 L
Max Temperature: 200°C
---
Sunbeam DuraCeramic Air Fryer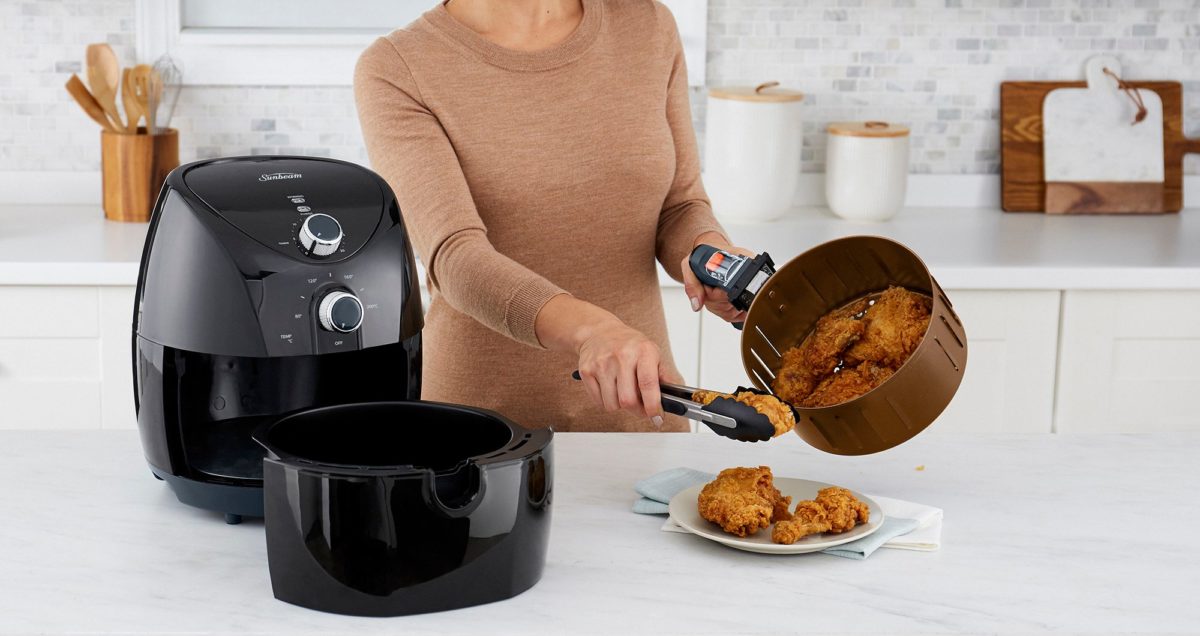 Sunbeam has always been a reliable brand when it comes to affordable, high-value kitchen appliances. The brand's flagship air fryer is no exception, with the Sunbeam DuraCeramic Air Fryer presenting a strong option if durability and heat conduction is your main concern.
The basket is quite small, with a capacity of just 3-litres, but that should still be more than enough to fit in a decent serving of veggies or fries.
---
---
Capacity: 3 L
Max Temperature: 200°C
---
Tefal Ultimate Fry Deluxe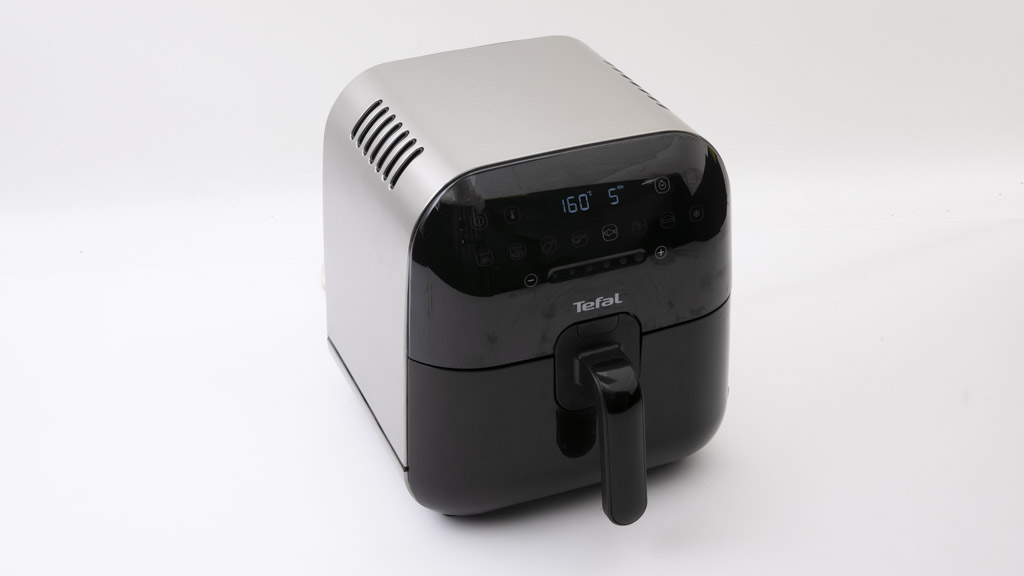 Tefal is one of the more reliable brands when we're talking about the best-reviewed air fryers on the market. Topping their range is the Ultimate Fry, with a 2-in-1 bowl system to maximise the 1.2 kg capacity of its basket.
Much like Philips, Tefal have patented their own specific airflow design, conceived as Air Boost technology, which helps wrap hot air around the basket evenly for optimal results regardless of what's being cooked.
The 60-minute auto-shutoff feature is very handy for anyone who may be concerned with having such a high-heat device sitting on their kitchen counter, but the real reason to gravitate towards this air fryer is not just the massive capacity, but eight cooking modes, tracking the usual – frozen fries, bake, defrost etc. – as well as two comfort modes, either keeping the food warm in the basket until the meal is ready to be served together or delaying the start to better align whatever you're working on in the kitchen.
If you want something more affordable, it's perfectly fine for the Tefal Easy Fry Classic which is one of the top-sellers for The Good Guys at $200. You will, however, have to make do with just 4.2-litres of capacity which is still more than some of the other options on this list of the best air fryers available in Australia.
Capacity: 1.2 kg
Max Temperature: 200°C
---
Ninja Foodi Dual Zone Air Fryer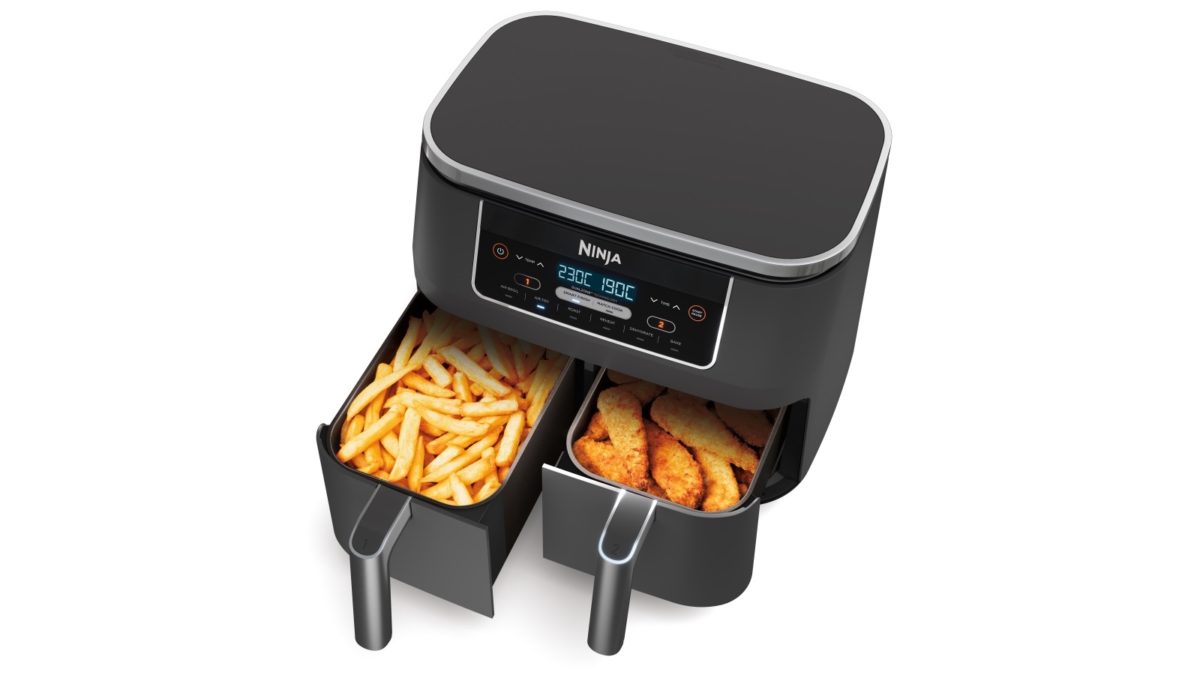 Much like the Tefal Ultimate Fry Deluxe, the Ninja Foodi Dual Zone gets by mostly thanks to twin cooking compartments that make it feasible to cook two different things at once with the same airflow. Chuck some veggies into one of the baskets while crisping up some French fries in the other – that's dinner sorted in a fraction of the time it'd take in the oven.
Together, the two compartments make up 7.6-litres of cooking capacity, which is more than enough to finesse a late-night dinner for two.
---
---
Capacity: 7.6 L
Max Temperature: 240°C
---
Kmart Air Fryer 3.2L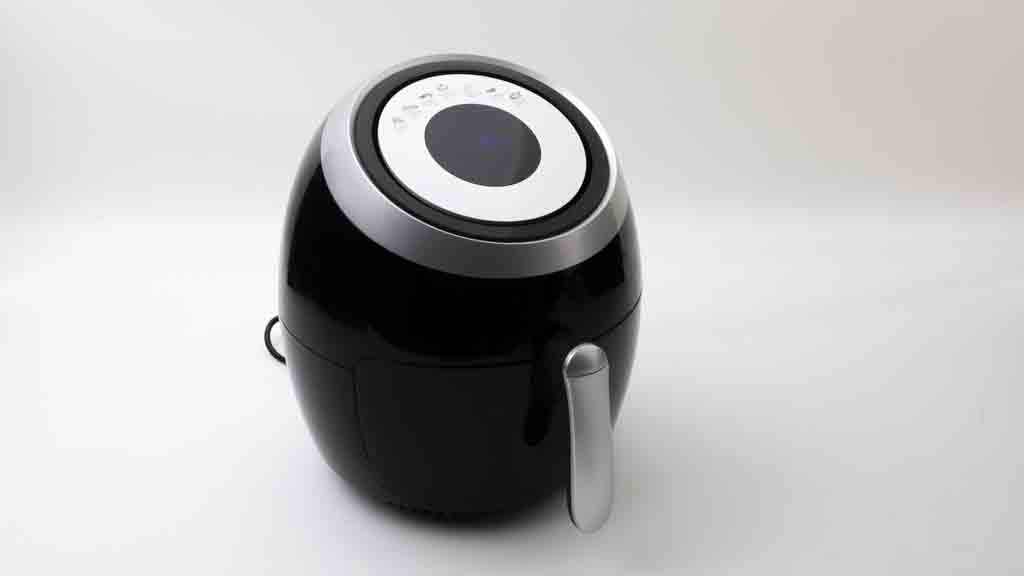 There's nothing particularly groundbreaking about this Kmart Air Fryer, but if cheap is the way you're kitting out your kitchen, then it's at least reliable enough to do what it says on the box. The Kmart Air Fryer may only come with a 3.2-litre capacity basket, but that should be enough if all you're using this appliance for is the grunt work of pimping up some French fries or streaming some vegetables.
Capacity: 3.2 L
Max Temperature: 200°C
---
Magic Bullet Air Fryer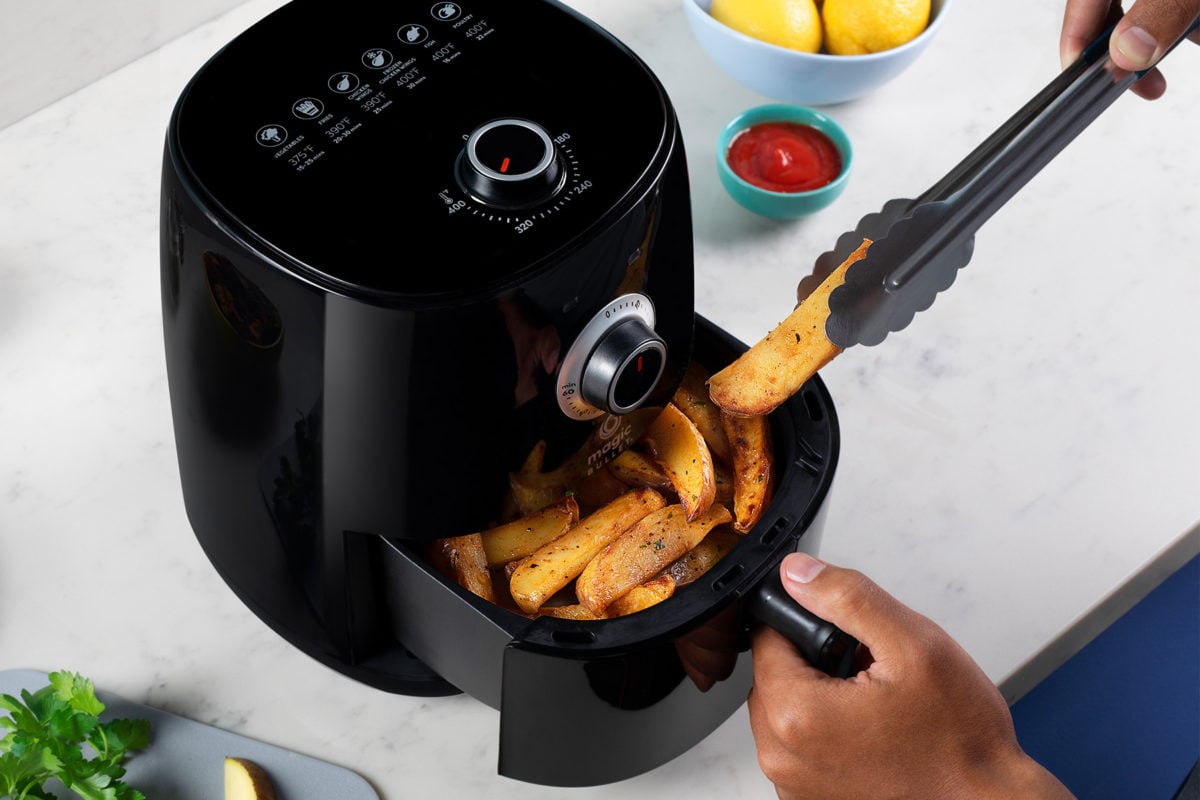 Much like the Kmart Air Fryer, the Magic Bullet from Nutribullet is as simple as they come and is the second most affordable option on this list. You'll only need to fork out $80 for this one, which is probably why it's the best-selling Air Fryer on The Good Guys.
That isn't to say you're compromising here. While you are sacrificing all the bells and whistles of something like the Philips Air Fryer XXL or the Tefal Ultimate Fry, the Magic Bullet actually has one of the best designs of its more expensive counterparts. The relatively slim body fits well on a kitchen counter and the simple temperature dial is a nice, precise way of controlling heat without having to hit physical buttons over and over again.
The biggest issue is the paltry 2.5-litre capacity, so you'll have to adjust your expectations if you think this appliance is going to help you handle those more hearty feasts for the family.
Capacity: 2.5 L
Max Temperature: 200°C
---
Nutribullet XXL Digital Air Fryer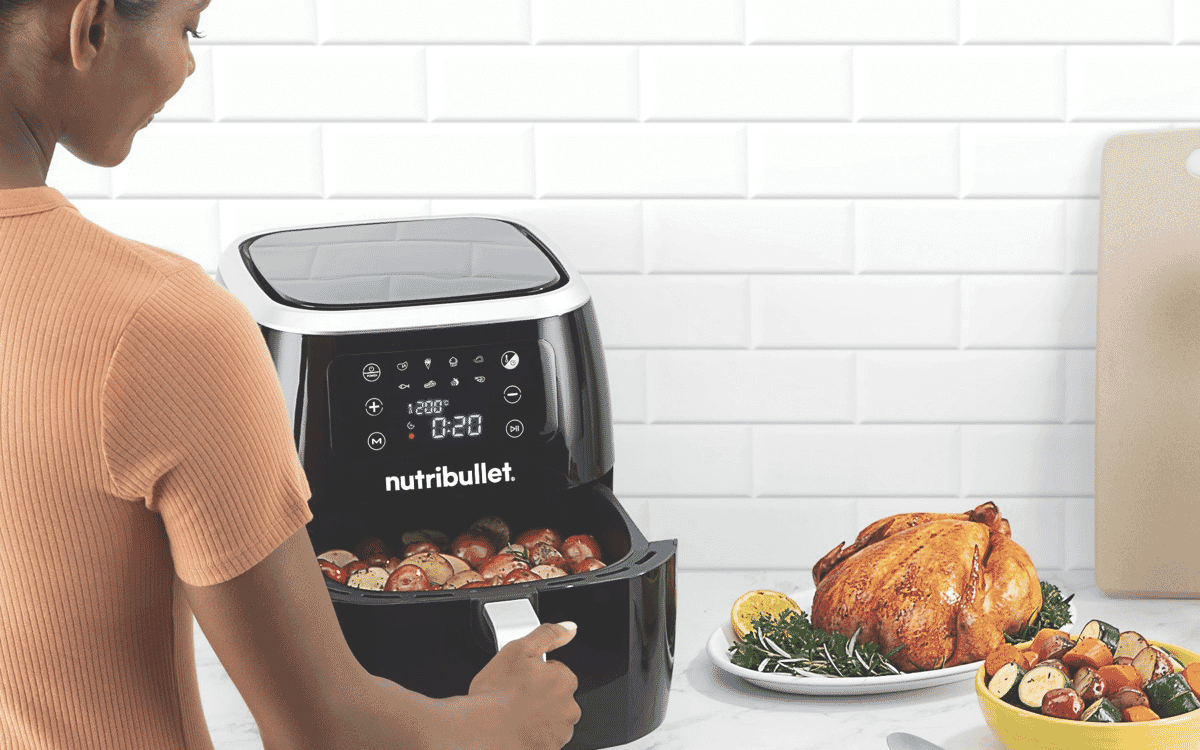 Most people are aware of Nutribullet as a brand, given the company makes the most reliable compact blender in the game. That kind of trust in Nutribullet should be extended to their surprising expansion into this market, which includes this 7L model that's capable of up to 200 degrees and has eight pre-set cooking modes.
---
---
The $279 price point is the most attractive thing here, sitting comfortably in the middle of a range but still offering enough space and features that could easily contend with the priciest options from the likes of Philips, Ninja and Tefal.
Capacity: 7 L
Max Temperature: 200°C
---
Is An Air Fryer Healthy?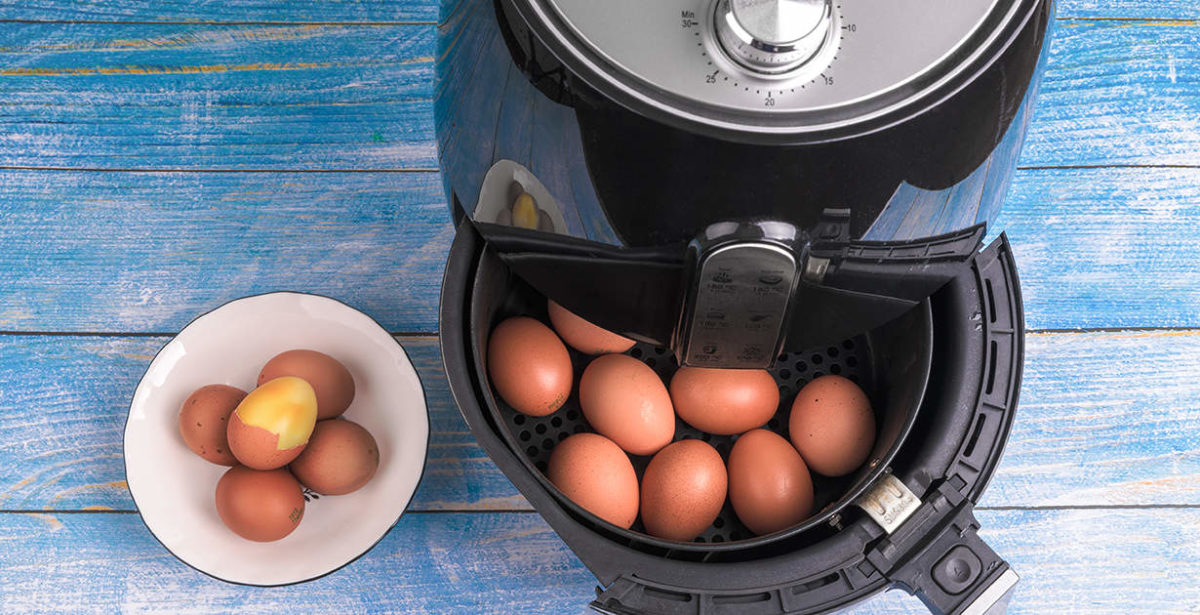 The health benefits of using an air fryer, as opposed to frying in oil, are numerous. The cooking method manages to cut some of the harmful effects of oil frying out of the equation, resulting in around 70-80% fewer calories and a substantial decrease in fat. This is because this appliance uses hot air to heat the food.
Reports that an air fryer doesn't use any oil at all are false, however. You'll need at least some oil for most of the food you'd cook in an air fryer, but the application would be a bit different. It's perfectly fine to use 1-2 teaspoons for most air fryer recipes, but instead of submerging the ingredients in oil, you'd simply brush them with oil or toss them in a tiny bit of oil before adding them to the appliance's basket.
Air frying foods requires minimal oil when compared to using a deep fryer, achieving similar crispy results without the bloated health consequences. That alone makes investing in an air fryer worthwhile, and that's before we get to the convenience and versatility of these fried food buckets (and yes, anything cooked in one of these appliances is still classified as fried food).
A study on air fryers and fried potatoes showed that air frying lowers the amount of acrylamide produced by up to 90%. This is the reaction that comes about when you fry potatoes (or other starchy foods) in oil. Research links acrylamide to greater chances of getting cancer. This is why more home cookers are increasingly opting for a large capacity air fryer to handle big batches of french fries, even if they don't use it for anything else.
Don't go thinking these appliances are entirely healthy though, there's a lot about this method of cooking that just can't avoid certain processes. One study showed that using fish in the air fryer actually raised the number of COPs (cholesterol oxidation products) produced. This is a substance, formed when the cholesterol in protein breaks down during cooking, that has been connected to coronary heart disease, cancer, and other diseases. Although this seemed to be offset when adding ingredients that can act as antioxidants, such as parsley and chives.
There are also other ways an air fryer can have health benefits just for simply being there. The convenience of having an air fryer means that you'd now have a separate, easy way for steaming vegetables. This makes it more likely you'd prepare a nice patch of veggies since all the other heat sources in your kitchen are available. And anything that introduces more vegetables into your diet without destroying nutrients is a good thing.
Air fryers are less likely to destroy nutrients so are generally better for healthy eating. Obviously, you're going to lose at least some nutrients, but the rate of nutrient depletion is slowed since vegetables are exposed to dry air in an air fryer – not moist air. Compare this to frying food in a deep fryer, which involves submerging food into a dangerously hot bath of oil, destroying nutrients quickly and absorbing oil into the food which ups saturated fats and calories significantly.
Other methods like boiling, poaching, and simmering are also pretty bad at retaining nutrients, given they involve cooking food in very hot liquids for a longer period of time. That alone should convince you to replace some of your most frequented cooking techniques with your trusty air fryer wherever possible. Less oil and more nutrients without compromising on satisfaction – you can't lose.
RELATED: 10 Best Pizza Ovens In Australia For A Backyard Slice
---
What Can You Cook In An Air Fryer?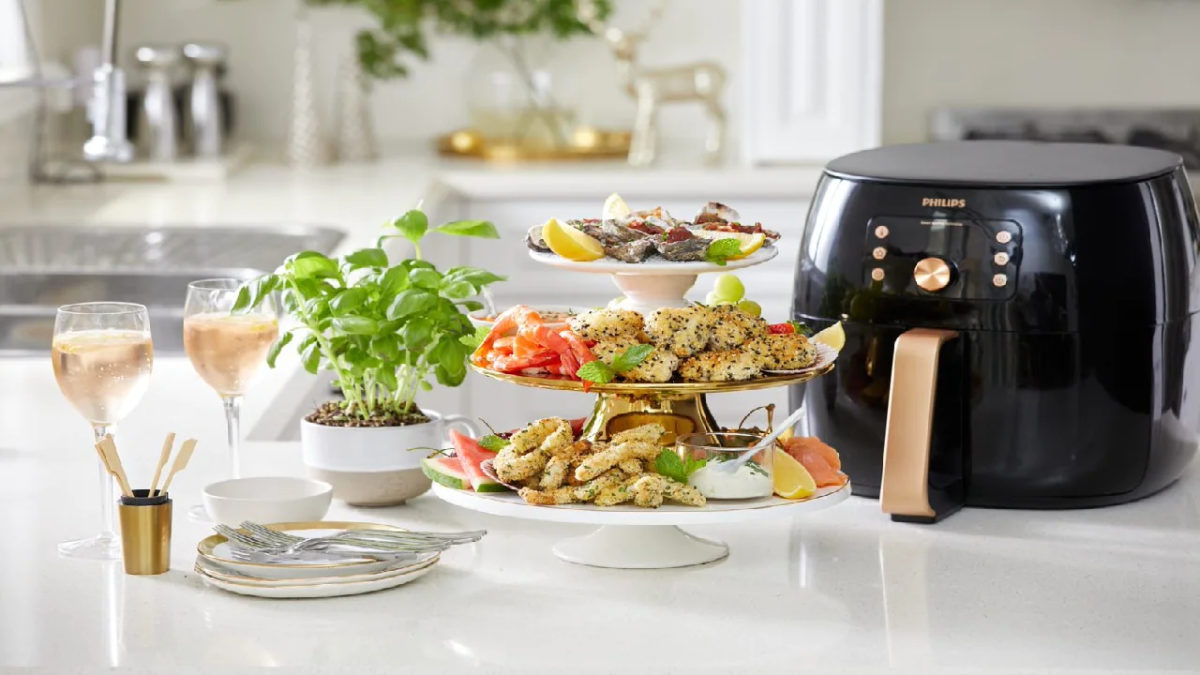 That depends on how advanced your air fryer is. The right air fryer for you depends on what you like to cook and what other appliances you already have in the kitchen. Some air fryers have baking functions to make dialling in the right temperature a bit easier, while others up the chamber capacity so you can even cook a whole chicken in the basket.
Most air fryers work best when you need to cook pre-fried frozen foods like your typical pizza rolls, chicken tenders, mozzarella sticks, and pretty much anything you'd deep fry. Any vegetables that you'd usually roast or grill also works well, especially something like brussels sprouts and potatoes.
If your favourite food can be cooked in an oven, it can be cooked in an air fryer.
Anything that needs to be re-heated tends to go well in air fryers. Take something like discarded Mcdonald's French fries. If you've let those salty boys chill in the open air, reheating them in the microwave will give you mushy chips. Use an air fryer, however, and you'll get that crisp back.
Other popular air fryer recipes range from pork and apple sausage rolls, potato kiev, fried rice, ice-cream balls, and even steak. Surprisingly, the latter can work quite well since the temperatures inside an air fryer are so consistent.
---
The Future Of Air Fryers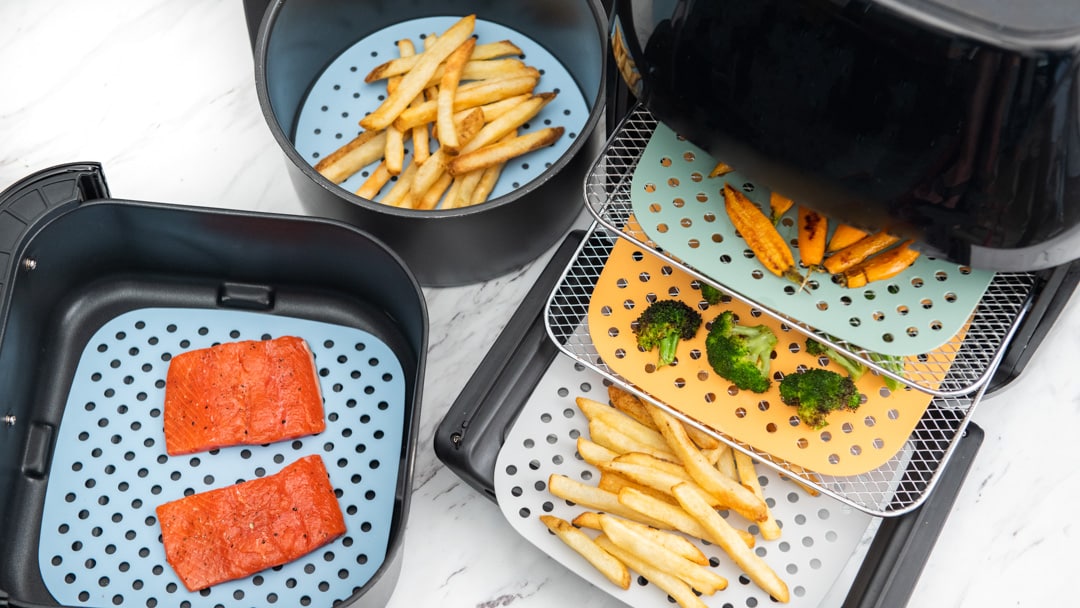 Back when the air fryer craze started bubbling in 2010 and shot up around 2018, focus has been solely on countertop air fryers. The appliance is slowly but surely evolving as demand picks up.
You can now get a Frigidaire Air Fryer Oven, which is exactly as it sounds – a full-sized oven with an integrated air fry cooking mode that uses a high-powered fan to circular hot air around the food at a higher speed than you'd usually get from a convection oven. This not only ups capacity, so you don't have to rely on a countertop air fryer for small batch cooking, but it eliminates the need to have yet another appliance taking up valuable real estate in your kitchen.
Also pushing the category in a new direction is the dual drawer air fryer, which slots in as the most popular air fryer in 2022. This obviously cuts capacity, but separates chambers so you can cook different dishes on different functions simultaneously. There are also a few rotisserie fryers that mirror the chicken and chip grills you'd pass by at a chicken shop, from brands like Chefman.
Most options you'll find on this list are also digital air fryers, distinguishable from manual air fryers with several pre-set cooking options so you don't have to play guesswork when it comes to temperature and time in order for you to cook food as efficiently as possible.
Many brands also now make various air fryer accessories, usually playing around with different tray designs to manipulate the way air circulates the food. Look for this to become a bit of a trend with the best air fryer brands given most owners become a bit too obsessed with their new appliance and look for new ways to make the most of it.
---
The Best Air Fryers To Buy In Australia – Frequently Asked Questions
What is the best air fryer to buy in Australia?
The best high-end air fryer would be the Philips Airfryer XXL, but the best affordable option would be the Magic Bullet Air Fryer.
What can I cook in an air fryer?
You can cook mostly anything in an air fryer that could be cooked in an oven, including a whole chicken, onion rings, French fries, and – if there's a baking function – cakes.
How does an air fryer work?
An air fryer works by circulating hot air and pushing it around food effectively so that you get an even crisp.