So you've cranked your traditional oven to the max, thrown in a pizza stone and waited for those blistering temperatures to work their magic and help you cook the best restaurant quality pizza possible. That's cool. But this labour-intensive, time-consuming way of kicking up your homemade pizza game is like taking the hard route to results that aren't even guaranteed. Even though you've got a pizza stone, your conventional oven is too weak to cook up a pizza like a pro. For that, you need to be looking for the best pizza ovens available – specialised, portable cooking chambers capable of the temperatures needed to crisp up the perfect pizza base each and every time.
A pizza oven may not be considered an essential addition to any home chef's DIY kits just yet, but it should be. No longer are they seen as slightly intimidating supersized features that need careful installation and maintenance; you've got plenty of portable pizza ovens on the market now from brands like Ooni and Gozney, as well as some other inventive ones and a few hybrids that also act as BBQ smokers and grills.
---
Do You Need A Pizza Oven For The Home?
If you really want to be pumping out quality pizzas, then yeah, you sure do need one of these fine appliances.
---
---
Your standard kitchen oven is only really capable of reaching up to around 250-260°C, which is just half of what you actually need to achieve the three essentials – perfectly melted toppings, fluffy and perfectly cooked inside, and crispy, charred crust – of a pizza each and every time.
It's not enough to just run around to try to find the best pizza in Sydney or the best pizza in Melbourne every night. If you want to up your game, you simply can't do without one of these. Fortunately for you. there are some very affordable options out there that get the job then, and there are also expensive premium ovens that'll do all the work for you so all you need is to get the base and toppings ready.
If you've got the extra kitchen space, then grabbing an indoor pizza oven is a good idea. Although the portable pizza ovens for outdoor use are generally going to be better. Indoor pizza ovens, like the Breville oven listed below, will usually be electrical/convection. And look, that's fine, but what you really want is the ability to use wood in any form, or gas with a separate gas burner.
If they are large enough, pizza ovens can also cook up a whole host of other foods like roasts, steaks, and stews. So you don't even need to have a hankering for the perfectly blistered dough to get much use out of that wood fired pizza maker.
---
The Top 10 Pizza Ovens For Restaurant Quality Pizza
Ooni Karu 16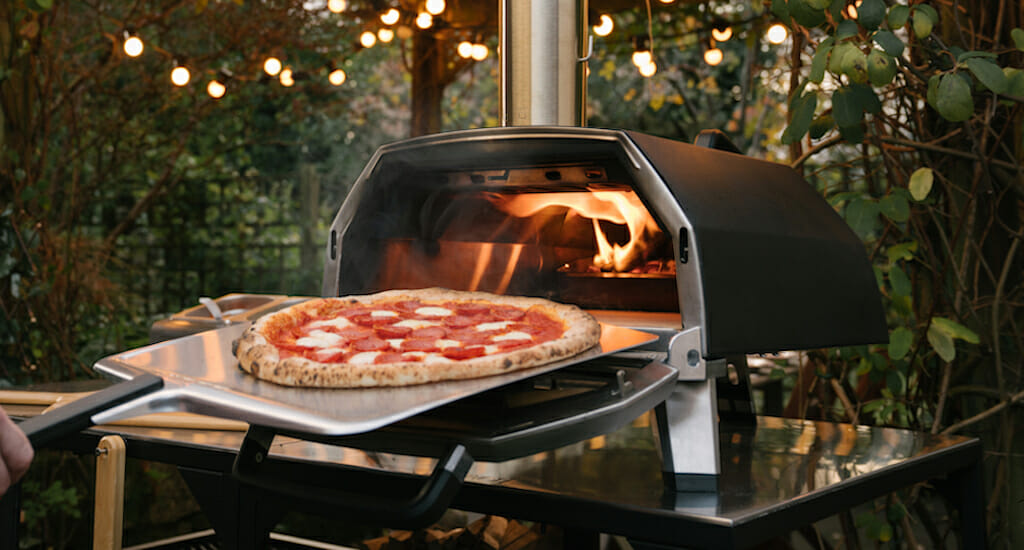 In the world of consumer pizza ovens, Ooni is by far the best-known brand alongside kitchen mainstays like Breville and UK oven specialists Gozney. Their latest product, the Ooni Karu 16 is so fresh on the market that it's still on pre-order, no doubt in high demand due to the fact that it's the first and only pizza oven to be recommended for domestic use by the highly authoritative Associazione Verace Pizza Napoletana.
Like the legendary (and legendarily affordable) Ooni Karu 12, the Ooni Karu 16 isn't just a wood fired oven, it's multi-fuel so you can cook with charcoal, wood logs, and – if you've picked up the separately sold Ooni burner – gas.
Although wood fire ovens are almost always the preference when it comes to puffing up a perfect Naples style pizza, due to the subtle flavouring from the wood and rolling flames, having the option to experiment with different methods is definitely a strong point.
---
---
Thanks to a new design, which now uses a hinged full glass oven door design with ViewFlame technology, the Ooni Karu 16 benefits from better temperature control and improved insulation. This helps the chamber reach a boss-level 500°C in 15 minutes. Theoretically, you could pump out a perfectly crisp 16-inch pizza in around 60 seconds without horrifying any of your Italian mates.
Other features include a mounted digital thermometer that displays internal oven temperature and, all things considered, a fairly portable body weighing approximately 28.4kg. It ain't light, but not as heavy as you'd expect from one of the best pizza ovens on the market.
Given the uptick in size, the Karu 16 pizza oven can also be used to cook up a great variety of other things, from flame-grilled steaks to fresh bread, making it an easy essential if you're building an outdoor kitchen for entertaining, or if you're set on taking this to the next camping trip.
---
La Hacienda BBQ Pizza Oven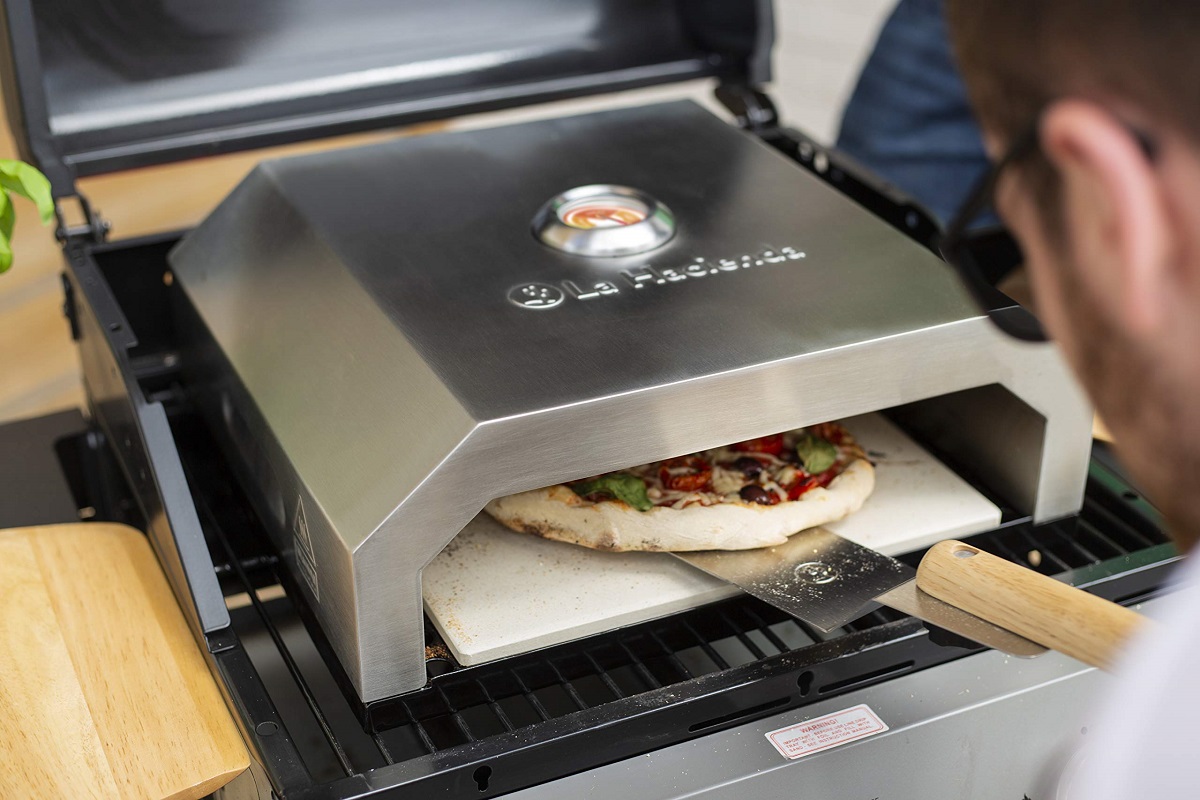 The La Hacienda BBQ Pizza Oven is a bit different to the other pizza ovens you'll find on this list, simply because you can't use it as a freestanding appliance. You'll need a big enough BBQ sitting under this ready-to-use pizza chamber. Simply put the La Hacienda on top, but make sure your BBQ is big enough to fit the 40 x 35 cm add-on first.
The benefit of this is that the La Hacienda BBQ Pizza Oven is more like a truly portable attachment for your existing BBQ, with the housing channelling the heat around the pizza so that the top and the base cook evenly, swirling around that dough to make efficiently cooking pizza that much easier. Having one of these in the back pocket will be extremely helpful if you want to turn those backyard BBQs into Naples-level pizza parties.
The solid La Haveidna BBQ Pizza Oven can fit neatly over your BBQs top grate and uses whatever heating elements your BBQ uses to fire it all up. There's a dial on the oven that indicates the temperature, splitting it between 'warm,' 'ideal,' and 'hot'. 'Ideal' is when you should slide in your pizza
This is a solid-feeling oven that instils confidence. The pizza stone slotted easily into the oven, which fit neatly onto the top grate of our barbecue and didn't move around.
As long as you're familiar with your barbecue, you should have no trouble. You put it on the heat and wait for the hand to reach the 'ideal zone' on the dial before sliding your pizza in, but how fast it reaches this state will depend on what kind of BBQ you're using in the first place.
---
---
You should be able to fit one pizza up to 25-30cm in the La Hacienda, which makes it slightly smaller in capacity than the popular Ooni Karu 12.
One of the biggest benefits here is storage. Since the La Hacienda isn't a freestanding pizza oven you can just store it in your kitchen like you would a big pot or pan. Although, you'll need to reserve quite a bit of space for the chunky chamber.
---
Ooni Karu 12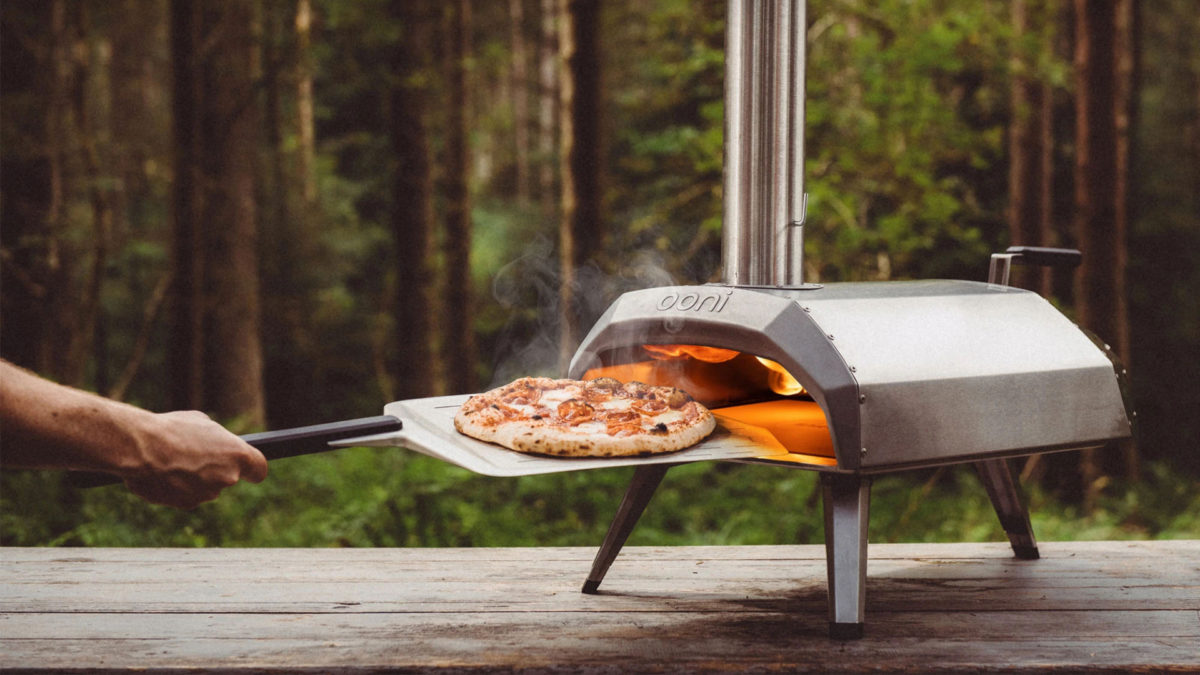 Let's get this one out of the way before we dip into some of the other brands of pizza ovens out there. The Ooni Karu 12 is the most obvious choice, and a best-seller for very good reason. The multi-fuel pizza oven shares much of the same specs as the newer and more refined Ooni Karu 16 but at a fraction of the cost, with an obviously smaller capacity.
You'll still be able to reach 500˚C very quickly and pump out restaurant quality pizzas in 60 seconds, but without the Ooni Karu 16's advanced airflow features you may have to turn the pizza around a bit to make sure the heat hits it evenly.
At just 12kg, it's much more portable than its larger sibling, so you can keep it in your own backyard or you can easily ship it around to a friends place, a picnic, or a camping trip.
Given Ooni's extensive range of accessories, it's also worth flanking this with a bunch of other pizza making essentials given you're saving a boatload of money.
If you want to go even less expensive (and save, like $50) opt for the Ooni Fyra 12, which is pretty much the same thing except it uses only hardwood pellets so you won't be able to use gas or charcoal to puff up your pie.
Given Ooni is one of the most specialised brands in the pizza oven game, you can also expect great service should you need any ongoing support. It's unlikely you will though; these things are solid and easy to use with highly specific designs aimed at making sure you've got the perfect pizza every time.
---
---
---
Breville Sage The Smart Oven Pizzaiolo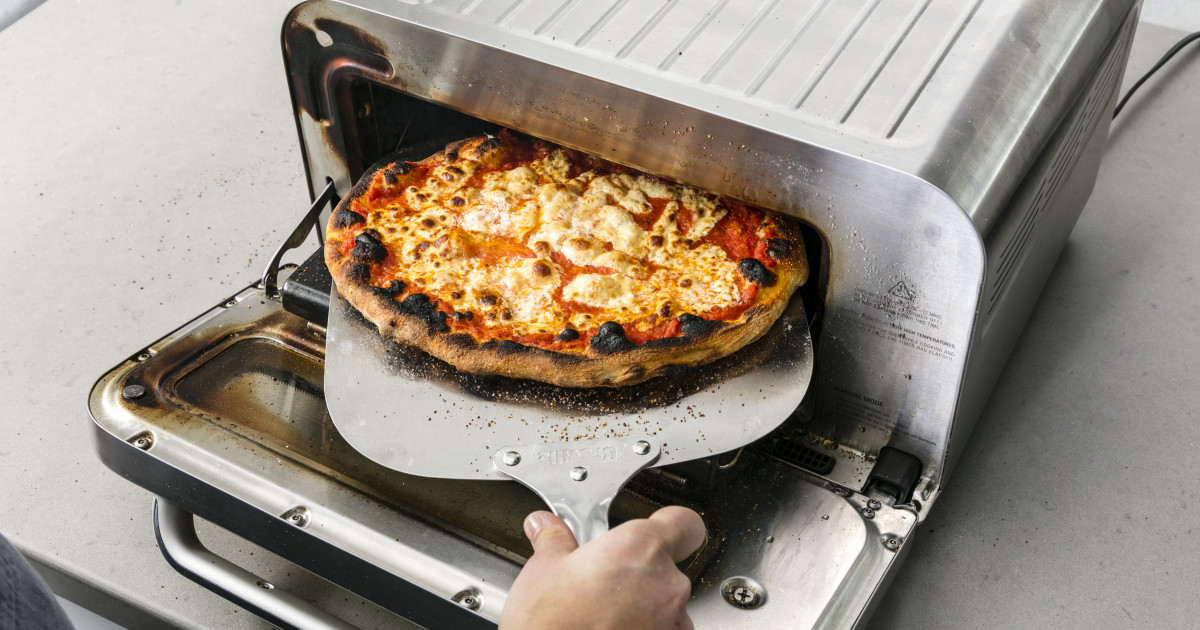 Given Breville pretty much dominate the kitchen appliance game, from the best coffee machines to the best food processors, it's no surprise that they turn in what may be the best home pizza oven for indoor use. This electric pizza oven is geared for success, avoiding the use of charcoal, wood, pellets, or gas for something incredibly easy that will manage to pump out great pizzas.
Yes, wood fired pizza ovens will always give you unrivalled results, but for something that's entirely electric, the Sage Pizzaiolo is remarkably consistent and more than equipped to pump out pizzas for better than your conventional oven.
There are a few automatic settings on the Pizzaiolo, which will primarily have you choosing between 160˚C and 400˚C, as well as what your intent is – defrost, pain, thick crust, thin & crispy, or wood fired. The latter is typically where you'll want to be most of the time, heating up the circular oven and pizza stone to cook the pizza evenly.
---
Zesti ZRW-1100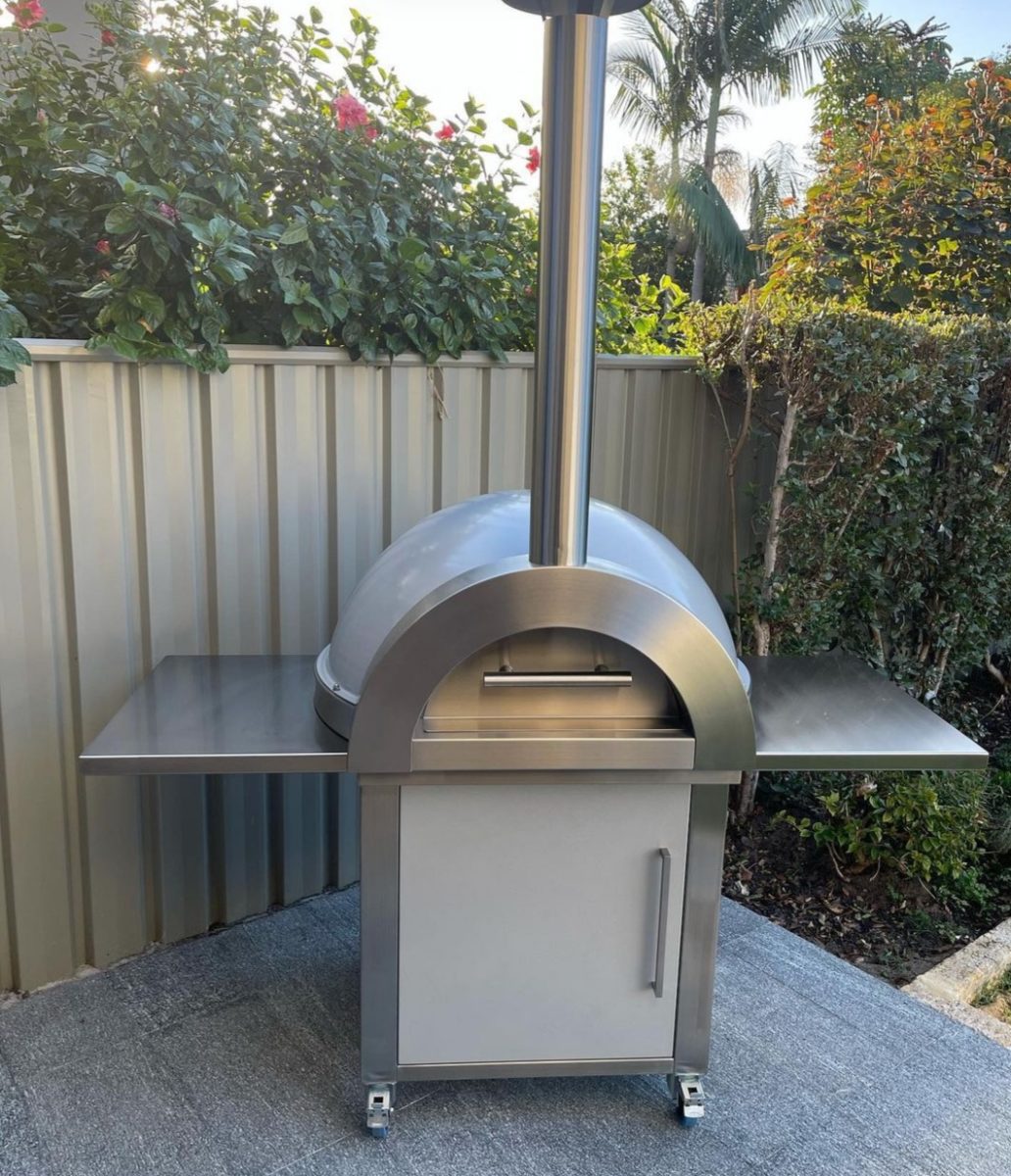 Handmade in Western Australia, the Zesti ZRW-1100 is the top choice if you want something built locally that can easily compete with the imported pizza oven you've been eyeing on this list. Unlike some of the other options, this bench top pizza oven incorporates a proprietary colour codded capping system so you can switch out the look of the oven to match up with your specific home design.
It only takes 25-50 minutes for the Zesti ZRW-1100 to each 750˚C, which is almost double the max temperature of most other specialised pizza ovens should you really want to push your pizza making skills to the limit.
The oven ships with a stainless steel trolley, custom made cabinets, and corner cabinets as well, so even though the price may be a bit steep, you're investing in an entire system here. Just make sure you're really serious about your pizza game before you take the dip, otherwise, you might want something a bit less expensive, and infinitely more portable.
---
Camp Chef Italia Artisan Pizza Oven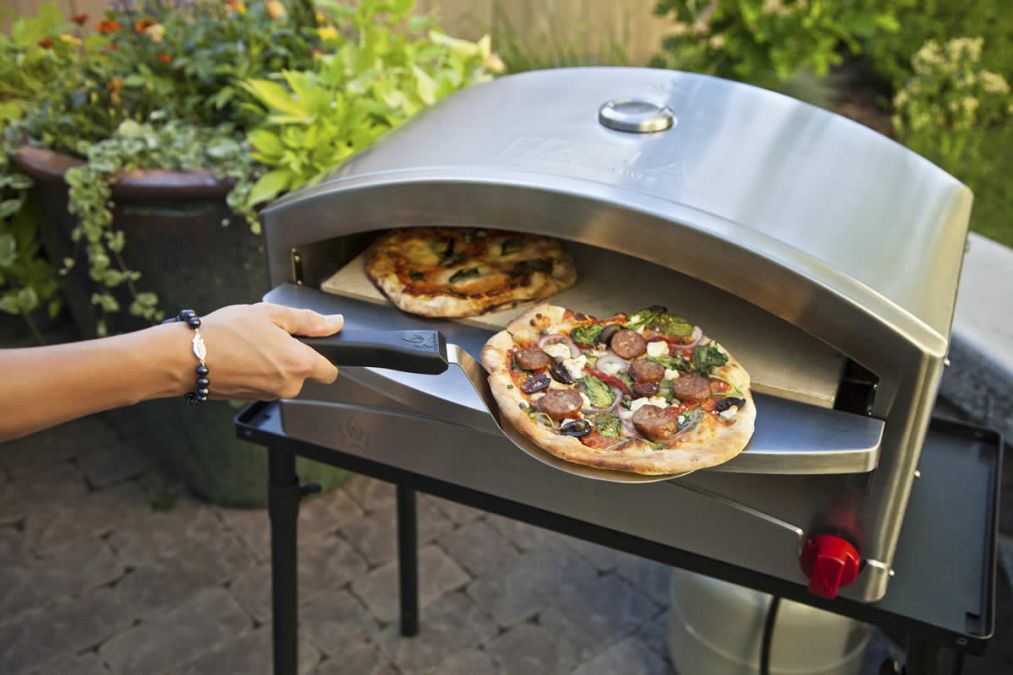 Camp Chef takes oven construction very seriously, mirroring the brick ovens of Italy with the single-minded goal of recreating the artisan touch to pizza making. The pinnacle offering from this company is the portable Italia Artisan Pizza Oven, featuring double walled construction and specifically designed burners to recreate the performance of a traditional wood fired brick oven.
The Camp Chef Italia Artisan Pizza Oven comes with a cordierite ceramic pizza stone to make it easier for the pizza to really sizzle in that chamber, which can reach a temperature of around 370-400˚C in 15 minutes.
---
---
There's a built-in micro-adjust value to give you complete control over the flame, so you can experiment a bit to dial in your own signature pizzas.
---
Gozney Roccbox Pizza Oven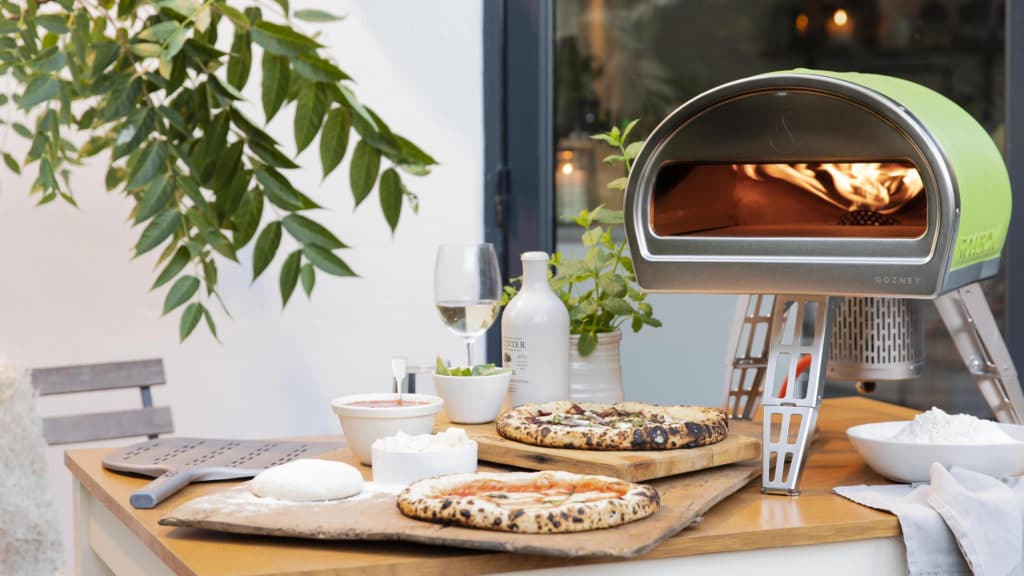 Running on gas and wood, the Gozney Roccbox Pizza Oven is probably the best dual-pizza oven on the market, and certainly the most popular. Right along with Ooni, Gozney is very well known on the market and one of the more trusted brands when it comes to making highly specialised pizza ovens for the home.
One advantage the Roccbox has over alternatives from Ooni is that you won't need to fork out extra for a separate gas burner. Gozney just include theirs with the oven.
Although it may look it, the Gozney Roccboc isn't the most portable pizza oven you'd find. At 20kg, it's heavier than you'd expect from its size due to the heavy-duty materials used. Although there's is a carrying strap included in the box, in case you do feel like lugging this bad boy around to your local picnic.
Insulation is the key feature for the Roccbox, and Gozney has ensured exceptional construction so you can actually handle the rubberised outer surface without burning your hand off – a feature that is also fairly kid-friendly compared to some of the other options on this list.
The oven tops out at 500˚C and can fit a 12-inch pizza, which is smaller than you'd want at this price point.
---
Fontana Margherita Pizza Oven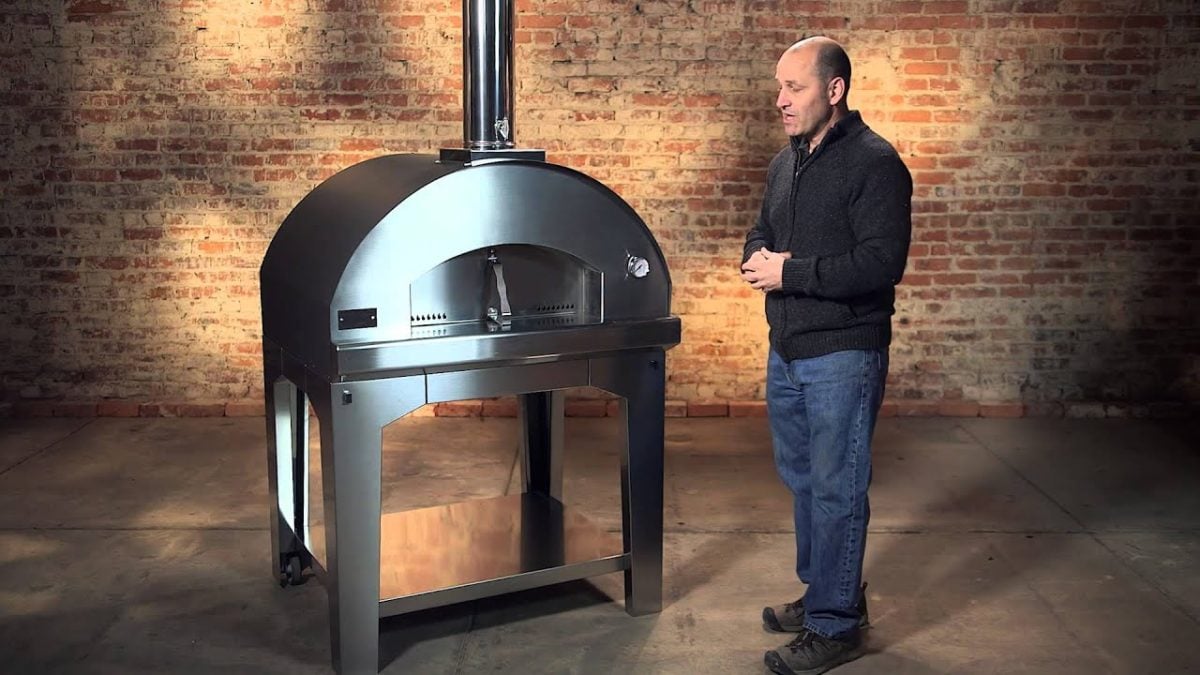 Fontana makes its ovens in Italy and is perhaps the leading manufacturer of both consumer and commercial grade pizza ovens in Europe. That's no reputation to be taken lightly, so getting your hands on their signature Fontana Margherita Pizza Oven is a wise choice for any amateur pizzaiolo looking to up their home pizza game.
It's a serious investment, but Fontana is known for flawless construction using only premium quality materials. Not only does this help with insulation, but the design is necessary for a very specific cooking chamber that helps keep heat distribution nice and uniform resulting in pizza that is so consistent you could even turn your backyard into a pop-up restaurant if you wanted.
---
---
The Fontana Margherita Pizza Oven can heat up to the ideal 400°C in 30 minutes, which isn't as fast as the Ooni but is still efficient, with Fontana promising that their oven consumes 5 times less wood than a traditional ceramic wood fired pizza oven.
---
Gozney Dome Oven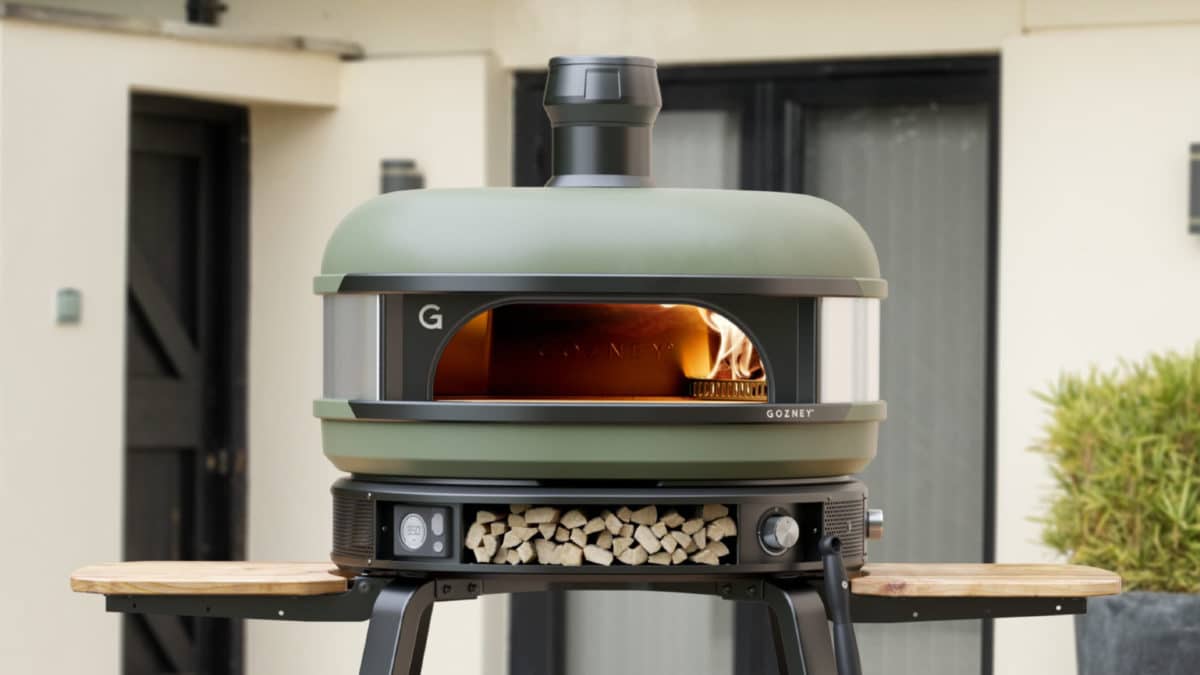 The Gozney Dome Oven is the latest pizza oven from the titan brand, and it was so ridiculously successful upon release earlier this year that the brand had to suspend sales in less than a day. Reportedly, Gozney made over $10 million in sales in just 8 hours – demand pushed up by the fact that this may be the single best pizza oven for the home ever made.
The Gozney Dome Oven is a dual-oven so you can use either just wood or wood + gas to roast, slow cook, smoke, cold smoke, steam, and bake your way to absolute glory. A dial is included so you can maintain easy control over the temperature, which can reach up to 500°C, at all times and ensure the perfect cook.
Heat output is controlled through patented air ventilation construction, which according to Gozney is complemented by unbeatable heat retention with a 30mm stone floor and dense cavity insulation. You won't have to worry about any heat escaping the chamber once it's all fired up and rearing to go.
An integrated steam injector has been included to create moisture in the oven for when you're baking dough, which should help with the consistency in producing longer rising dough and even crispier crusts than the Roccbox and some of the other wood fired ovens on this list.
---
Alfa Venere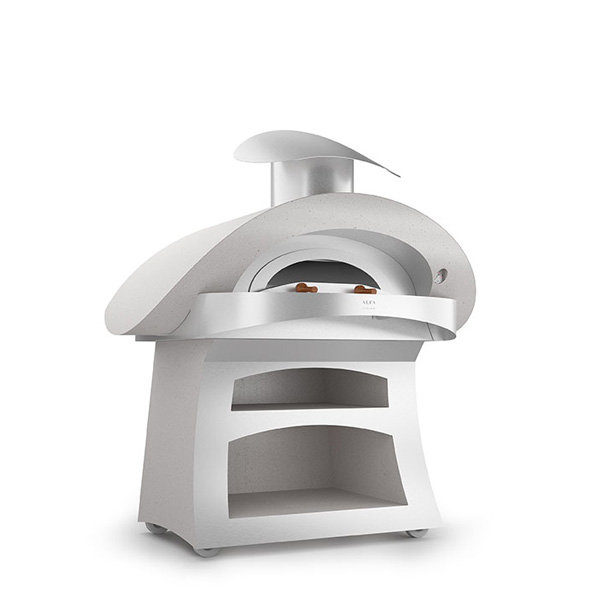 Let's wrap up this list of the most popular pizza ovens on the market with the most premium offering. Not only does this look the business, but a considerable amount of effort and construction has gone into the Alfa Venere to make it one of the most dominant and reliable pizza ovens available.
You're looking at thousands of dollars for this bad boy, but it's got enough capacity to bake 6 pizzas at once time to absolute perfection.
This expensive pizza oven is built with polished concrete and double-thick fireclay and sports a rather avant-garde look. Plenty of heat-resistant stainless steel and sheets of iron have been used to ensure an unparalleled design that's perfect for heat retention and insulation. The off-set is that you're not at all going to be able to take this around the picnics – it weighs a whopping 93kg.
The only problem with the Venere is that it may be a bit hard to get your hands on in Australia. Although that's less of a problem when you look at some of Alfa's extensive pizza oven options. So even if you can't pull some strings to get this imported over to Australia, just know the brand does have an official importer that lists a bunch of Alfa's other pricey, high quality pizza ovens.
---
Best Pizza Ovens You Can Buy In Australia – Frequently Asked Questions
What is the best pizza oven you can buy in Australia
If you can manage to get your hands on one, you'll be in great hands with the Ooni Karu 12 or 16, Gozney Dome Oven, or the Fontana Margherita Pizza Oven – all well regarded as some of the highest performing pizza ovens when it comes to consistency and quality.
Do I need a pizza oven to make great pizza?
If you're looking to really cook your pizza to perfection, you're going to need a pizza oven. Your standard kitchen oven just isn't capable of reaching the ideal temperature required to blister the crust in a very specific way and melt the toppings to the standard of authentic Naples style pizza.
What else can I cook in a pizza oven?
Depending on the capacity of your pizza oven's chamber, you cook a great variety of other foods including roasted vegetables, slow cooked meats, baked fish, smoked meats, jacket potatoes, and freshly baked bread.