Helio Gracie once said every child should learn how to swim, ride, and fight. While the notion may seem rather antiquated in our (mostly) civilised modern culture, the progenitor of Brazilian Jiu-Jitsu was completely right. Is completely right. Combat training should be deemed absolutely essential for every single able-bodied person, though not solely for the reason many assume. At its core, it's about revealing one's own true potential in all facets of life. Not just when the occasion calls for a check hook or blast double. That's basically the impetus behind Alta, the MMA training programme which has now launched in Australia.
Backed by Conor McGregor's Head Coach John Kavanagh and two-division UFC Champion Daniel Cormier (Light Heavyweight + Heavyweight), this natural successor to Wimp 2 Warrior is currently rolling out globally with tens of thousands expected to reach their highest potential in 2022 alone. Over the course of 20 intense weeks, you'll be offered the prime opportunity to undergo a total transformation – both physical and mental – involving multiple martial arts disciplines; providing a direction and far more productive alternative to fitness trends like F45. It all culminates in your amateur mixed martial arts debut (should you decide you're ready to step into the cage for real).
RELATED: The Secret Life Of Anthony Bourdain
---
---
"We're assuming these are people of all ages, all shapes and sizes, men, women, whatever, and we take them right from Day 1," Coach John Kavanagh explains to BH.
"How to walk across the mat, how to do a bridge, how to do a hip escape. We're not assuming the person has any previous experience."
"The more out of shape they are, the more rewarding it usually is because we get very dramatic photos at the end. They've lost a bunch of weight," adds Coach Kavanagh with a grin.
"That's the biggest misconception, 'Get in shape before you do MMA.' No, get in shape doing MMA. That's the fun part of it."
"I wouldn't be able to just lift weights or run on a treadmill. I find that mind-numbing. But I can move around with you on the mats. I can lift you up. You're lifting me up. We're training but we're chucking around your body."
"Gradually, a level of stress is introduced and you become hardened to it. You become resilient to it. And after 100 days, people are shocked at themselves that they can fight in a cage. Win or lose, that's of very little importance."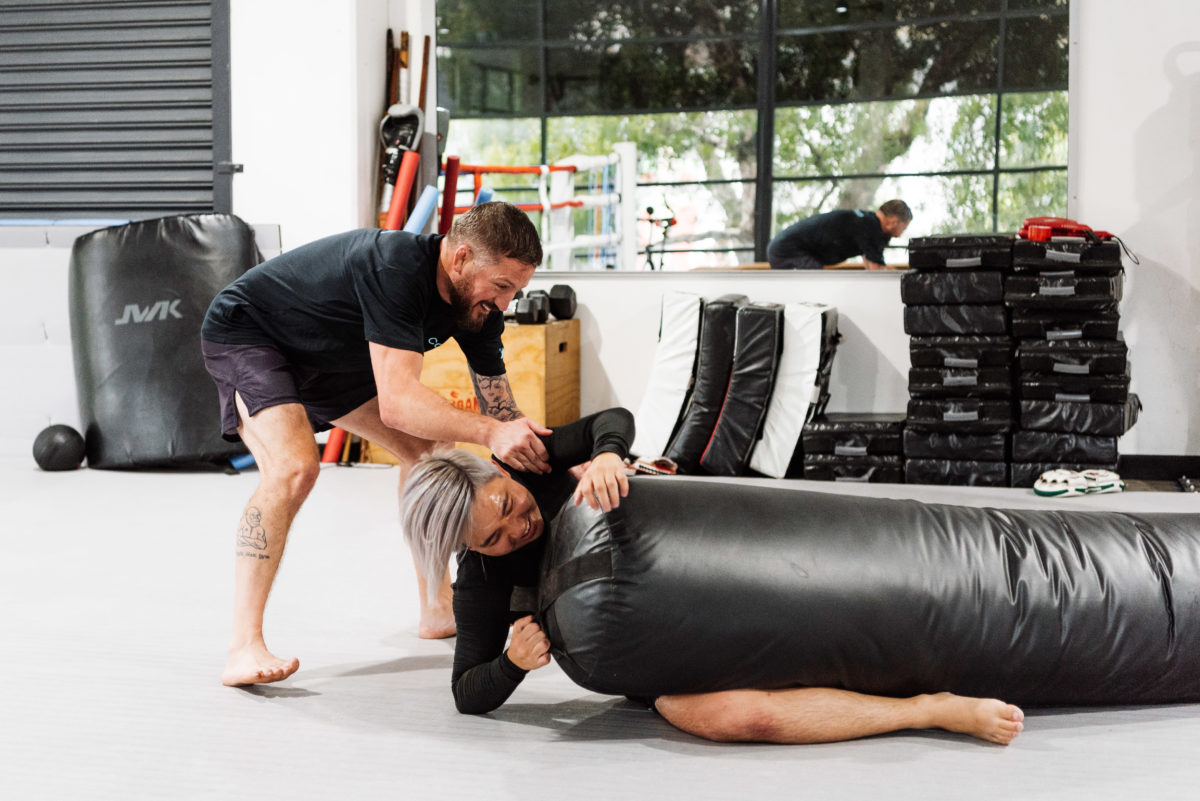 And what happens after the 100 most challenging days of your life?
---
---
"When people have done this – when they've gotten through it – a large percentage want to do it again. Because they miss the structure of 5:30 AM every morning, you're with 40 people, and you're doing it together. That's a very appealing structure."
"Some will go on to join just a regular MMA or Brazilian Jiu-Jitsu gym – maybe they like the Jiu-Jitsu side of things, maybe they like the kickboxing side of things. Maybe they like doing both. Usually, once they become involved in this world, they stay in it."
"We will in time have Alta Jiu-Jitsu, Alta Boxing, Alta Wrestling, and so on. Alta is a name I feel proud of telling people about."
RELATED: Islam Makhachev's Next Fight Won't Be For The UFC Lightweight Title
Here's a quick breakdown of the Alta Australia course…
Base: "In weeks one to six, improve your fitness and strength as you learn the basic foundations and movements of MMA."
Build: "In weeks seven to 13, build confidence as your skills grow, and you're introduced to light contact and technical drills where perseverance pays off."
Believe: "In weeks 14 to 20, sharpen your mental game and back yourself. You'll have the option to compete in an amateur MMA match. What are you fighting for?"
"We're an Australian start-up with big dreams globally, serious backing, and some world-leading ambassadors to propel us forward into the future," says Nick Langton, Founder & Co-CEO of Alta.
"We're offering Australians a once in a lifetime opportunity to train under some of the world's best coaches."
---
---
You can now experience Alta in over 40 partner gyms across Australia and New Zealand for the low, low price of just $20 per class (100% commitment-free trial for first classes) – find out more below.