Many of us have joked about instant cures for hangovers and the like in our youth. Little did we know, some great humanitarian deserving of a Nobel prize had been working on it. For now, there is a quick remedy for hangovers, headaches, and jetlag. All via a nifty little IV treatment.
The service, aptly going by The Cure (no relation to the band), promises results in as quick as an hour. With expertise in the most direct means of replenishing fluids and vitamins, The Cure makes use of something known as infusion therapy. Where oral intake can have an absorption rate as low as 50 to 60% with limited benefits, infusion therapy ensures 100% of what is administered fluids hits instantly. That way, you can "… [get] back on track!". Or at least that's what their website says.
But as we all know by now, everything comes with a price. And this is one miracle that takes quite the gold sacrifice (money, it's just money). There are a total of 28 options, and each one can run you up a fair bit. Some of which include:
---
---
$199 USD for hydration (45 minutes)
$299 USD for headache relief (45 minutes)
$399 USD for flu treatment (1 hour)
and even $1,000 USD for a black car airport+nurse jetlag package (N/A)
After a rough night out, an IV drip for you and two friends starts at $597 USD. Bringing new levels to the phrase, paying for it the next morning.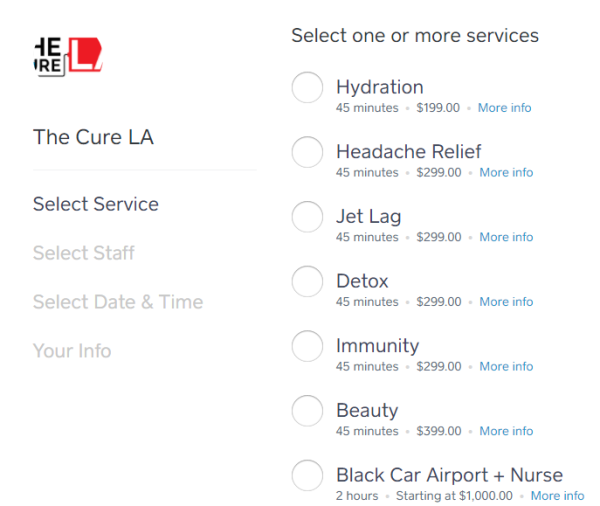 The Cure also caters for less destructive clients. Boasting of a full fitness recovery program, and several beauty/rejuvenation treatments. Additionally, there are less costly packages for easier requests, such as B-12 shots and Zofran dosages. Each only taking about five minutes to complete.
Unfortunately, this godsend is based in Los Angeles, and currently only available at such. Still, we dusty individuals and sickly suffers can still dream of a brighter tomorrow. Hope for a future where we don't have to pay for our own poor decisions (outside of money, anyways). And be comforted by the fact that this may one day be there to catch us at our sloppiest falls.
For more details on The Cure, check out their site here. And to window shop all they have to offer, hit 'book appointment' to see the full-range they have to offer. Even if it is just out of curiosity.