There's something pretty cool that happens when design cues from one industry make their way into another, and that's exactly what we've got with this recently listed and exceedingly luxurious $23.7 million Bel Air home. Described as featuring an "automotive inspired intelligible shell," 1254 Roberto Lane sits on a palatial 10,316-square-foot block, spanning no less than three stunning levels.
Boasting four bedrooms, five bathrooms, and (of course) three parking spaces, the design of the residence includes a soaring 16-foot cantilever that not only creates a sweeping gesture within the silhouette of the building, but also provides shade to the space below. Inside, the levels are connected by a set of central bridging stairs, as well as an almost totally transparent glass elevator.
The lower level of the home is where you'll find the high ceilings and central fireplace in the living room, as well as a more formal dining room, guest bedroom, and office. The kitchen can also be found on this level, complete with luxury kitchen cabinetry as well as Dekton door-faces and countertops, perfect for entertaining.
---
---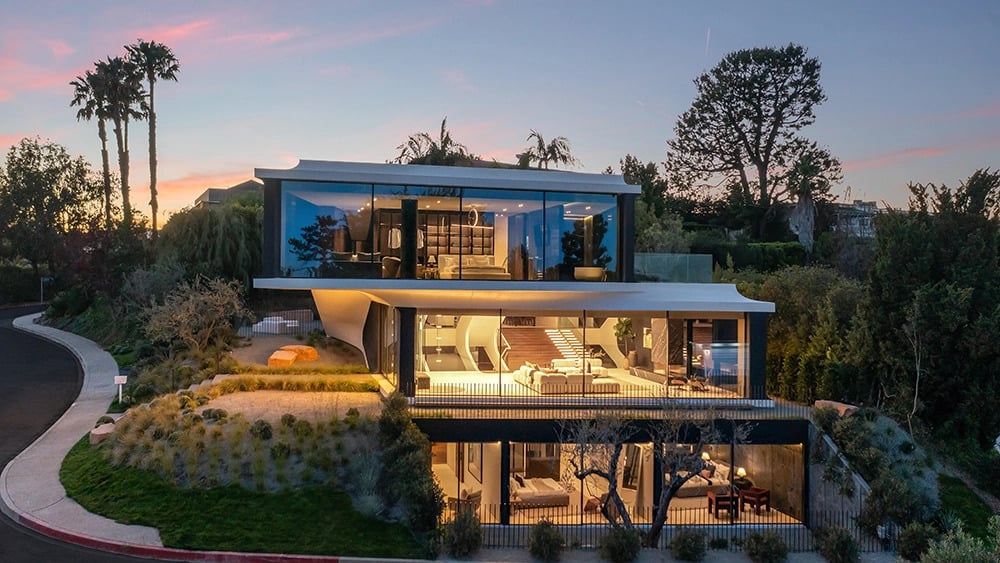 RELATED: Iconic Toorak Mansion On Track To Become Melbourne's Most Expensive Home
Obviously, the upper level is the location of the master bedroom, which offers immaculate views all the way to the Pacific Ocean as well as an ensuite bathroom featuring Nero Marquina marble slab walls. Two more bedrooms can be found on the upper level that also each have its own ensuite bathrooms. However, instead of the marble surfaces, guests can enjoy the rustic impression delivered by imported Spanish tile work.
Finally, for the automotive enthusiast drawn to 1254 Roberto Lane, the black concrete walled basement is where your fleet of cars can be safely parked. If the views from inside weren't enough, the second level delivers stunning views from the balcony. The home features a rooftop deck to enjoy the sunsets.
So if you're after a thoroughly contemporary home that blends the best of automotive design and modern architecture, 1254 Roberto Lane could be what you're looking for. The not-so-humble abode is currently listed on Compass with a guide price of US$16.5 million (AU$23.7 million).