We've previously flirted with the idea of absconding to some faraway island that's cheaper than your average Sydney home, escaping the metropolitan rat race. But the fantasy has just gotten a little more tempting with Scotland's Carn Deas. And not solely because the calendar says it's Monday, either. All 9.12 hectares of its Summer Isle splendour can now be yours for as low as £50,000 (AU$93,000), thanks to Goldcrest Land & Forestry Group.
Placed four miles off the coast of Ullapool village, connected to the similarly uninhabited Carn Iar and Carn Beag by a shingle spit, you can reach this slice of paradise via 25-minute boat trip from Badentarbat Pier (near Achiltibuie village). By all accounts, there's simply no better place to get back to basics and become reacquainted with nature – dramatic cliffs, coves, shingle beaches with crystalline waters, and all.
In terms of leisure, Carn Deas offers "superb sailing, scuba diving, and sea fishing." Marine life available for capture and consumption ranges from mackerel, cod, pollock, coalfish, and ling, to lobsters, crabs, and langoustines. Marine life we don't recommend capturing or consuming ranges from sea otters, porpoises, dolphins, whales, and basking sharks.
---
---
RELATED: Southern Italy Beach Towns Will Pay You $44,000 To Move There
"Carn Deas has all the mystique, privacy, tranquillity, and charm associated with a small island off the coast in north-west Scotland," reads the brochure.
"Some of the other Summer Isles have been built upon and it may be possible to construct a small cabin/bothy, subject to consent."
The only real downside, which you will have probably anticipated, is that no services to the island are present. Yet. A cashed-up operator, such as yourself, might be able to change that.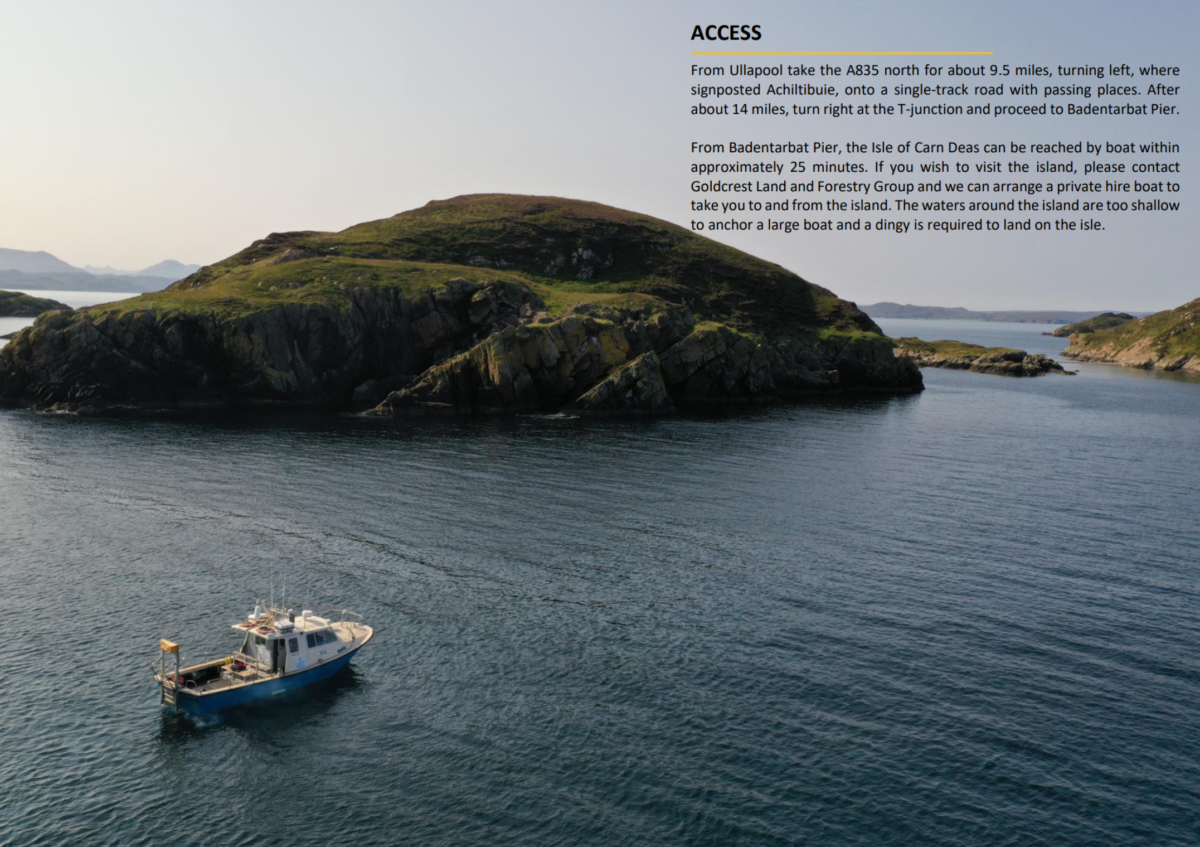 "The wonder of Carn Deas lies in its natural undisturbed beauty," says Fenning Welstead, Partner at Goldcrest Land & Forestry.

"Here, you can truly escape from reality, take a deep breath, and enjoy what nature can offer."
"It is a lovely space to camp and live off what you've caught from the sea; swimming, kayaking, or sailing by day, and enjoying the huge unpolluted skies by night."
Sold on the idea? Hit the link below for more.
---
---