How do you turn a one-room flat into a four-room flat? That's the task Simon Woodroffe set himself, and one which he believes he has solved.
After his music career Woodroffe made a successful venture into bringing Japanese food to the British market with YO! Sushi back in the mid 1990's. He sold his controlling interest in 2003 and set himself on his next venture – interior design. His time in Tokyo taught him a lot about the Japanese and their ability to create innovative space-saving solutions, and in 2008 he launched Yotel, inspired by the notion of space-conservation seen in Japanese capsule hotels that were originally created in Osaka in the 1970's. Yotel comprises pared-down hotels you can hire by the hour at Gatwick and Heathrow airports, and it's success has seen Woodroffe take the next logical step in interior design with his latest foray – homes.
The same concepts of space-conservation that inspired Yotel, fused with his desire to create high-end living for a reasonable price are everything the YO! Home epitomises. The concept exudes simplicity and elegance, with the bed descending from the ceiling and, when in use, covers the concept's sunken entertaining area. Storage is actually in the floor, accessible by lifting up concealed doors. The kitchen table is nestled into the floor as well, while the kitchen is hidden behind cabinet doors. All this is contained in 40 square meters, or about 131 square feet. That is unquestionably tiny.
---
---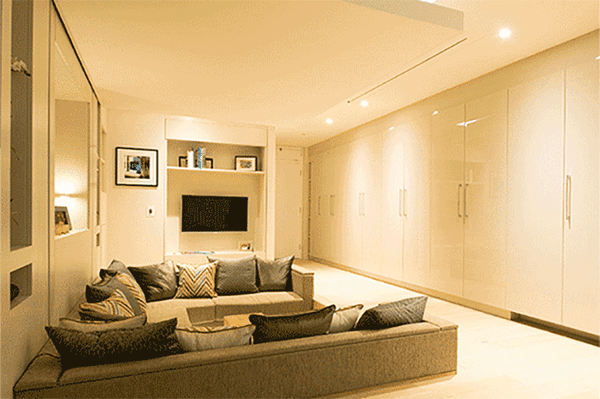 Designed by a carefully compiled team combining interior designers, yacht designers and engineers normally employed in the mechanics of stage scenery, the YO! Home typifies smart and daring design. "The traditional city centre apartment has not been re–invented since its early format in the 18th Century" Woodroffe comments, pointing out his belief that the concept will revolutionise 21st century-living. He hopes to have the first YO! Home ready for occupancy next year and with a rough price tag of $300,000 AUD for luxury inner-city living, we think he could be right. For more information, check out the YO! Website.