The current landscape of Sydney real estate is – to put it very politely – fucking bananas. Every other week, it seems like another eight-figure sale has gone through in this escalating cycle of land grabs (oftentimes for something which frankly isn't all that impressive). But despite how it may appear from the outset, and despite the fact it offers absolutely no view, there's a good reason behind why Woollahra's Rosemont residence has shattered the suburb's sales record, effectively doubling the previous standard. Even more impressively… said previous standard was set just a month prior.
$45 million worth of heritage is what you're looking at right now; successfully unseating the sale of television icon Kerri-Anne Kennerley's Victorian home back in late August – a transaction which amounted to more than $22 million. Initially built in 1857 by merchant banker and one-time member of the New South Wales Legislative Council, Alexander Campbell, the historic mansion apparently served as the "centrepiece of Sydney's high society" for over a century.
Post-Campbell, the grand Rosemont was owned by the likes of notable local historical figures – in the realms of both politics and business – such as Sir Samuel Cohen and Lady Cohen, Sir John Joseph Garvan, Sir Charles Mackellar and Lady Mackellar (parents of poet Dorothea Mackellar), Sir Charles Lloyd Jones and third wife Lady Lloyd Jones of David Jones Limited renown, etc. And that isn't even factoring in all the notable guests, ranging from former prime minister Sir Robert Menzies, Prince Philip, Elizabeth Arden, and Helena Rubinstein.
---
---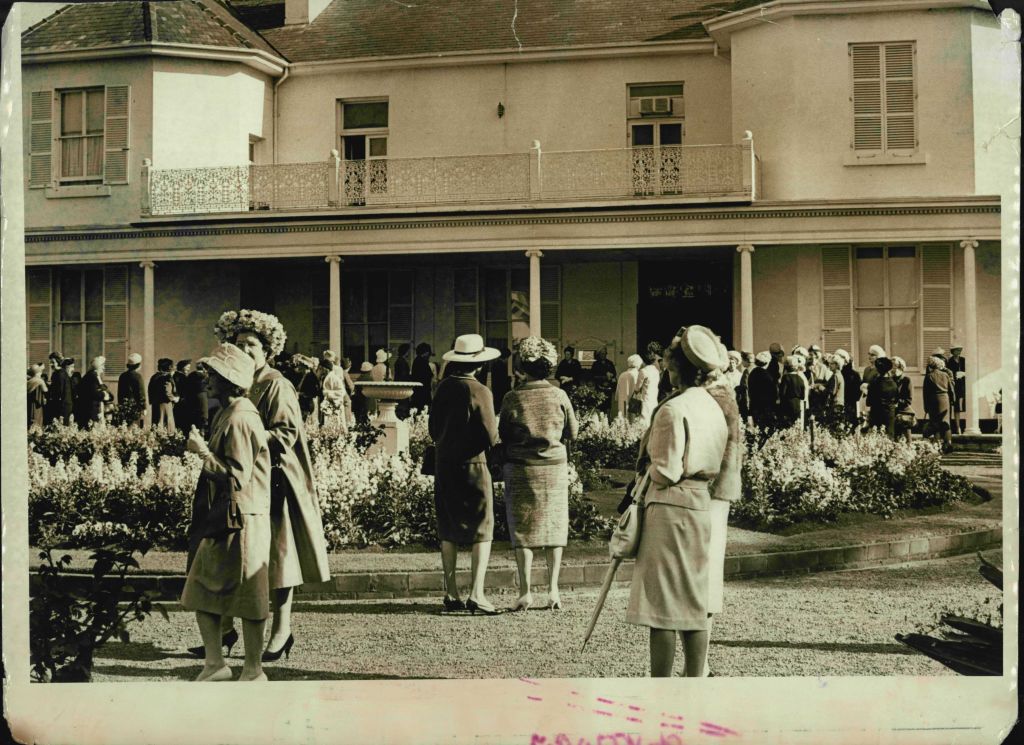 RELATED: Blue Ribbon Sydney Mansion Hits Market With $34 Million Price Tag
Having narrowly avoided being converted into six apartments at the hands of John Rutherford circa 1981 – saved by interest rates exceeding 20% which torpedoed the property market and sent Rosemont into mortgagee sale – the property spans more than 3,000 square metres, and proudly remains Woollahra's second-largest private landholding after Hawthornden. In 1983, after Sir Raymond Burrell assumed ownership for $1.8 million, he commissioned architect Espie Dods for a mass redesign of the 10-bedroom dwelling. As Lucy Macken of Domain explains:
"Thanks to the Dods redesign, the original facade and well-documented turning circle was turned into a rear north-facing garden designed by Gai Stanton; with a tennis court and swimming pool and a new entry formalised on what was once the service yard off Rosemont Avenue."
"The Victorian cast-iron fountain that once stood at the centre of the turning circle was relocated to the public space on the corner of Oxford and Queen streets opposite Centennial Park, where it stands today."
"In a historic neighbourhood in which the average house block is 206 square metres, the heritage-listed property is regarded as close to acreage. Its rescue from redevelopment 40 years ago leaves a legacy to the grandeur of a bygone era."
In 1999, it was listed on the State Heritage Register; already listed on the Register of National Estate at that stage. You can read more about the history of Woollahra's Rosemont here – and be sure to check out the gallery below, courtesy of Luxe Houses.
UPDATE: The mystery buyers of Rosemont is reportedly Balmain Group CEO Andrew Griffin and wife Yelena Alpatova, trading up from their Vaucluse residence which recently sold for $32 million. They represent the first new owners in almost 40 years since the Burrells.
---
---