Though much of Sony's forthcoming PlayStation 5, specifically its software, is still being treated like Fort Knox, almost everything about the hardware has already been picked apart and debated well in advance of the November 12th launch date. Although not until now have people actually gone hands-on with the behemoth of a futuristic unit and it's new DualSense controller.
Now that Sony has finally allowed select members of the media to get some time with the PS5, details about the experience are being beamed online. Above all, people seem to be raving about the DualSense wireless controller which has a few new tricks that will theoretically boost immersion for gamers.
Here's what our experience with the DualSense has been like and a few thoughts to help you decide whether it's for you.
---
---
RELATED: PS5 Launch Titles: What Games To Expect On November 12
Pricing & Availability
First things first, let's bring you the slightly bad news in case you haven't had your finger on the pulse. Pre-order stock for the PS5 is hard to come by, and we're expecting the console to be similarly scarce for at least a few weeks following launch. Regardless, you should be paying attention to all the major retail players, and online stores – like Amazon and Target Australia – in the days following launch. You might get lucky, but just don't get your hopes up.
As confirmed by Sony, there will be two versions of the PlayStation 5 in an attempt to streamline certain features for the more budget-conscious gamers/ The Standard Edition PlayStation 5 will cost $749.95 in Australia, while the Digital Edition cuts the price tag down to $599.95.
The biggest difference between the two is that the Digital Edition has no 4K UHD Blu-ray disc drive, which isn't that big of a deal if you plan on purchasing all your games via the online PlayStation Store anyway. Do keep in mind that this means you'll never be able to buy a physical copy of a PS5 game, and obviously if you have any physical PS4 games, you won't be able to take advantage of the generous backwards compatibility.
As for the DualSense controller. There is, of course, one packaged in with the PS5, but separate controllers can be purchased for $109.95 each.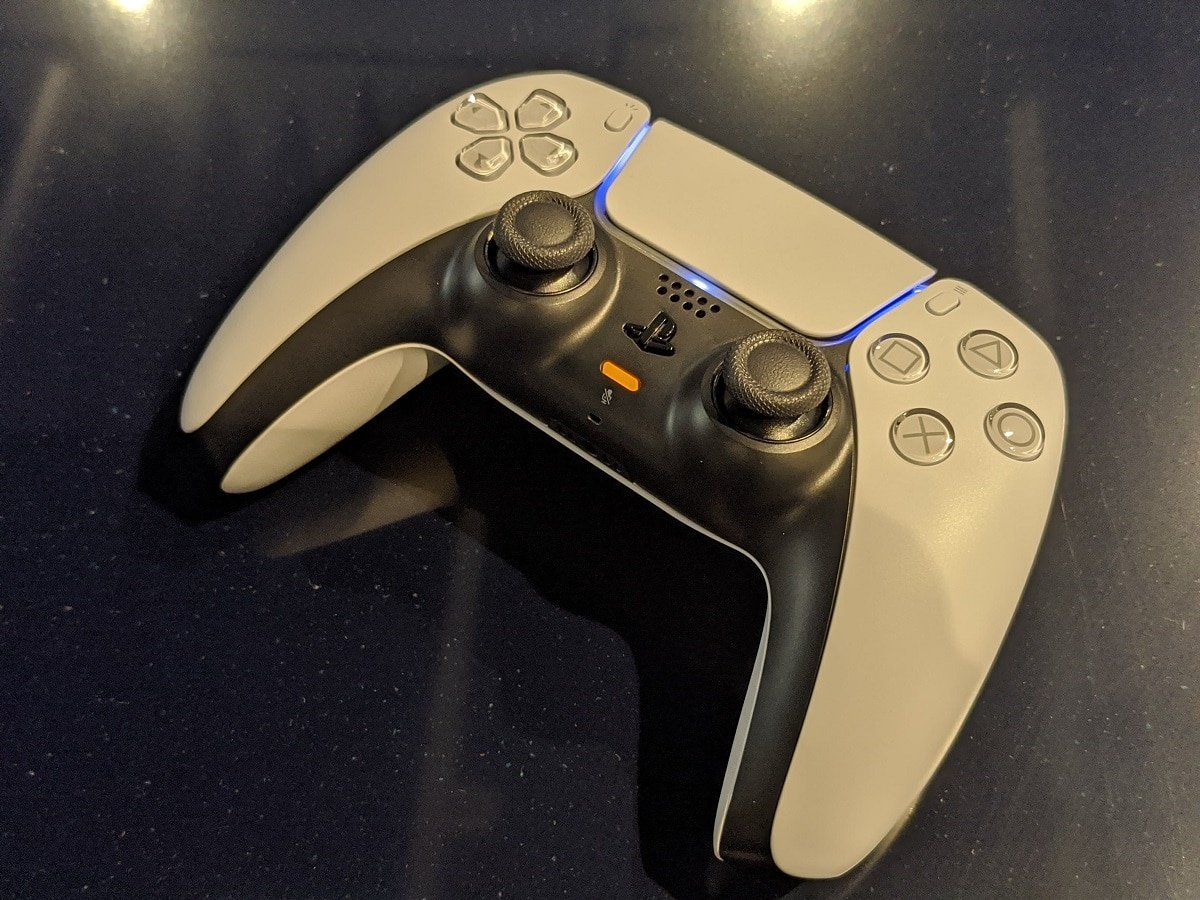 Is The DualSense A Game Changer?
Astro's Playroom, a reference title that'll come pre-installed with all PS5 units, serves a similar function to the typical Nintendo reference game like Wii Sports or Nintendoland. That is, to give players an interactive, narrative-driven, and fully-fledged demo of the console's impressive controller.
Astro's Playroom was the only title we were allowed to play at the quick-fire hands-on session Sony hosted to Australian media last week. Even though we'll have to wait to see how launch titles like Spider-Man: Miles Morales and Assassin's Creed: Valhalla hold up, our brief time with Astro's Playroom was more than enough to show off just how revolutionary the DualSense could be. "Could" being the operative word.
---
---
The hyper-futuristic DualSense is an explicit departure from the DualShock, which has been the design language for PlayStation since the very first one was released in 1994. Starting its own path, the controller mimics the console's new Stormtrooper-esque matte white shell and features a number of refined features that help build a more elegant, unique form.
While the controller flows along the same curves as its predecessors, the DualSense just looks better and cleaner. For example, instead of a large LED surface on top of the controller, to indicate power, you've got an attractive blue glow shining from beneath the trackpad, which itself is significantly more responsive than the last, and smoother too.
The stems you wrap your hands around to grip the controller are slightly longer, but feel much better in the hand. Most notable are the textured bumps that run along the back of the handles, an exceedingly comfortable surface that should help maintain grip during long sweaty Call of Duty playthroughs. And in an ode to cool design Easter eggs, the texture comes from hundreds of tiny embossed PlayStation symbols – square, circle, triangle, X.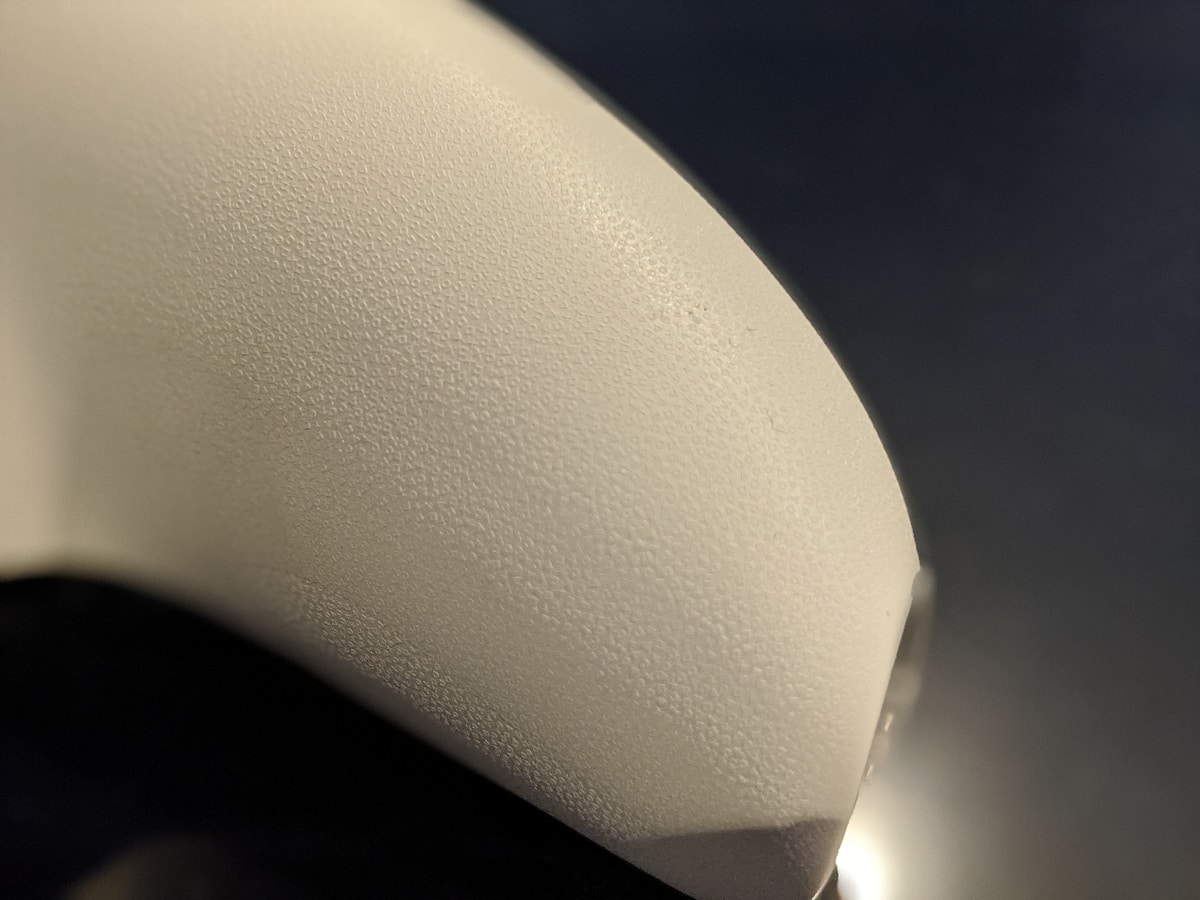 Small changes have been made to most of the controller's buttons, which are stripped of that colour-coded approach and hide behind clear plastic to blend in better with the black-and-white aesthetic. The joysticks are very much the same, although sport a more premium, leathery look, and in between, the PlayStation logo is more pronounced and functions as the main power-on button. New is a small button near the bottom of the controller that simply toggles the built-in mic, positioned near the usual port for those who want to plug in a gaming headset. The mic also reacts to various other feedback, like a gentle blow to mimic in-game wind. For example, Astro's has a platform with a propeller, which you spin simply by blowing on the controller.
DualSense also features a much-improved 1,560mAh battery, which is roughly 1.5x bigger and more effective than that of the DualShock 4 from the current generation. In theory, this means that this controller has enough juice to last almost twice as long as its predecessor, plus it can also be charged up using a USB-C. No more fiddling around with short, fragile micro USBs cords.
Also, much like the Xbox Series X/S controller, the DualSense supports use with Android and PC. A YouTuber has already demonstrated this by successfully connecting his DualSense with a Google Pixel 5 and a Surface Laptop Go.
RELATED: Step Aside Plebs, The 24K Gold PlayStation 5 Is Here
Let's Talk About Haptics
Easily the most interesting new feature of the DualSense, and its primary party trick, is the specifically designed map of haptic feedback – the tactile rumbles and bumps fed from the game to the controller – to continue gaming's pervasive obsession with nuanced vibrating controllers, which Nintendo started with the Rumble Pak in 1997. Immersion Corporation, which designed the haptic software built into the Nintendo Switch's Joy-Cons, has come on board to present what is easily their finest work to date for the DualSense.
---
---
Not only does the controller now echo the various bumps and textures that'd be felt if the player was inside of the game, it now introduces dynamic tension and resistance to the L2 and R2 adaptive triggers. It's a bit hard to describe for those who can't go hands-on and experience it for themselves, but basically, it's a sharper, more precise tactile profile which is connected to the various actions you take in-game, or the surfaces you're walking on. And rather than one big vibration or jolt, the feedback is directional and has a wider range.
An example from Astro's is a part of the game where the protagonist robot zips up into a frog-like mechanical suit and has to wind-up and release like a spring to hop around. Not only does it show-off the controller's impressively accurate motion sense, but it's a good way to feel just how nifty the triggers are at mimicking texture; we'd hold the right trigger and experience the friction of trying to compress a spring, which is faintly audible as well with the controller's speaker letting out a mechanical click. It's detailed enough to let you know exactly how far you've wound up the spring even if you aren't looking at the TV.
The Question Of Integration
As I wrote above, the DualSense and its various tricks "could" be a game-changer. But like the haptics of previous consoles, it all depends on how developers utilise the tech with future titles. We couldn't imagine that cross-platform games would put these features front and centre, seeing as they'd need to be designed for the PC and Xbox Series X as well. T
There just wouldn't be an incentive for third-party developers to add this time-consuming sensory element to their game if not all platforms can take advantage of it. Although, first-party developers making PS5 exclusives could get really slick with the controller's features. Particularly the haptics.
Already, a rep from Insomniac Games – the team behind Spider-Man: Miles Morales – has said that they've paid extra attention to the controller's sound design and tactile feedback. The implementation would mean a substantially more immersive experience, which Creative Director Brian Horton has promised will easily fit into the game's actual narrative.
Specifically, the DualSense's haptic feedback precision has allowed the Insomniac team to create a more considered integration of Spider-Man's iconic "Spidey Sense". In the past, this essential part of the Spider-Man story has been nothing more than a half-baked idea, but now, according to an example provided by Horton, feedback will actually hint to players the specific direction of an attack – conceived as part of Morales' extrasensory ability. So in theory, a sucker punch would feel vastly different to a chop from head-on. He also noted that the charged-up 'Venom Punch' will make the player "feel Spider-Man's bio-electricity crackle across from the left side of the controller, culminating in the right side on impact".
Outside of these Sony-funded exclusives, it's unlikely we'll be seeing the DualSense used to its full potential. Still, that remains to be seen. Regardless, the controller opens up a whole new realm of possibilities for immersive gaming, and if Sony can master that properly, they have a good chance of winning yet another generational console war.