48 hours in the air, 24 hours on the ground.
From Sydney to Frankfurt by way of Dubai, charter flights to Portugal's Algarve region, then exactly the same in reverse.
Portugal might seem like a fair distance to travel to drive a car for a few hours, and it is, but let me assure you that the car in question is no ordinary car.
---
---
It's a Jag – and not just any Jaguar, but the first ever fully electric performance offering from a major automotive brand. It's the Jaguar I-PACE.
It's why I found myself 12,000 miles from the office for a weekend. It's why Jaguar spent millions of pounds rotating 26 groups of journalists from all around the world through Portugal's charming sunbaked hills for a month and a half. I'm not sure how much it costs to rent a private plane, a world-class race track, an entire hotel, and truck in over 100 cars for six weeks – but you better believe me when I say they spared literally no expense for the I-PACE.
I'll be honest with you, I'm perplexed as to how I'm meant to combine a car review with an 'Electric Vehicles For Dummies' guide (me being the test dummy) as well as a play-by-play recap of what it's like to experience the whirlwind that is an international car launch.
That being said, as the only Australian lifestyle representative chosen to travel to Portugal among a sea of hardcore motoring journalists, I've come to realise that's exactly what I was commissioned to do – to look at the bigger picture and attempt to inform the majority.
EV's are an uncharted and overwhelming territory for both manufacturers and consumers, and while I could now write a book about the intricacies behind such a tech-heavy whip, I'd rather leave that to the car journos and recap the happenings of one of the most surreal experiences I've ever had, all the while imparting what I think are the most important aspects the average bloke should know about the future.
Because whether you realise it or not – that future is here, and it's come in the form of Jaguar's new I-PACE.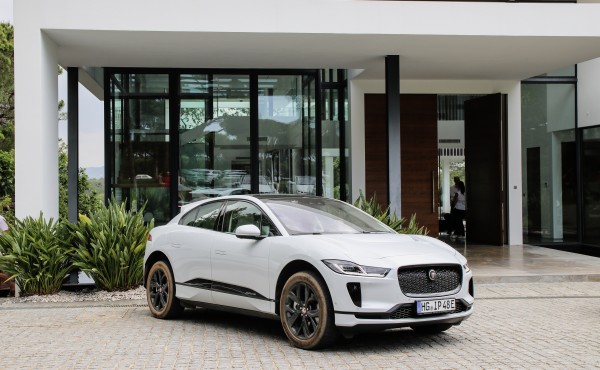 A bit of light background reading is always made easier when sipping martinis at 40,000 feet from Emirates' business class bar. As the drinks flowed and the pages turned, I became confounded with the I-PACE before I'd even seen it in the flesh.
---
---
From conception to reality, the 'luxury performance SUV' was born in a mind-boggling four years. "Where other companies talk about the future, we build it. We have torn up the rulebook," were the words spoken by JLR's top dog Dr. Ralf Speth himself.
When Jaguar Land Rover tore up said rulebook, however, they also created one of the biggest challenges the company had ever faced. An electric vehicle means a clean sheet. There's no precedent, there are no templates. It was a blank canvas that was both refreshing and frightening for Jaguar's design team, and one that had a lot riding on it to be successful. It's all well and good being the first, but can you also be the best when you know Audi and Mercedes are hot on your heels? That's a lot of pressure to deliver in just four years.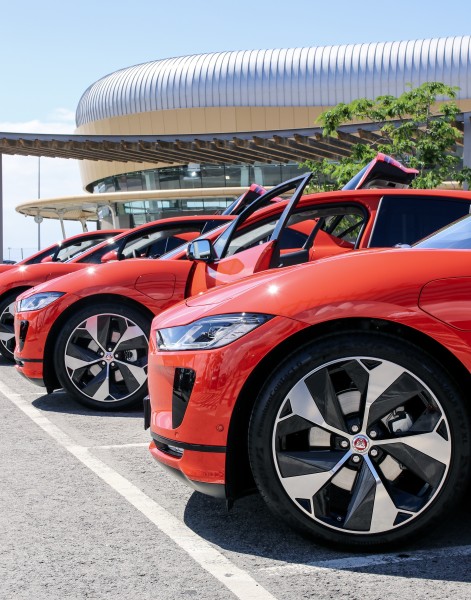 Touchdown in sunny Portugal. No sooner are we straight off the plane from Frankfurt and on the road – in red-hot Jaguar I-PACE First Editions – barrelling up into the rural twisties of the southern Portuguese coastline as a swift convoy.
The I-PACE offers a breath of fresh air in a usually convoluted and overwhelming engine-to-spec matching experience at JLR. Quite simply, it's electric – so there's only one drivetrain choice. From just shy of $120,000 for the lowest spec, the three models increase incrementally by a decade each spec until you jump up to the $160,000 First Edition we found ourselves in that weekend.
The dynamics between technology and mechanics are surprisingly quite straightforward. The I-PACE's regenerative braking is undoubtedly the most foreign feature – even more so than a lack of an engine noise – that I encountered in the opening moments of my drive. Everything from here can be traced back to the key pillar of all electric vehicles – their range.
In an effort to save battery power, the kinetic energy of the car is recycled back into the battery each time you take your foot off the accelerator. This means you can effectively drive with just one foot, let the car slow itself, and not have to touch the brake pedal at all.
It's one of a million ways the I-PACE squeezes every drop of power out of the 432 high-energy lithium iron cells that power the dual electric motors. What's one better is that these cells are actually replaceable, extending the lifetime of the vehicle ten-fold. Throw in some nifty aerodynamics and it can reach a distance of 480kms on a single charge.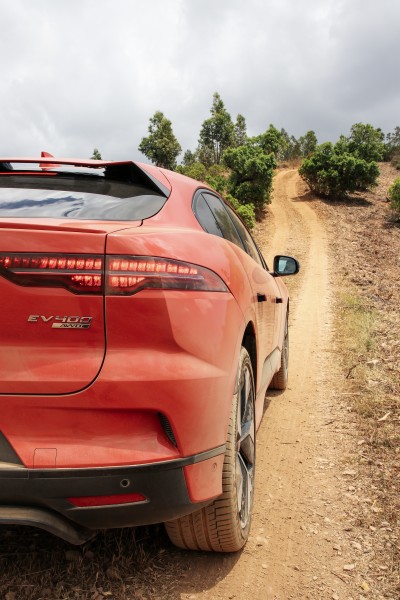 Why Portugal, you may be thinking? Aside from few cops and good-ish roads (well, for a low profile SUV with 22 inch wheels, not a Ferrari), where else can you take a car off-road one minute, only to find yourself at a world-class autodrome five minutes later?
---
---
I never thought I'd ever take an electric car through a river (for certain, urgh, obviously electric reasons), just as I didn't expect to take it around a racetrack – but if there's one thing I've learned from JLR this past year, it's that they always back their product.
No, no one will ever take the I-PACE properly off-road and it's even less likely they'll hit north of 200 km/h down a pit straight, but the fact they offer the world's media a chance to put this car through the absolute wringer means they either have serious faith in their vehicles, or their PR Manager is looking for a new job.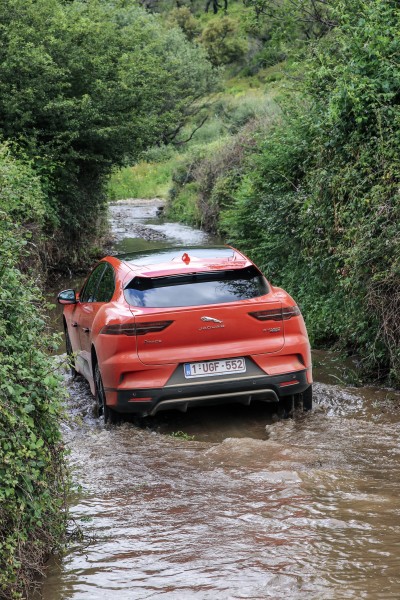 The autodrome in Portimão is renowned for being one of the highest quality and topographically challenging racetracks in the world. I'm not going to lie to you, my novice experience around Grand Prix circuits had my heart beating out of my chest prior to a few warm-up laps in the F-Type.
With 698Nm of torque channelled to the I-PACE's all-wheel-drive system, you'd be right in thinking its track dynamics are like nothing I'd previously encountered. Turning its nose into Portimão's tight hairpins, a touch of understeer from the sheer weight of the car was immediately compensated by an instantaneous pull out of the corners, like a spacecraft's slingshot around the dark side of the moon.
As my balls finally dropped and I found my feet, the I-PACE's immensely low centre of gravity became a joyful novelty through the rises, falls, and blind corners of the playful racetrack. The sensation felt like a ride on Aladdin's magic carpet, though one with an active air suspension and variable damping.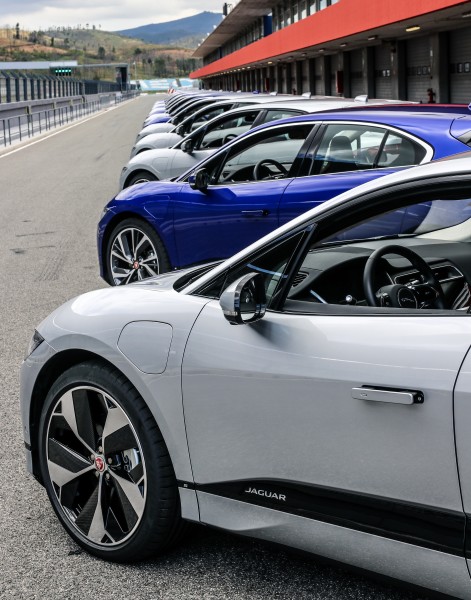 While the Jag's 0-100 dash is only 4.5 seconds, compared to a considerably quicker Model X P100D, I was consistently hitting over 200 km/h every lap. Unlike the Tesla, the Jaguar can actually do other things beyond driving quickly in a straight line (and it doesn't cook itself after two laps either). The I-PACE went time and time again, as long and as hard as I pushed it, without noticeably letting up at all.
I've tried to resist bringing up Tesla until now, but while we're debunking that bandwagon, let's agree that the I-PACE's aesthetics are infinitely more appealing than the Model X. Aside from the fact the Tesla's blown-up body looks like it's had an allergic reaction to a bee sting, it's interior really is just too minimal. The I-PACE, meanwhile, looks like it should have a cameo roaming another planet in an episode of Lost In Space and has enough buttons for you to feel in control of the essentials.
These buttons are found on the 'flight deck' – a dual infotainment system that looks equal parts futuristic as it does practical and probably my favourite feature of the whole car. Despite the interior seeming a touch small for a car that's positing itself in the SUV market, the panoramic roof is indeed a wonder from the rear seats, the cabin a pleasantly airy experience and the storage options plentiful.
---
---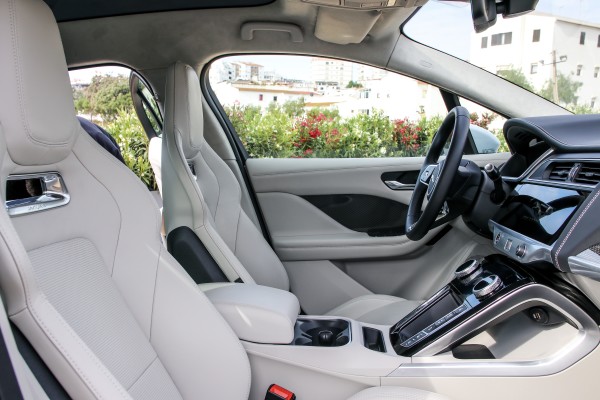 Jaguar may have beaten the mainstream competition to the EV market, but it is with disappointment I have to admit it will be to little avail on home shores. Jaguar affirms that charging infrastructure across Australia is set to be in place before first orders are delivered in October. JLR dealerships across the country are installing high speed charging systems as I write this; an alternative to the customer's wall-socket overnight option.
The incentive to purchase an electric car in Australia, however, still isn't supported at all by the government, which is ominously overshadowing the significance of such progress made by companies like Jaguar with the I-PACE. Those consumers who do take the leap will be rewarded with a beautifully well-rounded vehicle and, as a bonus, earn their place as a pioneer of the now very real plug-in era.
While Jaguar waits for Australia to get its act together, they can rest easy knowing they've kicked off a new chapter of an electric future which, I sure as hell can confirm, has well and truly started.
To further explore all the bells and whistles of this impressive piece of tech, head to Jaguar's website.