When you hear the name T.E. Lawrence you think military strategist, archaeological scholar, Peter O'Toole and Lawrence Of Arabia, but it was his untimely death, at the age of 46, that brought attention to the danger of motorcycles and the need to make it a safer activity for riders. This best motorcycle helmets guide unpacks the history of the helmet, what to look for when buying, common questions, different helmet types and finishes with the top-rated products for safety. Finally, I share my thoughts on what helmet I would purchase following my research for this piece.
When was the motorcycle helmet invented?
There is a bit of controversy regarding the actual inventor of motorcycle helmets and when. Gottlieb Daimler, often referred to as "the father of the motorcycle", is said to have created a fur-lined leather cap, circa 1885, to be worn while using his 'riding car', thus is often credited for the invention of the helmet. However, ambiguity surrounds the safety features of Daimler's cap which leads many to believe that a medical officer at the Brooklands Race Track named Eric Gardner created it in 1914 after instructing a Mr Moss of Bethnal Green to make a canvas and shellac helmet to protect riders during races.
Regardless of the controversy, the turning point for motorcycle safety came with the death of T.E. Lawrence.
---
---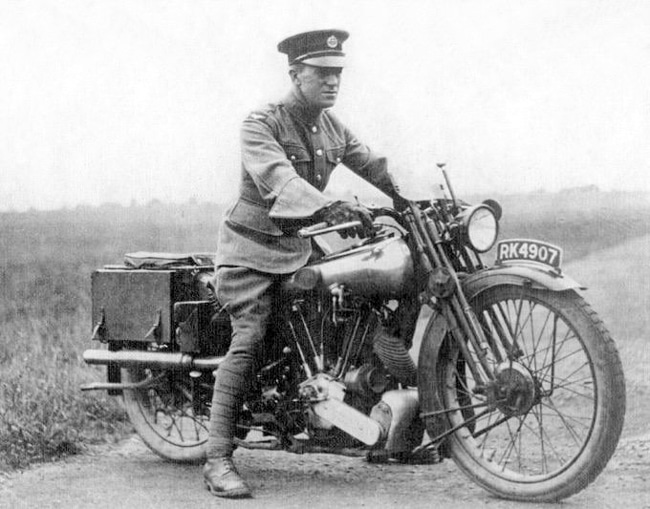 Soon after retiring from RAF in 1935, T.E. Lawrence was involved in a motorcycle accident just miles from his home in Dorset. He suffered severe head injuries leaving him in a coma for six days, before passing on 19 May 1935. His death disturbed Australian neurosurgeon Sir Hugh Cairns, who attended to Lawrence while in hospital, which led him to begin researching head injuries relating to motorcycle accidents. In 1941, Cairns published his first report in the British Medical Journal under the name 'Head Injuries in Motorcyclists – the importance of the crash helmet'. His work became the first real push for the need to wear motorcycle helmets. It wasn't until 20 years later, on January 1, 1961, Australia lead the way by introducing the first-ever mandatory motorcycle helmet law.
The modern motorcycle helmet
In 1953, Professor C.F. Lombard of the University of South California designed the first-ever shock-absorbing helmet. In 1954 the Lombard's innovation and helmet features were adopted by Roy Richter, the founder of Bell, who introduced the iconic Bell 500. Richter was also responsible for the world's first full-face design which debuted in 1967.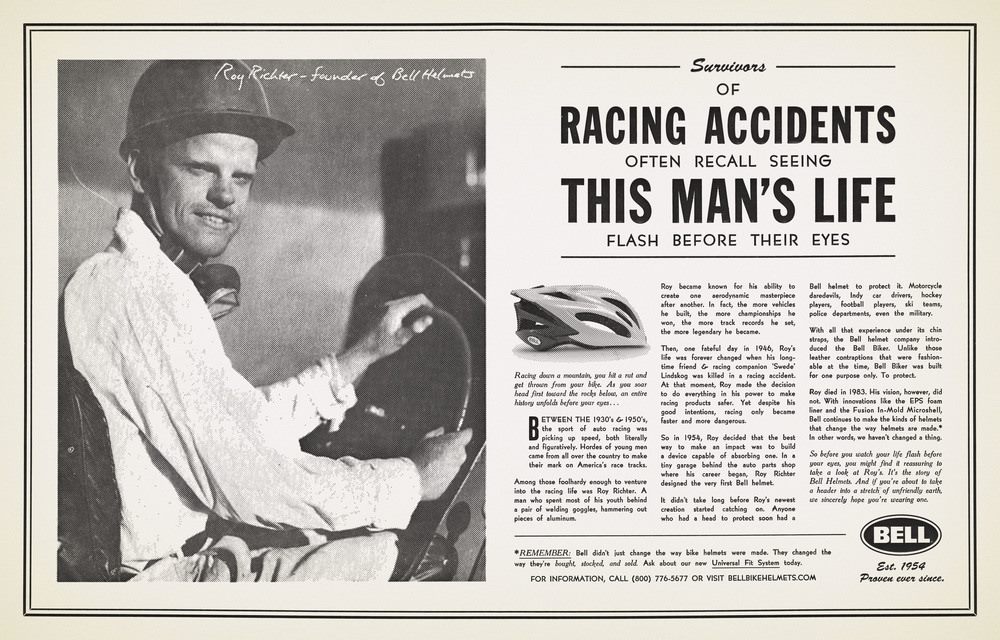 Today the motorcycle helmet is the most essential piece of safety equipment a rider can wear. As brands continue to innovate and motorcycles get lighter, faster and more powerful, Sir Hugh Cairns learnings as more important than ever. Riding a motorcycle is dangerous. Helmets decrease the severity of head injuries, the likelihood of death, permanent disability, and the time recuperating from an injury.
When it comes to selecting the best motorcycle helmet for you, it's important to prioritise your health before you consider 'looking cool', the major concern for riders not adopting the helmet in the early days. Ultimately, it is your budget that will decide just how much you invest into your head but fear not, there are plenty of lesser-known 'brand' names making excellent and affordable protective gear.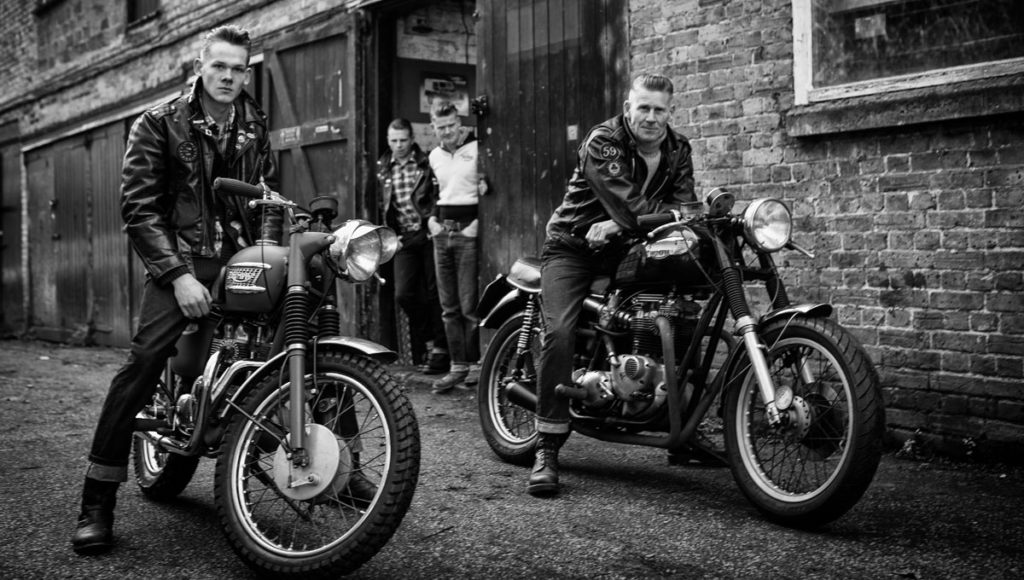 To get your head around which helmet is right for you, start by familiarising yourself with the best brand names in the space, then the type of helmet you are after, depending on what and where you ride. All helmets sold in Australia must comply with the Australian AS1698 or European UNECE22.05 standard and are marked accordingly and those stickers are not to be removed. Finally, it is worth cross-checking how your desired helmet performs in impact testing, before picking your number one.
While it may be cost-effective, buying motorcycle helmets online is not recommended, as fit is the most important factor. Pick up the phone, call around and speak to different retailers in your area. If you see a better price on the internet for the model you're after, try your luck and ask for a price match, then ask to set aside the size you think you are and the sizes either side to ensure the perfect fit. One of the best things to remember is, a new helmet should be as tight as you can comfortably wear it.
What colour motorcycle helmet is the most visible?
---
---
Lighter coloured motorcycle helmets come, naturally, with better visibility to other drivers and riders both during the day and at night. All white or silver are recommended for visibility as well as bright oranges, yellows or greens.
Is it legal to wear a European motorcycle helmet in Australia?
Yes, United Nations Economic Commission for Europe standard UNECE 22.05 helmets are now approved for wear in all states and territories.
What if I'm looking for the best Bluetooth motorcycle helmet?
I'm of the belief that any additional and unnecessary distraction only makes riding a bike more dangerous. However, for those who don't enjoy the 'escape' of riding and require constant connectivity, integrated Bluetooth helmets have come a long way in the past couple of years. If like me, you're less inclined to trust a tech-first brand, there are plenty of external Bluetooth communication units available to fit existing brands and styles.
Is it OK to buy a used motorcycle helmet?
Everyone from riders to safety standards experts warns against buying used helmets. The second-hand market is flooded with counterfeit products, old product and units that have been dropped, been involved in minor accidents or have experienced UV degradation. If it's not coming straight off the shelf or out of the box, it's likey to have a tainted history which may affect the structural integrity of the product.
How do you store a helmet properly?
---
---
Depending on how it is maintained and stored, a motorcycle helmet generally has a life of around five years; three years if used regularly. Helmets come with specific cleaning instructions and often with a removable and washable interior. Follow them before storing your helmet safely in a bag to avoid dust accumulation. Store it chin strap down on a shelf or hard surface, somewhere where it won't be dropped or knocked, away from petrol, cleaning fluids, or excessive heat. These elements can result in the degradation of helmet materials, and often the damage goes unnoticed by the wearer.
What is the best brand of helmets for a motorcycle?
The word best must take into consideration many facets, for the purpose of this best motorcycle helmets piece, our list includes historic manufacturers that paved the way for helmet innovation, notable emerging, and key manufacturers, those that score well in regards to safety, as well as those creating quality product at an affordable price point.
Airoh
Airoh Helmets was born in Italy in 1997 when founder Antonio Locatelli, who, at the time, produced helmet components for a number of well-known premium European manufacturers, launched his own range of products utilising over a decade worth of innovation and expertise. Airoh's mission is crystal clear: make the quality, safety and innovation of the helmets reserved for racers available to every motorcyclist.
Arai
Arai Helmets was founded in 1937 by Hirotake Arai, originally as a hat manufacturer. The company shifted to protective helmets in the late 1940s with motorcycle helmets introduced in 1952, to satisfy Hirotake's own need for riding insurance. In 1976, Hirotake's son Mitch made the decision to make Arai better than average and set a goal to "be the number one helmet in the world".
AGV
AGV was founded in 1946 by Gino Amisano and his two partners as a manufacturer of saddle covers and light helmets. Amisano evolved into Vespa and Lambretta parts alone before meeting his soon to be wife, Luciana Morando. In 1947 the pair launched their first helmet and followed with a fibreglass iteration in 1954, marketing the company with much success (and aided in recent years by Valentino Rossi). Today it is owned by Lino Dainese, President of Dainese S.P.A. who bought AGV on July 30th of 2007.
Bell
The Bell Helmet Company aka Bell Helmets began life in 1923 as Bell Auto Parts, named after its location in Bell, California. Roy Richter, who was working for the company, purchased the store in 1945 for $1,000 and began producing helmets in 1954. Today Bell produces helmets for all types of racing sports, retaining its focus on creating the best safeguards for everything from regular road travel to land speed racing. You can read more about the history of Bell at lowbrowcustoms.com
Caberg
Founded in Bergamo in the North of Italy in 1974, 'Caberg' is the acronym for Caschi di Bergamo (Helmets from Bergamo). Caberg was the first Italian company to introduce a flip-up helmet, and the second worldwide, and has remained at the forefront of modular helmet innovation since.
Fox
Fox Head Inc, operating as Fox Racing, was founded in 1974 by Geoff Fox and built its business by developing clothing for motocross. The brand today has shifted into apparel for other extreme sports but maintains a strong motocross focus, creating helmets that are innovative, affordable and safe.
---
---
Hedon
Hedon was created in 2011 by Reginald Flint and Lindsay Chong, a pair with extensive experience in design and helmet crafting. They set out on a mission to rethink the urban rider's protective headgear creating something bold, refined and nostalgic with comfort as a driving point above all else. Hedon is more of a luxury helmet brand than a performance manufacturer.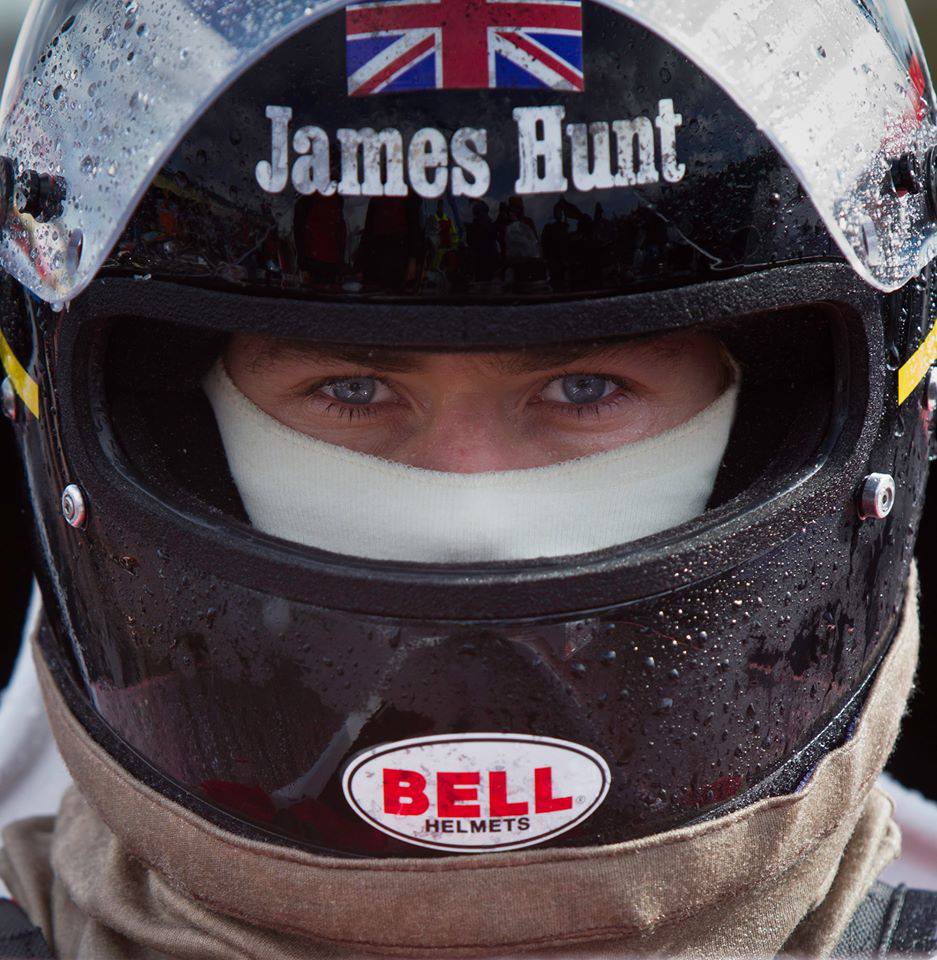 HJC
Headquartered in Seoul, Korea, HJC has been producing helmets since 1971. Founded by W.K. Hong, the brand became the top-selling helmet manufacturer in America in the 1990s after ramping up its quality control and innovation, focusing on advanced material construction, strength and lightweight performance. Today HJC continues to spend about 10% of its revenue on R&D and is well regarded for quality and affordability.
LS2
LS2 saw its beginnings in the 1990s when Arthur Liao created a home-based business in rural China making helmets. In 1992, Liao opened a new factory to cater for demand and grew from one employee to over 100. By 2005, the company was manufacturing 2 million helmets year. LS2 entered the Australian market in 2012 and cites 30% year-on-year growth via their distributor Monza imports.
Nolan
Nolangroup is an Italian company which was founded in 1972 by Lander Nocchi who began producing injection moulded polycarbonate shell helmets. It is the largest producer of helmets in Europe and the only company in the sector to produce entirely in Italy through a fully-integrated production process.
SCHUBERTH
SCHUBERTH was founded in Germany in 1922 and entered the helmet business in 1929 before producing its first motorcycle helmet in 1954. Today their portfolio includes helmets for workers, police, fire brigade, motorcycling and Formula 1, including gracing the head of 2021 Champion Max Verstappen. Readers of MOTORRAD, Europe's largest motorcycle magazine, have named SCHUBERTH their best brand, for 13 years in a row/
Shark
Shark Helmets was founded in Marseille, France in 1986 by former professional racers the Teston brothers, determined to create one of the world's safest helmet brands. Known for its innovation, in 1991, the brand was the first brand to have industrially manufactured a helmet using carbon fibre. Today the brother's ethos remains, to push the technical boundaries by reinventing the motorcycle helmet industry.
SHOEI
Just like the very first SHOEI helmet created by the brand's founder Eitaro Kamata back in 1959, SHOEI has established itself as the preeminent manufacturer of handmade helmets, with over 50 people involved in the construction of each and every helmet. SHOEI combines the latest in technology with consumer feedback, modern testing practices, advanced materials and 60 years of helmet building experience.
What are the safest motorcycle helmets?
To properly gauge the safest motorcycle helmets, first, it is vital to look at the type of helmet as those that cover the whole head provide infinitely more safeguards than open-face models.
---
---
Full Face Helmet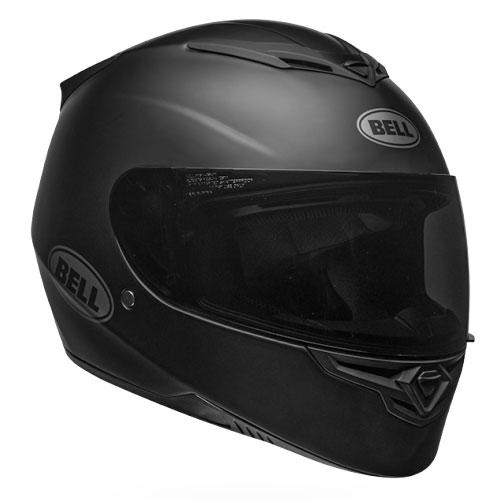 The full face motorcycle helmet covers the whole face and head with inner padding, thus they provide the rider with a snug and secure fit and offer the most coverage for your neck. They also feature a chin bar and ventilation system integrated into the outer shell, to protect your face from potential impact, a key safety feature other styles lack. Many also feature internal sun visors.
Modular Helmet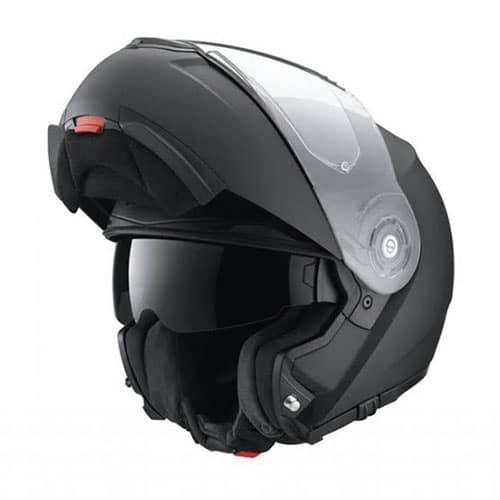 Modular motorcycle helmets, aka 'convertible' or 'flip-face', combine an open helmet structure with a visor and chin bar that can flip up to reveal the face of the rider. Unlike a full face design, which is a single, structurally rigid outer shell, modular helmets utilise a hinge which is more susceptible to breaking and exposing the face on impact. The modular helmet is not designed to be ridden open.
Open Face (¾) Helmet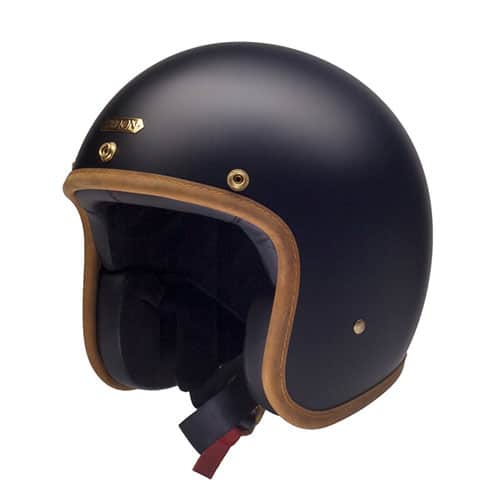 Open face helmets, like the Bell 500, aka the ¾ helmet, cover the top, back and sides of your head, but leaves the face exposed without cheek pads to secure the helmet. The design prioritises price point, comfort and style and are popular with city commuters and the cafe racer crowd. Some feature a detachable sun visor, sun shield or face shield which can add security against potential impact.
Dual-Sport Helmet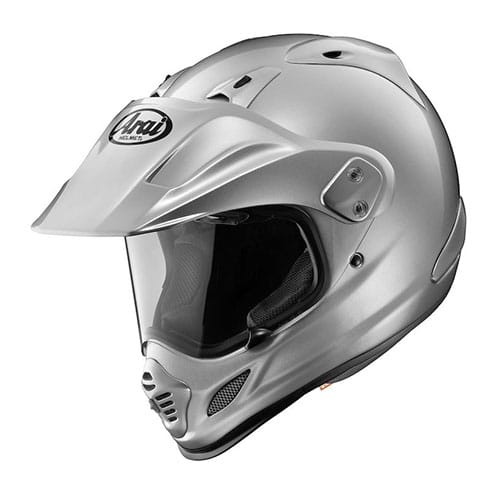 Dual-sport (Crossover, ADV, Hybrid, Enduro) helmets are a mix between a full face and off-road helmet, designed to be used both on or off-road. Typically, they feature an outer shell like off-road or modular helmets with an elongated chin bar and space for goggles but with more interior padding for added comfort on longer rides.
Off-road Helmet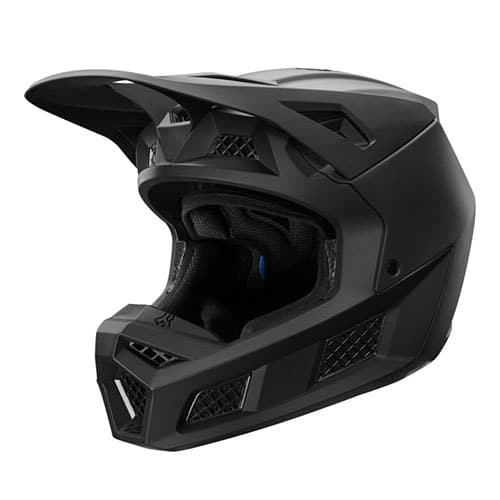 Off-road helmets are characterised by their accentuated chin bar to boost airflow and wide eye ports (no face shield) to allow for goggles and an extended field of vision. An adjustable sun visor also protects from glare and allows riders to dip their heads and block roost from bikes in front. They are typically designed for maximum protection and minimum weight.
Half Helmet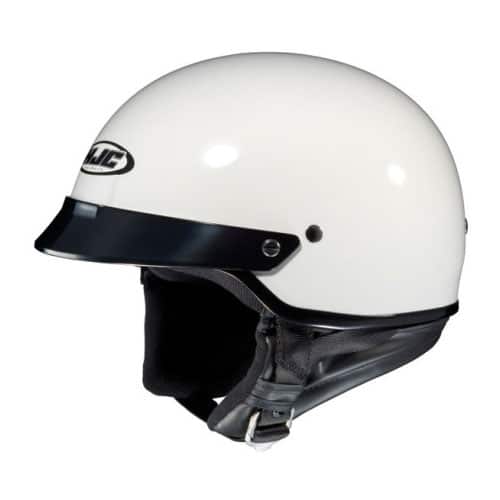 Half helmets sit primarily on top of your head, with shielding around the back of the skull and over the ears. The helmet design comes with no facial protection (or occasionally an optional face shield) and the propensity to move or dislodge upon impact, they provide limited features for riders. The price point is generally low, however.
Which specific models are the best rated for safety?
The Consumer Rating and Assessment of Safety Helmets (CRASH), provides helmet buyers with independent crash and comfort assessments by independent specialist laboratories.
CRASH awards a star rating from 1 to 5 for specific models, with results ranked and weighted based on their importance in reducing the risk of head and brain injuries in a crash.
---
---
The CRASH ratings for 2017 onwards are as follows:
Energy reduction in a higher speed crash on a flat surface (30 per cent)
Energy reduction in a higher speed crash on kerb surface (15 per cent)
Energy reduction in a lower speed crash on flat surface (15 per cent)
Helmet's ability to minimise the rotation of the helmet in a crash (15 per cent)
Helmet coverage (10 per cent)
Oblique impact energy management (15 per cent)
The best motorcycle helmets in Australia from a protection standpoint
Overall helmets (Road & Motocross/Dual Sport)
Fox V3* – 93/100
Troy Lee Designs SE4*– 83/100
Fly Racing F2*– 82/100
Sena Momentum Evo – 79/100 (56)
Answer Racing AR1 – 78/100
Shark Race-r Pro – 77/100 (73)
Bell Star* – 76/100 (63)
Bell Moto 9 Flex* – 76/100 (60)
HJC RPHA 90 – 75/100 (68)
Airoh Valor – 75/100 (54)
Bell Race Star – 74/100 (75)
HJC RPHA 11 – 74/100 (74)
Lazer Rafale SR – 74/100 (53)
Italics represent Motocross helmet
(Bracket indicates comfort score)
*With angular acceleration management system
Road helmets only
Sena Momentum Evo – 79/100 (56)
Shark Race-r Pro – 77/100 (73)
Bell Star* – 76/100
HJC RPHA 90 – 75/100 (68)
Airoh Valor – 75/100 (54)
Bell Race Star – 74/100 (75)
HJC RPHA 11 – 74/100 (74)
Bell RS-2 – 74/100 (53)
Lazer Rafale SR – 74/100 (53)
HJC TR-1 – 71/100
AGV K1 – 70/100
Arai Axces-3 – 69/100 (74)
HJC CS-15 – 69/100 (67)
(Bracket indicates comfort score)
*With angular acceleration management system
Seeing this list of top-rated safety helmets after looking at our selection of best brands (of which the majority have been tested), puts protection at the forefront of your purchasing decision.
These results are a clear indicator that, while a brand may be premium or hold a certain level of pedigree or prestige in the space, it doesn't necessarily mean they create the safest motorcycle helmets. AGV, Arai and SHOEI are surprising exclusions from the top 13 overall list and AGV and Arai only just make the top 10 road helmets list, with SHOEI absent from both, despite their high price point.
Relative newcomers Sena, as well as Shark, Bell and HJC, are the standout performers when it comes to protection, according to the boffins at CRASH.
CRASH Versus Canstar Blue
Canstar Blue, one of the best Australian consumer review and comparison website sees just five brands compete in their best motorcycle helmet comparison, with an overall award for customer satisfaction to AGV. Unlike other products though, actually putting a helmet and its outer shell to the test requires an accident, of which many riders have (fortunately) never experienced.
Despite this, 32% of the Canstar comparison respondents listed 'Degree of protection' as the leading factor that drew them to their purchase. So while general satisfaction may be high, actual product performance is relatively unknown, which means Canstar's comparison only touches the surface – the surface of a small sample size, given that Australian retailers sell over 25 different brands.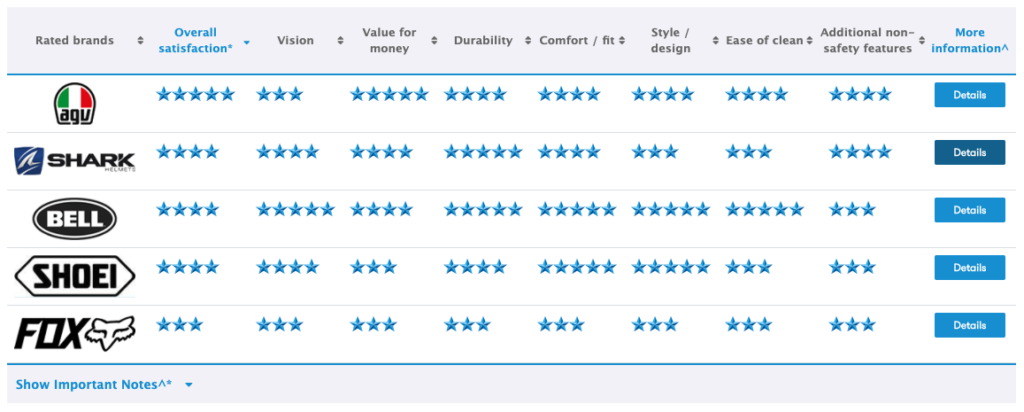 What is interesting about the Canstar comparison though, is the average respondents spent on a helmet: $300. Not only is this amount low, but it's also not enough to buy even the cheapest Shark or SHOEI helmet, with AGV and Bell just creeping into the price point.
The type of helmet respondents purchased gives a good indication of how highly safety is valued, with 48% opting for the safest option and a surprising 9% opting for the least protection in a half helmet.
Full-face: 48%
Modular: 15%
Open face: 14%
Half: 9%
Dual purpose: 7%
Off-road: 7%
Conclusion
I began researching this article because I wanted to find the best replacement for my KBC manufactured Harley Davidson helmet and because I want to purchase a secondary helmet for my girlfriend.
Considering the information above, what has been tested by CRASH and my budget of sub $600 per helmet, it would be hard for me to look past a full face Shark, Bell or HJC for proven protection and price point. Stretching the budget to $649 you could get into the top-rated Sena Momentum Evo however it's not super well rated on comfort. The Shark Race-R Pro can be purchased (on sale) for approx $500 which is a steal considering its rating across protection and comfort. Like many, style is important to me and because I only own a scooter at the moment, I don't want my helmet to look too extreme, which means no loud graphics or colours. The additional visibility offered by white is appealing.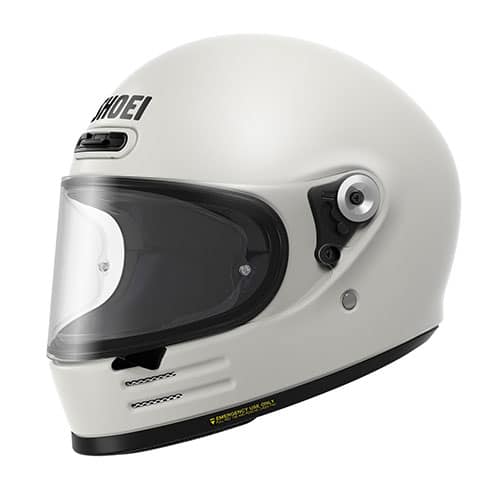 Personally, I love the minimal look of the SHOEI Glamster, Hedon Heroine Racer and SCHUBERTH C4 Basic but I'd prefer to see some more stats from CRASH before investing. Despite being such a highly regarded brand I find it intriguing that SHOEI's CRASH ratings aren't that great – the same goes for AGV. HJC is probably a tad too 'street bike' for me, as is Airoh, which, ultimately, leaves me with Shark or Bell who are doing some excellent vintage-inspired designs.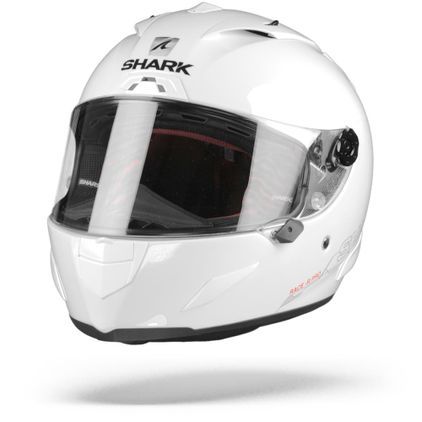 I'm drawn to the history of the Bell brand and their Bell Star helmet because of its great CRASH rating but again it's probably a little sportier looking than I would like – the RS-2 or Eliminator is more to my liking.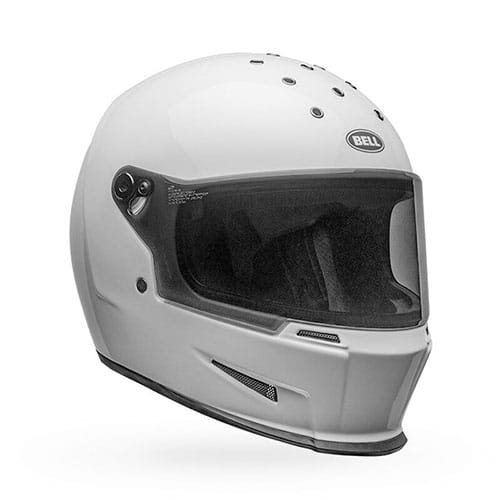 Depending on how I prefer the fit for my head, I will probably stretch the budget to accommodate the Bell Eliminator because I prefer the style (and the ventilation system), even if I'm gambling on similar protection performance to the rest of the Bell range tested. I'm happy to fall back on the Bell RS-2 because I know it has performed well in the CRASH testing, even though it didn't rate too highly in the comfort department.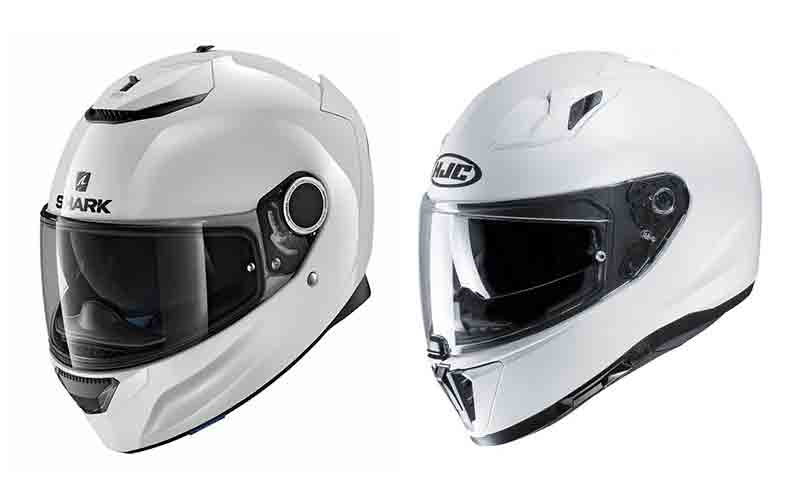 I would also try on the more HJC i70, which didn't perform as well as the Bell RS-2 for protection but rated a lot higher for comfort. And the Shark Race-R Pro and Shark Spartan ECE, just for good measure! At the end of the day, the best motorcycle helmet for you will be the one that fits into your budget and on your noggin. However, CRASH's protection results are valuable considerations before you purchase.
RELATED: The BMW C 400 GT Blends Comfort, Convenience And Cruisability