The world of concept luxury vessels is a pretty wild one, but you're unlikely to have ever seen a boat like this. Born in the concept labs of Lazzarini Design Studio, the "Embryon" is a new breed of hyperboat that boasts a transparent carbon fibre hull for views of the water you've never quite seen before.
Measuring 79-feet in length, the Embryon not only represents one of the more innovative approaches to boat design we've seen of late, but also some pretty impressive technical specs. Imagined to be powered exclusively by hydrogen, it will have an impressively quick cruising speed of over 60-knots.
Keeping its carbon footprint relatively light, the designers have also drawn up the plans for an all-electric setup, keeping the options wide open for the final client. However, the standard propulsion setup of the Embryon is a hybrid engine that features two MAN V-12 2,000hp engines and one electric 1,260hp engine, blending the best of diesel and hydrogen and apparently offering a top speed of 65-knots.
---
---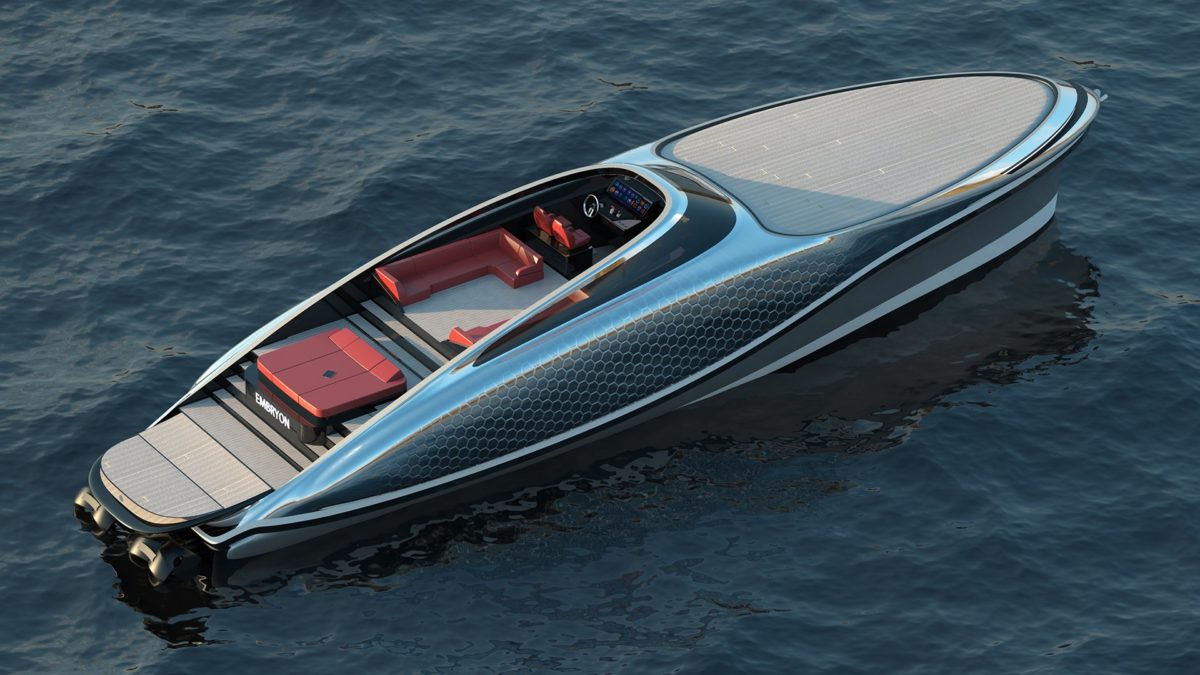 RELATED: James Packer Is Already Selling His 108m Benetti Superyacht For Nearly $300 Million
Arriving at the rest of what the Embryon has to offer, and we find four ensuite cabins, with a master suite, a VIP suite and two double cabins, with a full capacity of eight. From these cabins, its guests will have uninterrupted views of the water around the boat thanks to its transparent dry carbon fibre hull. The exterior of the hull has been finished with a mirrored finish to ensure the privacy of its occupants when looking at the boat, which doesn't impede the view of those inside the vessel.
The exterior of the Embryon has a twin-seated cockpit for the captain and crew, while much of the rest of the deck is taken up with a number of spacious sun lounges, which cascade down the rear of the boat to the waterline. The only unfortunate thing about the deck sun lounge, is you aren't able to see the elegant aggression that defines the silhouette of the rest of the boat.
While the Embryon is yet to find its final form out on the water, the tender for this Lazzarini concept has been set at €6 million (AU$9,370,000).