An 85-foot / 26-metre superyacht dubbed Rendezvous has sunk after catching fire at Princess Pier located in Torquay, Devon.
Authorities were notified at approximately 11:57 AM (BST) yesterday when the £6 million / $10.6 million luxury sea vessel spontaneously combusted. According to The Guardian, despite the multiple fire crews on the scene, the inferno would rage for more than two hours, eventually welcomed into Davy Jones' locker at around hour five.
But even after said inferno was extinguished – and after everyone had been accounted for with zero injury – there was another threat looming large.
---
---
RELATED: Cargo Ship With 4,000 Porsches, Bentleys, & More On Fire In The Atlantic Ocean
"The boat has been sunk so [the fire] is out now. It's been handed over now to the Environment Agency and the harbourmaster."

Devon & Somerset Fire & Rescue Service (DSFRS) Spokesperson
Among the entire selection of amenities you would have found aboard Rendezvous before it was ablaze – from the tasteful al-fresco dining room, wet bar, single 32-inch television, twin 55-inch televisions, to the gorgeous sunpad – the superyacht also contained about 8,000 litres of diesel fuel. In other words, the "noxious fumes" might not be the only lingering consequence.
"Our officers have been checking air quality around Torquay harbour this afternoon following the yacht fire, which was declared a major incident," states the Environment Agency South West.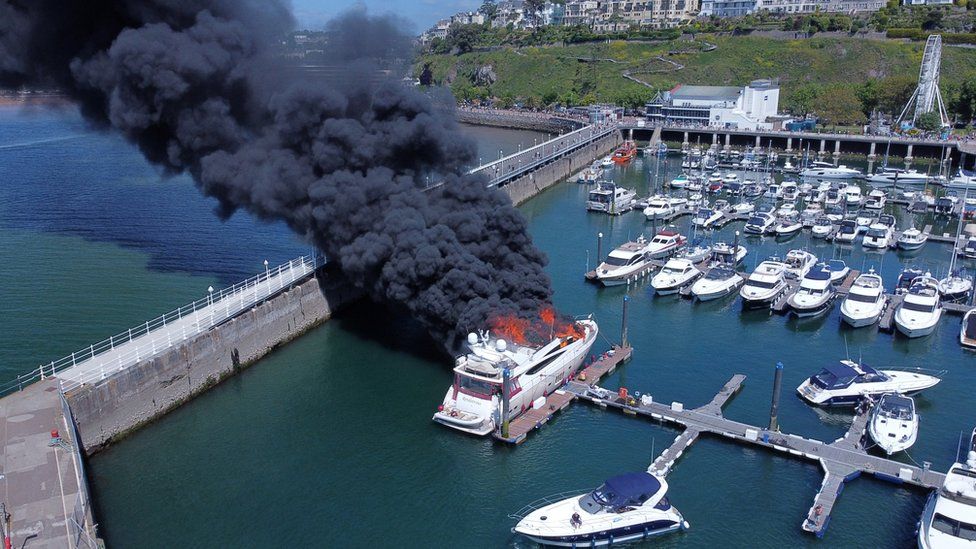 "Thought to be no real issues with air quality, but we're keeping an eye on the situation."
"With yacht now sunk and [approximately nine] tonnes of diesel on board, focus now on pollution."
"Pollution response is being led by the Harbourmaster. Our officers are helping with advice and guidance on bathing water quality, etc."
---
---
At this stage, an explanation for why the superyacht caught fire in Torquay harbour has yet to be determined/revealed.
RELATED: Paul Allen's 414-Foot Superyacht 'Octopus' Will Be Available To Charter This Year
Sporting a fibreglass hull designed by longtime Ferrari collaborators Pininfarina, Rendezvous represented one of just 31 Princess Y85 models in the entire world. In terms of power, as per the standard for a Y85, it housed twin MAN V12-1900 engines, enabling an impressive top speed of 32 knots.
Rendezvous was capable of accommodating eight passengers across four guest bedrooms in addition to three crew members across two staff rooms. Depending on its unnamed owner's preferences, the furniture would have either been oak or walnut with granite or quartz benchtops.
"An expansive single-level main deck provides ample entertaining space with a flexible galley arrangement," reads the official description provided by Princess Yachts.
"Three separate seating areas ensure the utmost privacy for guests with the crew able to move discretely around the yacht. With twin MAN V12 engines propelling her to a top speed of up to 32 knots, she cruises past her contemporaries without looking back."
"Unmissable, the all-new Y85 is unmistakably Princess."
Check out what your run-of-the-mill Princess Y85 superyacht looks like below.
---
---