The construction of a luxury sea vessel unlike any other is currently underway in Norway. Billed as the world's largest superyacht with an impressive length of 728 feet (222 metres), as well as being the world's first 'yacht liner', Somnio is due to set sail in 2024.
Derived from the Latin phrase for "to dream", Somnio has been conceptualised by UK's Winch Design alongside Sweden's Tillberg Design; while the build is being handled by Norwegian outfit VARD with the support of its renowned Italian parent company, Fincantieri, as we speak. With a reported cost of approximately US$600 million (AU$797 million), what's even more groundbreaking/borderline dystopic than the notion of both the world's largest superyacht / first yacht liner is the ongoing ambitions to establish a "hyper-exclusive oceanfront community" that's only accessible by "invitation or referral only."
Yes. that's right. Unless a Bezos, Buffett, or Musk decides to cop this ambitious 33,500 GT bad boy wholesale – the former having just stepped down from his post as Amazon CEO for retirement (convenient) – Somnio will be owned by several wealthy elites who only want to socialise with their own kind.
---
---
RELATED: Jeff Bezos' New Superyacht Needs Its Own Support Yacht To Fit A Helipad
39 opulent apartments will be fitted across six floors, accompanied by all the usual resort-like amenities of exclusive, 6-star resorts: fully-equipped kitchen, inside + outside dining spaces, dressing rooms, library, gym, so forth; along with communal niceties such as a lounge in the ship's bow, bars, restaurants, 10,000-bottle capacity wine cellar + tasting room, onboard beach club, water sports facilities, with concierge services catering for every possible need. The starting price for a Somnio sea apartment? US$11 million (AU$14.6 million). And they're already selling fast.
The co-owners will also enjoy a truly unique and private high-end lifestyle at sea, with a "never-ending global itinerary" of curated destinations to fulfil a lifetime of travel dreams" on the cards. Hence the name, I suppose. Focusing on your more leisurely and slow-paced adventures, Somnio will apparently explore the four corners of the globe – from the Mediterranean, to a casual week in New York, sailing straight across South Pacific, the odd remote island, and even offering the cheeky expedition in Antarctica.
According to Elite Traveler, the team behind this gargantuan vessel are collaborating with scientific research & development organisation Somnio Global to incorporate advanced eco-friendly tech to safeguard the ocean from potential harm. Renewable energy sources, chemical-free water treatment, and recycling plastics have already been adopted. Other features to be trialled will challenge issues such as carbon emissions, invasive species migration through the transference/release of ballast water, micro + macro plastics pollution, and ocean acidification.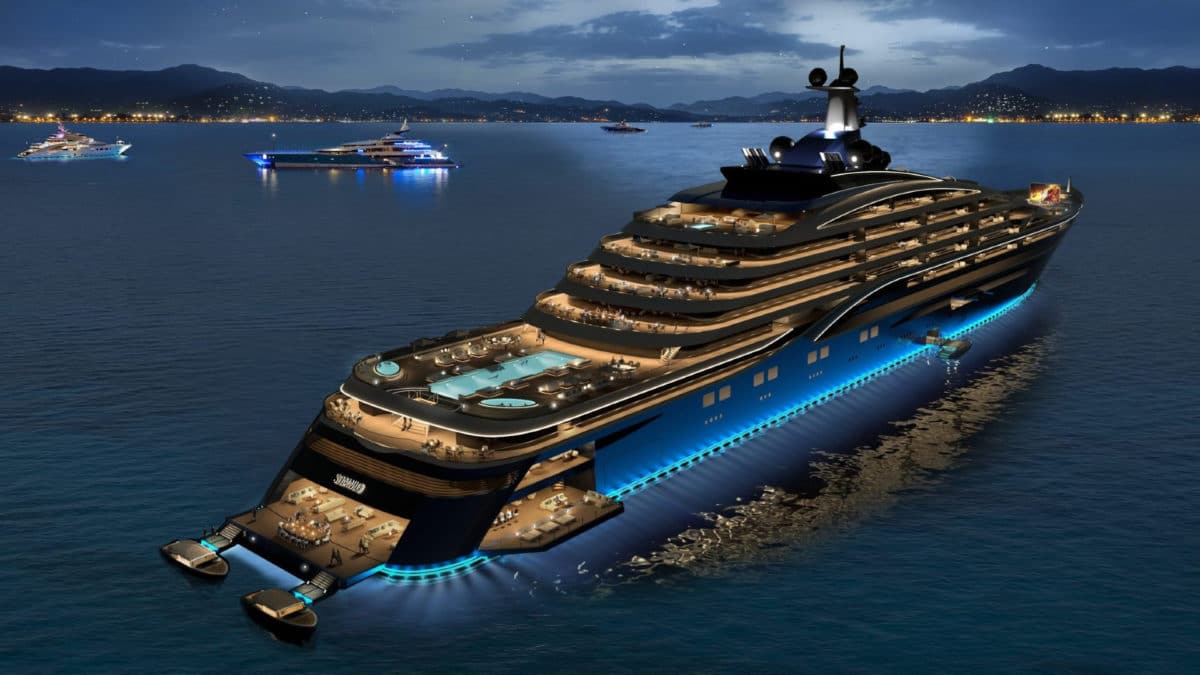 RELATED: Inside The $100 Million Superyacht Featured In Christopher Nolan's 'Tenet'
Additionally, the world's largest superyacht will actually carry out environmental expeditions – not just leisurely ones. Conducting research concerning the state of our oceans, this component of Somnio will be spearheaded by international experts "… enlisted to update owners on how best to approach key issues" and uplift the natural world in any way they can. World-class medical care included.
"Somnio will be the only residential superyacht in the world and has been designed to exacting standards that are commensurate with a life of opportunity," says Captain Erik Bredhe, Co-Founder of Somnio Superyachts and former Master of The World; the largest private residential yacht at this moment, measuring up to 643 feet and due to set sail again next month.
---
---
"Owners will share a truly unique lifestyle at sea, with a hand-picked crew and a never-ending global itinerary of carefully selected destinations and experiences befitting a yacht of this nature."
Keep an eye out for when Somnio officially becomes the world's largest superyacht in 2024 – find out more below.