Since first hitting Italy's waters, all 250 feet (76 metres) of the T760 Apache from Tankoa Yachts have been nothing short of stellar. The T760 Apache is Tankoa's most ambitious vessel to date, as it aims to perfect the balance between the look of the exterior and interior spaces; walking the design tightrope to offer both stunning form and superlative function.
The design of the Tankoa T760 Apache is all centred around a wide staircase that connects the main and upper decks from the lower beach club deck. What we're left with is a double-deck mezzanine effect that carries over to the beach deck with a source of natural light from above, with a perfect cut in the roof.
From here, the infinity aft view is made complete with foldable terraces on the side of the vessel, producing a capacious beach club that effectively creates your own exclusive 150m² upscale resort. With the beach area extending from the main deck saloon, any prospective owners of the superyacht will find this to be an inviting environment at any time of day. The bulwarks are complete with one-way windows, serving up almost 360-degree views from within.
---
---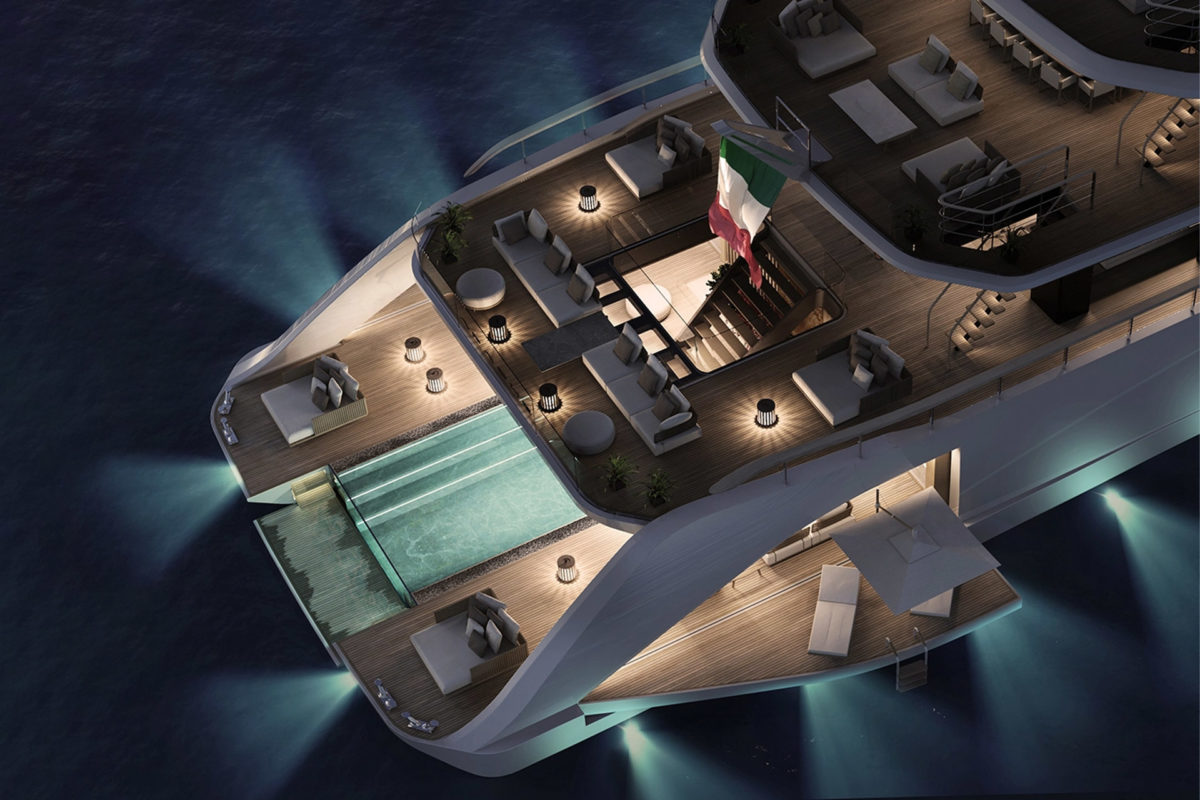 RELATED: Asymmetrical Superyacht Hits The Market For A Cool $47 Million
As you might have expected, the main deck saloon of the hull is on another level entirely. You'll find more than enough comfort in its 118m² of welcoming space, filled with natural light. In the design of the T760 Apache, Tankoa intended this section as a hub for socialising with direct access to the large outdoor terrace or down to the beach area, a brief that they've nailed.
Continuing this luxurious layout, the beach deck found on the yacht features a flying swimming pool, infinity aft view, and fold-out sections that provide the ship with additional sunning areas on either side. The flying pool will allow you to swim in the 9.5-metre suspended pool and swim through the yacht as if you were 'flying'. Positioned directly above the bow gym atrium, the flying pool is a 30-60m² space for its owner to embrace 'la dolce vita' within their own 76 metres of Italian luxury.
With four guest cabins located on the main deck, a VIP suite in the bow, and the 250 square-foot master stateroom on the upper deck forward, you'll need to start screening your calls if you decide this is the boat you need in your life. If you don't, at least your room will still be the coolest, as the owner's suite is 90m² and made for sublime comfort.
Tankoa also estimates the T760 Apache is capable of a range of 5,000 nautical miles at 15 knots, so you and the lads can enjoy getting up to antics anywhere in the world.