Two years since the initial unveiling at 2019's Geneva International Motor Show, Bugatti has presented the final version of its La Voiture Noire in stunning detail. And while it may have lost its title as the most expensive new car ever during the interim – an honour which belongs to the recently-manufactured Rolls-Royce Boat Tail, rumoured to have been commissioned by none other than Jay-Z and Beyoncé – the jaw-dropping hypercar certainly hasn't lost any lustre nor visual impact.
Inspired by the Type 57 SC Atlantic straight from the mind of Jean Bugatti himself, the bespoke model required 65,000 engineering hours across to complete. Sporting brand new carbon fibre external panels and a watertight construction, under the hood, you'll find a quad-turbocharged 8-litre W16 engine built from the Chiron's template – capable of generating 1,479 horsepower and just shy of 1,600 Nm. The La Voiture Noire achieves 0-100 inside of 2.5 seconds with a top speed of 420 km/h.
Up the front, there's a 3D printed grille; on the rear, there's six distinct tailpipes; and along the underside, there's an extended wheelbase. Even the headlights are entirely unique to the La Voiture Noire, featuring more than 25 individually milled elements in each cluster per side.
---
---
RELATED: The Bugatti Bolide Is A Staggering 1,824 Horsepower Prototype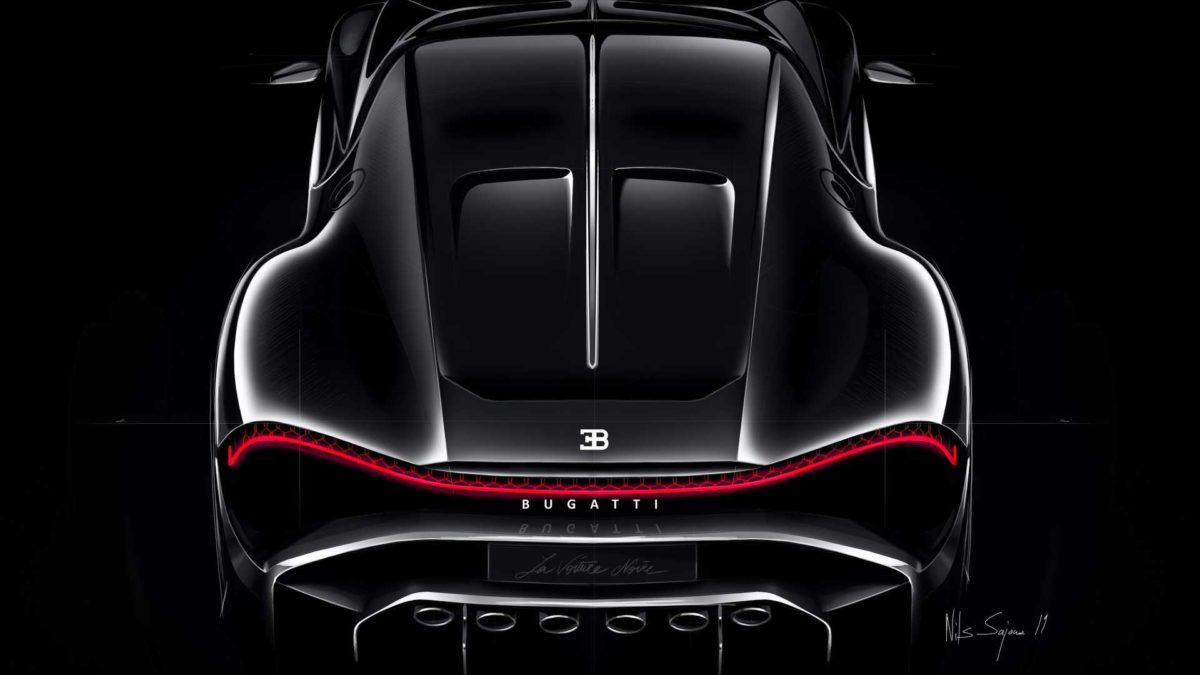 "We were rather in awe of the idea of developing the La Voiture Noire," says Achim Anscheidt, Bugatti Design Director.

"No other vehicle in the long history of Bugatti has acquired the same legendary status as the Type 57 SC Atlantic and has become so synonymous with the brand."
"With the completed La Voiture Noire, we are demonstrating once again that we develop the world's most sophisticated hyper sports cars," says Stephan Winkelmann, President of Bugatti.

"With its use of visible carbon fibre in jet black, the coupe's breathtaking sculpture looks especially elegant. It's a veritable grand tourer that went from being a vision to a reality – a unique project which stands for Bugatti's full creativity and artistry."
This murdered out one-of-one comes with an €11 million price tag before taxes (AU$17.29 million). Incidentally, similar to the Rolls-Royce Boat Tail, the Bugatti La Voiture has been purchased by yet another anonymous celebrity client (not Cristiano Ronaldo). All that's left to discover is the interior – check it out below.