Here at BH, we believe anything worth doing is worth doing well. We also believe if you have to kick around in a motorhome, make it the ridiculously lavish Dembell Land Yacht.

Created with the "gentleman on the road" in mind, this naughty boy is built on a stretched, three-axle Mercedes base with expandable features to increase internal space – as well as provide the usual electric parasol w/ wind sensor – and paired with interiors designed by Galeazzi e Minotti Studios (a previous collaborator of the yachting MVPs, Azimut). And as alluded to in the headline, below deck, there's enough room for a "tender garage" to carry smaller vehicles with you. The three different options are as follows:
Side Package Room
"Take your motorbike, quad, or bicycle with you in the side package room and explore the neighbourhood on two wheels. With three slide-outs, this solution has a great space utilization and layout allowing you to furnish it in the most flexible ways."
Small Garage
"With two slide-outs, this solution is the best compromise. It is not only easy to furnish but also able to carry a small and practical car like a Smart without taking up any space from the bedroom above it. Explore nearby cities in luxurious comfort."
Large Garage
"This solution with three slide-out is for travellers who are passionate about their cars, but don't want to give up comfort either. Not only is there enough space in the garage for cars from 4 to 4.5 metres long, but also the bedroom above remains absolutely comfortable."
While an official visual of this tender garage has yet to be published online, multiple sources have reported the feature was demonstrated by Dembell using a Ferrari California (4.5 metres in length) at the Caravan Salon Düsseldorf 2021 event.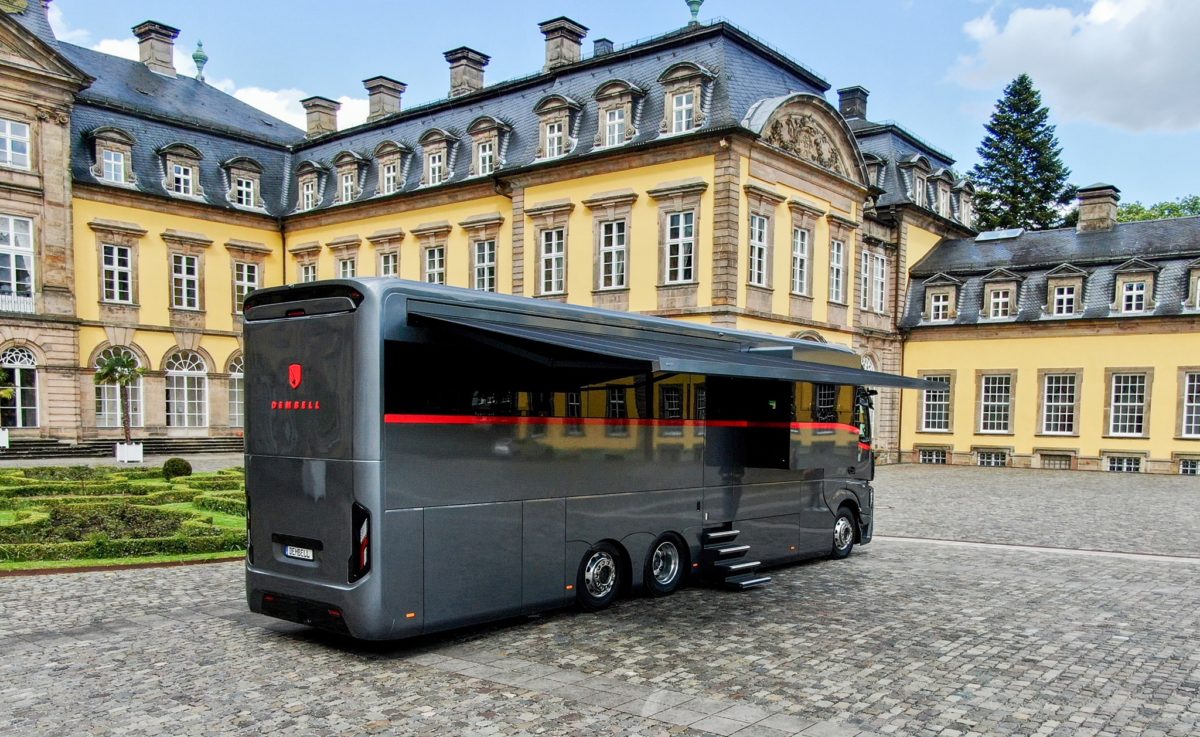 RELATED: This $1.6 Million Amphibious Motorhome Is The James Bond Of RVs
---
---
Step inside the Dembell Land Yacht and you'll discover everything you've come to know about / associate with motorhomes has essentially been elevated here. We're not just talking about luxe finishes like actual hardwood floors, stone bathroom trim, and veneered furniture, either.
From the four captain's seats with an integrated spring suspension + massage function, leather sofas, Miele kitchen appliances, to the washer + dryer, 55-inch television, lift-away queen bed for guests, and modern master suite – you'll be hard-pressed to scrounge up a complaint. Dining table optional.
"We believe that in every aspect of life, there is always an opportunity – for those who never settle for less – to find a new, better, more exciting solution," reads the official Dembell Motorhome description.
"Thus, it is always possible to create something more efficiently, at a higher standard. In our world real advancements are brought to life by this attitude. Dembell is one of those advancements."
"We dared to create a new experience and so land yachting was born."
Pricing hasn't been announced at this stage. But if money isn't an object, hit the link below to place a custom order for your very own Dembell Land Yacht.