Most people resent doing emails. We can't say we're a fan either, but when your phone pings with a subject line that includes the words "New Mustang Launch" we're reminded why we love this job so much.
An invitation like the one in question had us buzzing from receipt to arrival, that arrival being a crisp June morning at Adelaide airport a month later for our first drive of the 2018 Ford Mustang.
When I picture Mustang, I think of the classics. Brightly coloured stallions glimmering in metallic paint, their beefy noses hiding a raw, naturally aspirated engine and channelling chiselled lines towards a gorgeously swept back rear end.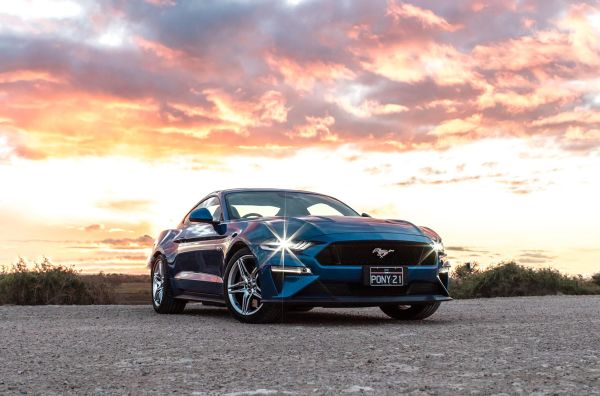 We lived with the Mustang for a few weeks last year – not me personally – but I had a chance to hear some impressions from the team and see the bad boy in the flesh. Overall, it was an incredibly fun car. It was as if someone had built a life-sized Matchbox toy for no other reason than to just have fun with it. It wasn't serious, it was almost too playful, and it had an X-factor that simply couldn't be articulated.
One thing that I never expected from the revamped 2018 offering was the improved balance between performance and assurance – assurance being a level of security and stability which the previous model simply could not provide. More on that later.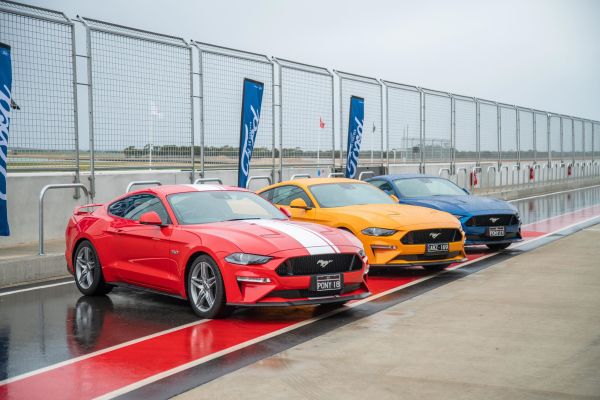 The Bend Motorsport Park – heard of it? Neither had we.
Planted in the middle of just about nowhere, an hour or so out of the city in country South Australia, this track took us by surprise. After a hefty and presumably rather expensive facelift, the circuit offered some incredible space to let these rockets loose.
Being a muscle car enthusiast from day one, walking into that pit lane to be greeted by a squad of brand new track machines had me giddy like a kid on Christmas morning. The first thing I noticed about the refreshed Mustang was a considerably sharper interior than the previous model, a recurring discussion we had when looking to deduct points from the vehicle last year.
I didn't get much time to get around it, however, before I found myself pinning it along the pit straight; the 'Stang absolutely eating up the tarmac with its thirsty 5.0-litre V8 putting power down like I couldn't believe. That was the second thing that caught my attention. How usable the Mustang's power actually was.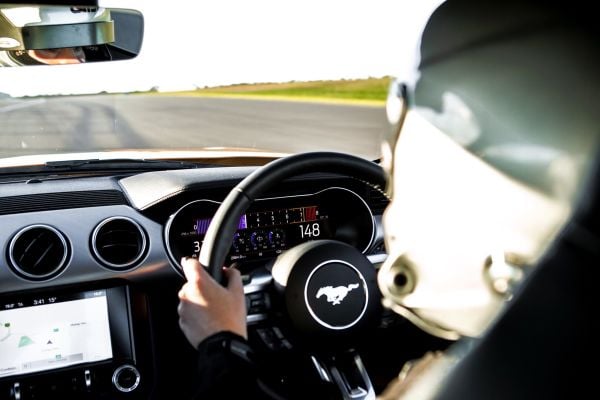 To be fair, despite all the fun we had previously, we still were expecting the handling to be akin to a cut snake, wildly beserk and a struggle to tame. The traction only ever got a touch slippy on some corners, but no matter how hard I tried to send it completely sideways, the stability control caught me every time. Within 20 minutes behind the wheel, I felt safe – quite a strong word to associate with a car that has been known for being anything but – though safe all the while.
Despite all the fancy tech and a polished interior, the blood that ran through the veins of these new Mustangs was indeed still classic. Everything I adored so much over the decades had gone unchanged. The deep, throaty exhaust tone, the raw power, and the rearing of the front end when you put your foot down, like a horse up on its hind legs letting loose out of the gates.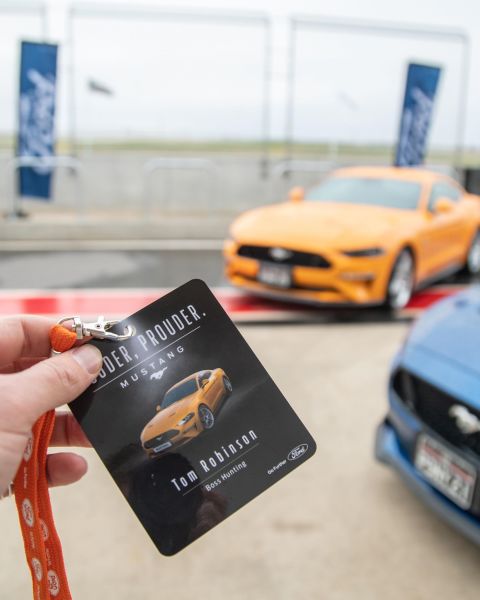 We'll all have different opinions on the overall revamp of the car from the outside, but we have to say the quad exhausts at the aggressively planted rear end look hot – like, real hot. They're louder this year too, much louder, so much so that Ford had to install a silencer to allow the driver to configure its noise level in certain suburban areas. Launch control is also available domestically this year, but please don't take our previous quips about traction as a professional opinion, or you could end up wrapping yours around a pole. *consider our liability released*
To book a test drive of the nation's best selling sports car, head over to Ford's website.
Words by Tom Robinson & John McMahon.