There are a bunch of great reasons to get around on your bike, especially if you live in the city. You don't get stuck in traffic, you'll never get a parking ticket or need to pay for petrol and it's an easy way to get a bit of exercise. However, there is a negative to commuting by bike (apart from the possibility of bad weather): you're likely to arrive at your destination and need a shower.
The electric bike is a great solution to this sweaty problem, giving you just enough additional pedal power to keep the heart rate down and the speed up. But what are the best electric bikes available right now, and what are the rules on them in Australia?
In Australia, the electric bike boom is here to stay, with sales up 800% in the last half-decade. This is thanks to the improvement of battery technology over the same period which has seen electric bikes evolve from being expensive and heavy with low battery range to lightweight and increasingly affordable alternatives to a traditional bike. Even as recently as 2016 there were just 9,000 e-bikes sold in Australia, compared to 85,000 forecasted to be sold in 2021.
---
---
The Best Electric Bikes For A Swift & Sweat-Free Commute: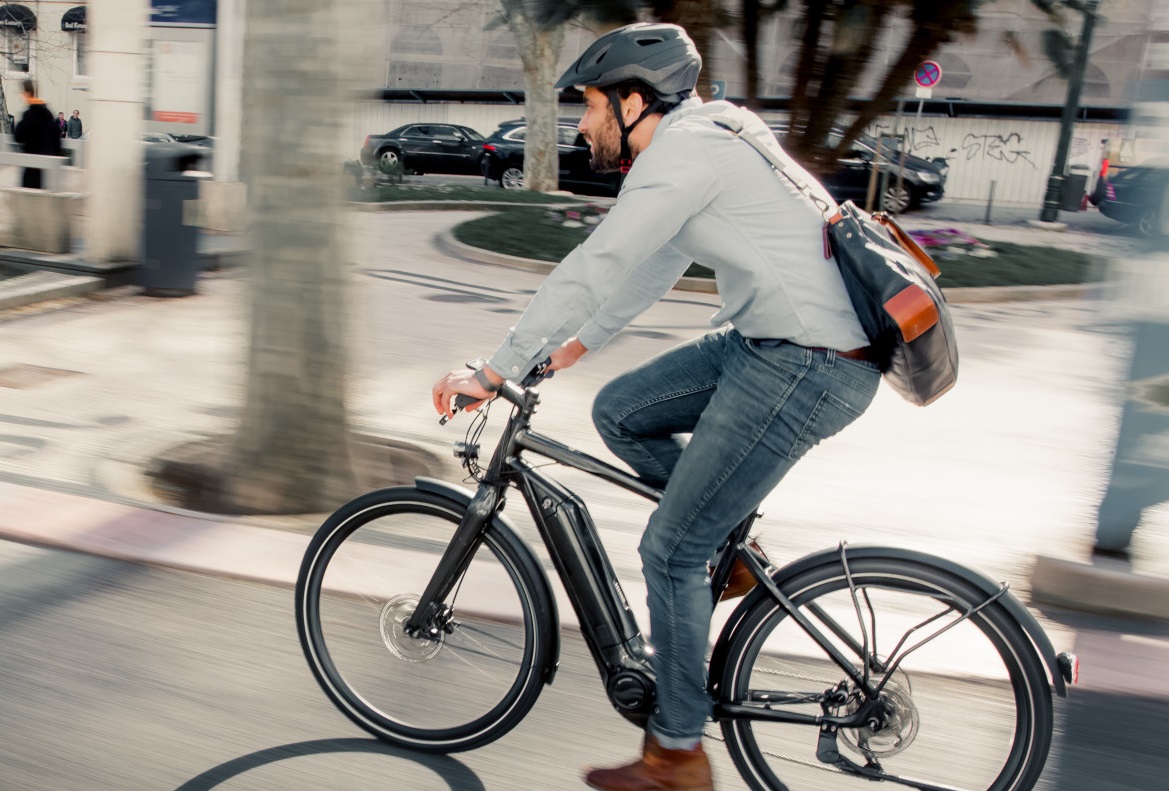 RELATED: The 20 Best Mountain Bikes Money Can Buy Right Now
What's the difference between an electric bike and a low powered scooter or motorbike?
In Australia, the distinction is made that e-bikes must be, "propelled primarily by the rider," rather than solely by the motor. Basically, you still need to pedal, but the motor offers pedal assistance to get you up to speed and keep you there, which is particularly helpful riding up a hill or into a headwind. The rules state an e-bike can have a motor with up to 250w of power, but that it cuts out when you hit 25kph or stop pedalling, in order to keep them as safe as possible.
Typically, most electric bikes are set up with lithium-ion battery packs that have more than enough power to meet the maximum Australian requirements. The battery range of an e-bike is a tricky thing to calculate, depending on the type of bike (eg. mountain bike vs. road bike), rider weight, speed, frequency of stops and number of hills.

In spite of that, nearly all bikes will have a range of between 30kms and 200kms depending on the specific conditions. Specialized has a handy range calculator that you can use to get a decent estimate of how far you're likely to get depending on your specific circumstances.
Because of how much variability there can be in range, bike brands have wasted no time in building highly specific types of electric bikes, from mountain bikes and road bikes, to heavy-duty cargo bikes and bikes that can carry child passengers.
It's definitely worth considering what you want the e-bike for and how you're likely to use it, be it commuting to work, taking the kids to school or hitting the trails on the weekend. With that in mind, we'll take a look at a range of the best electric bikes, so we've got you covered no matter what you're looking for. So without further ado, let's get into it.
---
---
---
Best Electric Bikes – Commuter
Cannondale Adventure Neo 4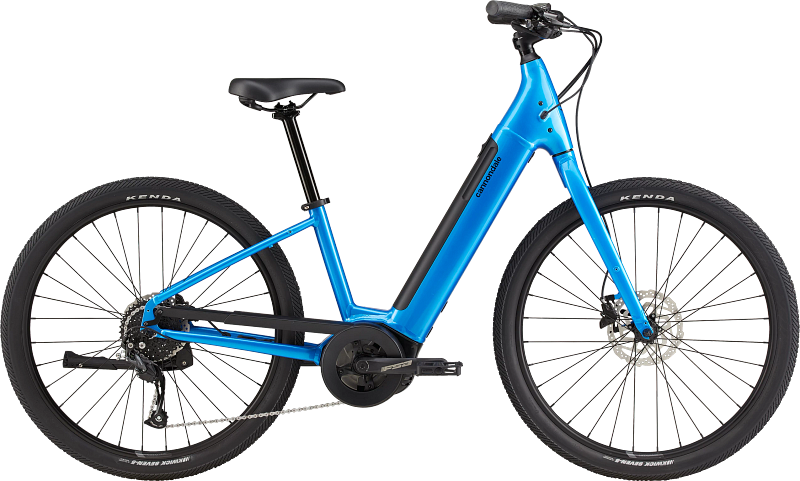 If you're after an e-bike to pop down to the shops, commute to the office, or just get around town, there's a lot to like about the Cannondale Adventure Neo 4. It's got a sleek looking set up, hitting the sweet spot that won't make feel like you're a professional racer, or riding the bike got to school on. It's also available in either an attractive electric blue, or a stealthier grey paint job, depending on what takes your fancy.
It's powered by a hardy 250w Bosch Active Line motor, which will easily zip you around town. The range is decent too, with up to 105kms in the tank between charges thanks to its 400Wh battery.
Also arriving with Shimano Altus 9-speed shifting to get you up to speed, and hydraulic disc brakes to slow you down, the lightweight aluminium frame of the Cannondale Adventure Neo 4 is relaxed and comfortable. So if you're looking for a simple, yet effective electric bike to get you from A to B, this is one to consider.
---
Gazelle Ultimate C380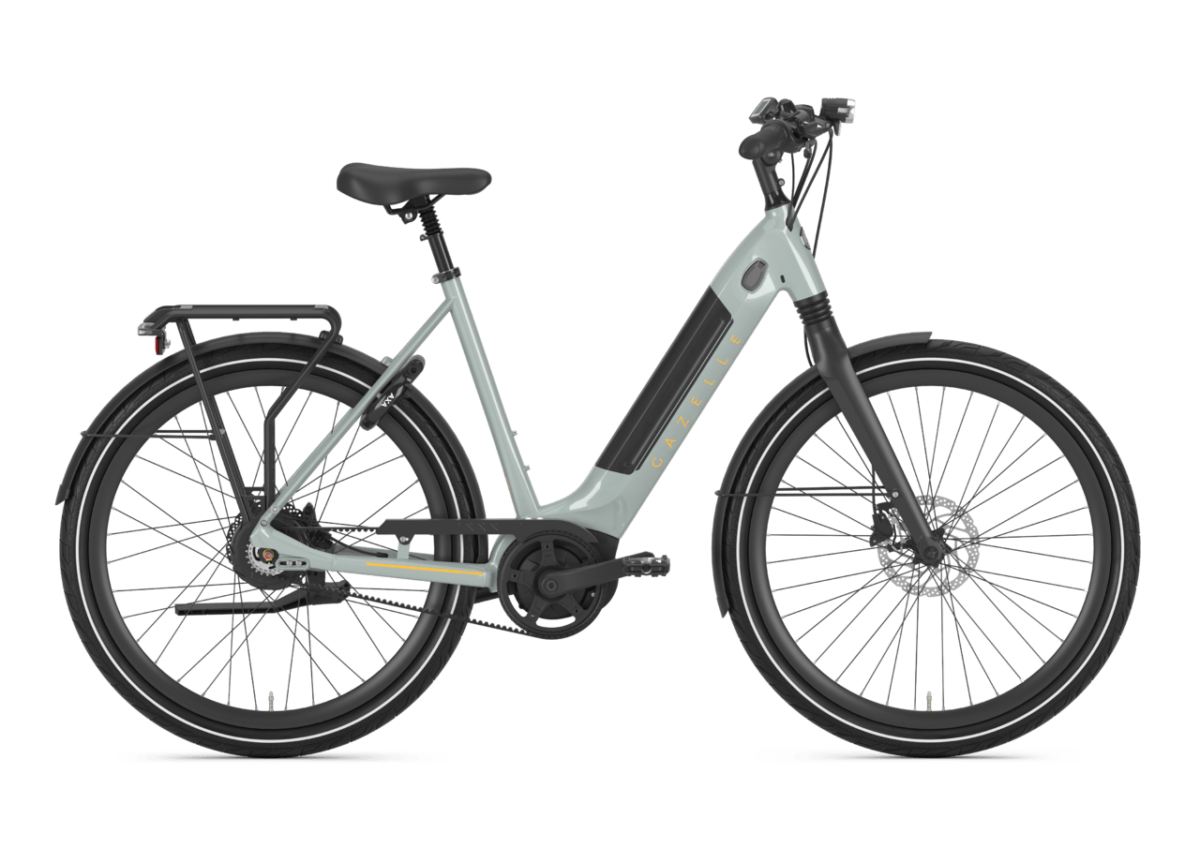 Another city bike worth a look at is the Gazelle Ultimate C380, which boasts a compelling blend of low maintenance geartrain and high-spec parts across the rest of the bike. With a lightweight aluminium frame that has a robustly designed geometry, it'll get you to your destination drama free and looking fresh.
The power unit behind what makes this electric bike roll is Bosch's Performance Line electric motor, which has an impressive 65 Nm of torque, combined with the cutting edge Enviolo trekking hub that makes steep hills a dream to climb. It's also made possible thanks to the 500 Wh integrated battery, which has a maximum range of 112kms. It also features safe and secure hydraulic disc brakes, a tail light that is integrated into the rear rack and an adjustable dynamo-powered headlight up the front.
With wide tires and front suspension to make for a smooth ride, it's a more up-market offering than some other electric bicycle options with the commute in mind, but Gazelle have gotten the details right.
---
Aventon Pace 350 Step-Thru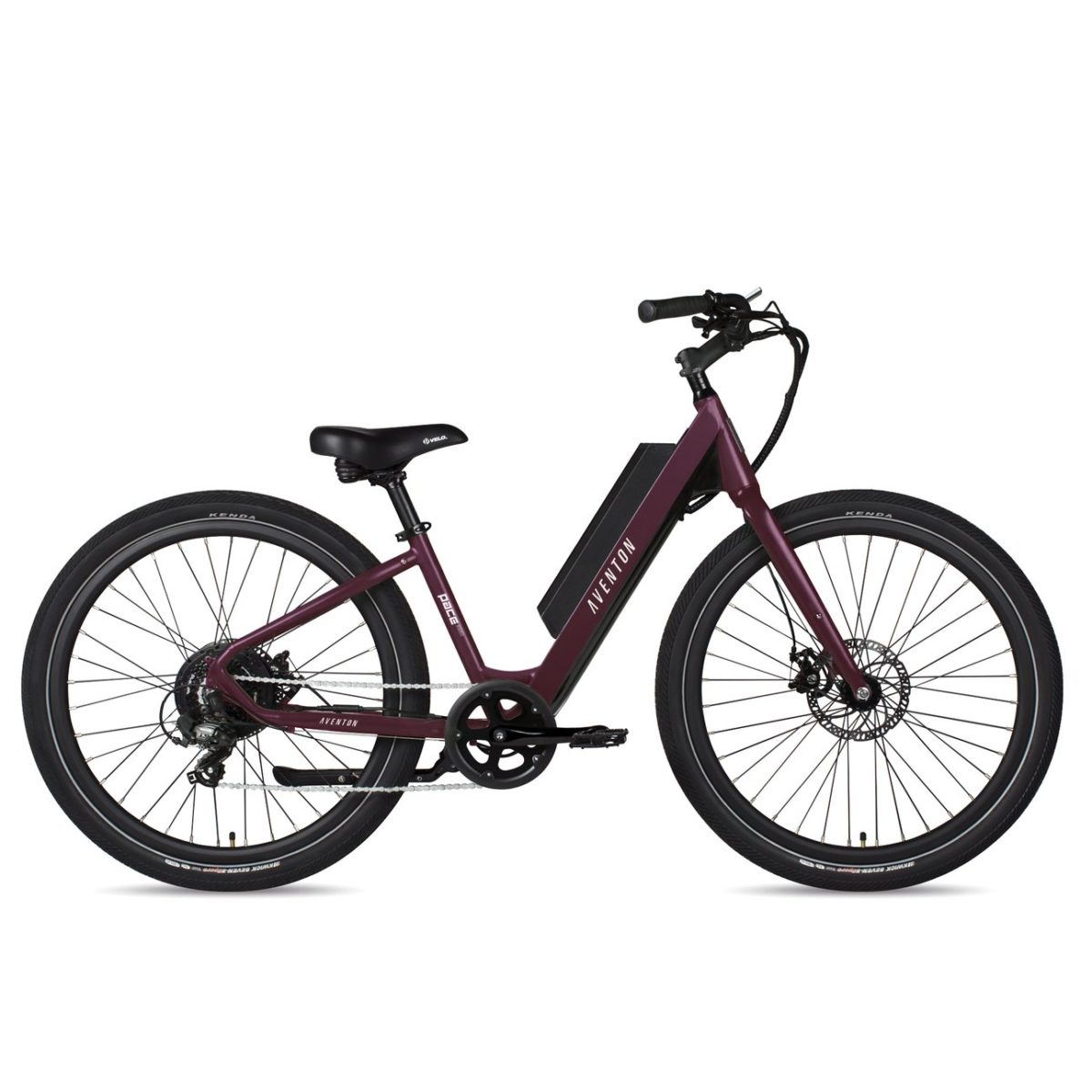 If budget is an important factor in the decision of which the best electric bike is for you, the Aventon Pace 350 Step-Thru is an attractive proposition. Despite being a more affordable option within the world of electric bicycles, Aventon hasn't skimped on the design of the Pace 350 Step-Through, with a relaxed frame geometry that ensures you're in a comfortable position when you're pedalling.
With a maximum speed that exceeds the legal limits in Australia, you'll be zipping around town with the 7-speed Shimano Tourney drivetrain and five levels of pedal assist built-in. It's powered by an integrated rear hub motor, with a decent-sized battery that will hit full charge in around 4 hours of charging.
---
---
With chunky and stable 2.2-inch Kenda Kwick Seven Sport tires, brakes via a set of robust Tektro mechanical disc brakes, it's a safe, stable ride that you don't need to be a professional to handle smoothly. On top of that, you're also getting some very decent value with the Aventon Pace 350 Step-Thru.
---
Lekker Amsterdam+ 1st Gen. eBike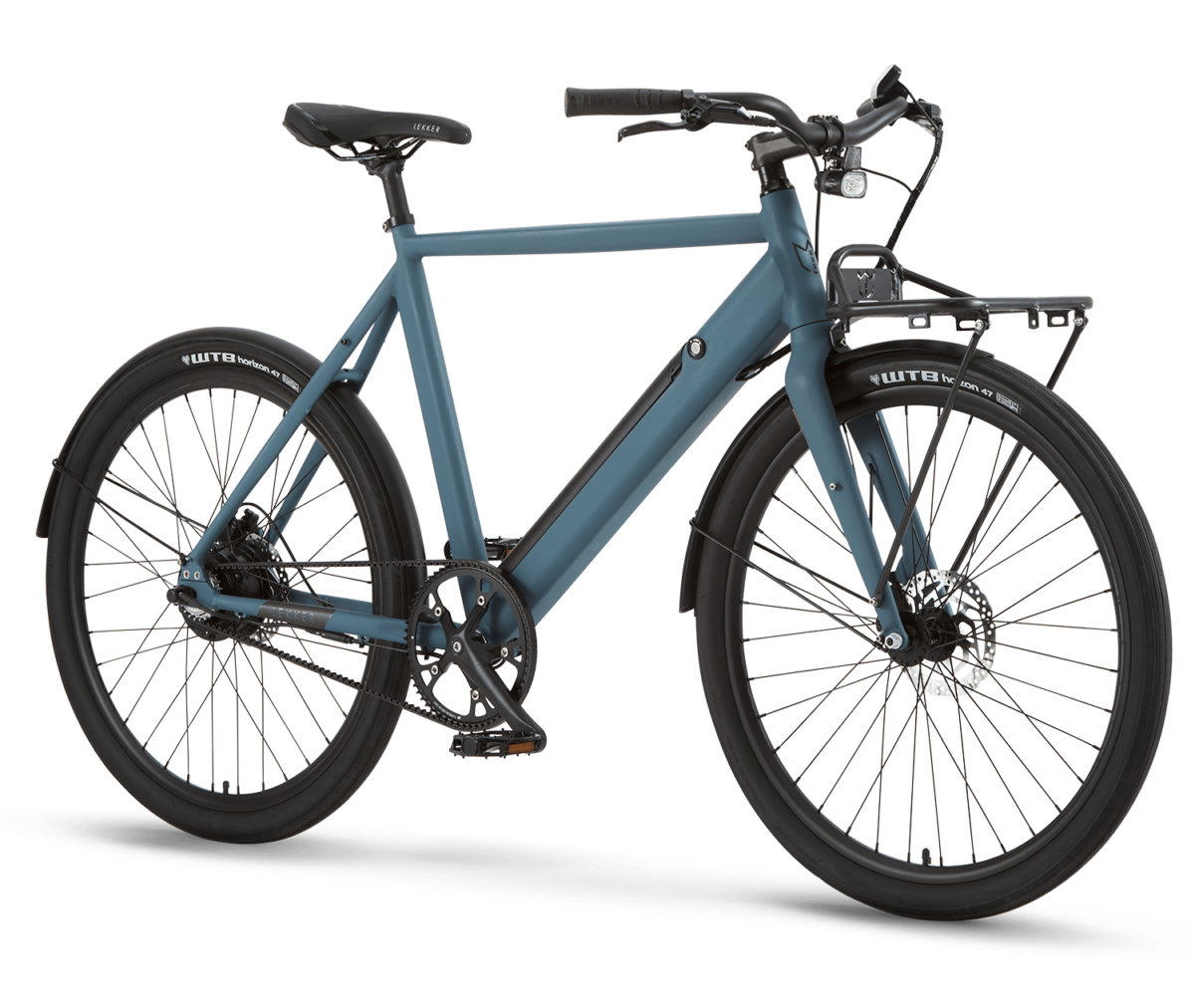 If there was anywhere on the planet that you should take suggestions on electric bicycle commuting from, it's the city of Amsterdam. Not only is it one of the most bike-friendly cities in the world, but this local knowledge has been put into good use by the folks at Lekker bikes, who have more than a couple of excellent electric bikes in their catalogue.
The first electric bicycle that the brand released was the Lekker Amsterdam+ 1st Gen. eBike, which is a thoughtful, but no-fuss approach to the daily commute. While it only had one gear (which might not be ideal depending on how steep the hills around you are), the lightweight 250w rear hub motor and aluminium 650B frame will have you zipping around town.
Featuring a removable 418 Wh capacity battery, the Lekker Amsterdam+ 1st Gen. eBike boasts a maximum range of 90kms which will likely only see you needing to charge it a couple of times a week. Good battery life isn't all, however, with a practical cargo rack on the front of the bike, for anything you might need to carry.
---
Giant Explore E+ 1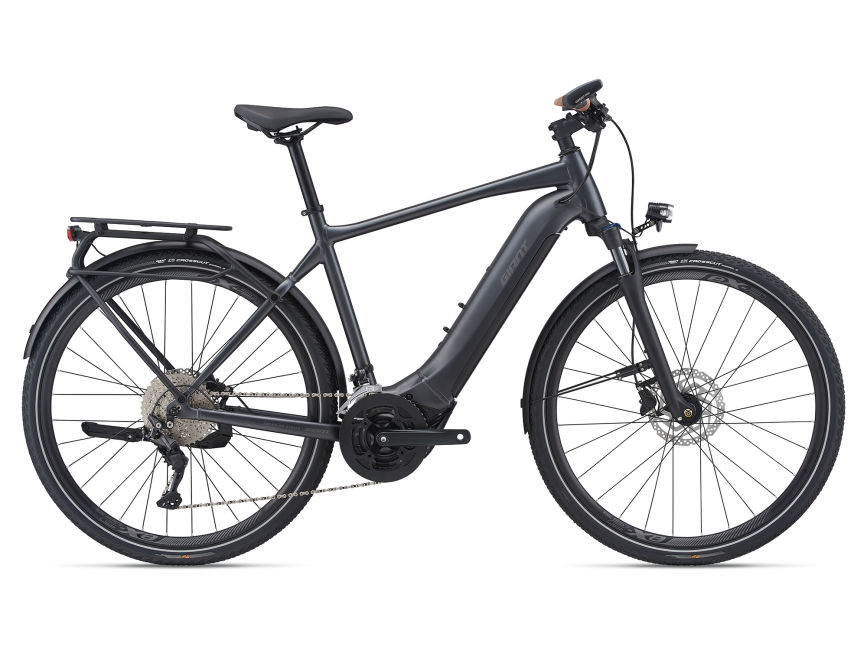 Another very solid offering in the world of e-bike commuting is via Giant, in their Explore E+ 1. With a relatively relaxed frame geometry that is optimised for a comfortable riding position, you should expect exceptional performance from a brand with such a strong reputation for ensuring a quality commute.
Powered by one of the more impressive hub motors on the market, the Giant SyncDrive Sport motor comes complete with an integrated EnergyPak that will make the most of your pedalling power. Containing 500Wh of power, the EnergyPak will serve up more power to your rear wheel than most, with a range of up to 175kms on a single charge.
With integrated front and rear lights, a rear-mounted cargo rack and versatile Giant CrossCut Gravel 2 tires, there's great value to be found in the Explore E+ 1.
---
Best Electric Bikes – Road
Specialized S-Works Turbo Creo SL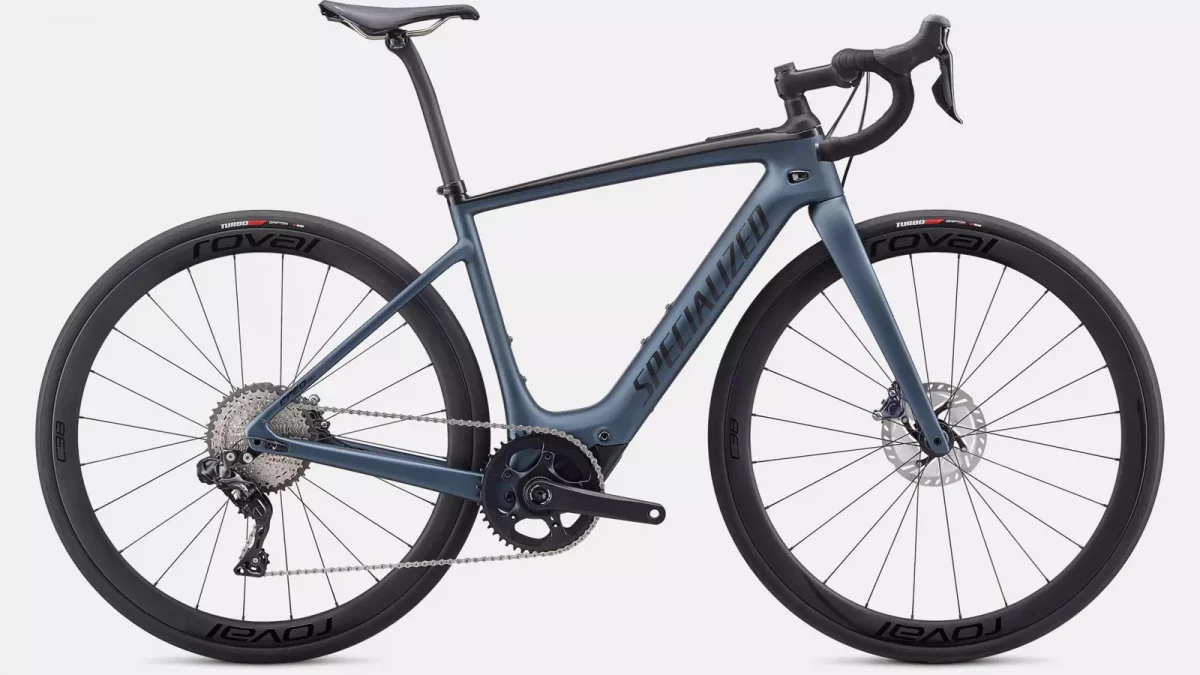 With a reputation for making some of the world's top-tier road bikes, it should come as no surprise that Specialized has also made a very impressive electric bike for the road. One of the best e-bikes from the Specialized factory is the S-Works Turbo Creo SL carbon e-road bike, which is lightweight, zippy and fast enough to get the blood pumping.
---
---
It's so light in fact, that Specialized is confident enough to state that it's, "the lightest e-bike in its class," meaning you'd be hard-pressed to find a bunch ride that can drop you when the pace lifts. Not only is it a remarkably lightweight electric bike, but it is also powered by the 240 watt, SL 1.1 motor that can silently offer as much pedal assist as you need for a little more speed. The SL 1.1 is paired with an amply sized battery that offers up to 128kms of range, making it the perfect e-bike to do some big days in the saddle.
The Specialized S-Works Turbo Creo SL certainly isn't the most affordable electric bike on the market, but if budget is less of a concern than power output and responsiveness, it's definitely worth considering.
---
Trek Domane LT+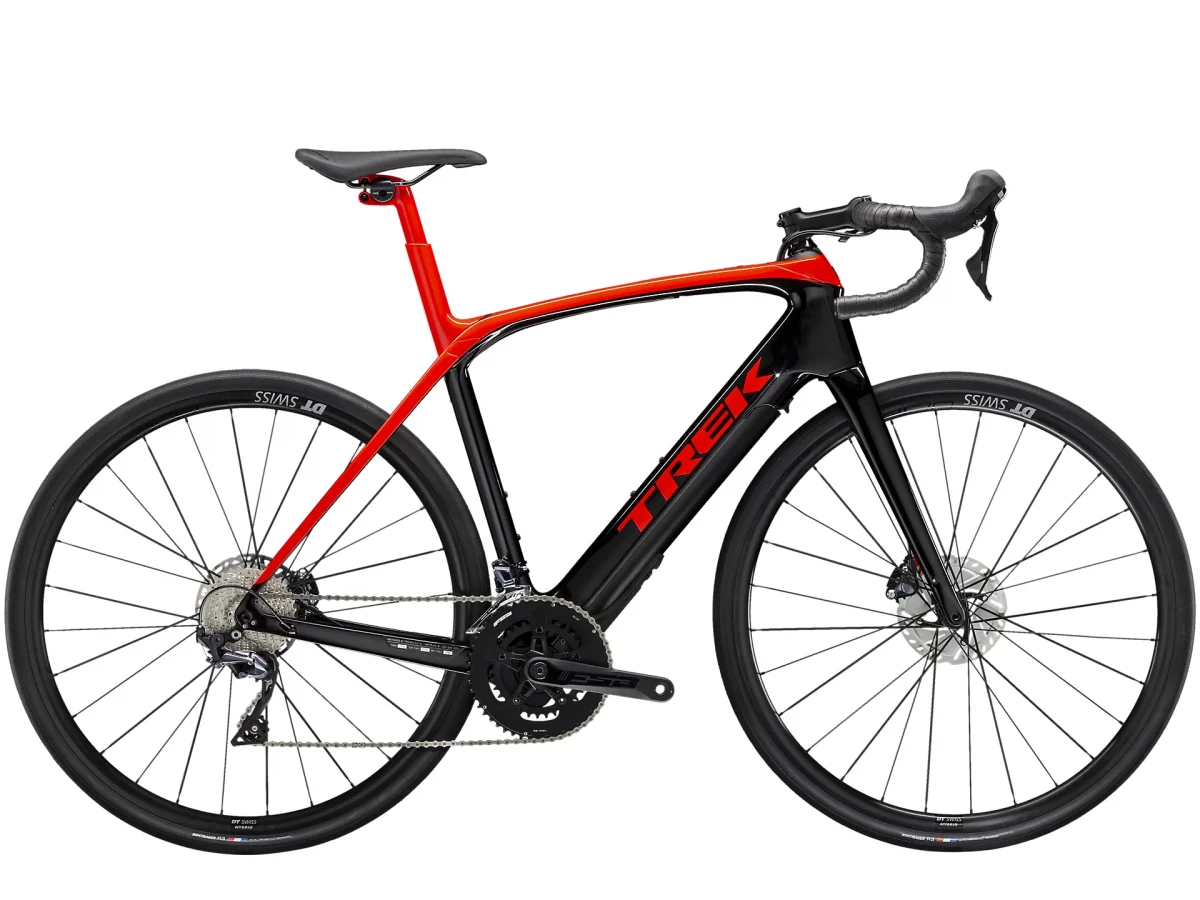 Trek is another manufacturer with more than its fair share of race-winning road bike expertise, which has been translated into an electric bike via the Trek Domane LT+. Using the endurance-road geometry of the Domane carbon frame and fork, as well as the rest of the trimmings you'd expect from a top-of-the-line road bike, the Domane LT+ can easily hold tempo at around 25kph.
The bike is powered by the Fazua Evation Motor, driven by a 250 Wh battery, which integrates seamlessly with the 2 x 11 Shimano Ultegra drive train. The benefits of the Fazua system are that when you pass the maximum assist speed or just want to turn the motor off, you won't feel much resistance thanks to its lightweight construction. If you don't need the extra power for your next ride, or you just forgot to charge the battery, you can also remove the motor and battery to save nearly 3kgs in total weight. If you're after an electric road bike that can double as a normal road bike, without sacrificing any aesthetic elements, the Trek Domane LT+ is worth considering.
---
Giant Revolt E+ 2022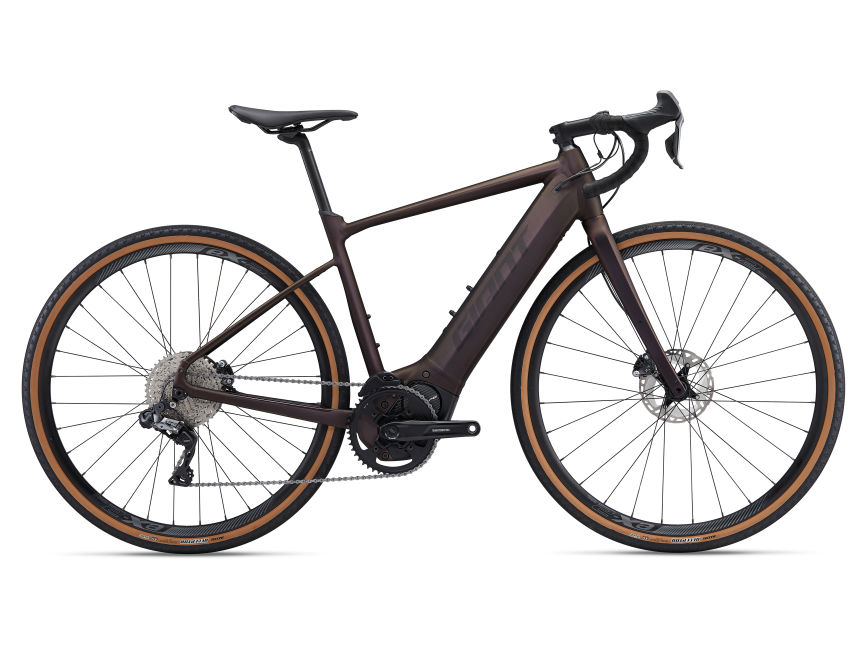 While not a pure road bike, the Giant Revolt E+ 2022 is a pretty compelling gravel bike that you could easily spend countless hours on the road with. With a lightweight ALUXX aluminium frame that offers a relatively relaxed geometry and a fully integrated motor and battery pack, there's a whole lot to love even before you get into the details.
Powered by the Giant SyncDrive Pro motor, the Giant Revolt E+ 2022 features an EnergyPak Smart Compact 500 battery that offers up to 160kms of range. The pedal-assist motor is easy to use via the RideControl Switch on/off button on the top tube, while the gearing is as simple as it comes with Shimano GRX Di2 set up, ready to go.
Equipped with tubeless Maxxis Receptor tires, the Giant Revolt E+ 2022 is as at home on the tarmac as it is on gravel paths, making it a properly quick and versatile ride. If you're after a roadie that can handle a little more, make sure you check it out.
---
Best Electric Bikes – Cargo & Family
Urban Arrow Family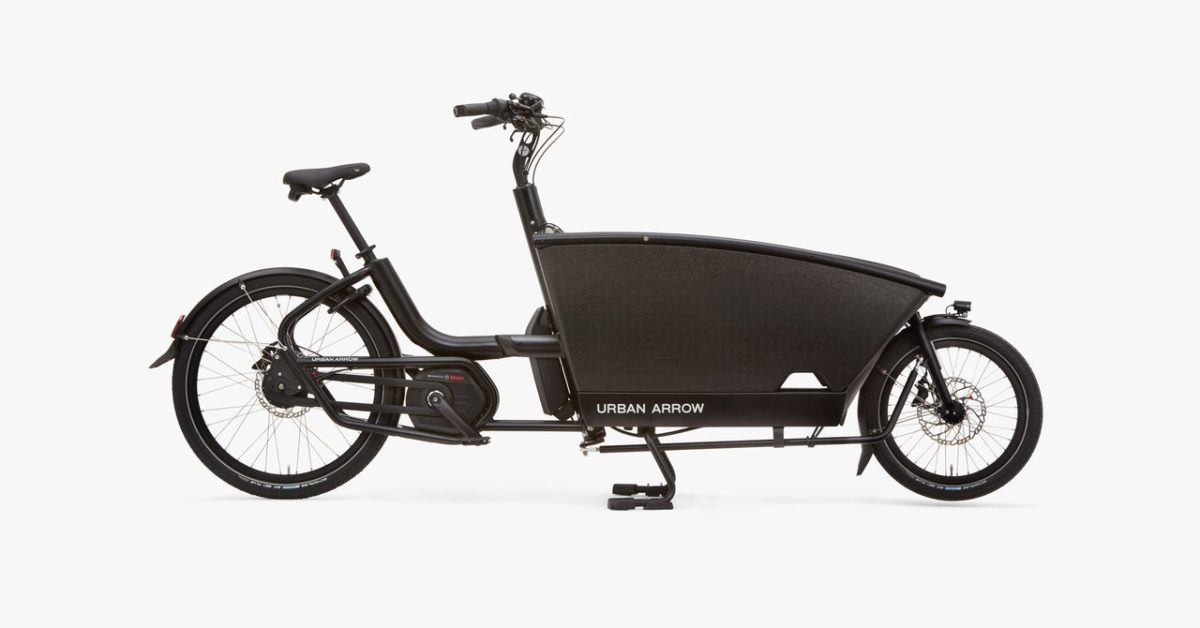 Sometimes an electric bike isn't about getting you over rocky trails or open roads as quickly as possible, but actually about navigating the city streets smoothly and safely. If you're just trying to get the kids safely off to daycare before you launch into another day at the office, the Urban Arrow Family offers everything you could want and more.
---
---
Its instantly recognisable shape is longer than most electric bikes, built to house a large section at the front of the bike that can carry anything from your children to your groceries. Featuring a lightweight aluminium frame, the Urban Arrow Family is still light and maneuverable enough to navigate traffic without becoming unstable or losing balance.
Kitted out with a 250W Bosch Cargo Line Gen 4 motor, powered by a 500Wh battery from the same manufacturer, you'll have more than enough power in your pedals to get to wherever you're going. If your family comes first, this could be the e-bike for you.
---
Momentum PakYak E+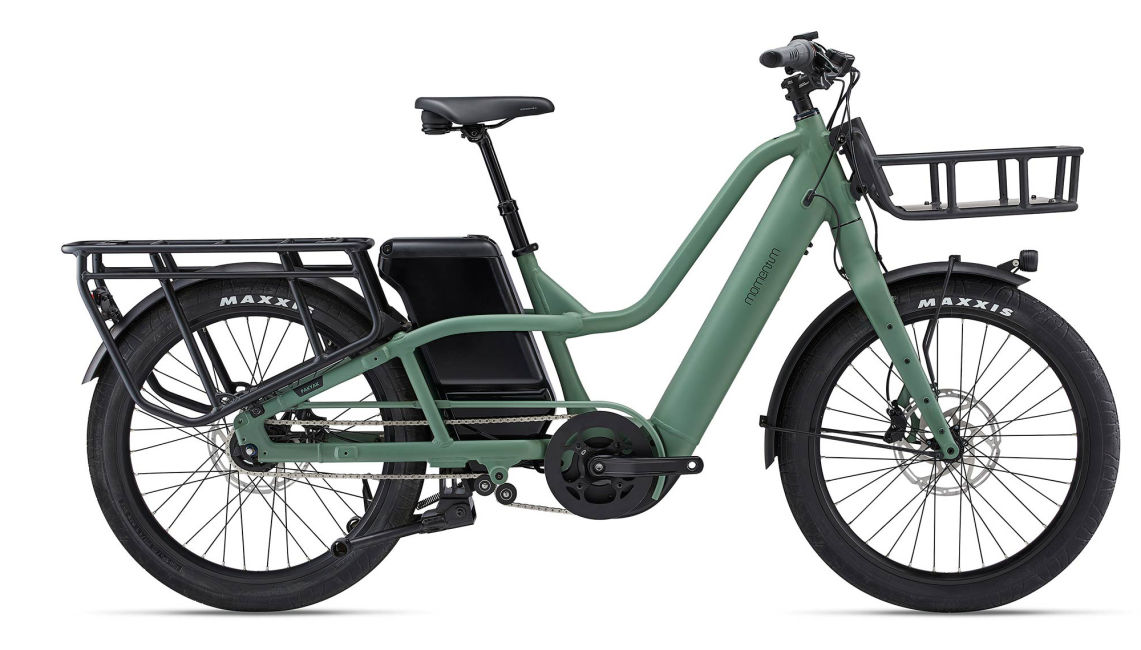 Another rock-solid option within the world of cargo electric bikes comes from Momentum, in their recently released PakYak E+. With its block colour scheme and low-slung, step-through aluminium frame, it's a relatively compact bike that still makes a bit of a statement.
Featuring a SyncDrive Pro mid-drive motor, that comes with a 500Wh battery, you'll be able to get around with any precious cargo on the front or rear racks, with a maximum weight load of 164kgs. If you need more power though, it even comes with the option of a second battery, just in case you run out of time to get a full charge into the main battery. In terms of a quality cargo electric bicycle, the Momentum PakYak E+ should deliver everything you might be looking for and more.
---
Best Electric Bikes – Mountain
Giant Reign E+ 0 2022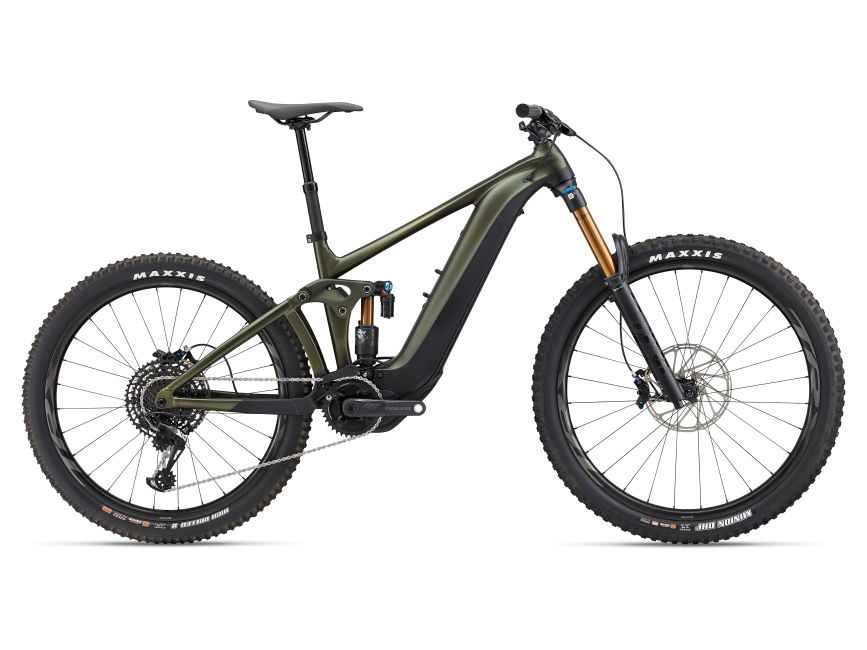 It was in 2019 that the Giant Reign E+ was first released, which was a pretty decent bike, despite the small battery and slightly disproportionate design. Just three years later, the Giant Reign E+ 0 2022 is the result of massive strides in improvement, both to the battery and the overall design of the bike.
The latest electric mountain bike to leave the Giant factory features an intuitive set of speeds for the SyncDrive Pro 85Nm motor, called the RideControl Ergo 3. This allows you to control the speed at which it runs, enabling you to conserve battery as you are able to. The EnergyPak Smart 750WhEnergyPak Plus battery is 50% larger than the first model in 2019, which has a range of between 70km and 230km depending on the conditions.
Available in four different sizes, the frame is made from the bulletproof ALUXX SL-grade Aluminium, which will be more than capable of handling almost any terrain. Giant has also ensured maximum comfort as you make your way through more technical trails, with 170mm of travel on the front shocks and 160mm for the rear. If you want the best of what e-bikes can offer right now, the Giant Reign E+ 0 won't let you down.
---
Specialized S-Works Turbo Kenevo Super Light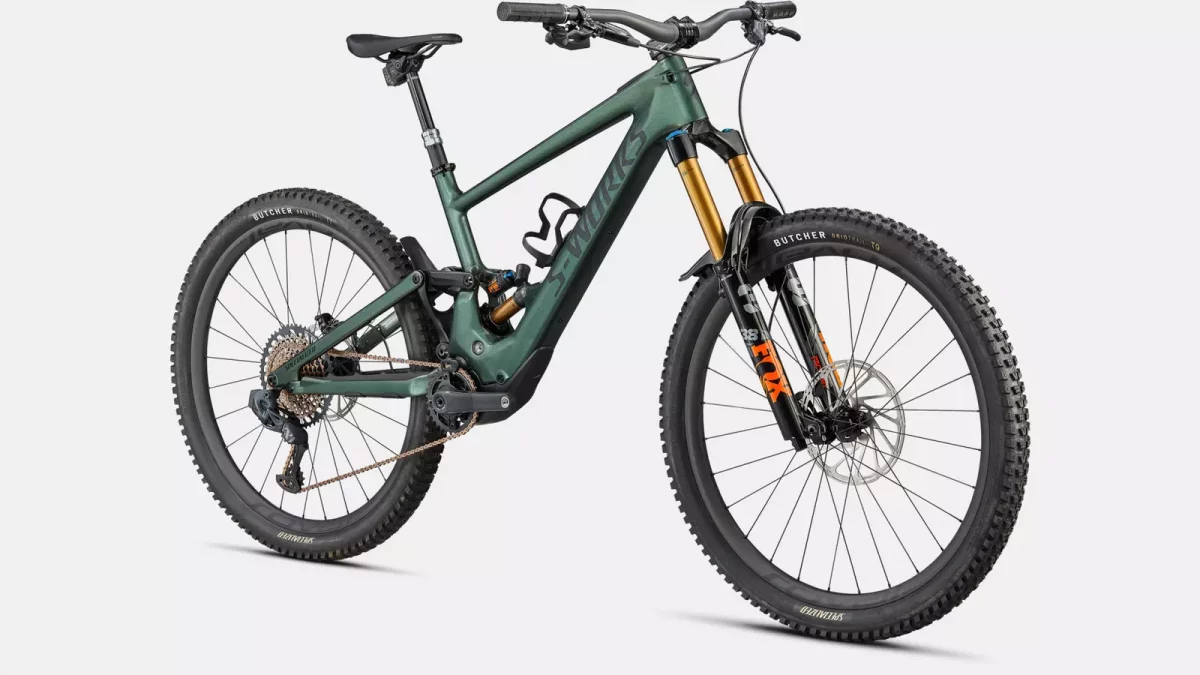 The recently announced S-Works Turbo Kenevo Super Light is set to shift what we think of as a performance-focused e-bike, as a ride that is not only lightweight but also responsive and agile. But such an impressive performance package doesn't come cheap, with one of the more eye-watering price tags on this list at more than $24,000.
---
---
The core of this bike's performance is the 250-watt motor and 320Wh battery with a radically advanced and seamlessly integrated controller, allowing you to ride assisted at 25kph. Not only will this get you to the top of your favourite trails faster, but you'll also have much fresher legs with the help of the motor.
As well as the impressive motor and the lightweight carbon frame, the S-Works Turbo Kenevo Super Light also comes stock with SRAM's premier Eagle AXS XX1 drivetrain, and FOX Factory suspension. If you want one of the best mountain e-bikes that money can buy, then you need to have the S-Works Turbo Kenevo Super Light on your list.
---
Yeti 160E T1 TURQ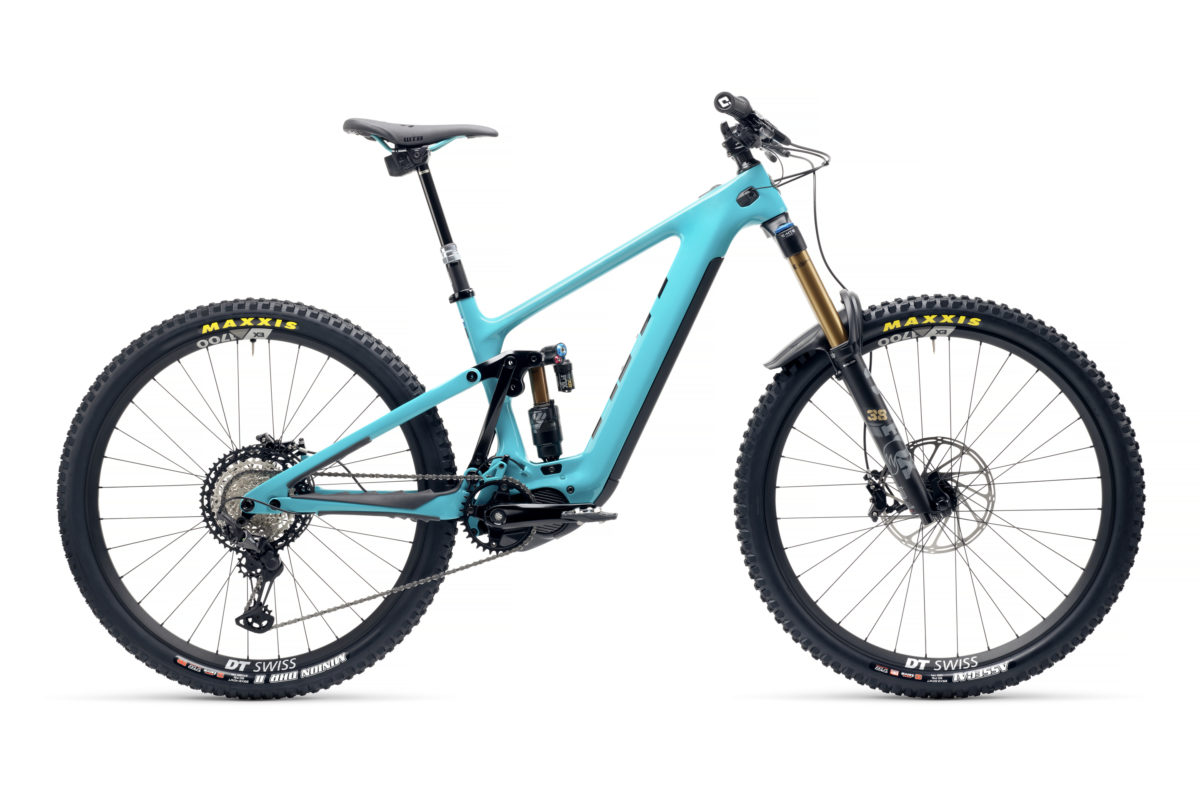 According to Yeti, the 160E T1 TURQ is the first-ever race-specific e-bike, and coming from a brand that knows a thing or two about making world-beating bikes, we're inclined to agree. Yeti designers spent half a decade working on the 160E T1 TURQ, with an entirely new frame and suspension package designed for the increased speed and weight of an e-bike.
Featuring a Shimano EP8 motor and 630-watt hour battery, the Yeti 160E T1 TURQ is built to be more stable the faster it goes, thanks in part to the set of 29-inch wheels that eat technical trails for breakfast. The FOX FACTORY front suspension offers a very impressive 160mm of travel, which Shimano have much of the drivetrain covered with their XT products.
It's a bike that is built to go fast, by a team of people who know a lot about making athletes as quick as possible. No, this isn't the cheapest e-bike on the market (nor is it the most expensive), but it'll do everything you want it to and more.
---
Trek Powerfly FS4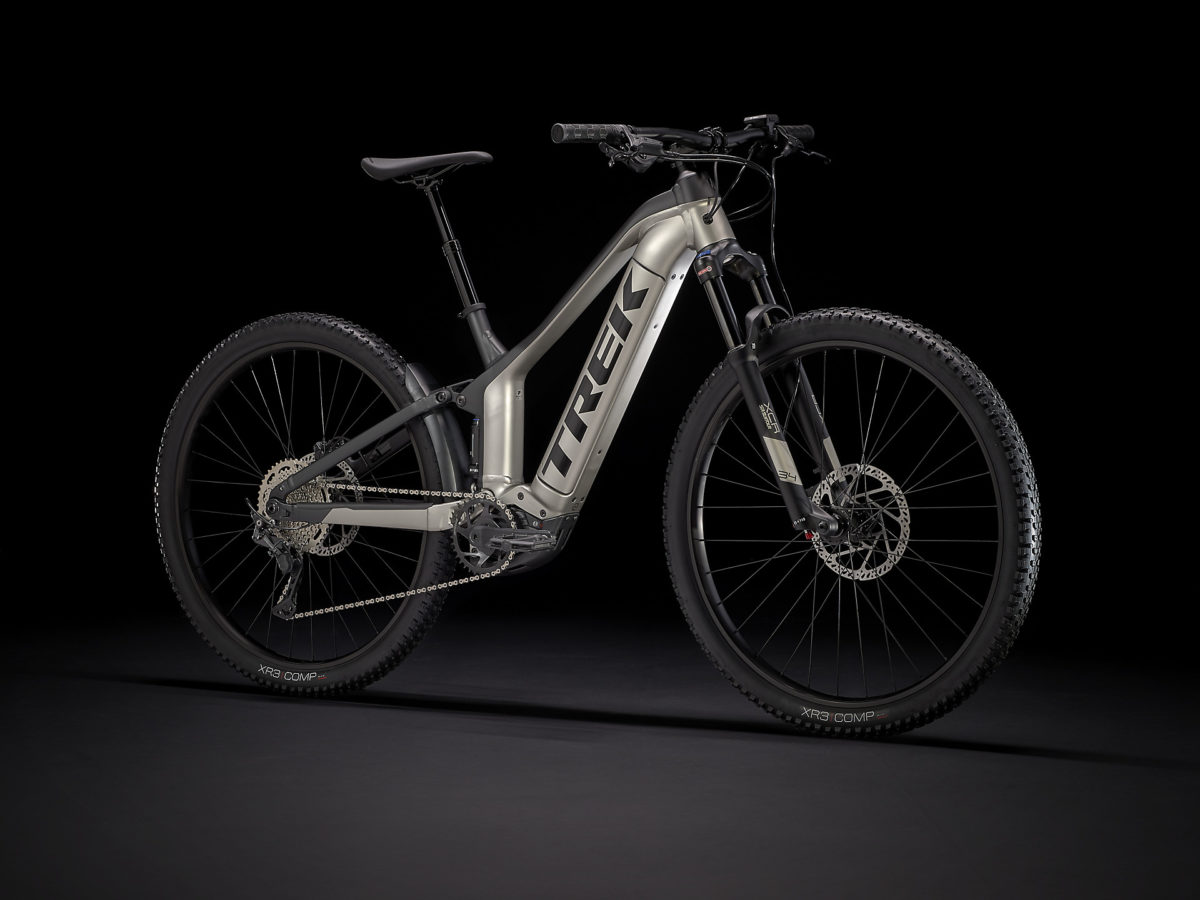 One of the good things about the increasingly wide range of electric bikes on the market, is that there's something for pretty much every imaginable terrain. If you want an electric bike that can get you to work and back, but also be ridden along some more technical trails on the weekend, the Trek Powerfly FS4 is a solid option indeed.
You're getting 120mm of travel with the front Suntour Zeron XCR 34 fork and an SR Suntour Edge R rear shock, all built into the sturdy aluminium frame. If that wasn't enough mountain bike for you, you're also getting a dropper post, the option of 27.5 or 29-inch wheels, hydraulic disc brakes, and a 10-speed Shimano Deore drivetrain.
However, it also has the practical everyday features of a kickstand, cargo racks and a Bosch Performance CX motor with a 500Wh battery, just to make sure you've got everything you might want for your commute. The Trek Powerfly FS4 really is a go-anywhere, do-anything type of ride.
Best Electric Bikes – Frequently Asked Questions
What is the best electric bike for commuting?
In lots of ways, electric bikes are the perfect commuting vehicle, offering a quick run through heavy traffic and are very easy to lock up when you arrive. Depending on your budget, both the Lekker Amsterdam+ 1st Gen. eBike and the Giant Explore E+ 1 will serve you extremely well.
What is the best affordable electric bike?
If price is a significant factor in buying an electric bike, there are a number of solid options that won't break the bank. These include the Aventon Pace 350 Step-Thru and the Lekker Amsterdam+ 1st Gen. eBike, which serve up serious bang for buck.
What is the best electric mountain bike?
Electric mountain bikes are a great way to get out of town on the weekend and go exploring terrain that might otherwise be too challenging. If you're looking to hit some gnarly downhill trails, the Yeti 160E T1 TURQ will be an excellent companion, while the Giant Reign E+ 0 2022 will be rock solid on any surface.