In the pages of motorcycle history, the Indian Motorcycle brand is one that looms large. For more than a century, the Massachusetts-founded company has produced some of the most coveted and collectible motorbikes ever built, gathering a collection of land speed records along the way. Now, the folks at Indian Motorcycle have linked up with the new kids on the block in SUPER73, to launch an e-bike inspired by the past.
Following the successful collaboration between SUPER73 and Saint Laurent, this latest partnership is a little less high fashion and a little more rough and ready. The bike in question is the eFTR Hooligan 1.2, based on one of SUPER73's most popular bikes, but with more than a couple of modifications at the direction of Indian Motorcycles.
The geometry of the sturdy aluminium frame hasn't been changed too drastically, however, alternations include the front suspension forks and motorbike-style handlebars, as well as extending the saddle along the length of the top tube. The location of the battery has also been changed to more closely resemble an Indian motorbike, boasting the red and black colours of the celebrated two-wheeled manufacturer.
---
---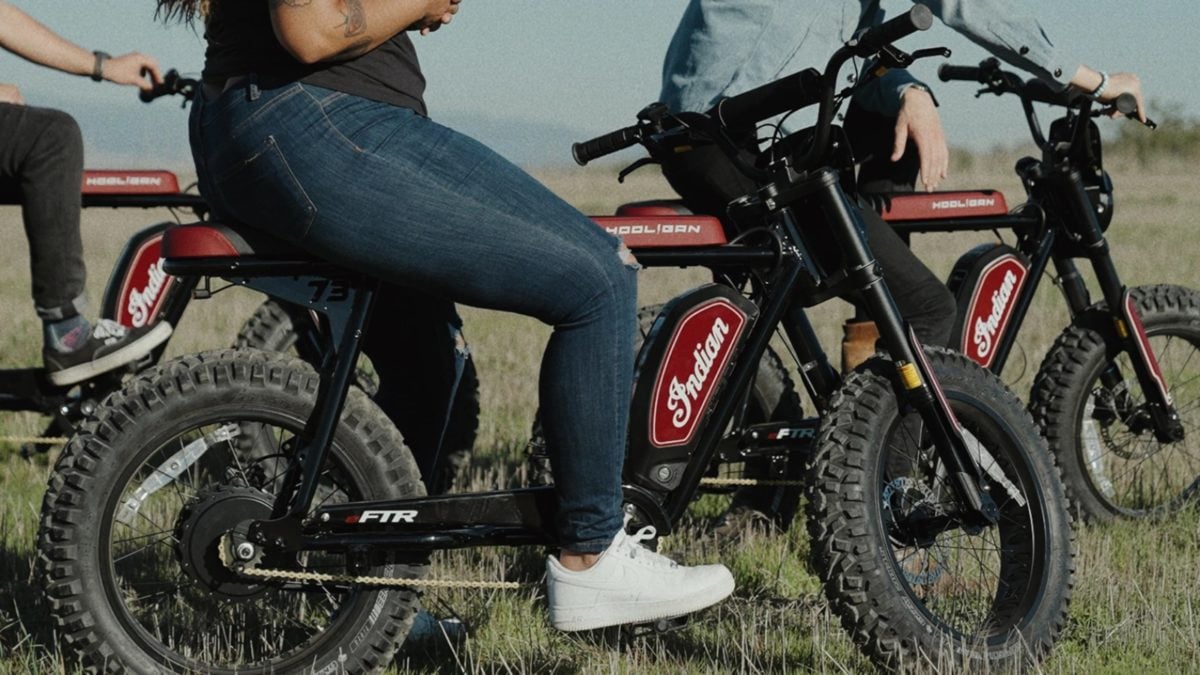 RELATED: Saint Laurent Just Dropped An eBike For The Commuting Hypebeast
It's impossible not to admit that this is one seriously sporty looking e-bike, and its power unit has more than enough kick to get you from A to B. It features a rear-hub motor that is able to spit out up to 2,000 watts (more than a Tour de France sprinter), which in turn is powered by a 960-Wh removable battery.
In real-world terms, this will see you cruising at a top speed of about 45kph (both on and off-road), while serving up a more than adequate 120-kilometre of range in each battery. At 33 kilos it's a lot heavier than your typical pushbike, but with all of that assisted power, you're unlikely to even notice it.
"As a company that lives and breathes life on two wheels, everybody at Super73 appreciates the significance of Indian Motorcycle's history, as well as its triumphant return and success in recent years," said Super73 co-founder Michael Cannavo.
"And that's why we're honoured to align our brands with the introduction of the eFTR Hooligan 1.2."
It's a compelling meeting of the old and the new, in a mode of transport that is getting more and more popular by the day. The Indian Motorcycle x SUPER73 eFTR Hooligan 1.2 comes with an RRP of US$4,000 (AU$5,570) and is currently available.