Collectively, the boys in the Boss Hunting office have driven a lot of racetracks. We've driven even more cars, so trust us when we say that some days on the circuit are noticeably better than others.
What exactly are the makings of a good day at the racetrack, you may ask?
It all comes down to how your precious time is planned and executed by the manufacturer in question. I, for one, would have to say that Jaguar Land Rover do track days better than anyone else (this is my genuine opinion here, if Jaguar wants to start paying me for this, feel free to hit me up, I'm here all day). James might say differently for Porsche, and Jack would definitely say differently for McLaren.
But for me, JLR is the only automaker than emphasises the best use of space, time and one-on-one coaching that I've personally come across throughout the years.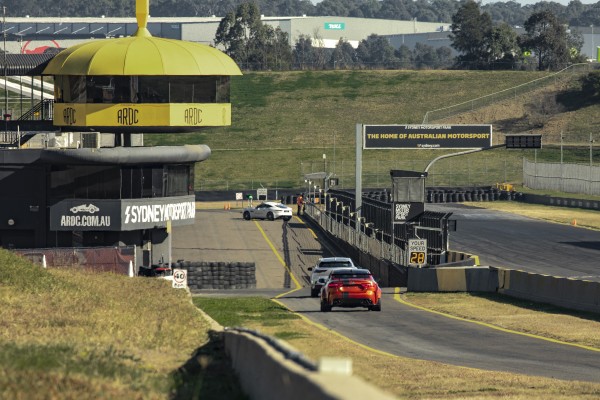 So often we're thrust into the cockpit of a half-million-dollar monster alone, instructed to chase a professional V8 Supercar driver around an unfamiliar track while they talk to you on a radio consistently reminding you to 'hit that apex'.
This isn't an effective way of mastering performance driving, especially in your early days navigating yourself around a track. The first time this happened to me I was shitting bricks in an Audi R8 V10 Plus doing 235 km/h down the straight at Eastern Creek. It wasn't until two years and numerous other track days later that I had my first taste of what a real day at the circuit could be, and that was with Jaguar.
Funnily enough, I found myself back at The Creek. The bitterly cold winter air sliced through my clothes as dawn cracked the horizon and spilt into pit lane. The rumble of British V8 engines reverberated off the tarmac when I walked out to be greeted by a fleet of Jaguar's performance vehicles primed and ready.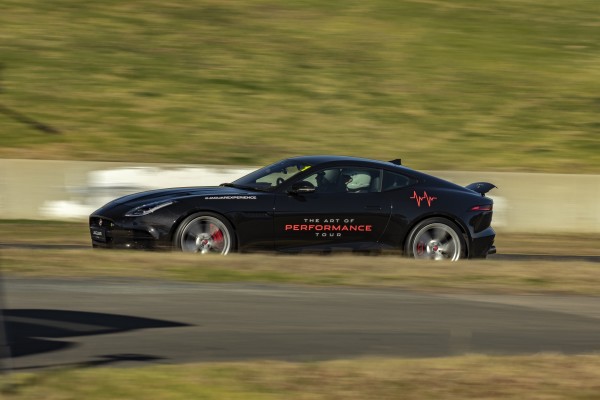 F-Types – both in their V6 and V8 variants – a gorgeous XJ R sedan in a pinot noir-esque colour that sparkled in the early morning light, the brand new electric performance SUV, the I-PACE, and a various assortment of specced-out vehicles littered the staging area of the East Sydney circuit.
The party trick, however, was a bright orange Jaguar XE Project 8, the batshit crazy lovechild of Jaguar's Special Vehicle Operations sporting a feisty 5.0-litre V8. One-of-one in the country and with only 300 slated for production, perhaps it was fitting that this beast was last in the lineup of Jaguars I was to experience that morning.
For my half-day session, I found myself paired up with the ever so cool, calm and collected professional racing driver, Tony D'Alberto. Our small team of a dozen for the day was broken down into groups of three or four, each assigned to a driver and allocated a consistent 20 minutes with each car for each participant. Essentially, we were allowed to squeeze in as many laps as we could with each vehicle within that time frame.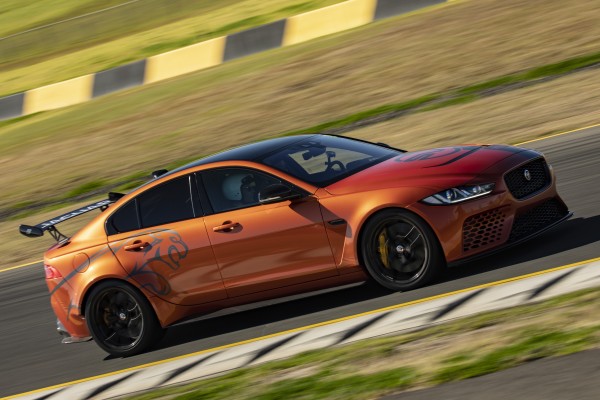 If you're not aware, this is almost unheard of. Automakers always seem uptight about preserving their tyres and brakes or struggle to rotate large groups through the cars in their short amount time at the circuit (racetracks are also expensive AF to hire out). At any other track day, you'd be lucky to squeeze in more than double digits worth of laps in a whole day.
In just half a day, I'd experienced close to five laps in each car – and we drove all four cars, including the Project 8.
The sweet spot, and in my opinion where Jaguar gets it so right, is that it was just me and Tony in the car. We took things at my own pace, adjusted my speed to my ability and were easily able to let other cars on the track pass (or we could overtake them) safely, if necessary. I felt myself improve lap after lap, rather than get out of the car just happy I was alive, as I've felt previously on a few occasions.
While the average Joe won't have the Project 8 at their disposal (though you might get a lucky hot lap with a pro driver), Jaguar's 'Art Of Performance' experience does let you jump right into the deep end, regardless of your prior abilities on a racetrack. And the best part about it is that you feel confident in doing so from the get-go.
A tasty little bonus for those who have owned a Jaguar for less than a year is that you can take advantage of the complimentary Jaguar Track Experience you get after your purchase using the customer voucher code. For a full breakdown of the day's inclusions, see the full itinerary below.
Introduction to the Jaguar brand
Full safety briefing
One to one, personal, tailored tuition from a Jaguar Instructor
Drive three different top of the range Jaguar models on the track, including the F-TYPE
Hot Lap sessions in the passenger seat to experience Jaguars full potential
Our latest vehicles on display
Gourmet lunch and refreshments throughout the day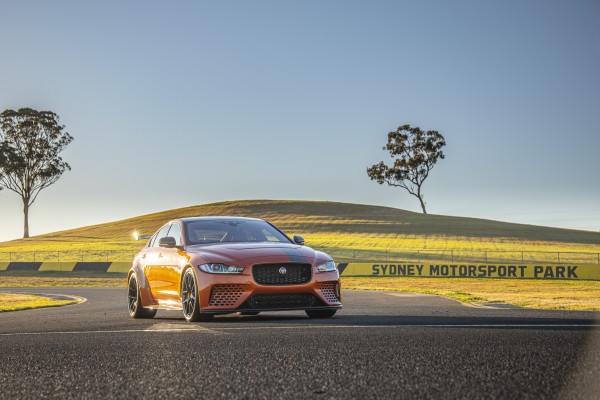 The Jaguar 'Art Of Performance' half-day experience costs just $495 per person and can accommodate groups of up to 10 people. Theoretically, for less than five grand you can round up your mates and have the coolest bachelor party of all time. The ball's in your court, gents, I can only hope my good experience among a sea of mediocre ones can get you over the finish line.
To book your track day with Jaguar, head to jaguar.com.au.
RELATED: Jaguar's F-Type SVR Is The Otherworldly Muscle Car Britain Forgot It Had