It wouldn't be presumptuous to say just about every child dreams of flying at some point. The difference between the majority of us and someone like, say, Red Bull Air Race World Champion slash former Royal Australian Air Force fighter pilot Matt Hall? Aside from the fact aviation is practically in his blood given he's a third-generation pilot, the man broke beyond the threshold of juvenile whimsy and actually went through with his dream.
Naturally, when the opportunity to experience a one-on-one joy flight with Mr Hall in celebration of the Red Bull Paper Wings competition's return for 2022 popped up, the answer was clear. Despite the fact it involved a painfully early start and despite the prospect of humiliating myself on camera, eventually earning myself brand spanking new nickname of "Gazbulla." You'll understand once you see the G-force kicking in above.
On the back patio of Bankstown's Sydney Flight College, I'm briefed about the various manoeuvres Hall plans to undertake ("Only if you're comfortable with it!"… which, of course, I am); in addition to how I should tense when prompted to keep the blood in place and avoid passing out. While all the crucial details are being retained, I'm admittedly a tad too giddy for the most important conversation about my personal safety thus far, and – due to the primitive nature of my chimp brain – wondering where I can score a flight suit similar to the slick number being donned by Matt Hall himself.
---
---
RELATED: WATCH – Red Bull Stunt Pilot Flies Plane Through A Tunnel
After a lot of nodding and answering in the affirmative, at long last, I find myself strapped into the cockpit of Matt's Extra 300L two-seat race aircraft, decked out in the obligatory Red Bull branding. Safety chat. Safety chat. Safety chat. Radio check. Takeoff clearance. This was it.
The second the wheels left the tarmac is precisely when the reality dawned upon me. The day suddenly becomes very… real. This wasn't anything like riding up front of some long-haul international flight. And yet, strangely enough, surrendering control never felt so freeing. A lifelong dream had been realised. I was flying.
"It's all I've ever wanted to do," Matt Hall tells me as we're mid-air, before revealing the only other occupation he'd ever consider would be a yachtsman.
To say this is Matt's element would be the understatement of the century. 500 feet above ground, he seems more comfortable than you and I would be curled up in bed on a lazy Saturday. It's hard to imagine fear being even remotely in the equation, but fear was an emotion the aviation veteran was forced to confront early on during his decorated military career.
"I've been shot at, I've caught fire, I've hit the water once… there have been lots of times when I've been concerned about what's going on."
We touch down. I express my gratitude, although words at this stage fail me. Even now, I – a writer by trade – fail to adequately translate the nuances of what went down. Or rather, up. While I'm still buzzing from all the jackknifes, barrel rolls, half Cubans, tumbles, and so forth, Matt makes his way towards a hangar for a morning of press commitments alongside reigning Red Bull Paper Wings Longest Airtime World Champion, Melbourne-based architectural university student Cameron Clark.
---
---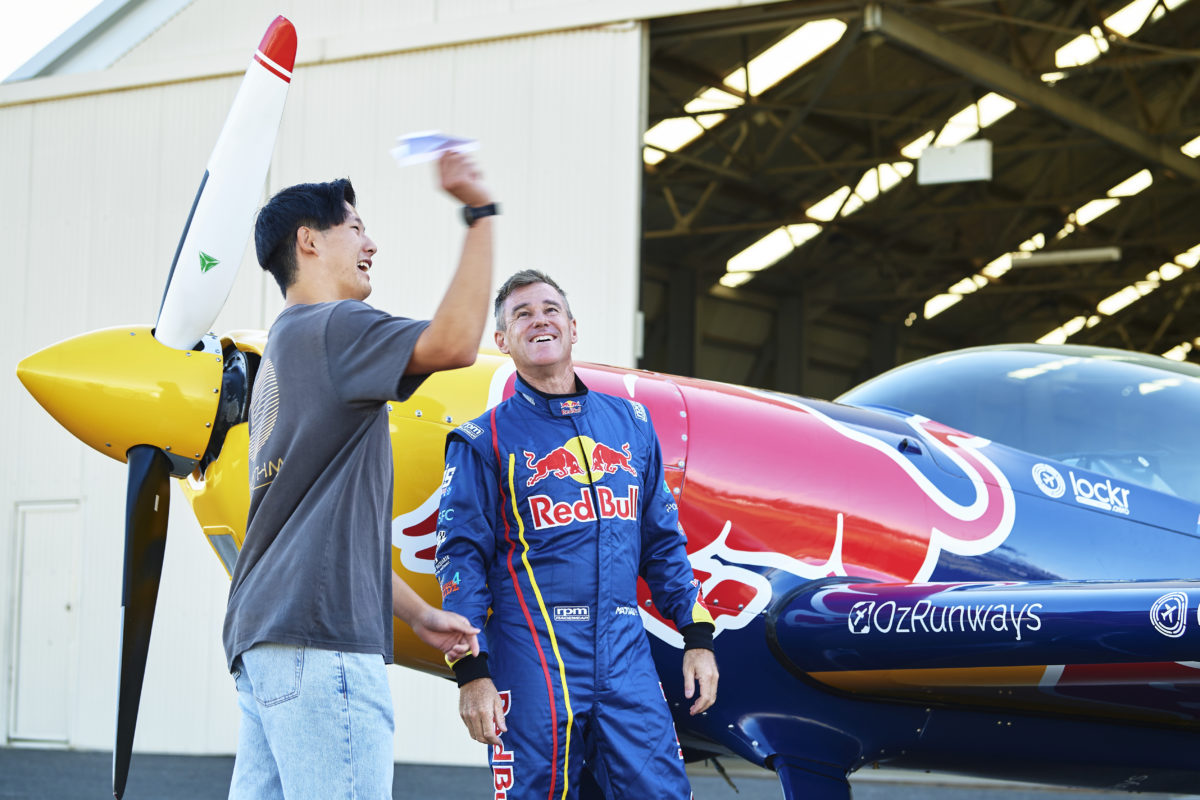 RELATED: WATCH – The Most Batshit Insane Ski Run You'll Ever Witness (Ft. Markus Eder)
The epilogue of this story?
As of this week, Cameron Clark has once again secured the domestic Airtime throne for the 2022 Red Bull Paper Wings competition. Western Australia's Connor Smith and Heneesha Deol, on the other hand, have cinched the Distance and Aerobatics categories, respectively. The trio of Aussie students are now bound for Salzburg, Austria where Cameron will defend his title against a fresh crop of challengers, and the other two will contest for international glory.
"I'm thrilled to congratulate the three Red Bull Paper Wings local winners who now have a chance to compete in Austria," says Matt Hall, who's also serving as the Red Bull Paper Wings Aerobatics Judge for 2022.
"The competition is one a kind and we hope this will inspire the next generation of pilots – whether that be paper plane pilots or future performance aerobatic pilots like myself."
"Red Bull Paper Wings is an experience of a lifetime and I'm thrilled to have won the national "qualiflyers" for Longest Airtime again," adds Cameron Clark.
"It will be a different challenge to refine my winning paper folding and plane throwing strategy, but I'm looking forward to representing Australia on the global stage once again for the chance to defend my World Champion title."
As for me, at every idle moment, whether I'm chained at my desk or laying to rest for another evening, I think of those 15 minutes in the sky.
---
---
---
Keen to make a memory that'll last a lifetime? You can book your very own joy flight experience with Matt Hall via the link here. Find out more about Red Bull Paper Wings 2022 and keep track of our Aussie competitors below.