The only issue with conventional waterskiing is how much you rely on other people. At the very least, you'll need one other person to steer the boat, and it isn't entirely uncommon to have a spotter on board to pass on signals, either. But in the age of convenience and the age of individual autonomy, there are always solutions to these modern-day dilemmas. In this case, it's the Solo SF150 Personal Waterskiing Machine.
How it works is dead simple: the Solo SF150 comes with a clamshell-like control panel that can be fitted on just about any tow line. This allows you to wirelessly communicate with the Solo SF150, offering full control of both speed and direction. It also acts as a wireless safety lanyard, meaning the engine will stop running and come find you at an idle speed if it detects you and your custom lifevest are more than 40 inches away from said tow line (engine shuts off and drifts towards you at 10 inches for safety reasons).
GPS detection aside, the "boat" is actually quite a remarkable bit of kit. Housing a ROTAX 1.5-litre four-stroke motor that's linked to a jet drive and capable of generating 150 horsepower, the Solo SF150 also features something known as MEMS technology that senses torque to ensure it stays on course no matter how hard the rider pulls. This unit is fully programmable with your smartphone for skiing, wakeboarding, wakeskating, hydrofoiling, and barefooting speeds (with different levels of experience from beginner to expert).
RELATED: Fliteboard Series 2 Updates The World's Most Popular e-Foil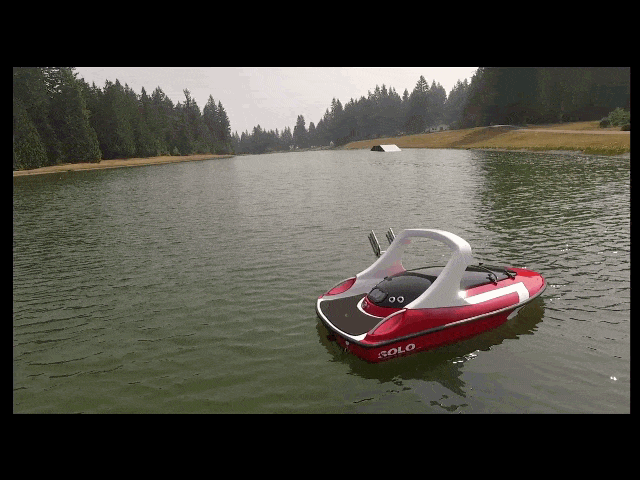 Check out the Solo SF150 specifications below and find out more via the bottom link.
Solo SF150 Specifications
Dimensions
Material: Fiberglass/Composite & Molded Plastic
Length: 94.5″
Width: 47.5″
Height: 29″
Weight: 675 lbs
Engine
Model: Rotax (R) 4-TEC 150 ECT
Type: 3-cylinder, 4 stroke
Displacement: 1,494 cc
Cooling: Liquid Cooled, Closed-Loop System
Lubrication: Dry Sump
Fuel Management: Electronic Fuel Injection (EFI)
Exhaust After Treatment: 3-Way Catalytic Converter
Exhaust Emissions Certification: US EPA / CARB 4-Star Super Ultra Low Emissions
Propulsion
Impeller: 4-Blade, Stainless Steel
Jet Pump: Axial Flow, Single Stage
Pump Diameter: 155 mm
Starter/Alternator
Automatic Bilge: Constant Siphon
Fuel Capacity: 8 US Gallon
Rated Power: 150 hp
Integrated Cooling Water Supply