Tiger Woods is apparently staying at his $20 million USD luxury yacht, Privacy, during the US Open to "… avoid traffic…". Fair play. Currently docked in the Hamptons, Privacy spans a whopping 155 feet long (47.24 metres)– that's four entire feet (0.61 metres) more than The Statue of Liberty.
While the dimensions, price tag, and use seems ridiculously impressive, Tiger Woods' Privacy is just the tip of the iceberg, or so to speak, in terms of celebrity yachts.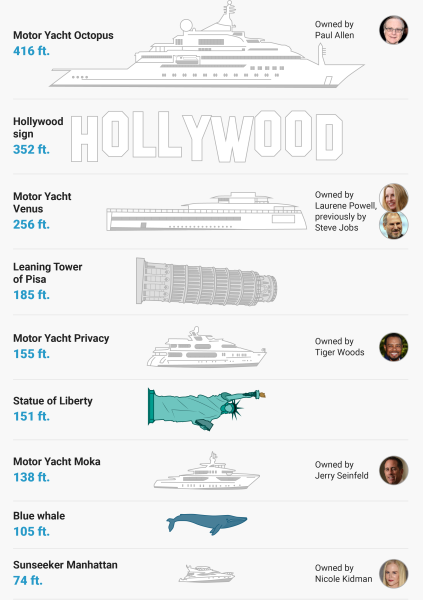 As you can see in the graphic above, there is a very clear hierarchy. And at the top of the food chain is Microsoft co-founder Paul Allen's Octopus (as seen in the featured image of this article). The beastly construct has a length of 416 feet (126.79 metres) and practically parts the sea if traverses. For some perspective, this is 64 feet longer (19.51 metres) than the famed Hollywood sign. The total cost of Octopus? An astounding $200 million USD. But when you're worth $20 billion USD, what's a couple hundred million but chump change?
Following up the ranks is the yacht formerly owned by Apple co-founder/cultural icon, Steve Jobs. Yachts seem to be a co-founder thing. Dubbed Venus, this 256 feet long (78.03 metres) seacraft was a commissioned work designed by Philippe Starck's design company, Ubik. It is currently under the ownership of his widower, Laurene Powell Jobs. Insanely enough, it dwarfs both Privacy and the Leaning Tower of Pisa. Unsurprisingly, this runs up the cost to around $120 million USD.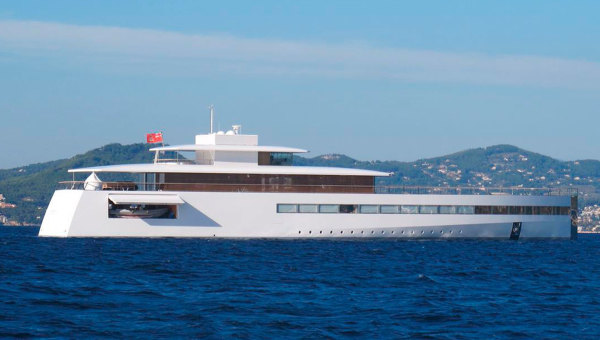 And as always, there are the honourable mentions. Jerry Seinfeld's $25 million USD Moka at a solid 138 feet (40.84 metres), larger than a blue whale, and Nicole Kidman's $4.5 million USD Hokulani at a respectable 74 feet (22.56 metres).
But at the end of the day, none of this really matter, right? It's about the motion of the ocean… (right?)…