The Blueprint Series is a rolling release of profiles on individuals from any walk of life, pioneers of what they do best. From athletes to artists, fashionistas to entrepreneurs, this series gives you a personal insight into the minds of masters at the apex of their respective professions.
Most kids at age 14 are playing PlayStation at their friend's house and worrying about what to buy their crush from the school canteen. Not for Scotty James, at age 14 he was travelling the world dominating the world snowboarding scene.
Now 23, James has solidified himself as one of the best halfpipe snowboarders in the game with a tonne of medals behind him from prestigious events like the FIS World Cup, Burton European Open and Winter X Games. Coming off his best seasons yet on the slopes, James was crowned the Australian Snow Sports Athlete of the Year, winning three of the four major snowboarding halfpipe championships in an Australian first.
It's no surprise that James has been dominating the sport having grown up around the snow since age three in Melbourne while having an Olympic Gold Medalist already in the family, Torah Bright, becoming a professional snowboarder seemed like a no brainer for Scotty James. Now an Oakley Athlete, Scotty James is preparing to continue his successful run and take on the Olympic Games again next year.
We caught up with Scotty to talk all things snow and how he is preparing for his next big competition.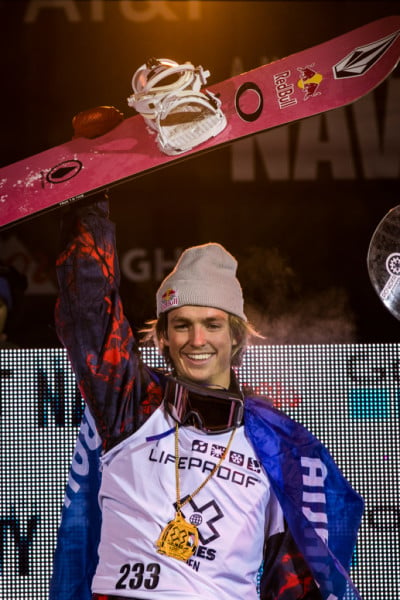 You've been snowboarding professionally since you were 10 and were the youngest male competitor at the 2010 Winter Olympics in Vancouver. What was that experience like?
The experience was exciting to say the least. Lots of hard work and sacrifice to get there. I have been fortunate enough to travel the world snowboarding from a young age and the experiences have been incredible to date, but, Vancouver is a landmark in my career that has had a big influence on where I am today.
Congrats on scoring gold at the Sierra world championships recently! What are you training for now?
Thank you! Training has started for next Northern Hemisphere season. The tour starts back up in December. It's a big year next year with the Olympic Games around the corner.
Most 14 year old's first job is working at McDonalds, yours was being a professional snowboarder. Some would say you're pretty lucky! Were your parents always supportive with you wanting to turn this hobby into a profession?
I did make a fair few visits to McDonalds at the 2010 Games, enough that I could have told you the menu from back to front so I feel like I've done my time there haha! My parents have always been very supportive of my aspirations on the snowboard. I am really fortunate to have a family that enjoys the snow as much as I do so that undoubtedly helps.
What do you consider to be your greatest achievement?
Defying the odds to become an Australian snowboard world champion.
Whats the toughest aerial manoeuvre you've ever performed?
A backside triple cork 1440
What are your three most treasured possessions? Banjo, film camera and my first snowboard.
If you weren't doing this, what would be your ultimate alternate career? Captaining private jets
In your time off from training and travelling the world, what's the perfect off-day for Scotty James?
Perfect day off would consist of an early morning flight (with me at the yoke), heading out to breakfast with the family, a quick 9 holes of golf and a meal at my local pub in Warrandyte with some friends and family.
Do you have a pre-comp ritual you do before going out?
I wear the same socks all competition week.
What's your favourite trick to pull on the slopes? A backside 180
What are some tips you have for first time snowboard riders?
Persistence is key. No matter how sore your wrists get, it will be worth it once you start turning down the mountain. No better feeling!