A remarkable tale of success and tragedy. Marco Siffredi, a French snowboarder and alpinist from a young age, completed the first-ever snowboard descent of Mount Everest in 2001. He returned a year later to push for the ultimate goal – an unimaginably harder line – and never returned.
The Disappearance Of Marco Siffredi
It all began in Chamonix, France. The home of big mountain terrain and the home of Marco Siffredi. With his father, a mountain guide, and Mont Blanc casting a shadow over his backyard as a child, his name soon became synonymous with the local mountains right from the get-go.
Unlike most children his age reading about comic book heroes, Marco looked up to snowboarding icons such as Bruno Gouvy and Jérôme Ruby to satisfy his dreams of big mountain riding as a child.
---
---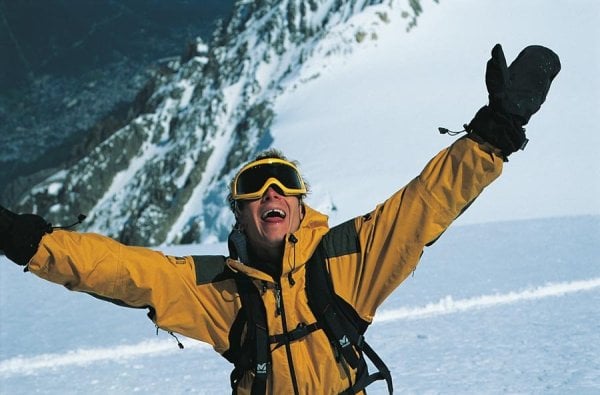 Marco soon became an unstoppable force in the region's snowboarding scene. In the late 90s, following some impressive lines in the Alps, he began to tick off higher and gnarlier descents of huge peaks around the globe. His first overseas mission was quickly chosen – Tocllaraju in Peru, at a height of 6,032 metres.
Before leaving for Peru, his friend's mother gave him a cross pendant as a gift. The team safely scaled and descended the mountain and from that point on. Marco carried the cross on every climb thereafter.
He completed his first Himalayan descent in 1998 on Dorje Lhakpa (6,988 metres). From its summit, the towering pinnacle of Everest's peak could be seen towering magnificently in the distance.
A spark flickered in Marco's eyes. It would be done.
Everest: Part I
In the Spring of 2001, Marco summited Everest on the 23rd of May. Just a day after his 22nd birthday. Bizarrely, Austrian climber Stephen Gatt beat him to his grand plan, descending the mountain on a snowboard less than 24 hours before. Except Gatt climbed down a sketchy 100-metre section, making his claim for the first complete descent of Everest invalid.
Marco's initial plan was to descend the treacherous Horbein Couloir, the steepest and gnarliest possible line from the summit. The snow conditions that time of year, however, were average at best, and he soon realised he'd have to settle for plan B: the Norton Couloir.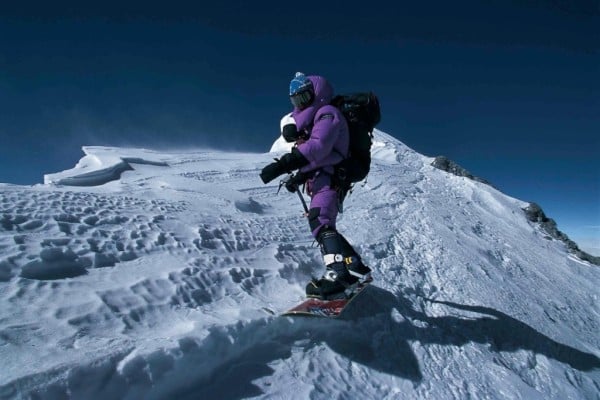 After watching the sunrise alone at the summit, Marco strapped in and began his mammoth line down to Advanced Base Camp. Just before entering the couloir, his binding broke in the severe cold but was ingeniously fixed by a Sherpa with some bailing wire. Astonishingly enough, he continued down the 45-degree slope for thousands of vertical metres before reaching the bottom and making the first successful snowboard descent of Mount Everest.
---
---
Men like Marco blur the line between their own capabilities and their dreams. This descent simply wasn't enough. In his eyes, he had failed just as much as everyone else believed he had succeeded. His goal was still the infamous Hornbein Couloir. Passion and madness had possessed him at this point. He began planning his return.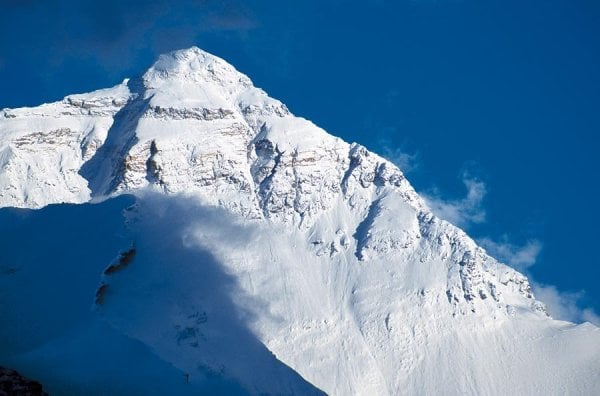 Everest: Part II
Marco Siffredi returns to Nepal a year and a half later. He realises upon arrival he must have left his good luck cross behind in Chamonix.
With this expedition following monsoon season, the snow is much deeper than last time – almost too deep – and the crowds from the spring are completely gone. High winds rip the fresh snow off the face of the mountain, exposing hundreds of sharp rocks and triggering deadly avalanches by the hour.
It's early September 2002, the climb is particularly hard thus far. Marco has been hovering around the death zone for a few days now. At any height above 8,000 metres, the human body begins to die.
When speaking to his friend and meteorologist Yann Giezendanner in Chamonix via Satellite phone, Marco is told that a bluebird is forecast for Sunday the 8th, although he is advised not to stay too late on the summit ridge as the weather will turn sinister in the afternoon.
Despite the Sherpas insisting Marco wait for better weather and more supplies – particularly a new radio to contact the team at base camp during his descent – he decides the time was right there and then. Windows like this are perennially rare on the mountain; if you get an opportunity, you take it.
Marco eerily finishes his call with Yann saying adieu twice – how the French bid farewell when they don't expect to see each other again.
Sunday rolls around. Clearing a path through the deep snow to the summit proved tiresome and unimaginably challenging. The ascent takes three times longer than the previous summit a year earlier. More than 12 and a half hours later at approximately 2:10 PM, Marco reaches the highest point on earth, 8,848 metres – the peak of Mount Everest.
---
---
For most, this would be a moment of elation and celebration. A sigh of relief and a time for a smile, hug, and photograph with those who summited alongside you. Ecstatic through and through. But not for Marco. All he can say is: "Tired, too tired. Too much snow, too much climbing."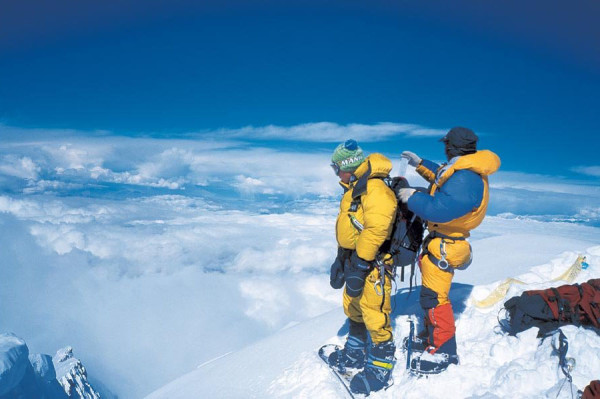 Ahead of him is the steepest, highest and hardest thigh-burning snowboard descent in the world. As he straps in, his team urge him not to go. Defiant in his goals, Marco can see no other option. It's a fantasy that has been playing out in his mind for years. He is staring down the line of his second piece of snowboarding history, only a few metres in front of his feet.
The menacing clouds from the valley are now turning upwards towards the peak, just as Yann warned, engulfing the immediate face beneath him.
"Take care, Marco," wishes Phurba.
"Okay, Phurba. See you tomorrow."
Marco Siffredi drops into the line of his dreams. His friends watch as he slides and snakes into the whiteout, the couloir on either side embracing him into his eventual tomb.
This article is an adaptation of Trey Cook's piece for TransWorld Snowboarding.