In the realm of professional athletes, golfers enjoy a unique privilege of career longevity. Naturally, this translates into some pretty decent earning potential over time, as evident with the highest-paid golfers in history.
Unsurprisingly, the once-in-a-generation Tiger Woods has yet again demonstrated a level of dominance like no other among his peers. With an impressive 14 major championship victories on his CV along with 120 overall wins, Woods has earned over US$120 million in tour earnings alone across his quarter-century pro career – and hundreds of millions more off the course, cementing his status as one of history's elite billionaire athletes.
Second to Woods is his former rival, Phil Mickelson. While exceedingly accomplished in his own right, in terms of the all-time rankings, Mickelson represents a steep drop-off when it comes to wins and the dollar figure. 5 major championships with a total of 54 overall wins have earned the man a respectable US$92.4 million in tour earnings across his 29-year pro career. Although Phil Mickelson hasn't been as bankable as Tiger Woods, at least not enough to make him a billionaire, his total net worth is estimated to hover around US$400 million.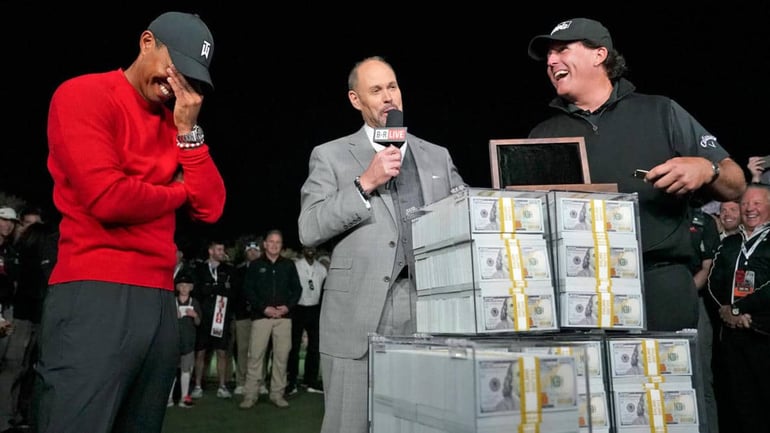 RELATED: Forbes Reveals The Highest-Paid NBA Players Of 2021
Here are the highest-paid golfers of all time as of 2021 by tour earnings (excluding commercial endorsements).
The Highest-Paid Golfers Of All Time – Tour Earnings [2021]
**All figures converted to USD
1. Tiger Woods – $120.8 million
Nationality: US
Major Championships: 14 (1997, 2001, 2002, 2005 Masters; 1999, 2000, 2006, 2007 PGA Championship; 2000, 2002, 2008 US Open; 2000, 2005, 2006 Open Championship)
Overall Wins: 120
2. Phil Mickelson – $92.4 million
Nationality: US
Major Championships: 5 (2004, 2006, 2010 Masters; 2005 PGA Championship; 2013 Open Championship)
Overall Wins: 54
3. Jim Furyk – $71.4 million
Nationality: US
Major Championships: 1 (2003 US Open)
Overall Wins: 18
4. Dustin Johnson – $71.2 million
Nationality: US
Major Championships: 1 (2016 US Open)
Overall Wins: 27
5. Vijay Singh – $71.2 million
Nationality: Fiji
Major Championships: 3 (1998, 2004 PGA Championship; 2000 Masters)
Overall Wins: 34
6. Adam Scott – $56.1 million
Nationality: Australia
Major Championships: 1 (2013 Masters)
Overall Wins: 23
7. Justin Rose – $55.1 million
Nationality: England
Major Championships: 1 (2013 US Open)
Overall Wins: 21
8. Rory McIlroy – $54.9 million
Nationality: Northern Ireland
Major Championships: 4 (2011 US Open; 2012, 2014 PGA Championship; 2014 Open Championship)
Overall Wins: 28
9. Sergio Garcia – $52.7 million
Nationality: Spain
Major Championships: 1 (2017 Masters)
Overall Wins: 25
10. Matt Kuchar – $52.6 million
Nationality: US
Major Championships: 0
Overall Wins: 10
11. Ernie Els – $49.3 million
Nationality: South Africa
Major Championships: 4 (1994, 1997 US Open; 2002, 2012 Open Championship)
Overall Wins: 47
12. Jason Day – $48.6 million
Nationality: Australia
Major Championships: 1 (2015 PGA Championship)
Overall Wins: 15
Source: ESPN