At some point, everyone has been stuck with a completely rubbish golfer. You sit there in painful awkward silence and watch them hack up the fairway with their 7 iron. As you witness this golfing disaster class, the daylight begins to wane and you notice your phone is low on charge. While MNML can't suddenly improve your mate's swing – because at this point nothing will – the MNML MV2 Golf Bag can certainly help your phone's dying battery.
Incorporating high tech components into this lightweight microsuede bag, MNML may have just given us an insight into golf should be played in the modern-day. Complete with a solar panel and portable charger for your smartphone, the thing also comes with its own built-in Bluetooth speaker that connects to an iPhone or Android device. If it was any concern, the speaker in question is 100% waterproof comes with 8-hours of battery life.
The MNML MV2 golf bag comes in either a white or black colourway, fabricated with an internal stand mechanism, 4-way divider, and backpack straps. There are also three magnetic pockets offering easy, secure storage for anything that could hinder your own swing.
---
---
RELATED: Serious Golf Players Like Yourself Need A Fairway Hog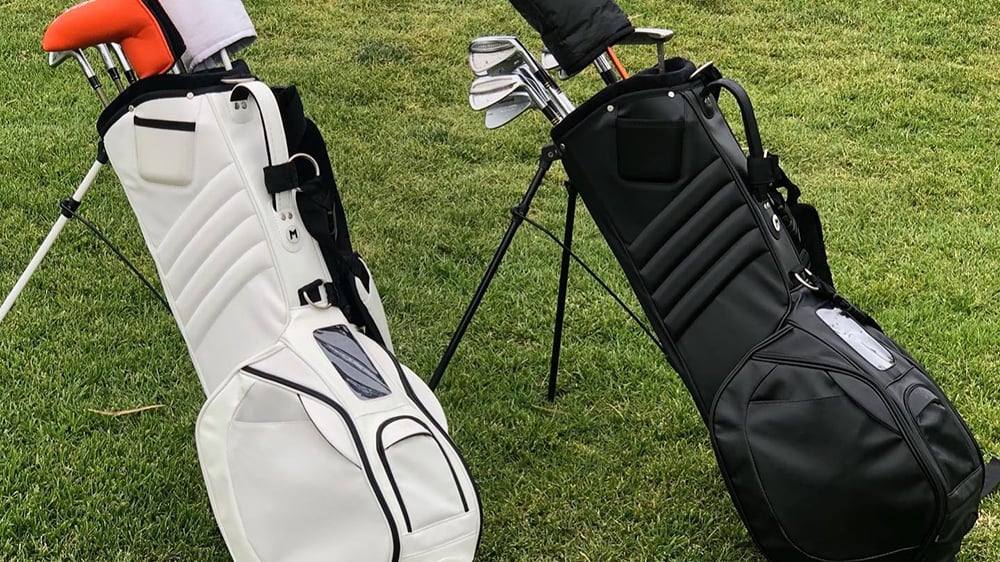 If that's not enough to help you pass the time between strokes, the MNML MV2 golf bag is also equipped with thermal pockets for the emergency ice-cold beverage. How good.
From a design perspective, MNML has gone for a surprisingly minimalist approach, with clean lines and subtly tucked away features. The Redondo Beach-based brand possibly didn't want the bag to draw attention to itself, as you irritate the blokes on the neighbouring hole with your music selection.
With this bag, MNML is also offering their "Trade It Forward" program, in which you can donate an old golf bag towards a junior golfer in exchange for this new one with the cool toys. The move to trade-in your old bag will give you US$50 / AU$70 credit. Otherwise, interested buyers can purchase their own MNML MV2 golf bag for US$250 (AU$350) – available to purchase now.