Golf is a sport that requires ice in your veins, ice that can quickly dilute, as it did for Cam Smith when his tee shot found the water at 12 on Sunday afternoon in Augusta. While the big names in golf have been distracted by expectations and new opportunities, a new kid on the block, immune to pressure, has been sharpening his knife. This morning, the recently crowned No. 1 golfer in the world won the No. 1 major in the sport, cementing his place in golfing history. Scottie Scheffler has just four career wins to his name, but with his latest victory at the Masters at Augusta National this weekend, the 25-year-old has the world at his feet.
The New Jersey native moved to Dallas, Texas as a child, where he first demonstrated his golfing talent in high school, before playing for the University of Texas as soon as he turned 18 in 2014. In 2015 he was crowned the 'Phil Mickelson Freshman of the Year', and just 12 months later qualified for his first U.S. Open (unfortunately missing the cut by just a single stroke).
Scheffler spend the next couple of years working on his game, taking the plunge to turn professional in the 2017-18 season, but playing just a handful of games that season and the following. It was in 2019 that his momentum started to build, making the cut 16 times out of 20 starts at events around America, and collecting ten top-tens that year.
---
---
RELATED: Cam Smith Claims The Biggest Winner's Cheque Golf Has Ever Seen
His form continued to improve at an accelerating rate in 2020, where he finished 5th in the FedExCup standings as a PGA TOUR rookie, as one of just eight rookies who made the cut and one of two who made it to the TOUR Championship. In 2021, Scheffler's strong performances kept coming, tying for 8th at The Open Championship on his debut, locking in eight top-tens and making the cut in 24 of his 29 starts.
While Scottie Scheffler has continued to work on his craft over the last couple of years, building a base of loyal supporters with his humble, down-to-earth approach to press conferences, no one was expecting his form this year. In just his third game of 2022, Scheffler took his debut PGA TOUR victory, before going on to win another two in quick succession that saw him take the first spot in the Official World Golf Ranking on the 27th of March.
If you thought a 25-year-old who finished his rookie season less than a year and a half ago would feel the pressure of the world's number one ranking, think again. He went into The Masters last weekend unflappable, focused and ready to play out of his skin. That's exactly what he went on to do.
Despite Australia's very own Cameron Smith starting the day just three shots behind Scheffler, and Rory McIlroy shooting just one off the course record for a round of 64, Scheffler never lost the lead and capitalised on errors from both Smith and McIlroy. The crown at Augusta National roared its approval of the relative youngster, as Ice-Man-Scheffler arrived at the final hole with a five-shot lead.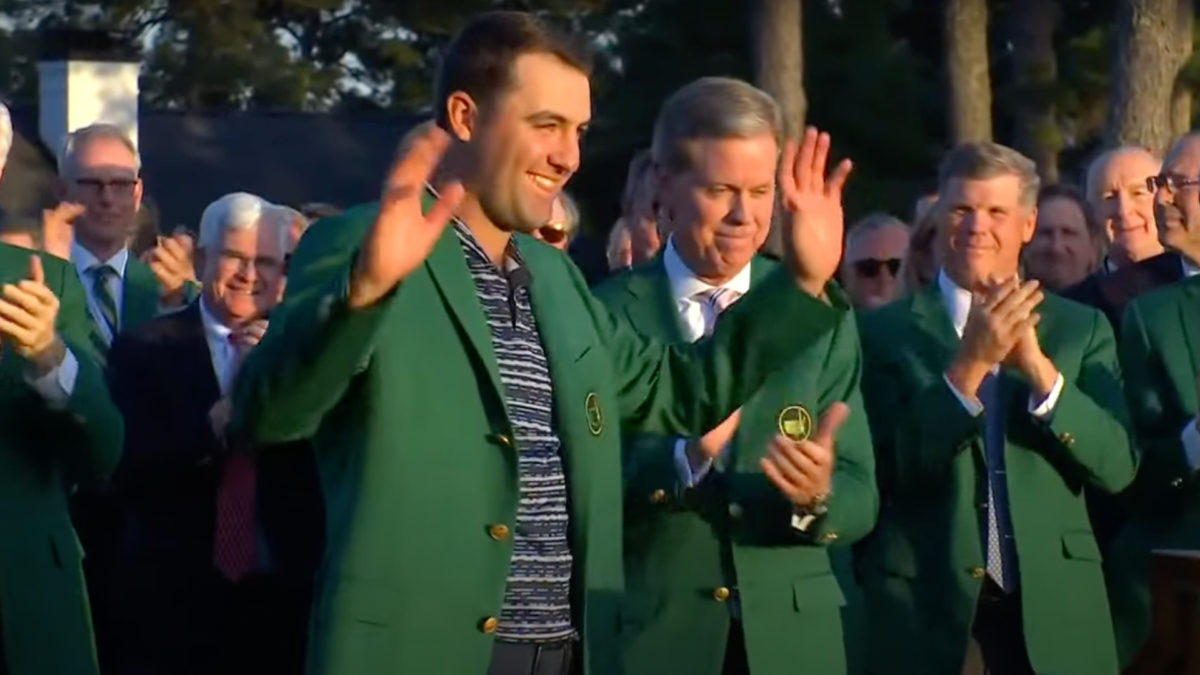 Despite never achieving a single PGA TOUR victory before this year, Scheffler claimed his fourth PGA win of 2022, teasing the breathless crowd with a tense four-putt on the 18th to claim his first fabled green jacket. His ball disappeared into the hole and Scheffler turned to hug his caddie, before raising his arms to the wall of rapturous applause from the cheering spectators.
So far, 2022 is a career-defining one for Scottie Scheffler, who has not only broken into the global golfing consciousness with a slew of convincing PGA wins, but has also proven he is made of sterner stuff. With just 25 laps of the sun under his belt, we're excited to see what might be next from Scheffler as he continues on one of the most promising career starts of his generation.
---
---