If it weren't for all the hard documentation – images, footage, eyewitness recounts – not a single detail about Dennis Rodman nor the entire Dennis Rodman mythology would sound remotely true.
Think about it: who else do you know is the oldest of 47 children, had a late growth spurt after high school which propelled him from 5'9″ to 6'7″, and contrary to just about every other professional baller, never played a single game of organised basketball prior to said growth spurt?
The 5 x NBA Championship winner, 2 x NBA All-Star, and greatest rebounder of all time has crafted a legacy of noteworthy achievements with the red-hot anecdotes to go with it. Here are some outrageous stories from Dennis "The Worm" Rodman's time on this plane of existence (for we have no doubt he'll eventually make it across to several).
---
---
When he broke his dick three (3) times
To say Dennis Rodman played the field would be the understatement of the century. And while he didn't exactly rack up Wilt Chamberlain's outrageous (and borderline mythical) aggregate figure of 20,000 sexual conquests, you certainly don't qualify for both Carmen Electra and Madonna without having a decent CV.
In true Rodman fashion, he consistently gave it 110% to the severe detriment of his body. For any other mortal man, something as traumatic as a single penile breakage would be enough to instigate an early retirement. The other-worldly lothario, however, managed to shrug off three separate instances and carried on with business as usual ("I'm good to go, just give me a pill.").
When he became the Headbutt King
You'll find compilations of Rodman headbutting NBA players online. His wrath, however, wasn't limited to just players. Most notably, there was the incident wherein he slammed his forehead into referee Ted Bernhardt. For that, Rodman was fined US$200,000. In the prior year, he'd also headbutted the Spurs' mascot "Coyote" during a pre-season game. The reason?
"Sometimes I get bored with basketball… like I know some fans do. And so I do things to make it more interesting for me and for them."
On a related note, you'd think a man who'd sustained such gory injuries in his genital region would be more sympathetic to the wellbeing of other genitals. But no. To the point where Rodman once kicked cameraman Eugene Amos in the plums so hard, he lost consciousness and had to be carried out on a stretcher, before being treated at a local hospital. For that, the NBA fined Rodman US$25,000 and suspended him for 11 games without pay. Additionally, he agreed to pay Amos US$200,000 for the damage he inflicted upon the aforementioned plums, setting Rodman back a total sum of approximately US$1 million.
When he drove around handing homeless people $100 notes
Originating from humble beginnings himself, Rodman is someone who understood the struggle. Which is why throughout his NBA career, he would roam about handing out cash to the homeless and whoever was in need. A notable instance recorded by The New York Times involved Rodman's encounter with a pregnant homeless woman with two children after having a team dinner in Chicago:
"I had $250 in my pocket, and I gave it all to her," said Rodman.
---
---
"If I had $1,000, I would have given her that, too. There are a lot of people out there that are more worthy of this money. People without houses. People living on the street."
"I was lucky to come upon this, what I have now… You can't help everybody, but you can help some people. I make millions now. What's $250?"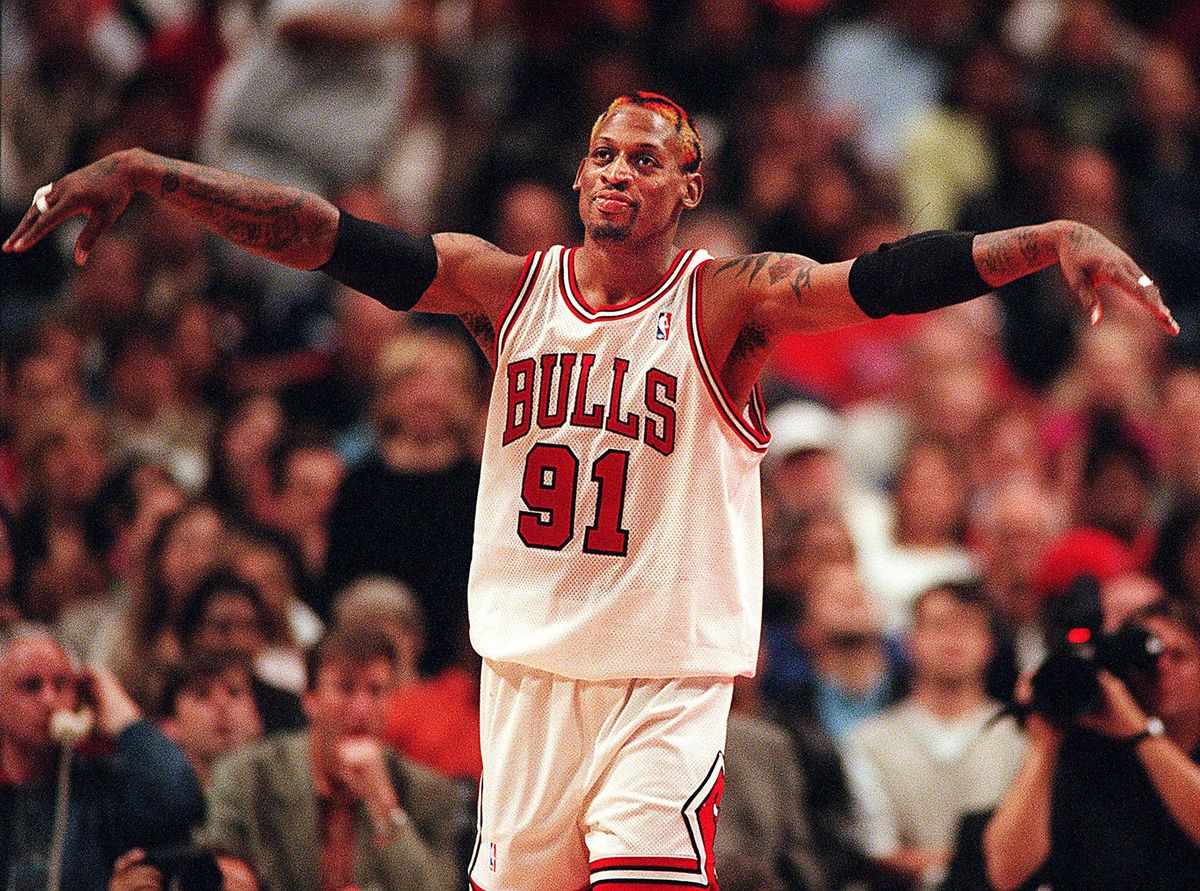 RELATED: Michael Jordan's Nike Contract Sparked The Richest Athlete Endorsement Deal In History
When Madonna offered him US$20 million to get her pregnant
Last year, during an interview on The Breakfast Club, Rodman revealed that during his relationship with Madonna, the iconic songstress offered him US$20 million to put a baby in her. On a hilarious occasion, Rodman was in Las Vegas "rolling the dice" when Madonna called to notify that she was ovulating, at which point he told them to hold the table, hopped on a private jet, and attempted to fulfil his end of the unconventional bargain. Of course, the couple never successfully conceived a child.
"I tried," says Rodman.
When he skipped mandatory NBA finals practice to wrestle with Hulk Hogan
1998. NBA Championship Series. Instead of sweating it out with MJ, Scottie Pippen, and Steve Kerr, the perennial wild card took a detour to WCW's Nitro to wrestle with Hulk Hogan on a whim. As we now know, the Chicago Bulls would later triumph over the Utah Jazz 4-2. No harm, no foul?
When he checked into rehab on North Korea's orders
Celebrating his best mate / North Korean dictator Kim Jong-un's 30th birthday in Pyongyang proved to be a rowdier affair than anticipated. According to South Korean publications, after some heavier-than-usual alcoholic consumption, Rodman trashed his Koryo Hotel room to the absolute limit, with bodily fluids and all. Authorities apparently warned he would never be welcome back "without the completion of [his] alcohol abuse treatment program". Rodman checked into rehab when he returned to the US shortly after.
When he "married" himself
No one will ever have your back the same way you do. So in 1996, Dennis Rodman came out as bisexual, slipped into a custom-made wedding dress, and went through with "marrying" himself to promote his memoir, Bad As I Wanna Be. And it worked. Thousands rocked up to witness the ceremony and there was a decent amount of ensuing international attention.
---
---