There are very few blokes on God's green Earth who enjoy strip clubs as much as NBA star James Harden.
Prior to ditching the Houston Rockets for the Brooklyn Nets, the ever-charitable shooting guard buoyed Houston's local economy with regular cash injections. He was, after all, in a very fine position to participate in such shenanigans after signing what was previously the richest contract in NBA history back in 2017 (US$228 million / AU$310 million over six years).
In fact, one Houston establishment retired Harden's jersey when he crossed the spending threshold of $1 million at that single location; displayed with a certain reverence on the rafters to this day.
RELATED: Did Wilt Chamberlain Actually Sleep With 20,000 Women?
"James has his jersey like hanging from the top," Jamil "Mal" Clay revealed on the Joe Budden Podcast.
"They were doing that because they said James has been going in there spending like [a lot of money], you know what I mean? So they gave him his own jersey hanging from the rafters of the strip club."
Recently, Harden's penchant for the old adult playground landed him in a spot of trouble when the man was caught violating league COVID-19 protocols for a bit of over-the-pants action; resulting in a US$50,000 / AU$68,000 fine and being ruled "unavailable" for a single week's game.
But even before the global pandemic became a fixture of modern living, strip clubs have been impacting James Harden and his on-court performance in a different sense – as one Redditor named u/AngryCentrist (real name: Ryan Sullivan) discovered through the power of statistics.
RELATED: How Leaving His Wife For A Stripper Saved This CEO's $250 Million Fortune
"Everyone knows James Harden has a particular affinity for the Canadian ballet, AKA strip clubs," reads the study's introduction by the people's genius and all-round internet legend.
"After the Rocket's dismal performance in Miami and the city's reputation for high-quality tit shacks, I became increasingly curious to see just how much James Harden's vice affects his game. So here we are… I spent the better part of the workweek on this – hope you enjoy!"
Enjoy the following breakdown of James Harden's time with the Houston Rockets, fellas.
---
James Harden Game Performance vs City's Strip Club Quality (A Statistical Analysis by u/AngryCentrist)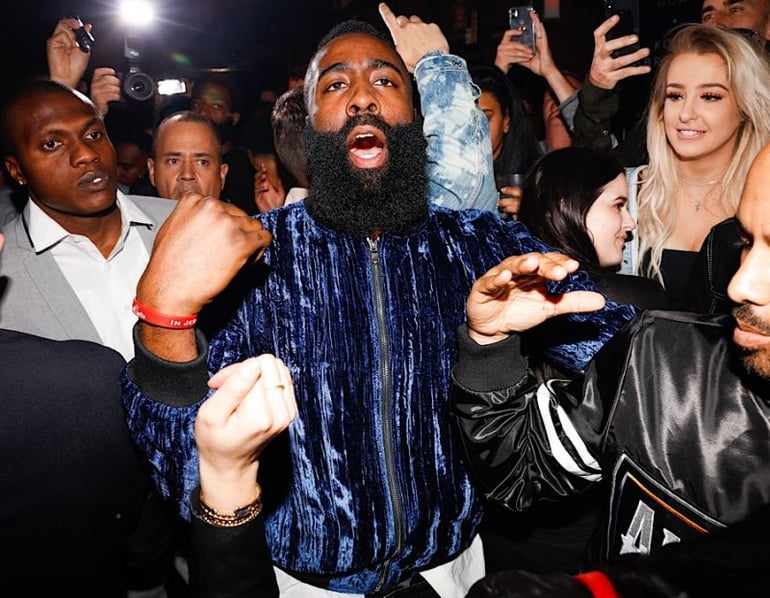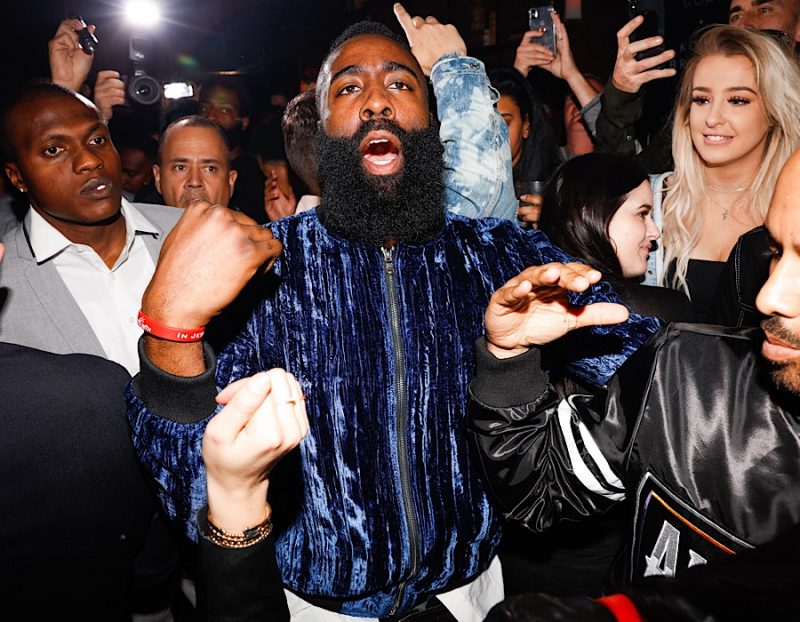 Hypothesis:
James Harden's box score declines in cities with high-quality strip clubs.
Test:
Analyse James Harden's performance in every NBA city and correlate with those cities' reputation for strip clubs to see if there is any discernible relationship.
Methodology:
First, I extracted all of James Harden's game logs for the past four seasons from Basketball Reference, cleaned up the data a bit (a bunch), and appended it into a single worksheet.
Next, I filtered out all home games and games Harden was inactive or DNP (Did Not Play). For the purpose of this analysis, we did not look at home games.
Poor Performances were determined by variances in six stats: Points, FG%, 3PT%, FT%, Assists, & Turnovers. For each of these stats, I compared Harden's overall season average to the city-specific season average.
I identified two categories of Poor Performances: Sub-Par (Harden performed WORSE than season average), and Very Sub-Par (Harden performed 20%+ WORSE than season average).
I analysed his poor performances across each of the NBA's 28 different cities (did not look at home games so no Houston, there are two teams in LA, and I distinguished between Brooklyn and NYC = 28 cities).
City Strip Club Rating was determined by the average Google review rating for the first 10 strip clubs in each city based on the Google search: "[CITY] Strip Clubs" (e.g., "Detroit Strip clubs"). Yes, this did involve me making like 30+ searches for strip clubs on my work CPU…
Finally, I put the City Strip Club Rating into the pivoted game log data, performed a regression analysis, and visualised it into charts.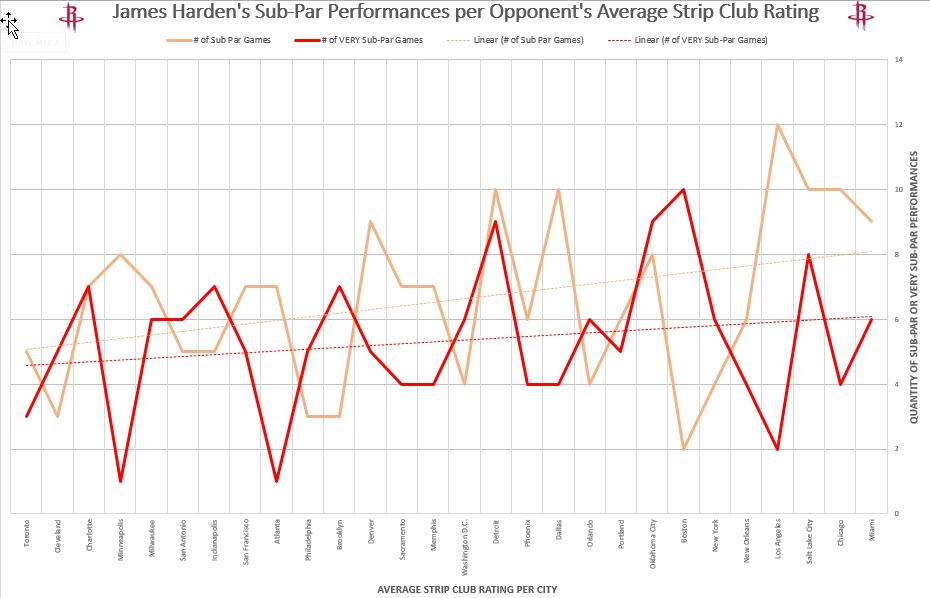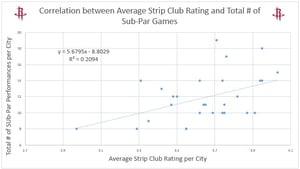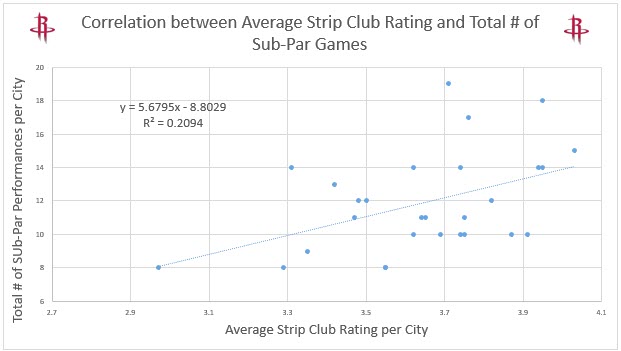 Note: access more data and original charts here.
Conclusion
I have proven, to a statistically significant degree, that the game performance of James Harden declines in cities with higher-rated strip clubs.
Correlation Coefficient – r – (between average strip club rating and total # of sub-par games) = .4575
Given the nature of the subject matter, this would be considered a moderate-to-strong correlation.
Coefficient of Determination – r2 – (between average strip club rating and total # of sub-par games) = .21
This means that James Harden's box score is 20% predictable based on the quality of a city's strip clubs.
---
Other interesting factoids discovered by u/AngryCentrist included the following:
James Harden's best performance comes in city with the worst strip clubs (Toronto)
James Harden's worst performance comes in city with the best strip clubs (Miami)
Salt Lake city has the 3rd-ranked strip clubs of all NBA cities (lol)
You can check out the complete run of the numbers which made Reddit history two years ago here.
Now read about seven times Dennis Rodman proved himself to be the loosest unit on the planet here.