Alexander "The Great" Volkanovski is a name that the majority of domestic and international combat sports fans would know. With a dominant professional record of 22-1, the two-time former AFC Featherweight champion, current UFC Featherweight Champion, and #6 ranked pound-for-pound fighter has been upholding Australia's reputation for producing world-class MMA talent throughout the better part of a decade.
Someone of Volkanovski's calibre has obviously faced some of the UFC's best talents – from Chad Mendes to Jose Aldo, and yes, Max Holloway. This time around, however, the Wollongong native was pitted against yet another formidable opponent in his own right – tennis star Nick Kyrgios – in what many would deem an unconventional challenge. For an MMA fighter, that is.
In celebration of Call of Duty: Black Ops Cold War's release, the two Aussie exports stepped up for a "friendly" match on the old new DualSense controllers. The twist? Unbeknownst to each other, both Volkanovski and Kyrgios were individually taken aside by former-ASIO intelligence officer David Callan who armed them with "ammunition" about their respective personal lives. Cold War espionage style.
---
---
This is just one of two recent collaborations between Activision and the UFC. The other being a brand new capsule collection of exclusive merchandise created in partnership with Engage clothing. Designed for inside/outside the cage, Volkanovski also happens to be serving as an ambassador alongside undefeated UFC Middleweight Champion Israel Adesanya and fellow countrymen Kai Kara-France.
We sat down with Alexander Volkanovski himself for a quick chat about maintaining the top dog status, the Aussie MMA scene's future on the immediate horizon, his own hit-list, and Call of Duty: Black Ops Cold War.
Given the sheer momentum behind you right now – and considering you've only recorded a single loss in the last eight years – you must wake up feeling pretty invincible these days.
Yeah, I'd be lying if I said didn't feel on top of the world – but to stay on top of the world and to stay on top of the mountain, you have to evolve, you have to keep getting better. Because the guys that are trying to climb that mountain are getting better and better and that keeps me more motivated.
It's exciting to know that this game is going to keep changing and there's going to be new challenges – I need to evolve with it. It doesn't get boring. I'm just going to keep going forward and put in the work to stay on top.
MMA fans always talk about their versions of pound-for-pound rankings, shuffling people up/down based on opinion and emotion rather than technical knowledge and objectivity. Who's in your Top 5 right now?
My Top 5 right now… like you said there's a lot that's got to go into it – there tends to be a lot of hype that goes into most pound-for-pound lists. I want to throw all the old guys in there – some guys who definitely deserve to be there right now. I think even though they're retired, it would have to be Khabib Nurmagomedov, Henry Cejudo, then it needs to be Israel Adesanya and Demetrious Johnson. Need to keep myself in my Top 5 though… ha!
---
---
The domestic MMA talent has been representing Australia spectacularly in recent years. In addition to both you and Robert Whittaker, we also have Tai Tuivasa, Jimmy Crute, Martin Nguyen over at ONE Championship etc.
You also have these young rising athletes like your own training partner Colby Thicknesse at Joe Lopez's Freestyle Fighting Gym – who's set to make his professional debut this month. Where do you see the Aussie MMA scene in the next five years?
In the next five years, we're going to be one of the strongest countries – Australia and New Zealand are going to be right up there. We've always had talented athletes but now, we have talented kids training in MMA from a young age and we've never had that before. Now, we're starting to see that transition.
We've already got champions coming out of this side of the world, so you can only imagine where we're going to be in five years. I probably know a lot of future champs too and it's exciting – big things are coming from Australia and New Zealand.
Who's on your hit list for the coming 18 months (any weight division)?
Any weight division? Okay, so… on my hit list, I'd have to say the Lightweight Title. If that ends up being Brian Ortega next then him, and then I would say Zabit Magomedsharipov as well. I want to do that double champ thing – that would be huge.
Now you've recently undertaken a challenge outside of your usual wheelhouse. Competitive as it may be, this time, you faced off against Aussie tennis star Nick Kyrgios in Call of Duty: Black Ops Cold War. How did you prepare for this one?
I had to get my hours up! I tried so hard to get my hours up but there's no way I'm ever going to get the hours Nick gets – he's always gonna beat me. I'm glad we got to dig up some dirt on him to try and get in his head and bring his skill level down, but I have to be straight up and say he had me. I'm no match for him when it comes to Call of Duty.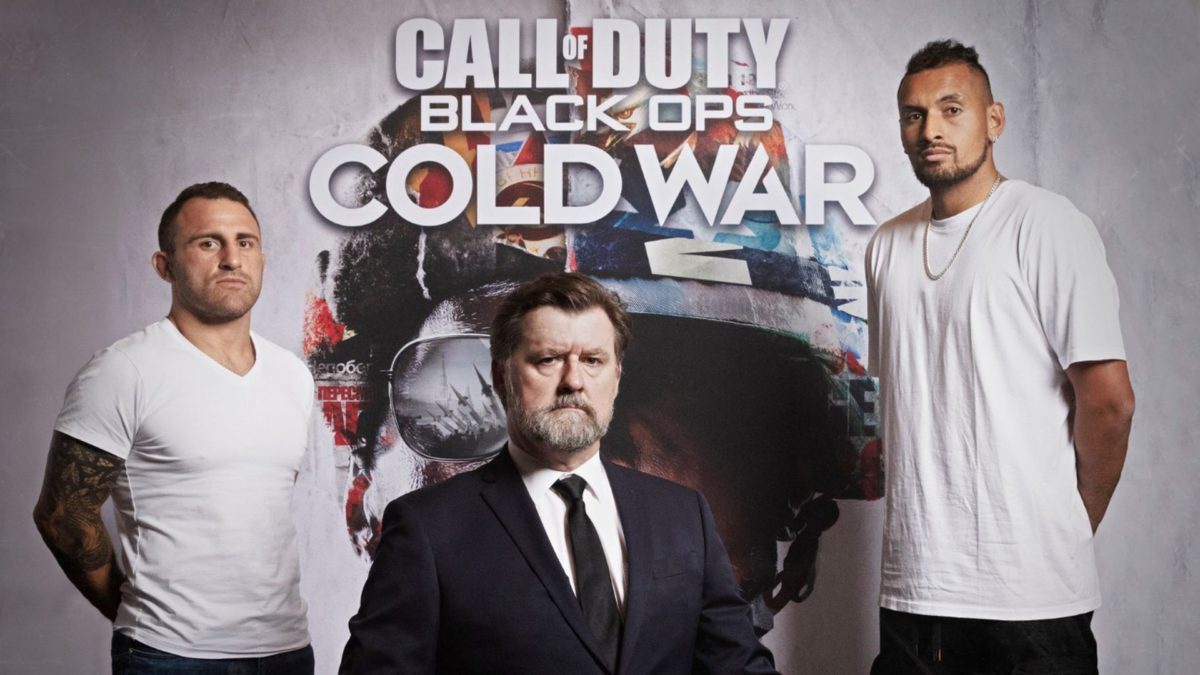 It's not every day someone gets access to a former-ASIO spy like David Callan to be taught espionage tactics. And before facing off in a video game, no less. What was that experience like?
It was so cool to talk to him – some of the stories he told us were straight out of the movies and you're like, "What?! This actually happens?!"
He gave us a load of intel on each other but actually, his real-life stories really drove home that this stuff is real. More real than it looks. You want to be tactical, you want that intel – it's not all about speed and force and I really tried to take what he was telling us about his real-life spy experience to my game and take it more seriously in that way.
I know Robert Whittaker is a pretty big gamer in his downtime. Have you logged many hours of Call of Duty previous to this challenge yourself?
Yeah, it's my downtime thing now for sure. If the kids are at school or I've got some downtime between training, I'll get a few Team Deathmatches in, play a bit of Call of Duty.
Especially after my duel with Nick Kyrgios, my competitive side came out 'cause he whooped my ass – I was like, "You know what? I'm getting my hours up. I'm playing more than ever now." Loving Black Ops Cold War and I swear I'm going to get one up on him eventually!
Call of Duty: Black Ops Cold War is now available to purchase on all platforms.