Fight fans and sports pundits alike have been clamouring for a rematch between New Zealand's Israel Adesanya and Australia's Robert Whittaker since the former claimed the middleweight world title from the latter via TKO at UFC 243. And it would appear that after Whittaker's epic comeback trail, Adesanya's little experiment in the light heavyweight division, as well as every other obstacle – inside + outside of the Octagon – The Reaper is finally ready to take back what was rightfully his.
Speaking in regards to Adesanya's latest middleweight title defence against Italian contender Marvin Vettori at UFC 263, Whittaker didn't exactly mince his words about the reigning champion's performance. For context, in his second bout against Vettori, Adesanya played a very sound strategy and earned the unanimous decision after five unceremonious rounds.
"Watching that fight against Vettori, you can see he's not untouchable," says Whittaker.

"It reinforced the fact that he's very human. Very touchable. I actually thought his performance was average."
---
---
RELATED: How Dana White Helped Acquire The UFC For Just $2 Million In 2001
"Not average in the context of being bad. He never did anything more than what he had to do. He didn't do anything flashy. He didn't do anything more than necessary. Which is a good approach."
"But it certainly doesn't put you in the realm of the gods. He's definitely not a god. He's a very good fighter, sure. But he's not as good as he thinks he is."
Prior to Vettori II, Israel Adesanya recorded his first professional loss thanks to UFC Light Heavyweight Champion, Jan Blachowicz. After failing to make an impact in striking, The Last Stylebender's limited grappling was exposed in full view, giving his Polish adversary the W via unanimous decision.
In contrast, Robert Whittaker appears to be in the best form of his life. Returning as a more calculating and precise evolution of himself since the prolific loss in Melbourne's Marvel Stadium, the local MMA talent and fan favourite put on a masterclass against Darren Till during a UFC Fight Night event, completely dismantled Jared Cannonier during UFC 254 – wherein the incomparable Khabib Nurmagomedov announced his own retirement after defeating Justin Gaethje – and made a grim example of Kelvin Gastelum. Somewhere between then, the great man also delayed the Cannonier bout to donate bone marrow for his sick daughter, Lilliana.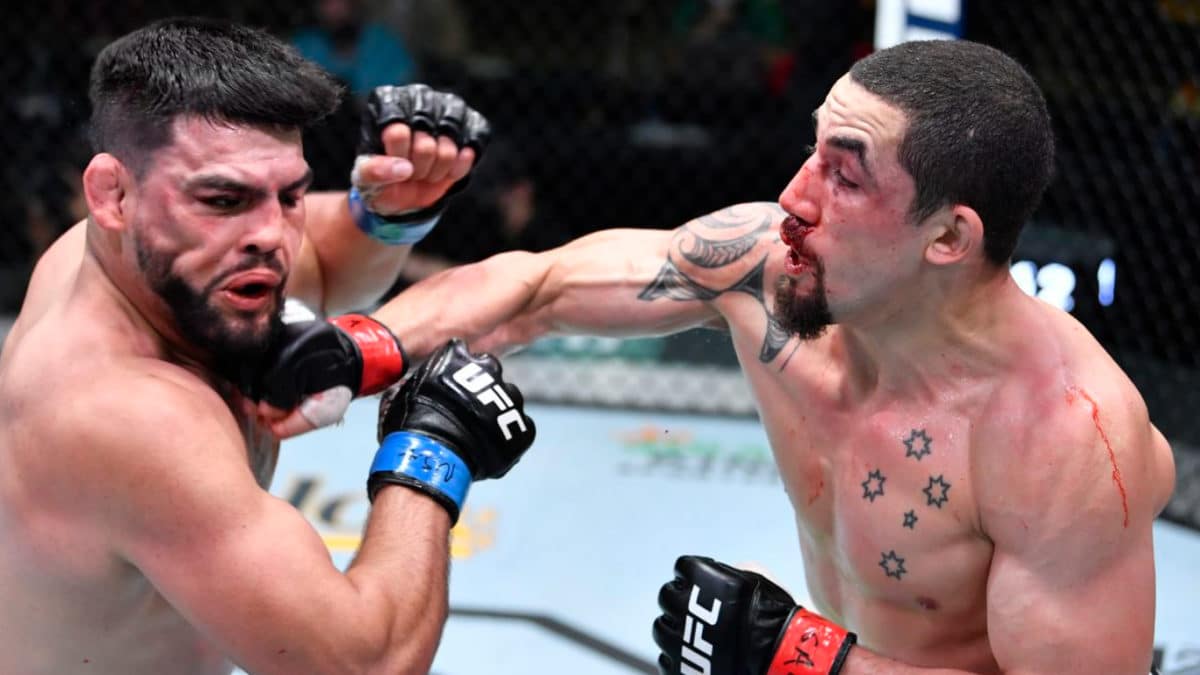 RELATED: The UFC Is Now A Publicly Traded Company
So when is the Robert Whittaker vs Israel Adesanya UFC rematch? It's no secret that organisation President Dana White has offered Whittaker the chance to avenge his highlight-reel loss given he was the former UFC Middleweight Champion. Circumstances, however, dictated other courses for this heaving ship.
---
---
"I was offered the fight about an hour after my fight with Gastelum," Whittaker tells ESPN.

"There was just no way, physically, I could do that. Not only do I have injuries from that last fight to deal with, I have to fly home to Australia, and then two weeks in [mandatory] isolation. I have to see how my body was feeling, and then I'd have to prepare, all by June. It was impossible."
The good news is, at this stage, The Reaper 2.0 is locked, loaded, and ready to brawl once again – even going so far as to issue a simple five-word callout on Twitter after the Vettori rematch (as seen above).
"I can see what Izzy is trying to do… He's trying to get me to accept the fight injured, on short notice, with all odds against me, but there was just no way I could get there physically."
"I do want that fight, and my next fight will be for the title. It has to be. He was just really adamant about fighting on that date, and I can't do it. I'm happy to fight the winner after."
RELATED: INTERVIEW – UFC Featherweight Champion Alexander Volkanovski
With all eyes on him, Adesanya, responded with a far less subtle and far more aggressive callout of his own.
"That other cunt… what's his name? Rob Whittaker, Bobby Knuckles," says Adesanya when prompted about who was next on his professional hit-list.
---
---
"I knocked him out twice… We need to run that back in Auckland. We need to run that back in my territory this time. I'll tell you when it is. You don't get to decide. I get to decide. Why? I'm the motherfucking king, bitch."
"I understand why he's been blow up to seem untouchable, on a different level to everyone else," adds Whittaker.
"But I think his loss to Jan, followed by his average performance against Vettori – it just confirms that he isn't as untouchable as everyone thinks."
"Obviously, he's already beaten me once so deserves to start our next fight as favourite. But I'm a much different fighter now. A different person. And I know I have the tools to beat him."
We'll let you know when the Robert Whittaker vs Israel Adesanya rematch for the UFC Middleweight Championship will go down the moment a confirmed date comes through.