If you're going to eat, eat like it's your last meal. If you're going to love, love with your whole heart. And if you have the privilege of having a furry four-legged companion your very own, ensure its brief-yet-memorable time on Earth is the greatest it can be. We're talking ample head scritches, plenty of belly rubs, the finest kibble with an occasional side of hooman foodz… and the Gucci Pet Collection.
Yes, the Italian luxury house has finally given the people – and the domesticated animals – what they've been asking for. Now, man's best friend has the opportunity to match man's drip thanks to an entire range of leather collars ($375-$460), harnesses ($665-$745), leashes ($510-$560), coats ($1,390), bowls both regular ($880) and travel sets ($6,645), plus more. All complete with those classic Gucci prints and monogram patterns.
RELATED: Gunther VI – The German Shepherd With A $690 Million Net Worth
---
---
"Continuing the narrative of surprise and delight that defines the Gucci Lifestyle selection, the Gucci Pet Collection infuses the everyday with a magical aura," reads Gucci's official description.
"Unveiled in a colourful, retro-inspired campaign, the pieces allow each animal's personality to shine as an ode to the Creative Director's vision of individuality."
The luxe label has also incorporated eco-conscious touches here and there, including the use of recycled polyester and cotton, as well as its own renewable and animal-free Demetra material made from bio-based sources. Because sustainability is the new sexy.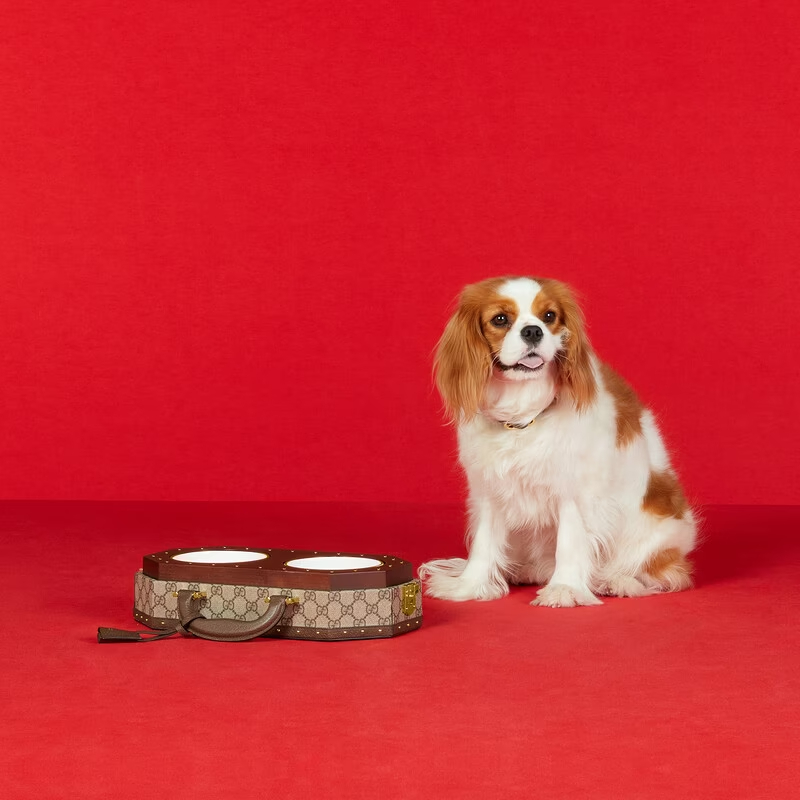 To adequately express the "vision of individuality that also underlies the Gucci Pet Collection," Nabimiman-German artist and designer Max Siedentopf has been commissioned to present the entire campaign with dreamy portraits of stylish canines – and felines – decked out in the unique ready-to-wear articles, alongside the incredibly chic accessories.
"The Gucci pet collection emphasizes the character traits of every dog ​​and cat from playful cuddly tigers to cheeky divas."
Check it out now (and feel to shop via the link below).