Emerging Australian talent Tom Adair has quashed any COVID-19 related uncertainty in the art market with his first solo show 'Chromatones', exhibited virtually, at Sydney's Nanda Hobbs gallery.
Launching amidst Australia's most extreme social distancing measures, Adair was unable to open 'Chromatones' with the bang he'd quite hoped, yet still managed to receive global attention with the help of gallery director Ralph Hobbs.
Hobbs employed similar technology to the National Gallery of Victoria to transport collectors to Chippendale for a 3D virtual tour, pairing it with a live video stream and exhibition talk via YouTube. The innovative approach to exhibiting Adair's works saw the majority sell to prominent collectors, all over the world, within days.
---
---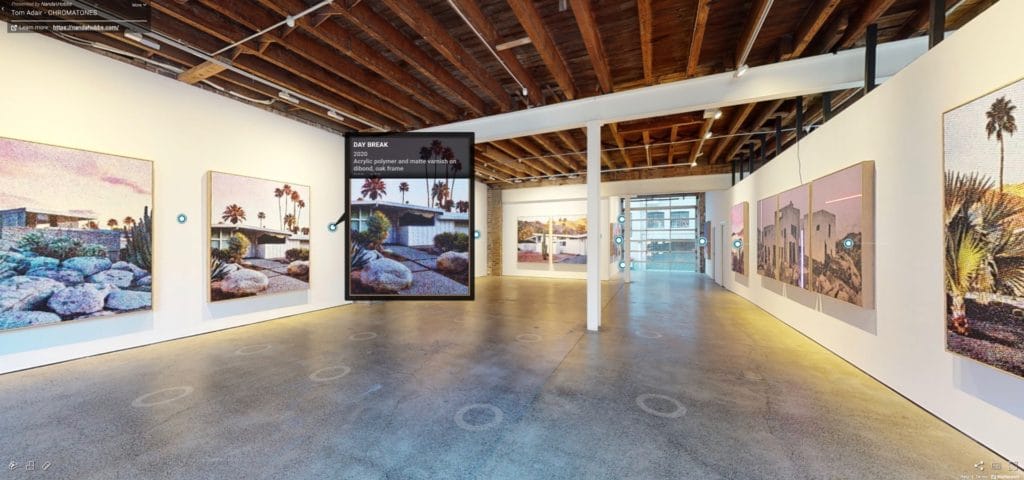 Tom Adair's short but explosive journey and formulated creative approach should act as inspiration for emerging artists. Having maintained one foot in his graffiti-filled past while working in Jardan's furniture lab, his progression to full-time artist has taken less than two years, something Ralph attributes to Adair's hyper focus and work ethic. Chatting to Tom on the phone, it's immediately clear that he is a fastidious operator, having brought 'Chromatones' from concept to delivery in 6 months.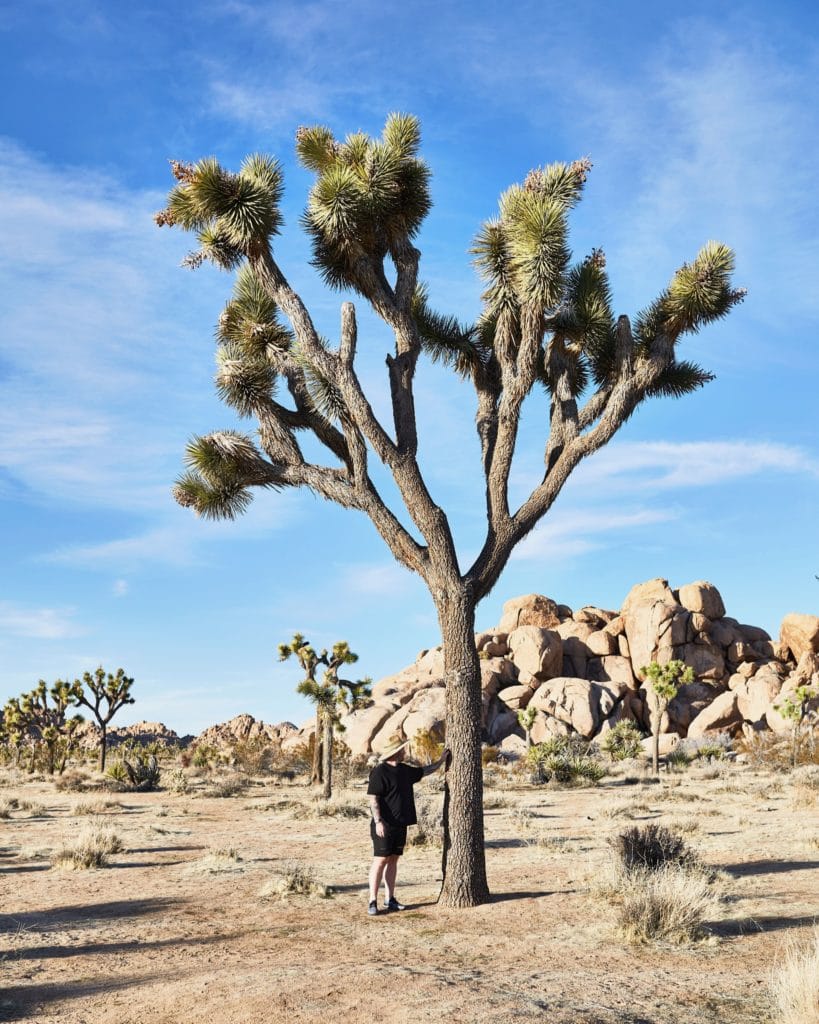 A three-week road trip in January, from LA to Arizona, allowed Adair to shoot his whimsical study of mid-century America – an era where anything was possible. Capturing iconic mid-century architecture and how it connects with the palm tree manicured landscapes, Adair's works draw inspiration from Hunter S. Thompson's classic 'Fear & Loathing In Las Vegas'.
Coming to life as paintings, it's hard to fully appreciate the process Adair has adhered to, airbrushing four seperate CMYK (Cyan, Yellow, Magenta and Black) layers over one another, with works taking him up to 10 days to complete. In person, the incredible detail draws you in, yet requires you to step back to properly gauge the whole scene.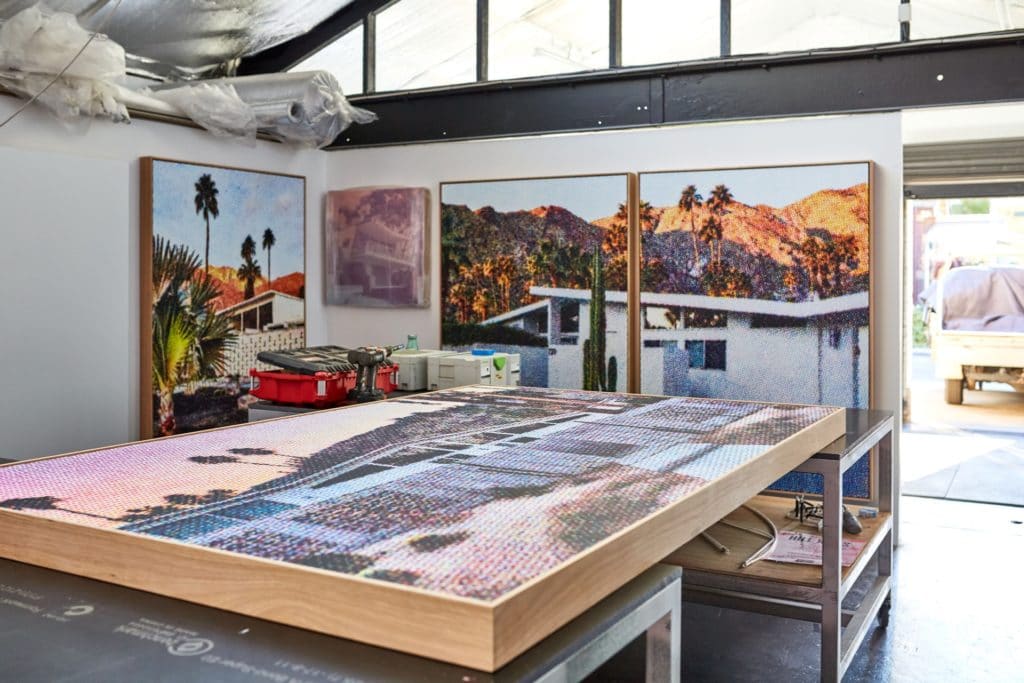 "The process of hand-replicating a CYMK technique — a method that relies on layered dots of colour to form and image — lends itself to a hallucinogenic vividness and a sense of hyper-reality that was inspired by the film and visiting Joshua Tree, a destination synonymous with psilocybin trips," says Tom. "It allowed me to focus more on exploring the mark-making and bringing the painting to the forefront of my practice."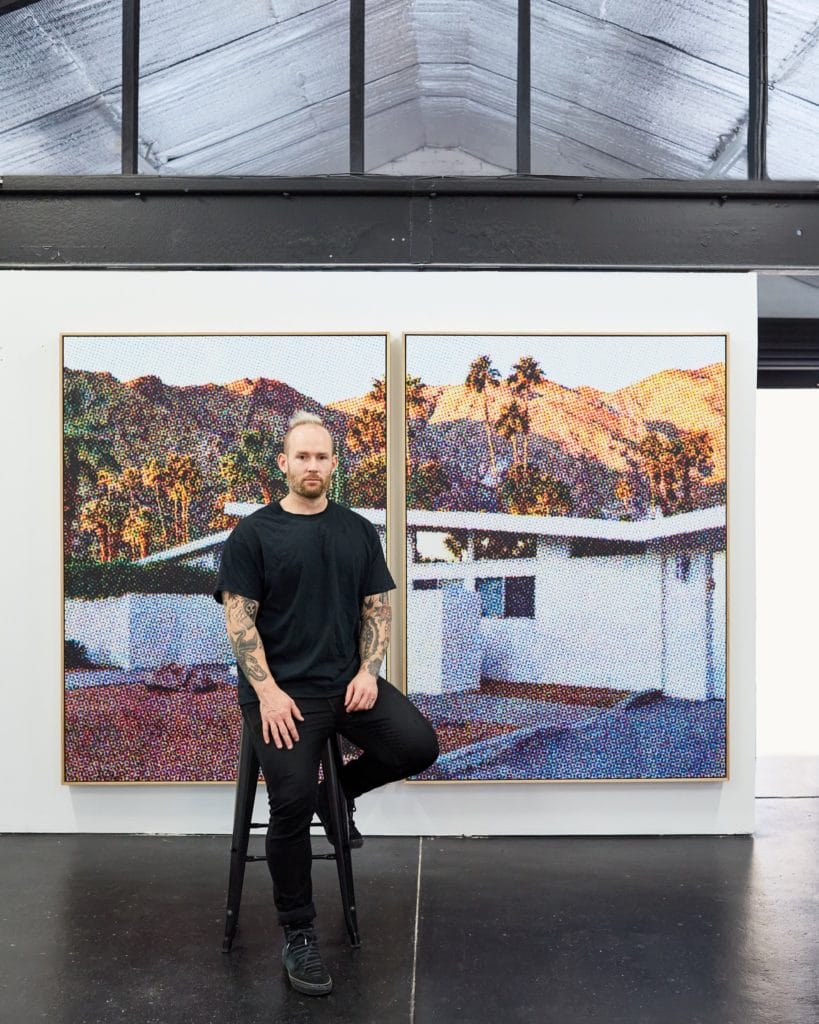 What I found most interesting while chatting to both Tom and Ralph, was the importance of a symbiotic relationship between artist and gallery for creating confidence in the artist and prospective buyers. Where an artist might second guess the value of their talent, a gallery is there to reassure and solidify credibility, driving desire and collectibility – which in Tom Adair's case is sure to skyrocket.
Tom Adair 'Chromatones' can be viewed, in person by appointment, until the 14th of May at Nanda/ Hobbs Chippendale. Head to nandahobbs.com to view the catalogue. Follow Tom on IG at @tomadair_
RELATED: 10 Great Websites For Affordable Art
---
---