Who could forget the iconic opening scene of American Psycho? It danced a fine line between unsettling and oddly satisfying. You know the one. But just in case you need me to refresh your memory (or maybe even introduce it to the uninitiated) here is the aforementioned scene below.
Hands down one of Christian Bale's best performances. But did you know that this lengthy-ass monologue was actually a summarised version? The full version in Bret Easton Ellis' novel spans for a lengthier-ass two pages, with two paragraphs dedicated to hair care alone. As a diligent fashion and beauty writer by the name of Emma Firth explains, the book version is "far more exhaustive".
Firth goes on to lay out the extensive beauty routine Patrick Bateman underwent every morning. A routine you might be able to learn something from, which we've paraphrased for your benefit:
Tie a plastic ice pack around face and commence morning stretching exercises
Stand in front of a chrome and acrylic Washmobile bathroom sink – with soap dish, cup holder, and railings that serve as towel bars, bought at Hastings Tile to use while the marble sinks ordered from Finland are being sanded – stare at reflection with the ice pack still on
Pour some Plax antiplaque formula into a stainless-steel tumbler and swish it around mouth for thirty seconds
Squeeze Rembrandt onto a faux- tortoiseshell toothbrush and start brushing teeth (having flossed before bed last night), rinse with Listerine
Inspect hands and use a nailbrush
Take the ice-pack mask off and use a deep-pore cleanser lotion
Then a herb-mint facial masque, leave on for ten minutes while checking toenails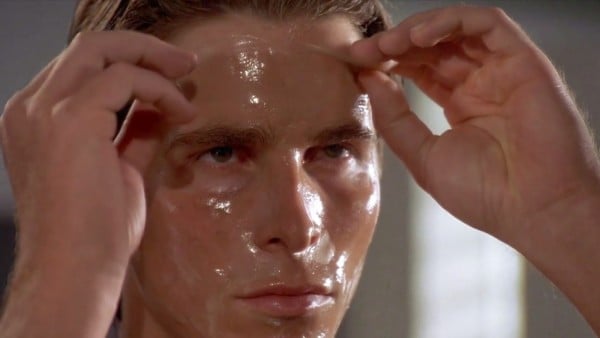 Use the Probright tooth polisher and next the Interplak tooth polisher (this in addition to the toothbrush) which has a speed of 4200 rpm and reverses direction forty-six times per second; the larger tufts clean between teeth and massage the gums while the short ones scrub the tooth surfaces
Rinse again, with Cepacol, wash the facial massage off with a spearmint face scrub
In the shower, use water-activated gel cleanser first, then a honey-almond body scrub, and on the face an exfoliating gel scrub
Vidal Sassoon shampoo is especially good at getting rid of the coating of dried perspiration, salts, oils, airborne pollutants and dirt that can weigh down hair and flatten it to the scalp which can make you look older. The conditioner is also good – silicone technology permits conditioning benefits without weighing down the hair which can also make you look older
On weekends or before a date, use the Greune Natural Revitalising Shampoo, the conditioner and the Nutrient Complex. These are formulas that contain D-panthenol, a vitamin-B-complex factor; polysorbate 80, a cleansing agent for the scalp; and natural herbs
Over the weekend, pick up a Foltene European Supplement and Shampoo for thinning hair which contains complex carbohydrates that penetrate the hair shafts for improved strength and shine. Also the Vivagen Hair Enrichment Treatment, a new Redken product that prevents mineral deposits and prolongs the life cycle of hair… Aramis Nutriplexx system, a nutrient complex that helps increase circulation
Once out of the shower and towelled dry, put the Ralph Lauren boxers back on and before applying the Mousse A Raiser, a shaving cream by Pour Hommes; press a hot towel against face for two minutes to soften abrasive beard hair
Then slather on a moisturiser (Clinique) and let it soak in for a minute. You can rinse it off or keep it on and apply a shaving cream over it – preferably with a brush, which softens the beard as it lifts the whiskers – makes removing the hair easier. Leave the sideburns and chin for last, since these whiskers are tougher and need more time to soften. Rinse the razor and shake off any excess water before starting
Afterwards splash cool water on the face to remove any trace of lather. You should use an aftershave lotion with little or no alcohol. Never use cologne on your face, since the high alcohol content dries your face out and makes you look older. One should use an alcohol-free antibacterial toner with a water-moistened cotton ball to normalise the skin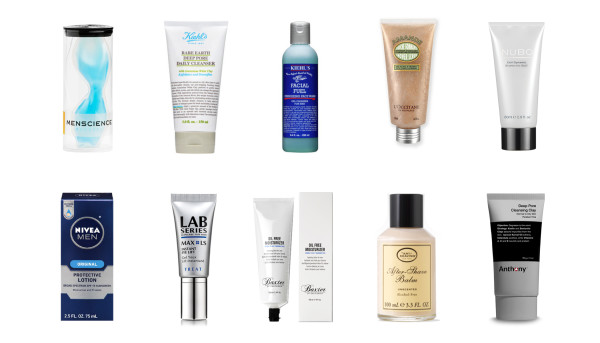 Applying a moisturiser is the final step. Splash on water before applying an emollient lotion to soften the skin and seal in the moisture
Next apply Gel Appaisant, also made by Pour Hommes, which is an excellent, soothing skin lotion. If the face seems dry and flaky – which makes it look dull and older – use a clarifying lotion that removes flakes and uncovers fine skin (it can also make your tan look darker)
Then apply an anti-ageing eye balm (Baume Des Yeux) followed by a final moisturising "protective" lotion
A scalp-programming lotion is used towelling hair dry. Lightly blow-dry the hair to give it body and control (but without stickiness) and then add more of the lotion, shaping it with a Kent natural- bristle brush, and finally slick it back with a wide-tooth comb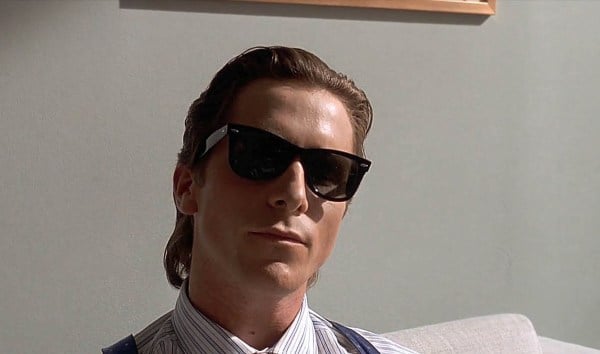 Uh… best of luck?