GilletteLabs – the premium innovation division of the Gillette you know and love – has partnered with Bugatti to develop the Special Edition Heated Razor; which arrives shortly after the success of the original iteration's launch early last year. Delivering the perfect marriage of award-winning technology and an extremely sophisticated, not to mention aesthetically pleasing, design… this is about as cutting edge as it gets (pun very much intended).
Modelled after the iconic Chiron, right down to the authentic Bugatti Agile Blue colourway, the world's first heated razor isn't just a pretty face. It also performs as well as the very hypercar it draws inspiration from. How does it work? Essentially, with a push of a button, the stainless steel warming bar heats up – either to the 109°F/43°C or 122°F/50°C setting, depending on your personal preference.
Working in tandem with the 100% waterproof five-blade Flexdisk head for a close shave, using this sexy bit of kit allows you to replicate a hot towel shave, with every stroke feeling as premium as the aluminium-zinc handle with titanium elements looks. You'll be hard-pressed to find a more comfortable and precise solo grooming experience. Or in the words of BH's own Jack Slade who had the privilege of test piloting the original GilletteLabs Heated Razor last year:

"If you've ever had a hot towel shave, you'll know it's one of the most enjoyable feelings in grooming. This is what GilletteLabs were trying to accomplish with the Heated Razor. While it's certainly not exactly the same feeling as having a hot towel covering your face, it's a lot less hassle for much of the same effect and will help you enjoy – rather than dread – the daily shave."
---
---
RELATED: The Gillette Heated Razor Is The Best In The World – But Is It Worth The Price?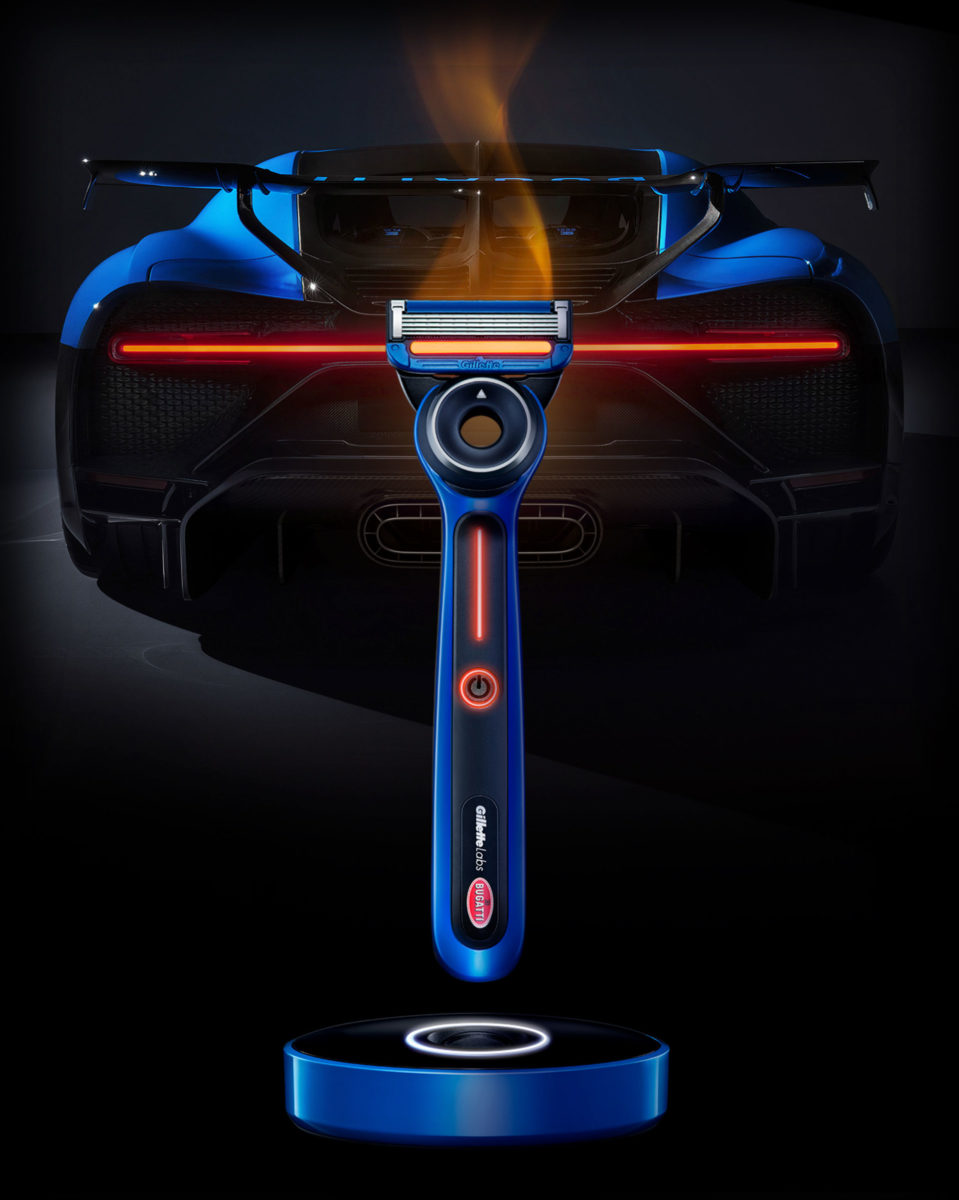 RELATED: Bugatti's $386,000 Pool Table Keeps Itself Level On Yachts
"Bugatti embodies passion for perfection, in addition to performance, revolutionary design, and unrivalled quality," says Wiebke Stahl, Managing Director of Bugatti International.
"GilletteLabs shares these very same values. We are therefore delighted to be working with the world's leading company in the field of grooming."
"At Bugatti, we pride ourselves on providing the pinnacle of luxurious experiences in everything we do, staying true to our mantra: 'If comparable, it is no longer Bugatti.'"
"We are thrilled to be working with Bugatti – a marque universally renowned for its state-of-the-art automobiles," says Gary Coombe, CEO of P&G Grooming.
"This collaboration is rooted in a shared passion for quality and sector-defining performance. Just as each Bugatti embodies the incomparable driving experience, this ultra-precise razor was developed not just to shave, but to create the utmost luxury at-home shaving experience."
---
---
The Gillette x Bugatti Special Edition Heated Razor comes with the Heated Razor itself, magnetic wireless charging dock and Smart plug, 2 x blade refills, 1 x co-branded custom cleaning cloth – and will be available to purchase in the coming weeks across select markets. Side note: it's fitted with a rechargeable lithium-ion battery that lasts up to six shaves on a single charge.
Local pricing is still TBA at this stage, though keep in mind the regular edition alone will set you back $299 here in Australia, meaning you won't exactly be copping the Bugatti Edition for pennies. But isn't it nice to know there's finally a Bugatti you can reasonably afford?