The beauty of the iconic Stan Smith sneaker silhouette isn't its links to tennis or its perforated upper panelling. No, it's that the crisp white shoe is the perfect canvas for the Adidas team to express ideas onto, from the utterly sports-focused to the environmentally friendly. This month, the clean design is getting the Star Wars treatment with the release of the Adidas Originals Stan Smith Boba Fett, in a hue that might surprise some.
Casual fans of the intergalactic bounty hunter might not recognise the specific "Ash Grey" colourway, but for the most passionate enthusiasts, the colour should immediately catch your eye. The colour was chosen as a direct homage to the extremely rare L-slot prototype figure of Boba Fett, which was cast in the same tone.
As they were never sold to the public, it's rumoured that only 100 of the figurines were ever made, with between just 24-26 pieces ever accounted for. With prices for one of the Boba Fett figures hitting US$165,200 (AU$229,048) last year, for Adidas to use that blue is a properly niche reference within the Star Wars collecting community.
---
---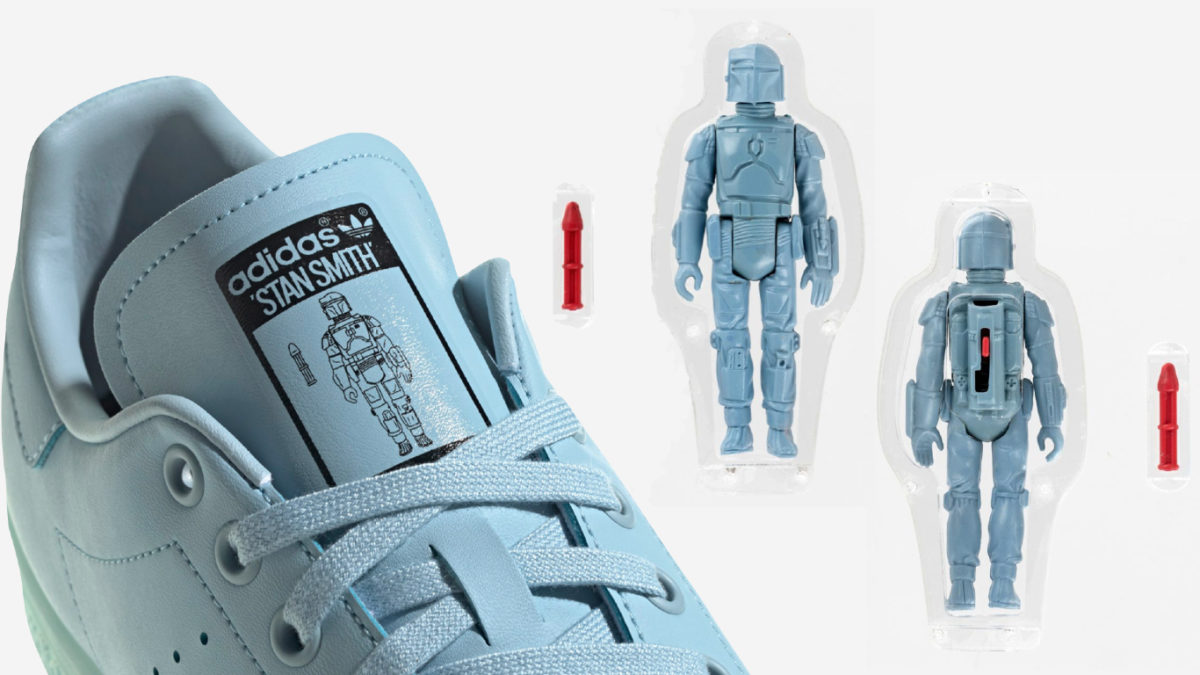 RELATED: Dior & Birkenstock Have Linked Up For The Sensei Of Sandals
An illustration of the Boba Fett figurine is present on the tongue of one of the sneakers, while the other features a drawing of the man himself, Stan Smith. The rest of the shoe is executed in the same "Ash Grey", including the laces and slightly translucent midsole and outsole.
In line with the red rocked the Boba Fett figure was produced with, the text inside the shoe is high contrast "Solar Red", popping against the black background. The Adidas Originals Boba Fett Stan Smith is due to go on sale today, with an RRP of US$90 (AU$125), representing another collectible option for fans of the Mandalorian bounty hunter.