UPDATE [11/02/22]: 200 pairs of the Louis Vuitton x Nike Air Force 1 designed by the late Virgil Abloh has auctioned for a grand total of US$25.3 million / AU$35.3 million – more than eight times Sotheby's initial estimate (average lot price: US$126,500 / AU$177,000). Effectively, the event set "multiple new benchmarks", including the highest known public record for the most valuable sneaker + fashion auctions ever stages, most valuable charity auctions hosted by Sotheby's in nearly ten years.
"We are thrilled that the record-breaking fundraising auction for Virgil Abloh's Post Modern Scholarship Fund has generated such exceptional results," says Michael Burke, Chairman & CEO of Louis Vuitton.

"We are proud that thousands of students will be able to benefit from the proceeds, allowing us to continue to uphold Virgil's mission to inspire and support future generations."
"Today's record-breaking auction, which saw unparalleled global participation, is a testament to Virgil Abloh's legacy as one of the most visionary artists and designers of his generation whose widespread influence and impact is still palpable," adds Charles F. Stewart, CEO of Sotheby's.

"Sotheby's is honoured to be have been a partner with Louis Vuitton and Nike in this special sale, which is now among the most successful charitable auctions ever staged at Sotheby's."
---
---
---
As we remember the creative force that was Virgil Abloh, the final pieces of his design legacy are soon to be seen by the world with the Louis Vuitton Spring/Summer 2022 Collection. To mark the occasion, Louis Vuitton, Nike, and Sotheby's have linked for an upcoming auction of 200 pairs of Louis Vuitton and Nike "Air Force 1" by Virgil Abloh.
It was back in 2017 that Virgil first left his mark on the sneaker world when he released The Ten – a collection of ten Nike shoe silhouettes he had reimagined through the lens of his own design language. Featuring his now-iconic visual cues, such as text on the outsoles, zip-tie tags, and playful pops of colour, the collection immediately sold out, demonstrating Abloh's ability to move the needle no matter the creative medium.
In one of his final sneaker designs, Abloh chose the Air Force 1 as his canvas, executing the shoe with Louis Vuitton's Monogram and Damier prints emblazoned across its surface, without forgetting the Nike swoosh. The upper elements of the shoe, including the tongue, are made from supple calf leather, featuring the instantly recognisable brown of Louis Vuitton.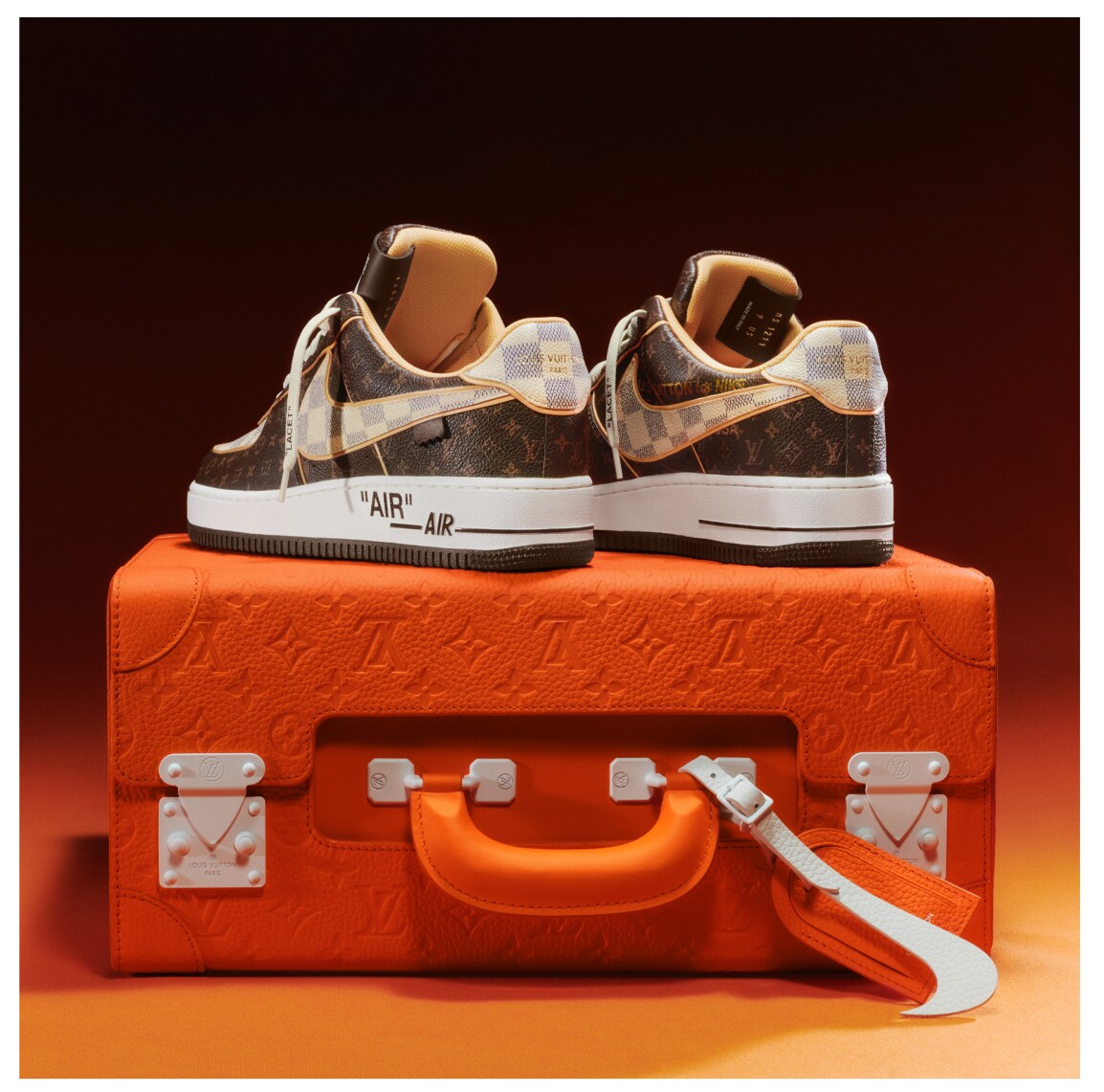 RELATED: Before Virgil Abloh Was Famous, He Was Just An Intern At Fendi With Kanye West
Sotheby's is set to auction 200 pairs of the special edition sneakers, each of which arrives in an archivally inspired Louis Vuitton pilot case made of Monogram Taurillon Leather. The shoes will be available in a range of sizes, from 5-18, with the funds raised by the sale to benefit The Virgil Abloh™ "Post-Modern" Scholarship Fund.
The sale will open its bidding on January 26th, with a starting bid of US$2,000 (AU$2,780), and is set to finish on February 8th. The sneakers will also be on public display at Sotheby's New York from January 19th till the final day of the auction.