After two hellacious years, the promise of our country re-opening in earnest this summer – particularly here in NSW, where October 11th has already been marked "Freedom Day" – has helped Aussies find a renewed vigour for life. Suffice it to say, the stage has been perfectly set for the return of sessions under the sun… and for Victoria Bitter and Volley to drop yet another pair of future classic kicks to wear while we quench those hard-earned thirsts.
As you may recall, the entire concept of the VB x Volley sneaker – appropriately dubbed "The Ultimate Shoey" – began as an April Fool's joke last year. Taking a page out of Elon Musk's playbook, due to the overwhelming response, Victoria Bitter and Volley decided to turn the visual punchline into something you can actually don during silly season and beyond. The first editions sold out within mere days. And naturally, the demand for an encore release ever since has been high (to say the least).
The Volley Heritage High silhouette returns with an all-new black colourway, joining the brand's original white option; the Heritage Low comes in black or white. Similar to the previous iteration, these sneakers feature a durable ribbed canvas upper, custom metal eyelets, and Volley rubber sole – in addition to being 100% animal-free.
---
---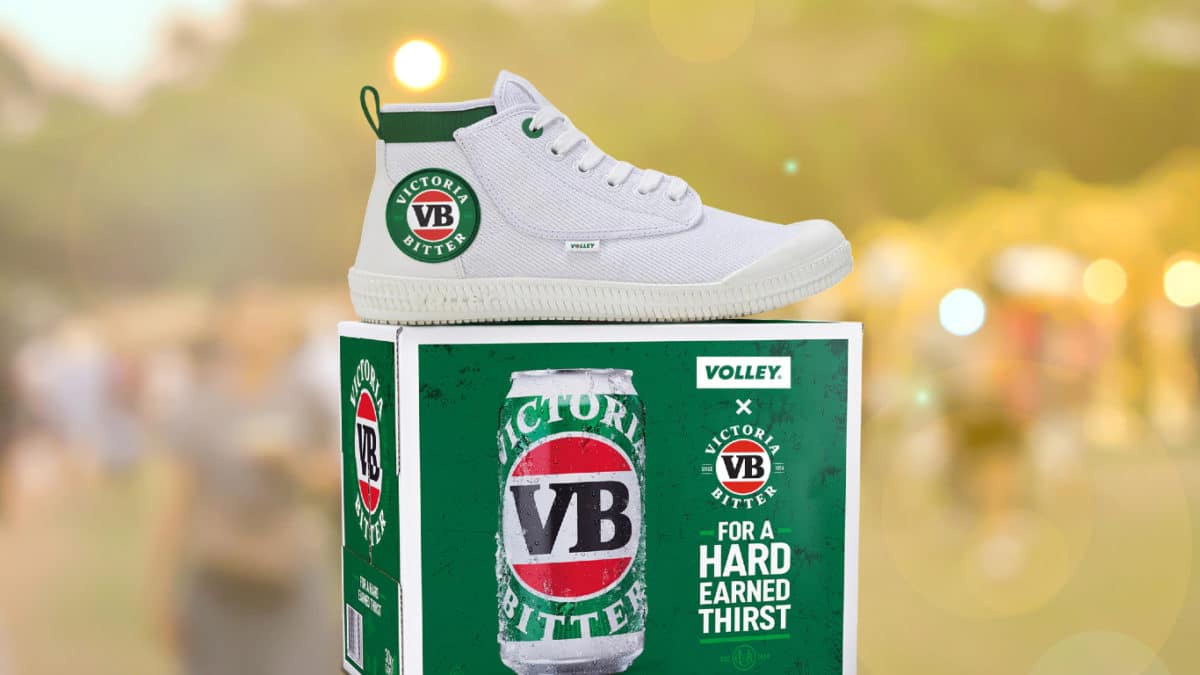 RELATED: Victoria Bitter Up The Ante With A Longneck Version Of Its Fragrance
"We are honoured to have established a long-standing and genuine partnership with one of the oldest brands in Australia," says John Szwede, General Manager of Volley Australia

"It means everything to have an alignment with an iconic brand like Victoria Bitter and Volley Australia is grateful to the brand for embracing such an idea. This collaboration brought about our most successful online sale date in history, with the first release selling out in a matter of days."
"We are excited for the collaboration to continue as we feel both brands' customers find comfort in the nostalgia of the VB Volley range."
"The VB and Volley collaboration resonated so well with our VB drinkers last year that we knew there was an opportunity to keep working with such a like-minded and iconic brand," adds Hayden Turner, Marketing Director of Victoria Bitter.
"We're really happy to build on the launch of last year's range with the VB Volley 2.0 and hope that our drinkers enjoy knocking off in them."
Of course, these sneakers won't be the sole must-have accessories on offer from VB and Volley. Additionally, you'll also be able to cop the Mid Sock in black ($19.99) plus a new wide brim Third Man Hat in cricket-pitch green, black, as well as crisp white ($39.99).
The Victoria Bitter x Volley collaboration 2.0 is now available to purchase (until stocks last). The Heritage High Black will set you back a fairly reasonable $85, while the Heritage Low White + Black is priced at just $75.
---
---