The world of smartwatches is becoming just as competitive as the adjacent scene for smartphones. Apple and Samsung are sitting at the top of the market. However, there's a healthy lineup of health and fitness-focused competitors who are now throwing a lot of smarts into their traditional fitness-tracking watches to try and compete. From Suunto and Garmin to Withings and even stalwart Swiss watchmaker TAG Heuer, these are the brands you should be looking for if you want to find the best smartwatches money can buy.
What The Best Smartwatch Options Offer In 2023
The very basic smart functions, like contactless pay and notification, have lost their ability to impress. These very basic features are now they are being built upon with high-end health tracking features like a SpO2 sensor, to measure blood oxygen saturation, and onboard ECG so you can quickly get readings for possible AFib issues and turn it into a PDF report that you can show your doctor.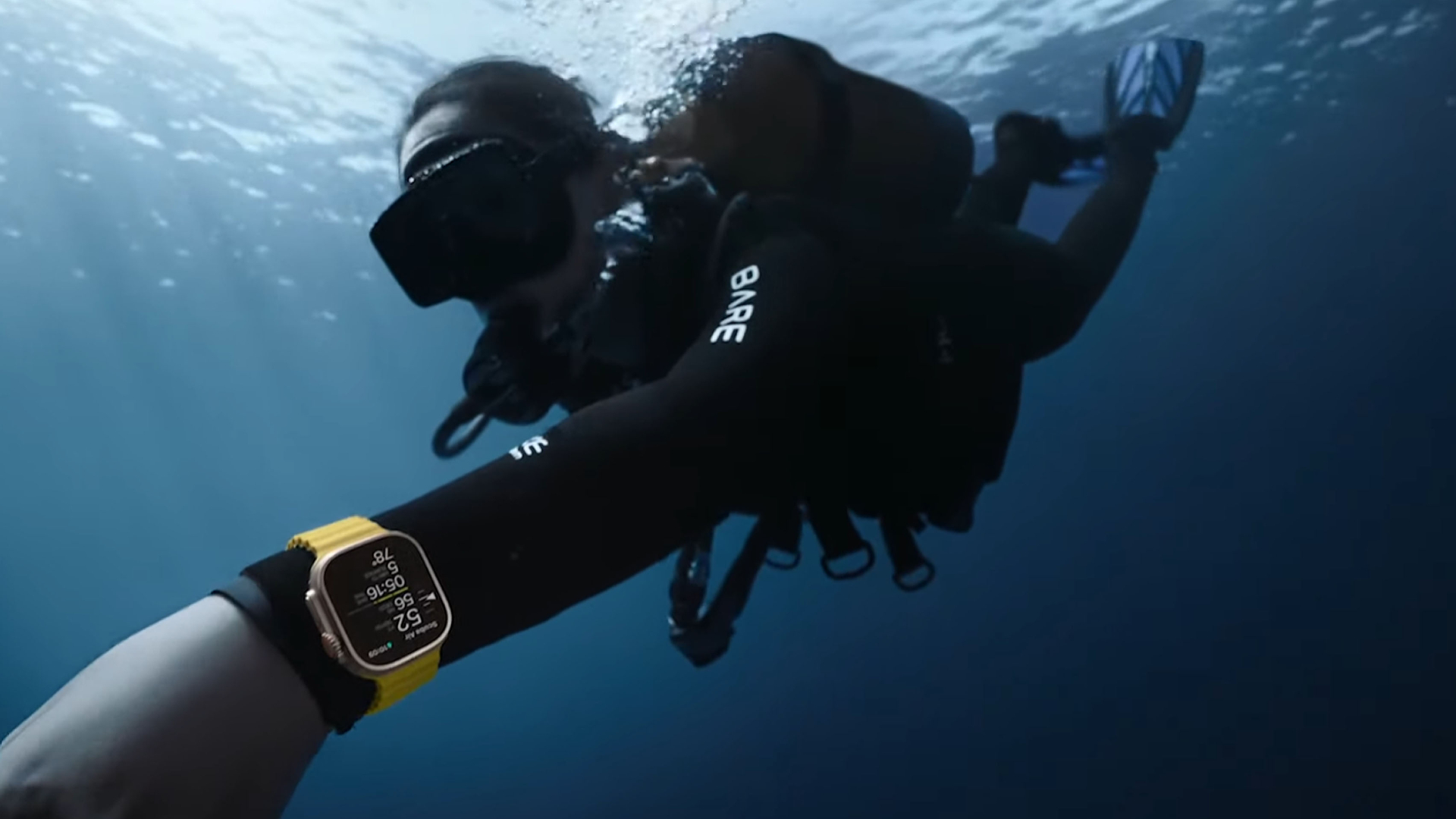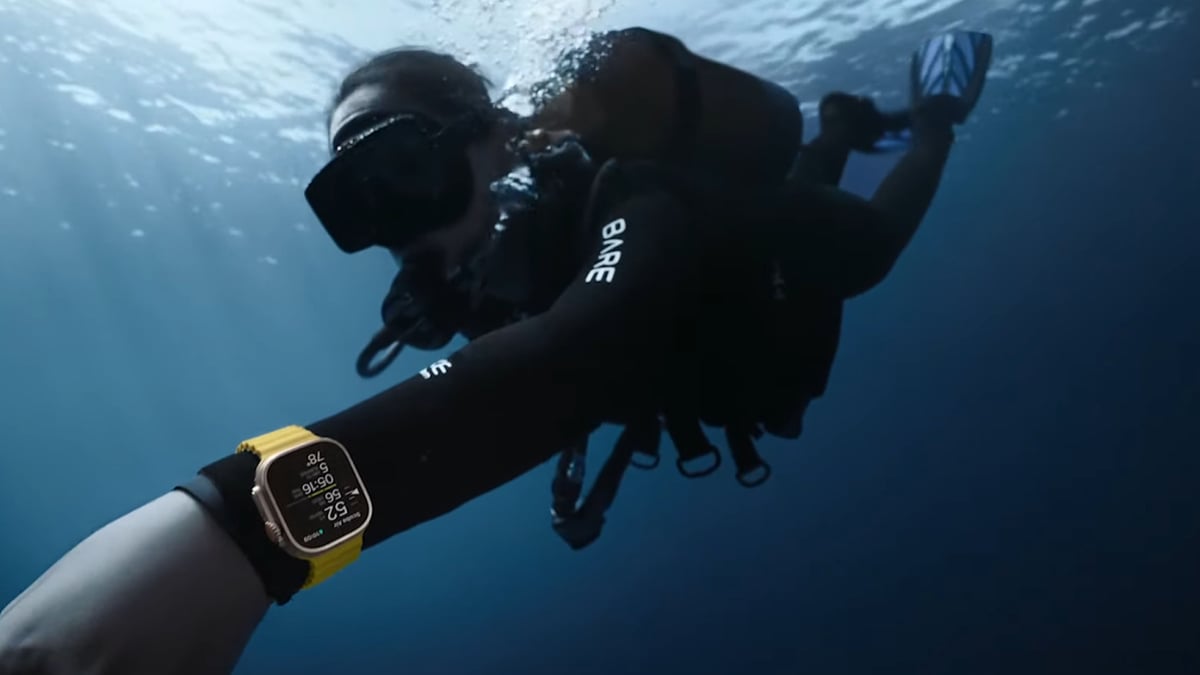 You're messing with proactive health tracking when you dip into this territory, which is why it's important to be across the top-tier smartwatches worth forking out for. It can get expensive, but this is not something you want to skimp on. You want a watch that'll track your activities accurately, and you want even more precision when it comes to things like heart health so your little wrist buddy doesn't turn you into a full-blown hypochondriac.
As such, we've left budget smartwatches off this list. There's no such thing. They are all pretty expensive, but it's worth the investment so you can be sure more work has gone into each of these entries to ensure better fitness and health tracking, as well as smoother smart features.
Another thing to consider is the availability of apps. Most of the below smartwatches are brand-agnostic, but almost all of them, save for Apple, will use some version of Google's Wear OS – which is basically Android. That means you'll need to be across what apps are available on the Google Store, and which are only available on the Apple Store.
Step tracking is now the most basic and expected function of a smartwatch in 2023. You'll want a whole host of other features if you're making this kind of investment. Here is a list of what some of some to look out for
Built-in GPS – so you can track runs and elevation without taking your phone with you.
SpO2 Sensor – so you can monitor your blood oxygen saturation and be aware of any potential health issues.
ECG – so you can measure how fast your heart is beating and watch out for any irregularities.
Activity Tracking – the number of activities that the watch can track accurately, from running to swimming.
Music storage – so you don't need to take your phone with you on your runs to listen to music.
Cellular Connectivity – A cellular connection is fairly standard now, but you want one in order to take advantage of the numerous smart features built into a watch like contactless pay and notifications. Some watches, like the Apple Watch Series 6, are offered in standard and cellular versions. Go for the cellular so you don't always need your phone on you.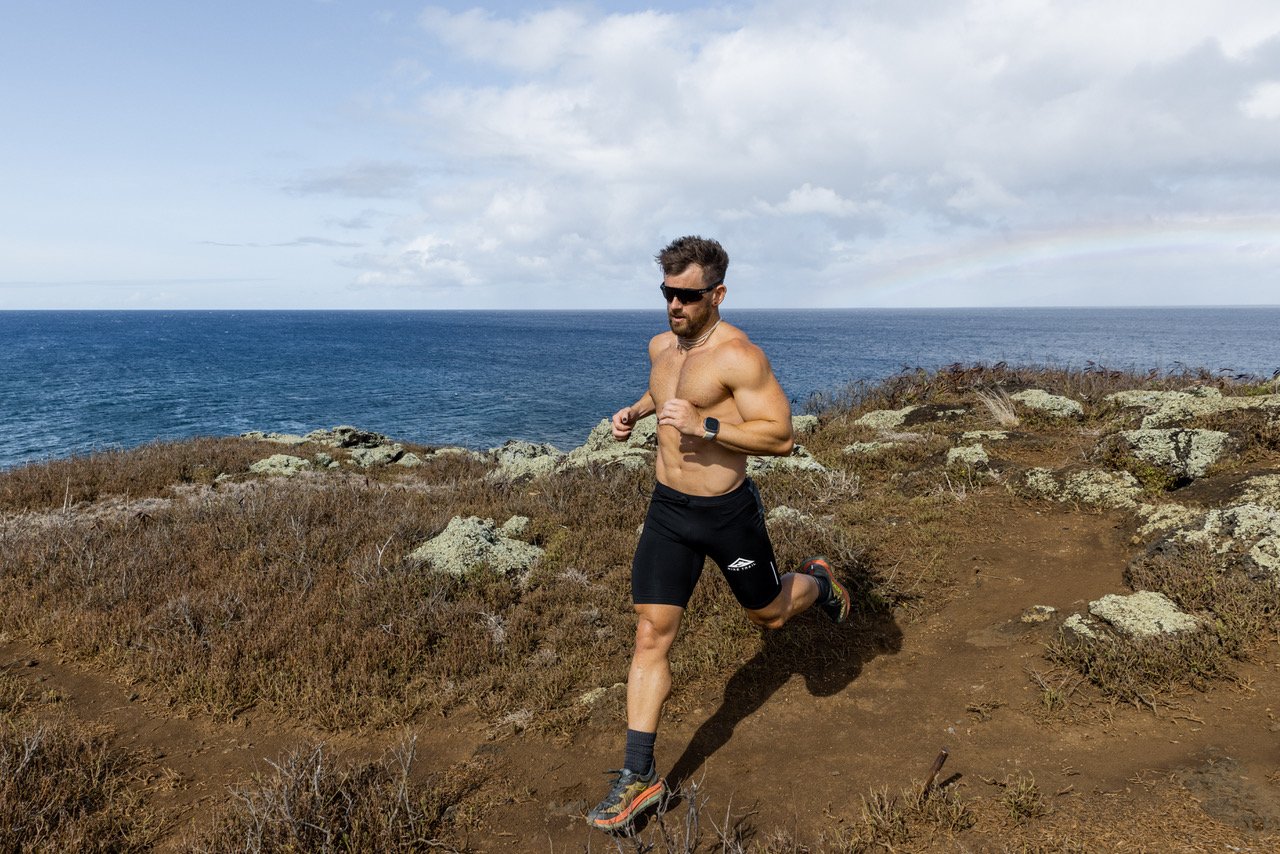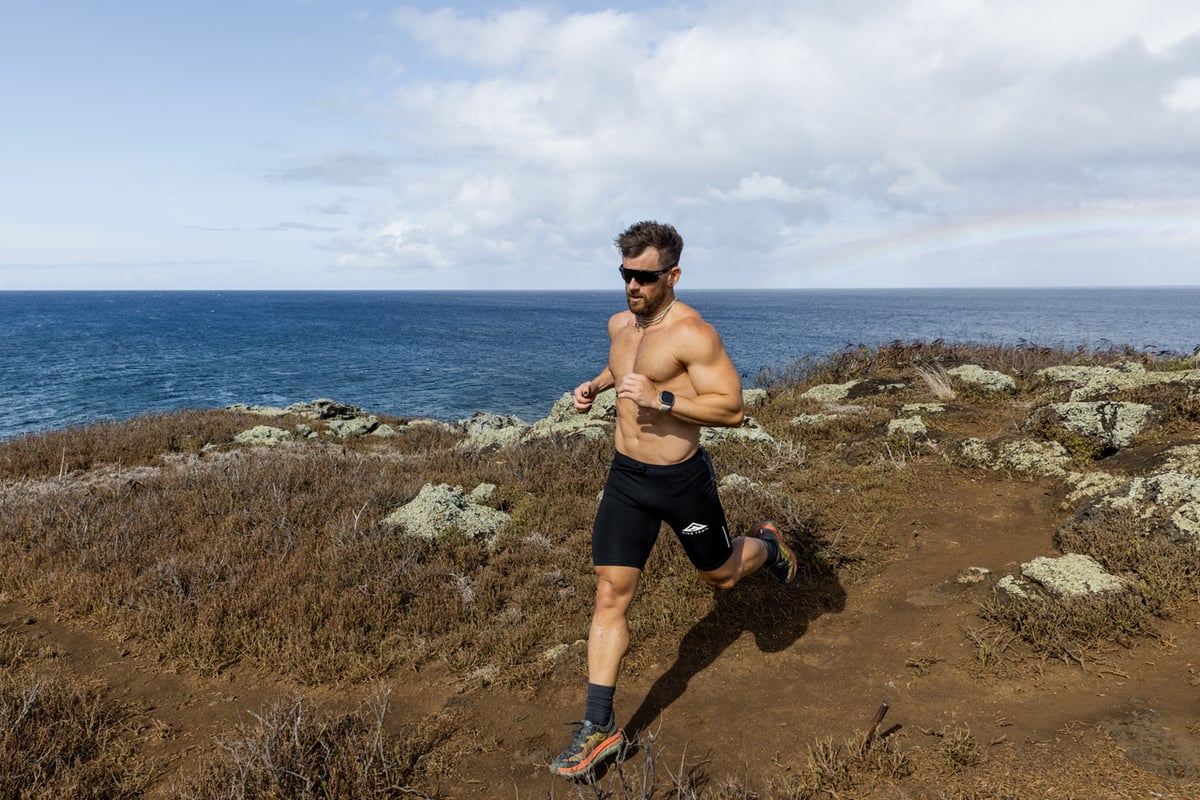 In case you don't want to read through all of the below, just know that the best smartwatch from Apple is the Apple Watch Series 8 and the new Apple Watch Ultra. From Samsung, the best smartwatch is the Samsung Galaxy Watch 5 Pro, while the best smartwatch from Fitbit is the Fitbit Sense 2. Those are typically the three main brands people think of when they're in the market for a new smartwatch, but as you'll see below, there's much more than just those three worthy contenders. As far as honourable mentions, the likes of the Google Pixel Watch (especially for Pixel phone users), and the Apple Watch SE are also excellent new smartwatches, with compelling health features and solid battery life.
You're also going to want to be on the lookout for both in-house and third-party apps. A smartwatch ain't worth anything without third-party apps, giving you more than enough to customise your own experience. Apple actually has the lion's share of apps, although Wear OS has been picking up as of late.
RELATED: The Best Watches For Men
---
Apple Watch Ultra
Dimensions: 49mm

OS: watchOS 9.0

Compatibility: Apple

Display:

Always-On Retina display

Battery duration: 36 hours on normal use and 60 hours on low power mode for longer battery life

Charging method: Wireless

Connectivity: GPS, Bluetooth, cellular 

Water resistance: 100m
The Apple Watch Ultra was released earlier this year as the sportier, more robust and feature-packed new smartwatch from the Cupertino-based tech giant that arrives with the not-insignificant price tag of $1,299. It was released in conjunction with the Apple Watch Series 8 ($629) and the Apple Watch SE ($399), both of which have new features including the Apple Watch Series 8 Crash Detection mode and women's health tracking, as well as the fitness tracking we've come to expect from other Apple Watches.
The Apple Watch Ultra has a lot more that's new, however, with an increased case size of 49mm that is made from lightweight titanium, 60 hours of longer battery life, improved cellular functionality and precision dual-frequency GPS for when you're out in the wilderness. As a smartwatch that specialises in sports and outdoor activities (rich with health and fitness features), the Apple Watch Ultra also arrives with a trio of new straps, which include the fabric Alpine Loop, the rubber Ocean Band and the Trail Loop that is the thinnest Apple Watch band to date.
Despite improving the screen size significantly from the Apple Watch Series 6 to the Series 7, the Apple Watch Ultra boasts the biggest and brightest always-on-display yet, capable of up to 2,000 nits of brightness that are designed to make the screen easy to read while outside in glary conditions. Thanks to the new case of the Apple Watch Ultra, the edges of its flat always-on-display are protected by a small bezel, but that isn't the coolest thing that the new case offers.
The Apple Watch Ultra also features a brand new button, which is an unusual move for Apple that is better known for removing buttons from its devices, and is customisable to offer users a shortcut to their most frequently used apps. If you hold the "emergency orange" button down, however, it will offer a prompt to call emergency services and cause a loud siren to ring that can be heard from nearly 200m away. Car crash detection is also featured as a part of these emergency functions.
The well-loved and intuitive digital crown of the Apple Watch Ultra has also been tweaked, with the size increased by 30% for when you're in weather conditions that require gloves, but the software changes are even better for those after a great fitness tracker. Thanks to its improved satellite connectivity, The Apple Watch Ultra now has Compass Waypoints and Backtrack apps, which make it easier to navigate to where you're going, as well as leaving a trail of digital breadcrumbs to follow if you get lost while in the great outdoors.
There's also a new diving app that will track your dive time, depth, maximum depth and even how cold the water is thanks to a new water temperature sensor. The Apple Watch Ultra is also guaranteed 100m of water resistance (double the previous generation) and certified to the EN13319 European Dive Computer standard.
For iPhone users, Apple Watches are a no-brainer. No two pieces of tech could be more in sync, making the whole experience just smoother both for the abundant health tracking features and efficient smartwatch key features. Although Wear OS watches, which use Google's proprietary Android operating system, have come a long way, there's something about WatchOS that is still infinitely more intuitive, uncluttered, and actually quite meditative to use.
Lightweight aerospace-grade titanium case
Impressive feature set for outdoor activities
Super bright screen
A step up in price compared to other Appl Watches
---
Tag Heuer Connected Calibre E4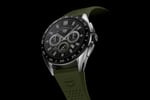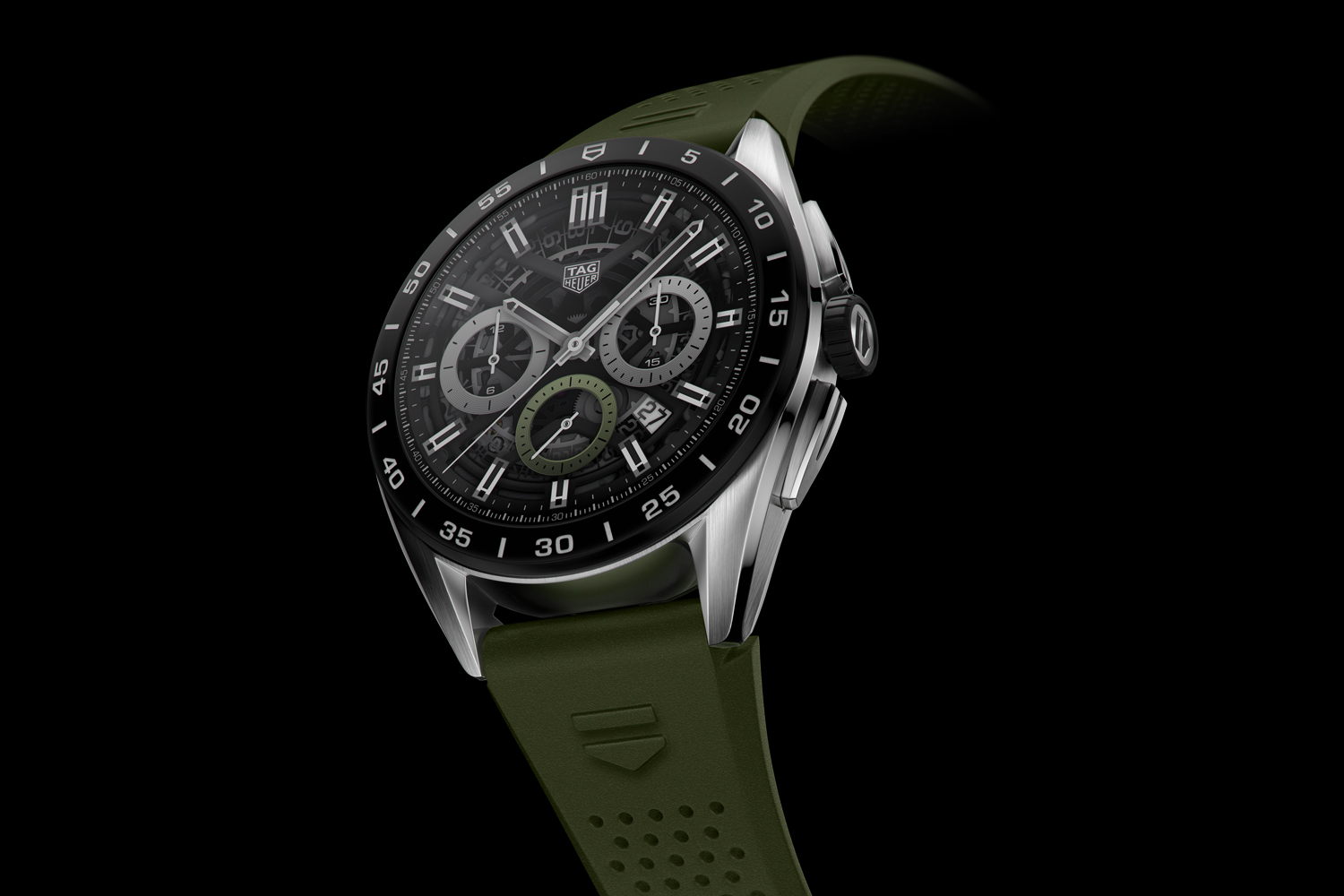 Dimensions: 45mm

OS:

Wear OS by Google

Compatibility: Android and Apple

Display:

AMOLED display 1.39″

Battery duration: Up to 48 hours depending on use

Charging method:

Charging dock

Connectivity: Bluetooth

Water resistance: 50m
When TAG Heuer first revealed the high-end Connected watch in 2015, the entire industry unsurprisingly paid attention. Is a legendary Swiss watchmaker getting into the smartwatch scene? It was a huge stroke of validation for the growing technology and done with such a deft balance that classicists were perfectly fine with the idea of strapping this evolution onto their wrists.
Through iterative changes, TAG Heuer arrived at the latest generation of its non-mechanical technology in the Tag Heuer Connected Calibre E4 which improves in all the right areas. Just like Apple, TAG Heuer has increased the size of this latest smartwatch to 45mm up from the 42mm of the previous generation, which serves to make it feel a little more like a mechanical watch thanks to its increased presence on the wrist.
Increasing the size of the case isn't the only change, with the digital crown covered in rubber to make it easier to grip if you're running or wearing gloves, while the polished ceramic bezel remains from previous generations. The screen beneath the sapphire crystal protective layer is now a 1.39-inch AMOLED screen with a 454 x 454 resolution, which means it's super crisp and easy to read, adding to the overall impression of a premium product.
The Tag Heuer Connected Calibre E4 is powered by the Qualcomm Snapdragon 4100+ and is a member of Google's Wear OS smartwatches family, making it straightforward to link it with Android phones for mobile payments from Google Pay. It is still able to seamlessly pair with iPhone owners, but you'll need a Google account if you're after any specific apps. While it does have both wifi and Bluetooth connectivity, it doesn't as yet offer cellular connectivity if you were hoping to make phone calls on it.
As you'd expect, the watch features improved battery life that should get you at least two days between charges, which is close to the Samsung Galaxy Watch 5 Pro but does lag a little behind the better battery life of the Apple Watch Ultra. You can expect the battery to reach 60% charge after around half an hour, while it will take about 90 minutes to reach 100%, which is also faster than TAG Heuer's previous generation.
If you're a watch collector who loves TAG Heuer, simply looking for something a little more premium feeling than other products on the market or don't want the same Apple Watch as everyone else, then the Tag Heuer Connected Calibre E4 could be the perfect thing for you.
Ceramic bezel and steel case have very high quality feel to it
Looks like a luxury watch not a smartwatch
Great golf app and solid exercise apps
Arrives with the price of a luxury Swiss watch
---
Samsung Galaxy Watch 5 Pro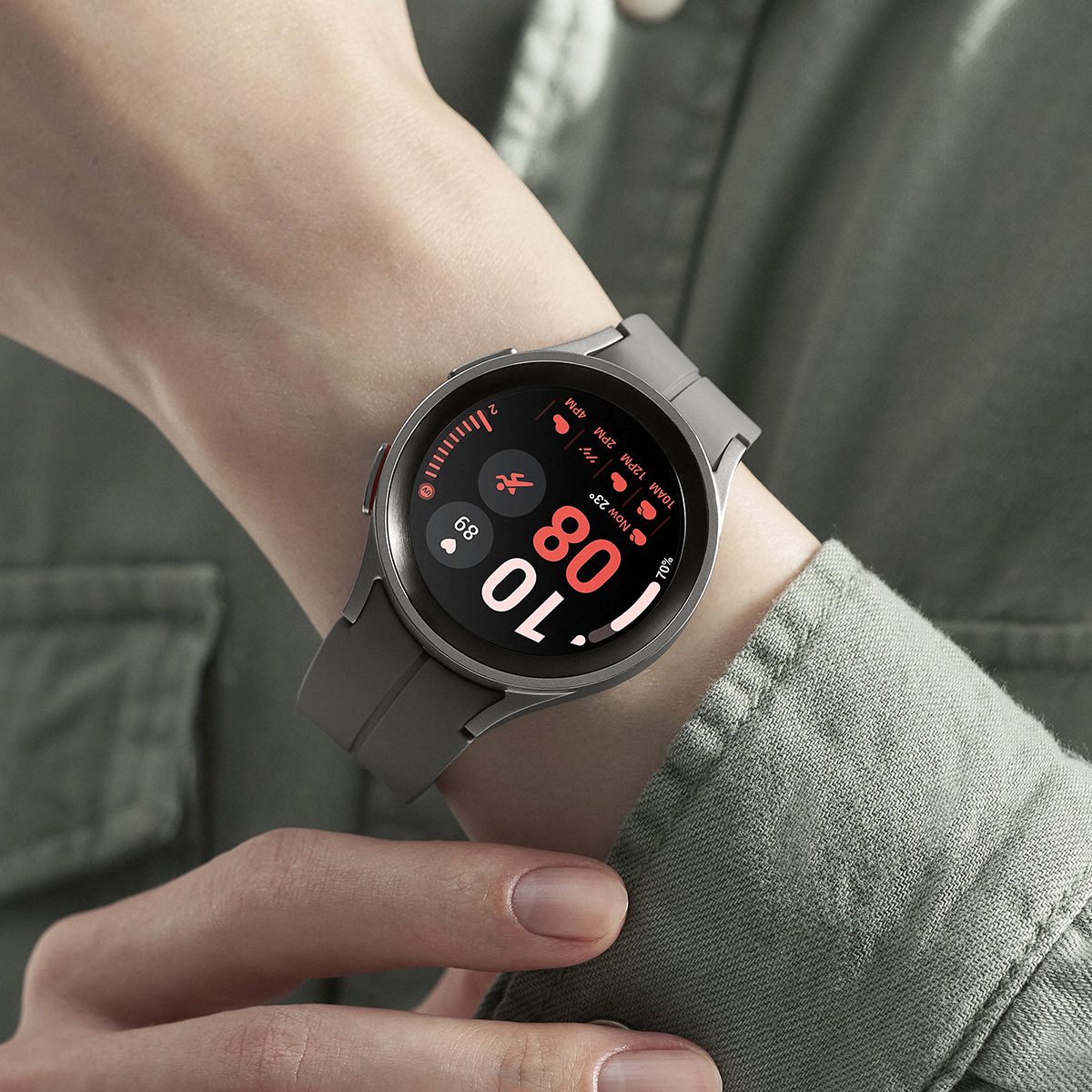 Dimensions: 45mm

OS: Android Wear OS 3.5

Compatibility: Full functions with Android, limited functions with Apple

Display: 1.4-inch Super AMOLED display

Battery duration: 80 hours

Charging method: Fast Wireless Charger

Connectivity: Bluetooth, Wifi, Cellular 

Water resistance: 50m
While the Apple Watch is one of the best-selling and most popular smartwatches on the planet, Samsung has been in lock-step with the Californian tech giant in their efforts to create the best smartwatches. The Korean tech firm's latest offering is the Samsung Galaxy Watch 5 Pro packing in as many useful features as possible, including mobile payments, phone calls, impressive battery life, better health and fitness features including a blood oxygen sensor and a robust 45mm titanium case (the same material as the Ultra from Apple Watch).
One thing to know is that just like the Apple Watch requires an iPhone to function to its fullest potential, the Samsung Galaxy Watch 5 Pro will also work best for Android users, running on the updated Wear OS watches One UI Watch 4.5 operating system. It arrives with a crystal clear and easy-to-read 450-by-450-pixel AMOLED display that measures 1.4 inches across, which is protected by a layer of sapphire crystal that is twice as hard as the previous generation of Samsung smartwatch.
If the Ultra from Apple Watch is too big for you, then the Samsung Galaxy Watch 5 Pro might be the thing for you, presenting a slightly smaller profile on the wrist thanks to its smaller diameter and thickness. While it doesn't feature the same rotating bezel for quick scrolling through features, the latest Samsung round watch has been built to be tougher than previous generations and removes that potential point of failure, but still arrives on the same comfortable rubber strap (secured with a folding magnetic clasp).
This latest Samsung smartwatch has one of the best long battery life functions on the market today, thanks to the large 590mAh battery housed within it. Samsung states the Samsung Galaxy Watch 5 Pro will last a full 80 hours between charges and 20 hours while the GPS is running, making it one of the biggest better battery life improvements in smartwatches to date.
The Samsung Galaxy Watch 5 Pro takes full advantage of its place in the Android ecosystem, delivering Android phone owners the full suite of third-party app support from the Google play store, such as Google Maps, Google Pay, voice assistant and many more. The fitness tracking apps are also great to use and straightforward to understand, including offering features not available in the Pro model such as Turn By Turn navigation, Route Workout and Track Back. As one of the best smartwatch offerings in the game, it also features a blood oxygen monitor, car crash detection, stress tracking, a sleep tracker and health sensors as standard.
While the Ultra smartwatch from Apple Watch boasts better water resistance and improved emergency functionality, the Samsung Galaxy Watch 5 Pro goes toe-to-toe with the hulking Apple Watch in so many other areas. While both are better than most smartwatches in the market, the fact that iPhone users will be limited to the Apple Watch just like Android phone users will be limited to a Samsung Wear OS watch, means that choosing between the two will likely be dictated by your phone choice.
In saying that, the Samsung Galaxy Watch 5 Pro is slightly more affordable than its competitor from Apple, so if the price is an important factor then Samsung has that edge. This Samsung starts from $799 and is currently available.
Great functionality with Android phones
Decent battery life
More wearable than Apple Watch Ultra for smaller wrists
More strap options would be great
RELATED: The Best World Time Watches For Post-Pandemic Globe Trotting
---
Garmin Forerunner 255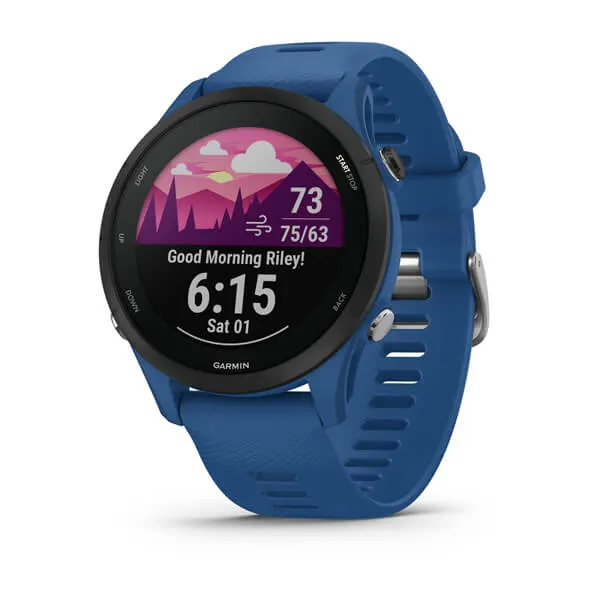 Dimensions: 42mm or 45mm

OS: Garmin Beta 14.12

Compatibility: Android and Apple

Display: 1.2-inch MIP display

Battery duration: Up to 14 days in smartwatch mode, or 30 hours with the GPS functioning

Charging method: Garmin proprietary plug charger

Connectivity: Bluetooth

Water resistance: 50m
Even if you weren't already familiar with Garmin as a brand, you could easily tell this was a hybrid smartwatch that places a tad more value on fitness tracking but doesn't skimp on the same life-enhancing features as the other best smartwatches. Garmin's GPS tracking and heart rate monitor are some of the best in the game, but the Garmin Forerunner 255 is a great all-around smartwatch that won't break the bank and you can get the most out of it even if you aren't a professional athlete.
Featuring both heart rate sensors and an accurate GPS, additional features of this model include better battery life, excellent training apps, sleep tracking, a blood oxygen monitor and health tracking for women. Available in either a 42mm or 46mm case size, the Garmin Forerunner 255 seeks to be more things for more people and it does a great job at it, not only improving its fitness features and battery life but useful day-to-day features such as mobile payments through Garmin Pay.
If you are a runner, the different case sizes are great for those with smaller wrists who don't want to be working out with a massive smartwatch, while the 46mm size is already popular with larger athletes. Boasting many of the same fitness trackers as you'd find in Garmin's more premium watches, the Garmin Forerunner 255 offers Training Load to track workouts over your last week, Training Effect to measure changes in your physiological state and Training Status to track your training progress.
As an excellent function for those who don't like to carry their phone while they're running, the Garmin Garmin Forerunner 255 is available in the Forerunner 255 Music edition, which has storage for your music while you're on the go. Featuring space for up to 500 songs, the Music edition is also able to sync up with your Spotify account, so you can build the perfect playlist on your phone before you head out for a long run. The only negative to playing music, however, is that it reduces the battery life from 30 hours down to just six and a half hours of music playing time.
While it doesn't arrive with an always-on-display, the 1.2-inch MIP display still does everything you need, from showing your fitness routine to blood oxygen tracking and much more. If all that wasn't enough, it's also more affordable than premium offerings from the likes of Samsung or Apple, arriving with an approachable RRP of $629.
Great smartwatch for athletes, especially runners
Very good battery life
Two sizes ideal for different wrist sizes
More limited as an everyday smartwatch if you aren't regularly exercising
---
Suunto 9 Baro Titanium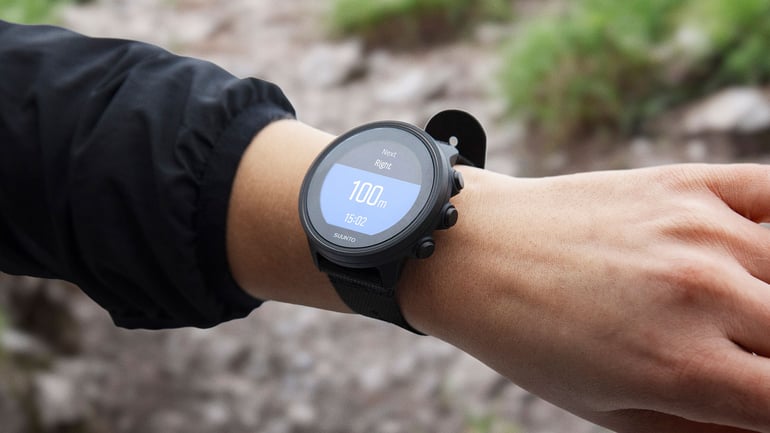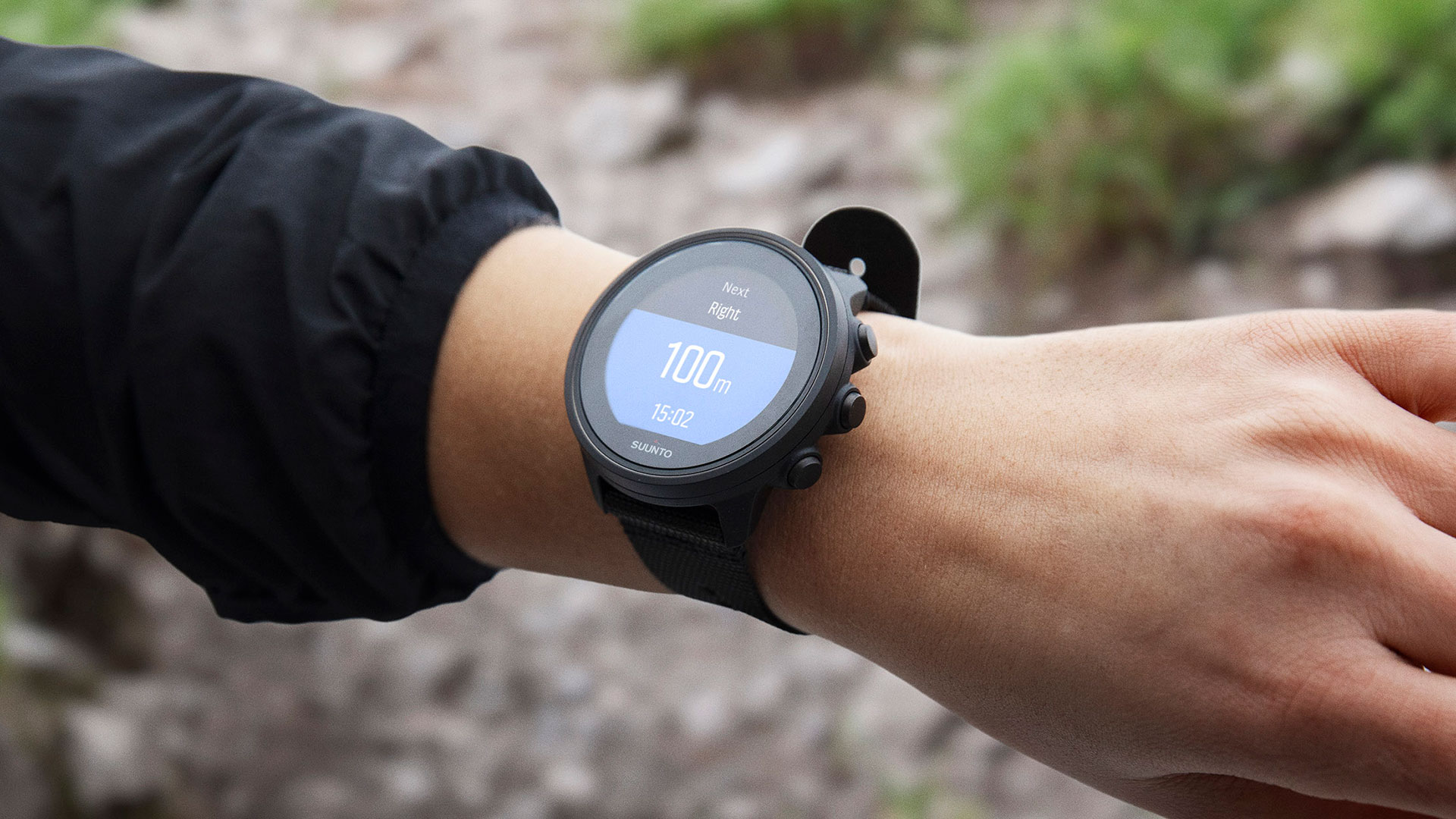 Dimensions: 51mm

OS: Wear OS by Google

Compatibility: Most common phone models supported

Display: 320 x 300 matrix

Battery duration: Up to 7 days (in smartwatch mode)

Charging method: Plug-in charging cable

Connectivity: Bluetooth

Water resistance: 100m
Up to 7 days of continuous GPS tracking is usually the headline Suunto uses when marketing the Suunto 9 Baro Titanium, but this impressive fitness-first smartwatch is much more than a wearable to help you plan your runs more efficiently.
The formidable fitness tracker has been specifically designed for more demanding athletes who engage in multiple activities. There are over 80 sports modes calibrated into the phone, and it's clear equal attention has been paid to all of them with great consistency in even the most notoriously hard-to-track activities like swimming. It even has a barometer so you can easily get readings on your elevation on the fly.
Perhaps most important, the intelligent battery modes Suunto has built into the Suunto 9 Baro Titanium have obviously been given special attention. The Titanium upgrade to the original Suunto 9 Baro now features an intelligent GPS system for up to 170 hours of battery life in Tour Mode. If you keep to Suunto 9 in smartwatch mode, you can reliably expect up to 7 days of juice.
The broad fitness tracking features combined with the superior battery life and in-depth weather tracking is reason enough to fork out for the ambitious price tag, but you've also got the lightweight titanium bezel which just feels better on the wrist than virtually all other hybrid smartwatches.
Swimmers and those tracking water sports will also appreciate the water resistance of up to 100m, particularly when most of the other watches on this list only sport half that.
Relatively affordable price
Great sports watch with more than 80 different sport modes
Long lasting battery life in Tour Mode
---
Fitbit Sense 2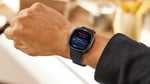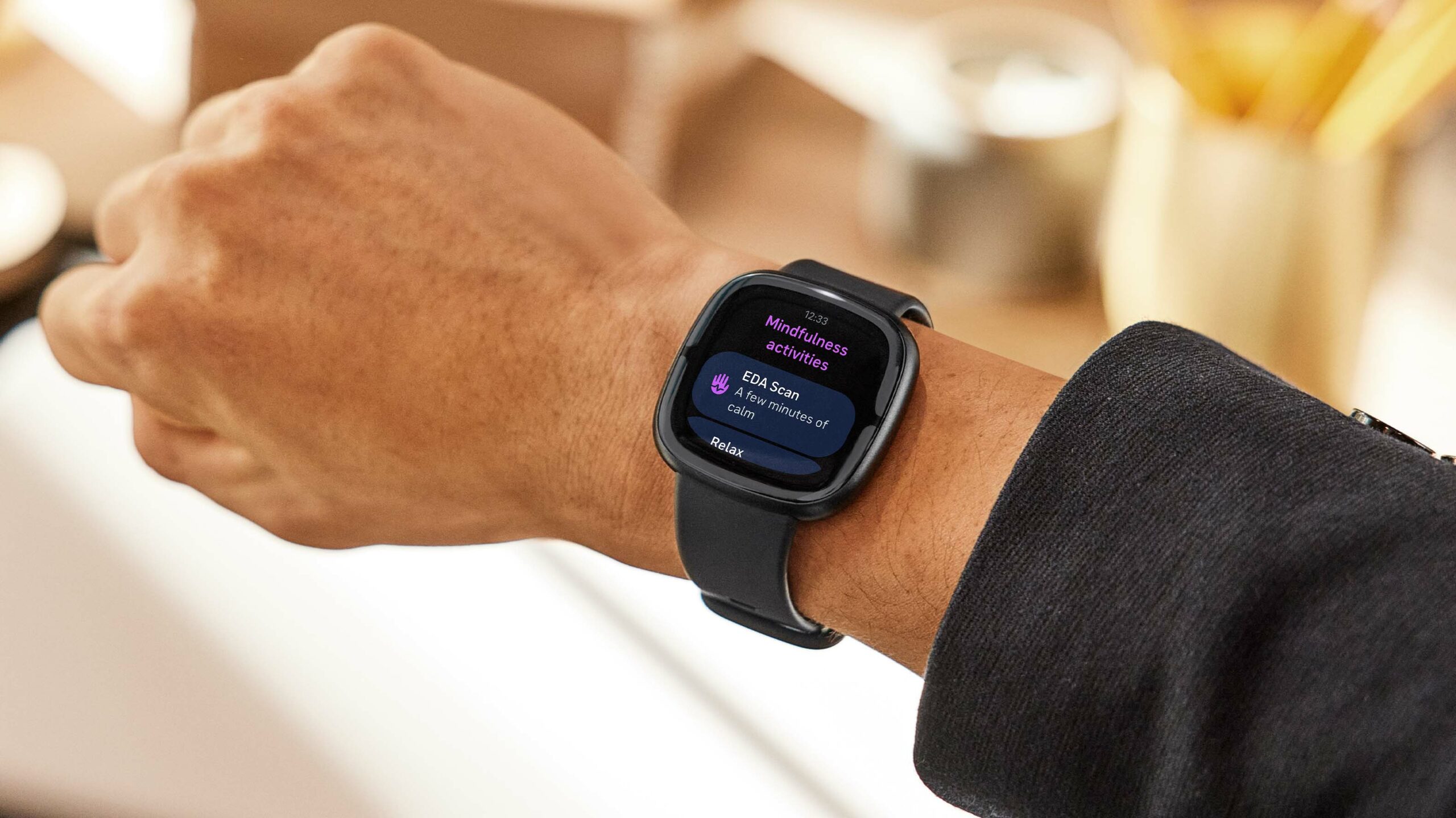 Dimensions: 40mm

OS: Android OS 8.0 or higher, Apple iOS 13.3 or higher

Compatibility: Android and Apple

Display: 1.6 inch OLED

Battery duration: Up to 6 days

Charging method: Plug-in charging cable

Connectivity: Bluetooth

Water resistance: 50m
Pioneering brand Fitbit may be one of the first names that come to mind when you're thinking about health and fitness tracking features, but if you want a smartwatch, many others like Samsung and Apple can sometimes leave Fitbit behind in terms of pure functionality. However, the Fitbit Sense 2 has been a glorious response to this difference, as a smartwatch that gives people a watch that actually looks as good as anything else on the market, with a host of features to fully flip the idea of what a Fitbit can be.
The Sense 2 is the Fitbit premium offering today, with an impressive battery life of up to 6 days of normal functioning, giving Fitbit Sense a decent amount of battery life that's up there with the best smartwatch options on the market. The built-in GPS handles all step and distance tracking, but where I think Fitbit has really improved the most is sleep tracking. Fitbit is competing well with Withings now, offering one of the best and most comprehensive sleep-tracking watches on the market with a detailed Sleep Score each morning.
One potential downside is there are only 40 or so exercise modes, compared to something like the Suunto 9 Baro Titanium which has 80, however, the fitness tools included are still great for your day-to-day. And Fitbit does make plenty of other healthy alternatives if the Fitbit Sense 2 is a bit too pricey for you. The Fitbit Luxe has been getting a lot of love this year, and the Fitbit Versa 3 is always going to be one of the best watches the brand has ever produced.
Affordable price
Compact size great for most wrists
Solid set of features
---
Withings ScanWatch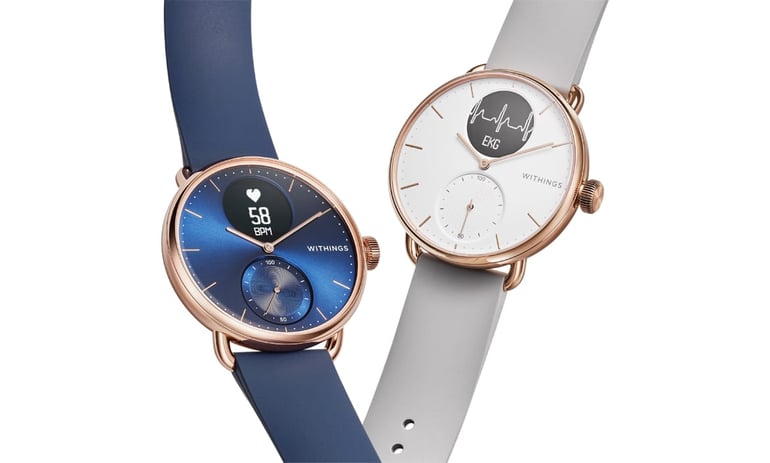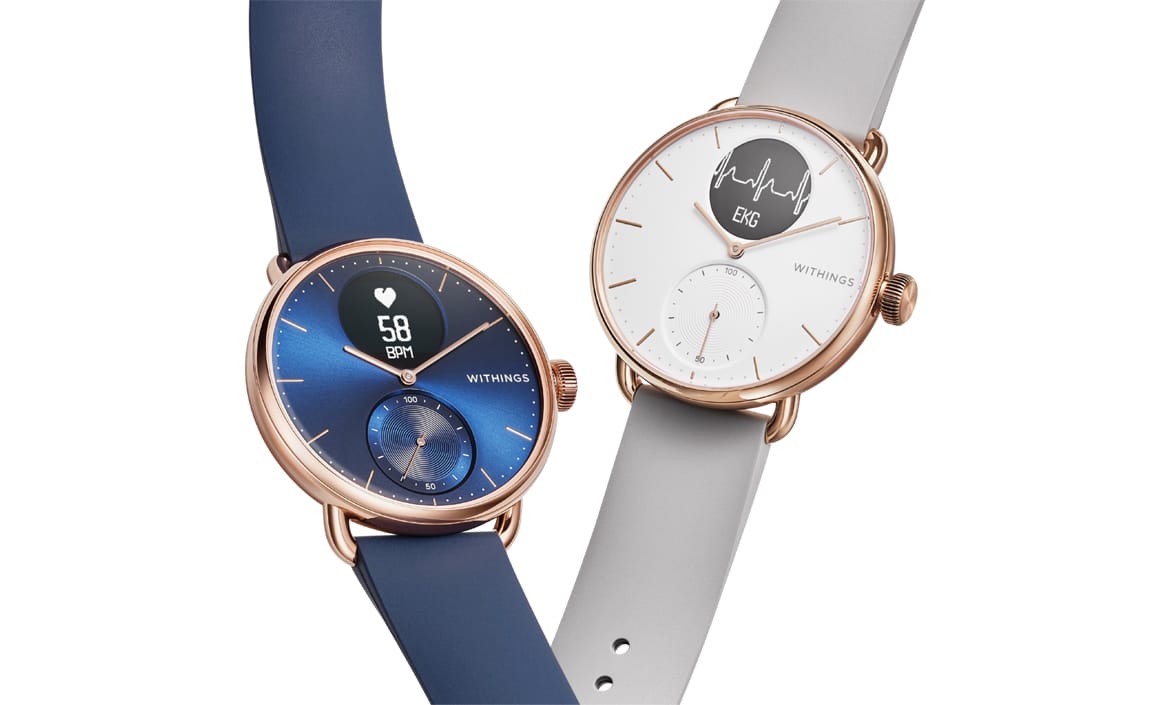 Dimensions: 38mm and 42mm

OS: Proprietary OS

Compatibility: Android and Apple

Display: PMOLED screen

Battery duration: Reportedly up to 30 days, but more likely half that

Charging method: Charging cradle

Connectivity: Bluetooth

Water resistance: 50m
The Withings ScanWatch is not only the best health tracker on the market, given health is the bread and butter of this brand, but it's also now infinitely more attractive. A lot of people prefer Withings over something like Fitbit because the aesthetic skews much closer to the classic watch, taking a lot of cues from the best watches and building something that marries form and function quite nicely.
Irregular beat detection, on-demand ECG, SPO2 to measure blood oxygen saturation, heart rate tracking, and advanced sleep tracking. Couple this with a nice, broad range of activity tracking and it's hard to look past the Withings ScanWatch when it comes to health and fitness.
There's a caveat though. While this is a hybrid smartwatch, the smart notifications are very limited to the standards, which doesn't really give you the full experience like a Samsung Watch or Apple Watch would.
Do note that although Withings are being a bit too ambitious with its claims of 30-day battery life, it is possible to milk a month out of a single charge. It's unlikely though, and it's more probable that you'd need to top up after 2 weeks if you're making use of the abundant health-tracking features.
Take note that Withings now have a rose gold version of the ScanWatch, which is infinitely more attractive than the original, for those who like to style it up a bit.
Clean design that doesn't look too much like a smarwatch
Solid set of new features including on-demand ECG and SPO2
Great battery life
Somewhat limited as a fitness watch
---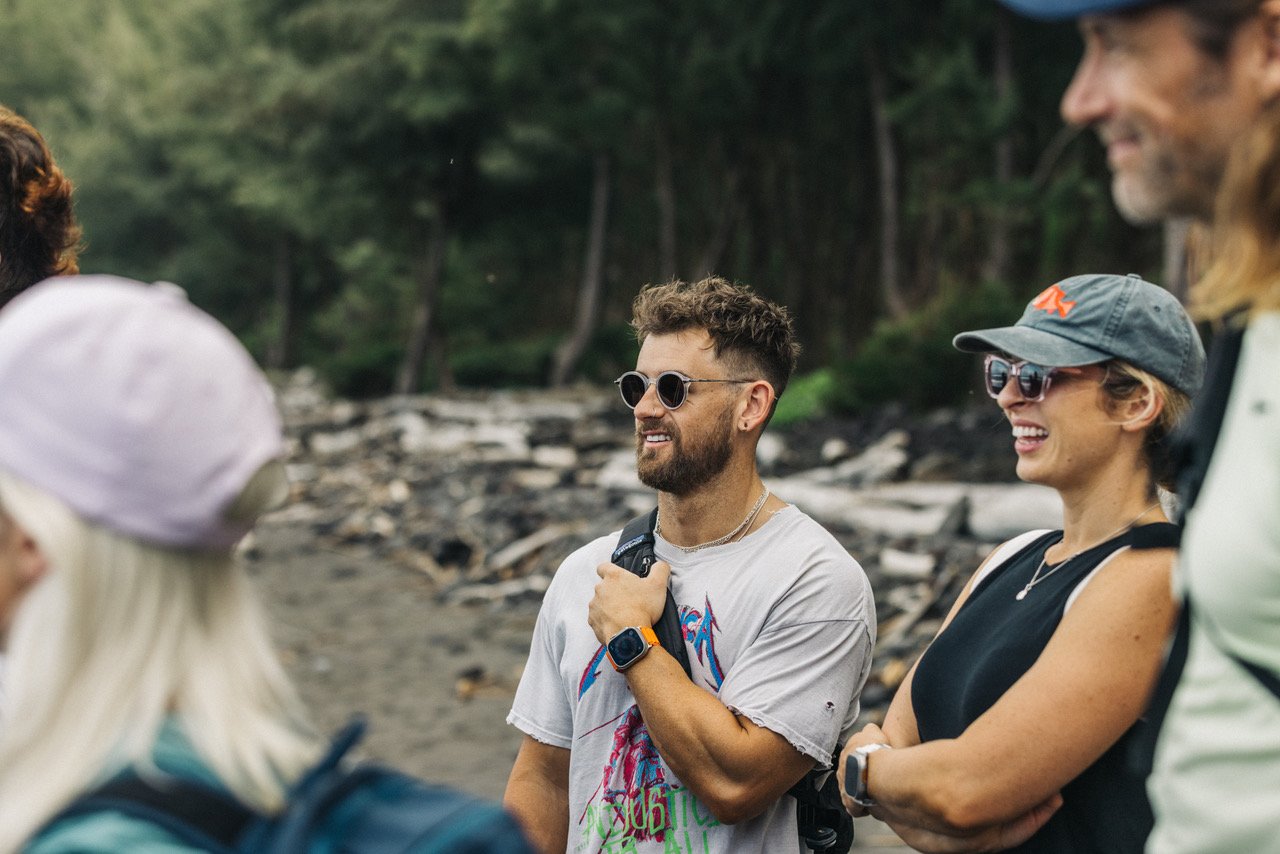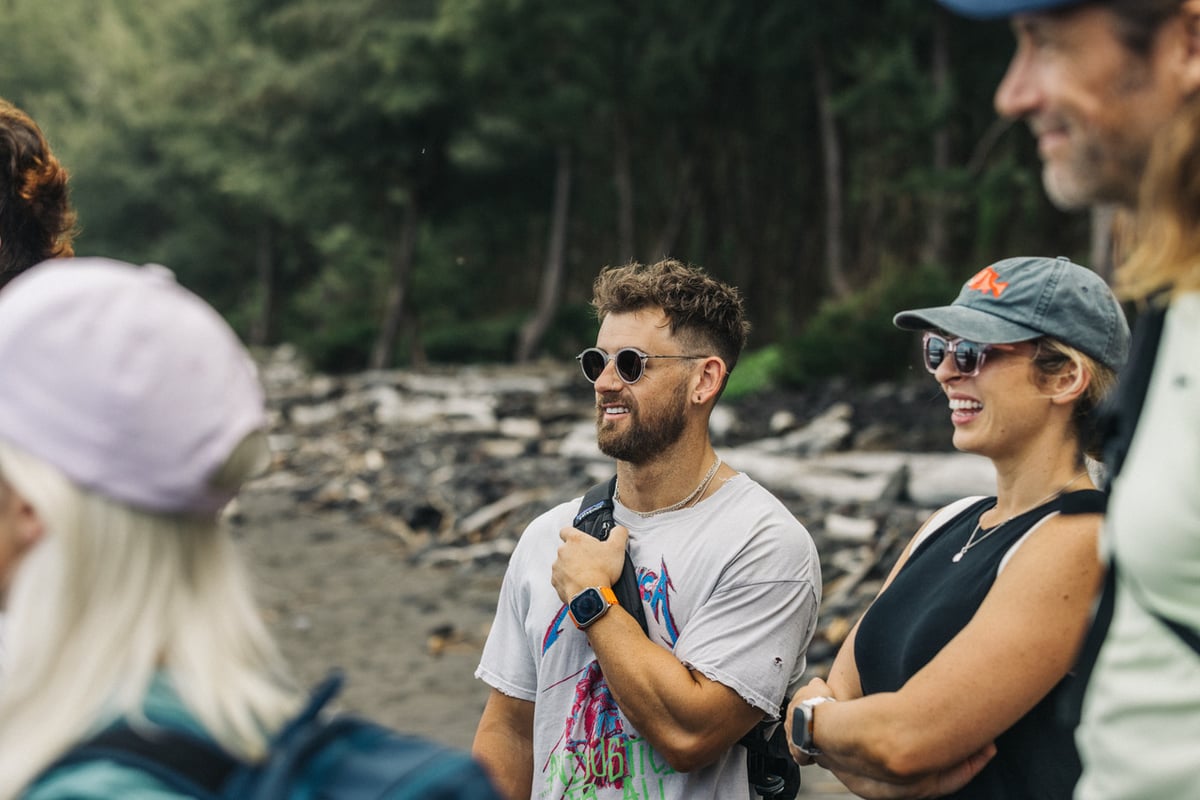 Best Smartwatches In 2023 – Frequently Asked Questions
What is the best smartwatch for iPhone users?
The Apple Watch Series 8 is the best smartwatch for iPhone users, or if you're looking for something sportier, the Apple Watch Ultra.
What is the best smartwatch for Android users?
The best smartwatch for Android users would have to be the Samsung Galaxy Watch 5 Pro, with lots of updates and improvements from the previous generation.
What is the best smartwatch for a classc look?
If you want a smartwatch with a more classic look in line with traditional watches, your best bet is the Tag Heuer Connected Calibre E4.
What is the best smartwatch for runners?
Both the Garmin Forerunner 255 and the lighter Suunto 9 Baro Titanium are incredible fitness trackers that are designed with high-performance athletes in mind, but if you're an iPhone user, the Apple Watch Ultra is very hard to beat.