The great thing about watch collecting is that you don't need to spend big bucks to get a top-notch timepiece on your wrist. In saying that, if your pockets are as deep as the Mariana Trench, the sky is the limit. When it comes to the most expensive watches in the world, there are a few ways to rack up a million or fifty, depending on your taste.
So if you're looking to build a collection of the world's most expensive watches, do you seek rarity in the form of a Patek Philippe ref. 1518 or Paul Newman Rolex Daytona ref. 6263 or is it ice you desire? If you love millions of dollars worth of coloured diamonds on your wrist, channel your inner Floyd Mayweather with a Chopard 201 Carat watch, a Graff Diamonds Hallucination or a fully gem-set Hublot Big Bang?
RELATED: The Best Watches For Men [2021 Buyers Guide]
---
---
Or do you want a collection of the most expensive watches in the world that hit a few different spots? In that case, there are fantastic options from Jaeger LeCoultre and Audemars Piguet, or even a Franck Muller Aeternitas Mega 4?
No matter what tickles your fancy, be it a Hublot Big Bang or a Franck Muller Aeternitas Mega 4, it's hard to go wrong if you're looking for a luxury watch with a price tag of a million or more.
From the best in bling to the rarest limited edition luxury watches, we'll take a look at the 15 most expensive watches ever sold, and only from the best watchmakers on the planet.
The Most Expensive Watches In The World:
#15 – $8.8 million
Rolex "The Unicorn" Daytona Ref. 6265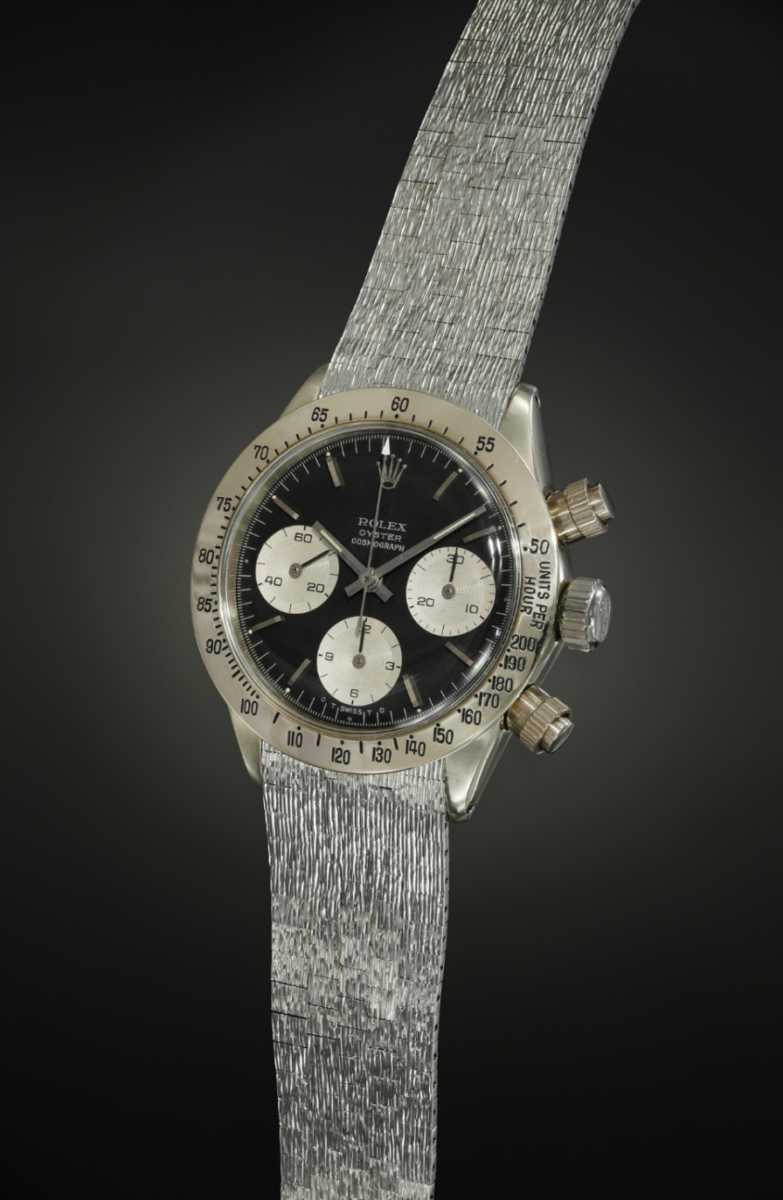 Once the property of watch scholar John Goldberger, this watch was first seen publicly when he was interviewed by Hodinkee in 2013.
When the watch came to auction in 2018, the market for rare Daytona references was already hot and this white gold example with a stunning white gold bracelet was always going to be one of the most expensive watches ever sold.
The 37mm precious metal chronograph was manufactured in 1970 at the special request of a client who purchased the watch in Germany. While Goldberger had initially stated that he would never sell the watch, it was eventually sold with 100% of the proceeds going to charity. We always love to see expensive watches sold for a good cause, especially when they fetch several million dollars.
CHF5,937,500 (~AU$8,814,000)
---
---
#14 – $9.2 million
Patek Philippe Ref. 5208T-010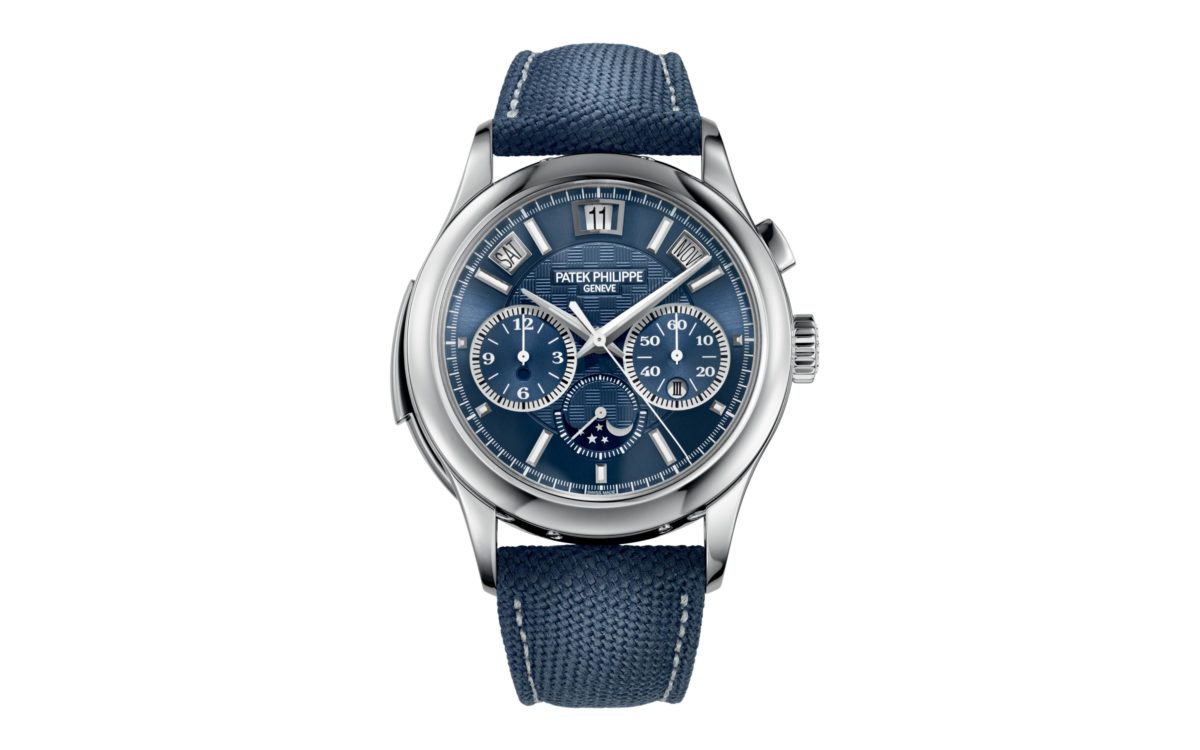 Offered by Patek Philippe in the 2017 Only Watch auction, this ref. 5208 is the only watch in the world that is quite like it. It isn't a limited edition, it's a piece unique.
A regular production ref. 5208 is already a special timepiece, as a grand complication that boasts a minute repeater, monopusher chronograph and a perpetual calendar. But rather than the precious metals that all other ref. 5208 watches are made in, this example has a titanium case, the only of its kind.
Also unique to this 42mm watch is the blue dial, which has a hand-guilloche carved chequer-board style pattern to it. In a first for Patek Philippe, the grand complication movement has also been uniquely decorated with the platinum micro-rotor seeing the same chequer-board pattern etched across its surface.
CHF6,200,000 (~AU$9,208,000)
#13 – $9.3 million
Patek Philippe Ref. 1527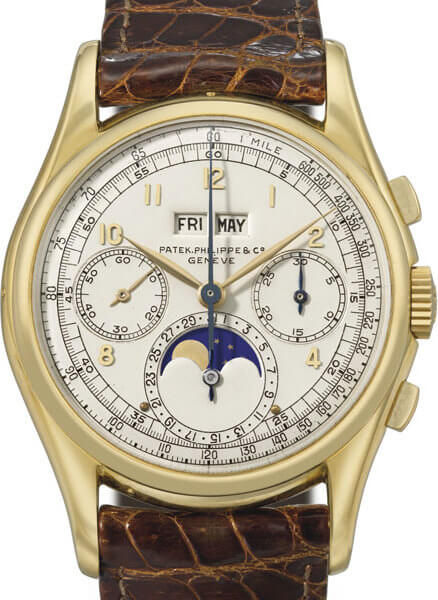 When it comes to rare complicated watches from Patek Philippe, this ref. 1527 might take the cake.
This 37.6mm perpetual calendar chronograph is cased in yellow gold and is one of only two known examples of this reference. In fact, this watch never had an associated reference number till 2004, when the other of the two examples was added to the Patek Philippe Museum.
This watch was completed in 1944, just prior to the end of WWII and is highly likely to have only been made at the request of a very special Patek Philippe client. While it isn't the most expensive perpetual calendar chronograph that the brand ever produced, it is certainly the rarest and most interesting.
CHF6,259,000 (~AU$9,287,000)
---
---
#12 – $9.8 million
Patek Philippe Caliber 89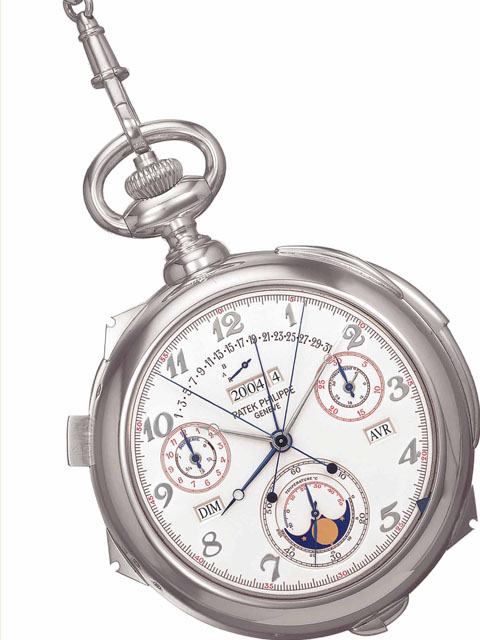 When the first quartz watch was released on Christmas Day of 1969, it spelled the beginning of two decades of disaster for the Swiss watch industry.
Unable to compete with watches from Asia being made by the million, brands disappeared, factories were closed and jobs were lost. In a remarkable statement to show just what Switzerland was capable of, Patek Philippe released the Caliber 89 (named so as it was released in 1989) as a line in the sand.
At the time, it was the most complicated watch in the world with 33 incredible complications. Four examples were made in different precious metals, but when this white gold example came to auction in 2004, the 1.1kg behemoth achieved a price worthy of its importance.
CHF6,603,500 (~AU$9,806,000)
#11 – $10.4 million
Patek Philippe Ref. 2523 "Eurasia Dial"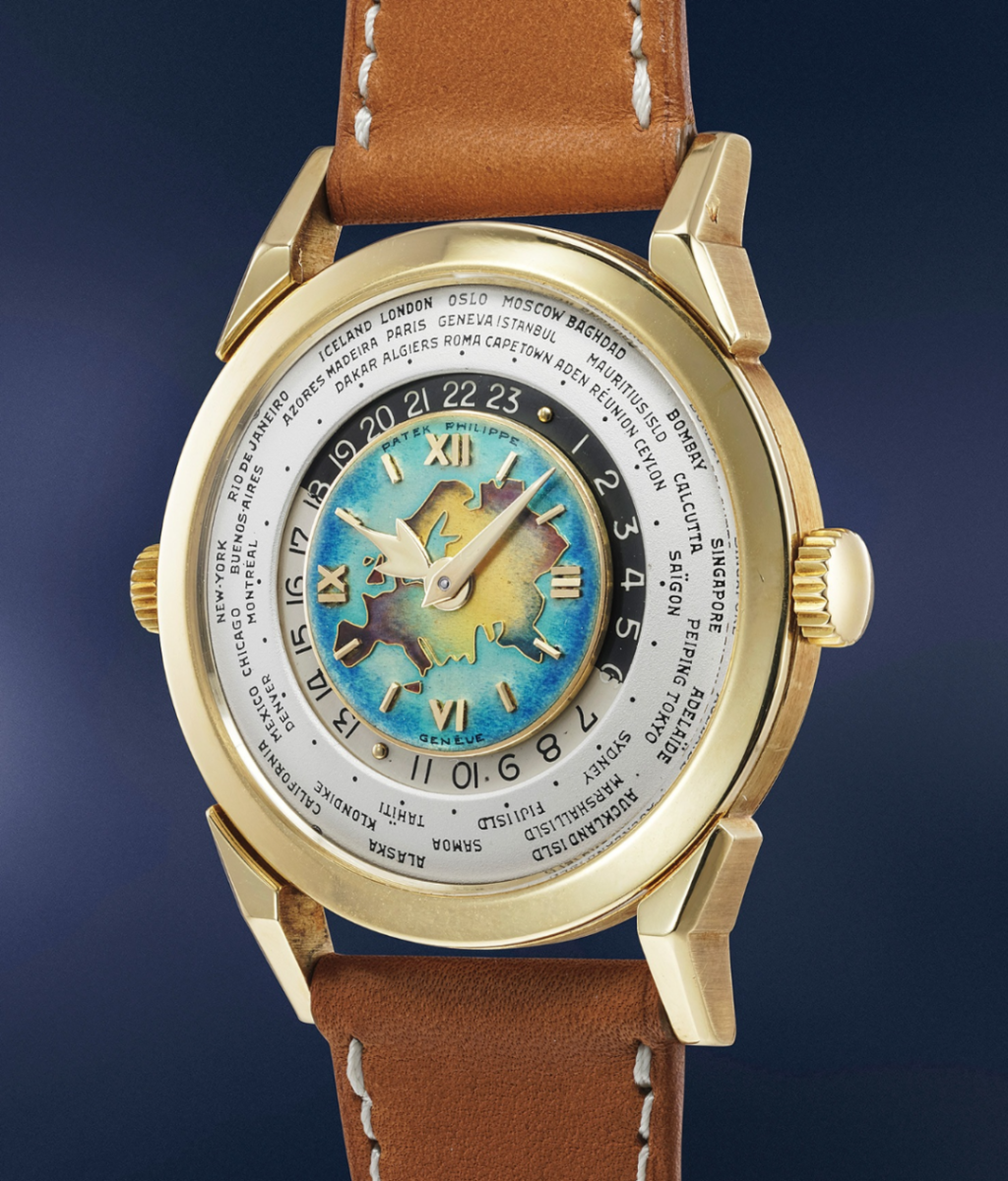 One of the highlights of the 2021 auction year, this Patek Philippe Two-Crown Worldtime Ref. 2523 is a very rare sight, with only around two dozen of the reference ever produced.
More specifically, with the combination of a yellow gold case and a cloisonné enamel dial featuring a map of Eurasia, this is one of only three known to exist.
Featuring a worldtimer complication set using the twin-crowns, the 12-400HU calibre inside the watch was designed by legendary watchmaker Louis Cottier, and became something of a template for worldtimer watches moving forward.
It is able to show the time around the world using a ring that displays 41 cities from New York to Adelaide as they appear around the world. When this watch was sold in May 2021, it became the most ever paid for a yellow gold wristwatch.
---
---
CHF7,048,000 (~AU$10,462,000)
#10 – $10.8 million
Patek Philippe Ref. 5016A-010
For the 2015 Only Watch charity auction, Patek Philippe produced a damn special ref. 5016.
Not only was it a unique piece (of course), but unusually for Patek Philippe, it was made in stainless steel.
Regular production examples of this grand complication watch are only made in precious metals, so putting a 1.5 million-dollar bid on this example with a gorgeous blue enamel dial made even more sense.
The 36.8mm watch has a host of very popular complications, including a perpetual calendar, minute repeater and a tourbillon. The regular production ref. 5016 was only produced from 1993 till 2011, only available to VIP clients through an application process, which goes a long way to explain the price of this unique complicated wristwatch.
CHF7,300,000 (~AU$10,838,000)
#9 – $13.5 million
Vacheron Constantin Ref. 57260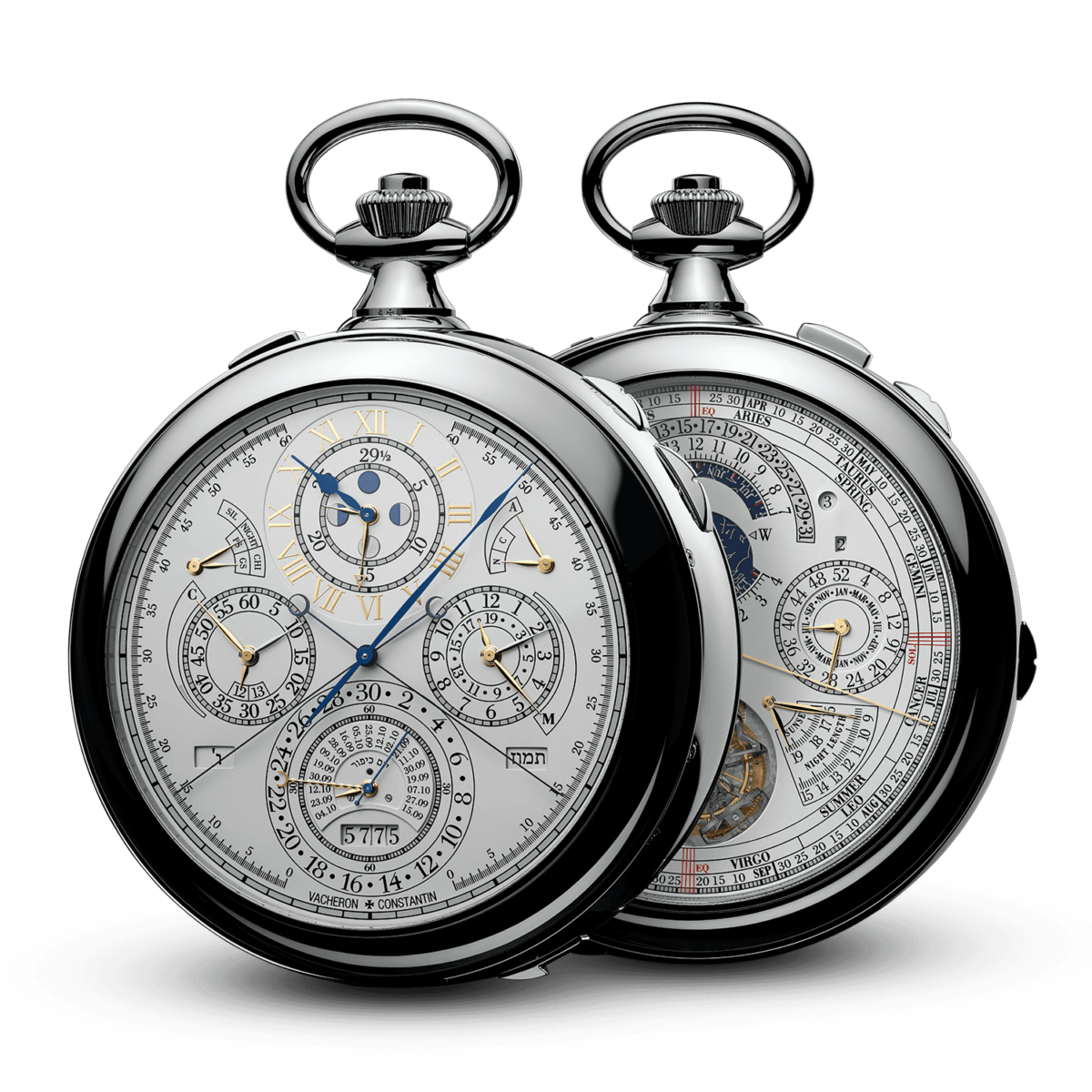 In 2015, Vacheron Constantin announced a new 800-pound gorilla in the world of very complicated watches.
The Vacheron Constantin ref. 57260 pocket watch reportedly was 8 years in development, boasts 57 different complications, contains 2,826 individual components and weighs an incredible 957g. It even has its own website.
---
---
It would take too long to list every complication, but the highlights include multiple perpetual calendars, the Astronomic and Lunar calendar, sunrise and sunset times and a celestial chart based on the night sky. That's all before you get to the array of chiming complications.
Cased in a gargantuan white gold case that measures 98mm in diameter and 50.55mm thick, of all of the complicated watches in the world, this is the most complex.
Commissioned by an anonymous client of the brand, the ref. 57260 is a perfect example of just how technically sophisticated Vacheron Constantin is when it comes to complicated watchmaking.
When a client is in no rush and doesn't mind spending a million here or a million there, this is what the brand is capable of.
US$10 million (~AU$13,576,000)
#8 – $12.2 million
Patek Philippe Ref. 2523 Gobbi Milan 'Heures Universelles'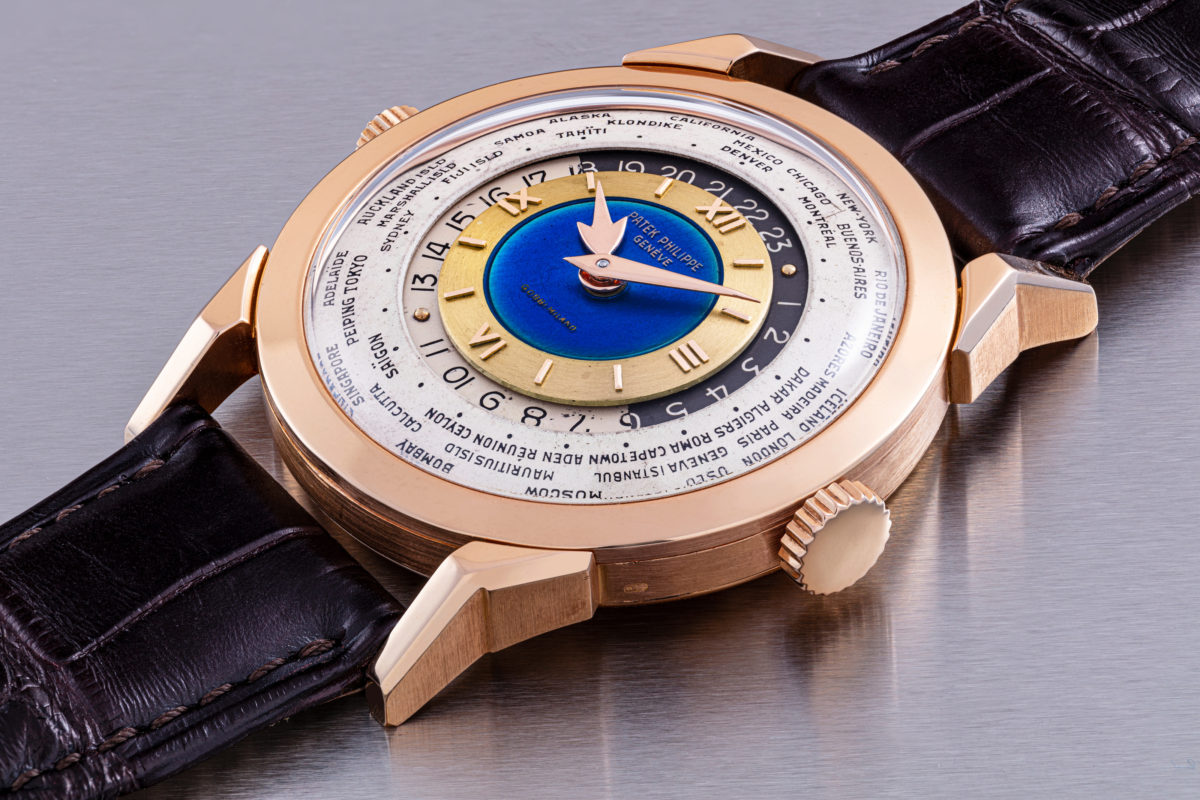 The Patek Philippe ref. 2523 is a legendary watch, which highlights both the technical innovation and almost unparalleled craftsmanship from the brand throughout its history.
Its unusual and slightly complicated-looking dial allows the wearer to tell the time in any city around the world, which was an incredible step in the art of watchmaking when Louis Cottier developed the system in the early '30s.
Featuring a 35.5mm pink gold case with crowns on both sides, the real treat is in the centre of the dial where we see a translucent blue enamel disc. The name of the brand is printed at the top, while at the bottom we see the name of the Patek Philippe retailer in Milan at the time, Gobbi.
---
---
A true work of art, it is one of only 7 pieces known to have been produced.
HKD70,175,000 (~AU$12,246,000)
#7 – $16.3 million
Patek Philippe Ref. 1518 In Stainless Steel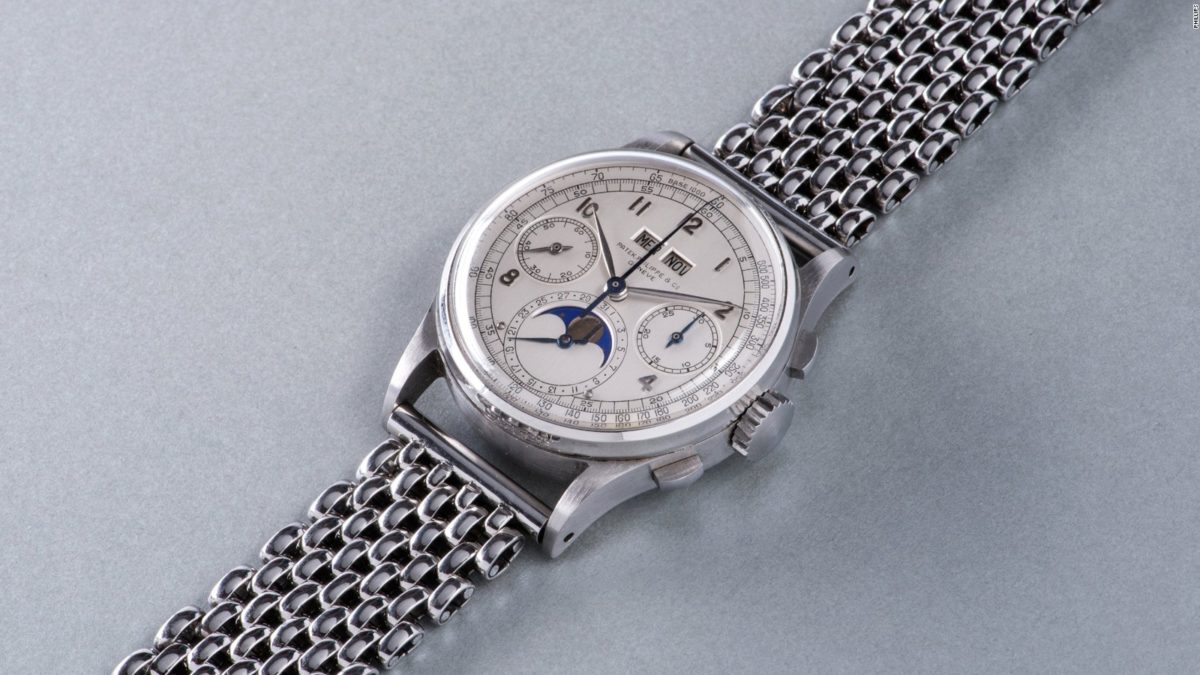 In Patek Philippe lore, the ref. 1518 is the stuff of complicated wristwatch dreams.
It was the first perpetual calendar chronograph that the Geneva-based watchmaker ever serially produced, all the way back in 1941. Despite its level of complication, the watch only measures 35mm in diameter, a remarkable technical achievement by the brand.
Another stand out feature of the watch is the incredible balance and symmetry of the dial, which out of all of the very expensive watches in the world is often referred to as a dial that approaches perfect proportions.
Only 281 examples of the Patek Philippe ref. 1518 were ever produced, typically in yellow or rose gold, but the rarest examples within that group were made with a stainless steel case. Only 4 pieces are known to be made.
As a result, this specific Patek Philippe Stainless ref. 1518 with a stainless steel case remains one of the most expensive watches to ever appear at auction, complete with a stainless steel bracelet that looks a million bucks.
CHF11,002,000 (~AU$16,343,000)
#6 – $24.2 million
Rolex "Paul Newman" Daytona Ref. 6239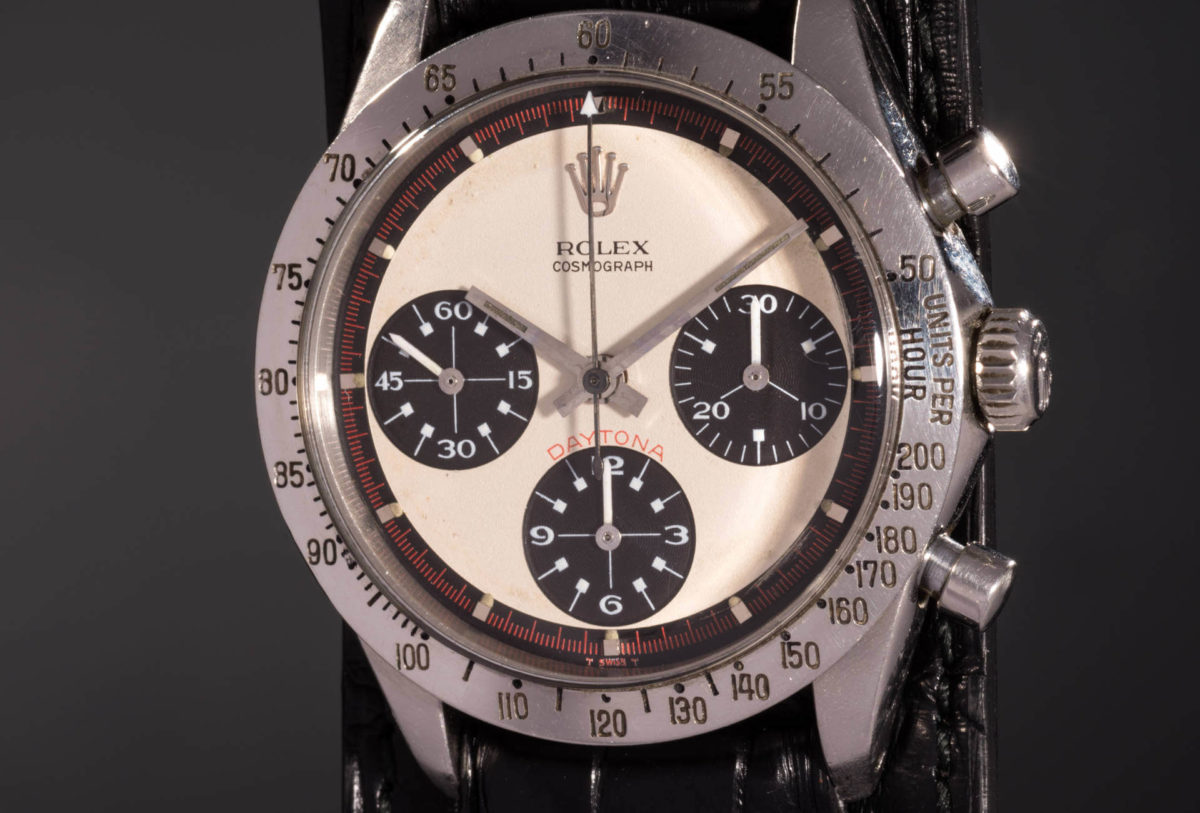 Until very recently, a Rolex Daytona Ref. 6239 that was owned by the actor and all-around cultural icon Paul Newman took the crown of the most expensive watches sold at auction.
The 2017 New York sale effectively gave birth to the superheated Daytona market we still see today. Newman's ownership of the watch was so influential that Rolex Daytona Ref. 6239 was known as the Paul Newman Rolex Daytona for decades before this watch was sold.
Newman received the watch as a gift from his wife, Joanne Woodward, which featured the caseback engraving "Drive Carefully Me" to remind Newman to be safe as he pursued his passion for fast cars. Despite his fame and fortune, Paul Newman never felt the need to wear a million-dollar grande complication, instead choosing a Rolex that was never considered an expensive watch at the time that he wore it.
The myth of this watch was strong enough to cross the chasm from the watch collecting community into contemporary culture, a jump that saw it become one of the most desirable watches in the world and achieve a truly remarkable price.
US$17,752,500 (~AU$24,276,000)
#5 – $27.7 million
Jacob & Co. Billionaire Watch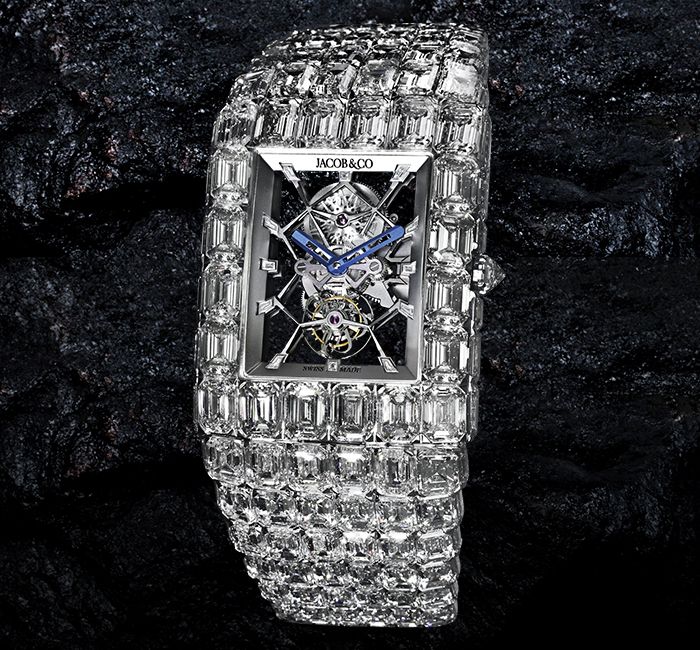 You might recognise the Jacob & Co. Billionaire Watch one of the luxury watches that Floyd Mayweather famously purchased after his exhibition bout with Conor McGregor.
Yep, Pretty Boy Floyd loves his luxury watches and he really loves his expensive watches to be gem-set. You should see his diamond-encrusted Hublot Big Bang.
Now, if you've only got a million or so in the bank, you need not apply. The Jacob & Co. Billionaire Watch 18 million Swiss Franc price tag makes it arguably the pinnacle of men's luxury watch gem setting, boasting an impressive 325 baguette-cut and emerald-cut diamonds.
Jacob & Co. is another watchmaker with very strong jewellery credentials, meaning that not only is the watch immaculately set, but the calibre that powers the watch is no joke too. The JCAM09 calibre inside features an attractive tourbillon movement and is entirely skeletonised.
If you're a billionaire who loves emerald-cut diamonds, the Jacob & Co. Billionaire Watch 18 million Swiss Franc credit card charge is one that should be worth every cent.
CHF18,000,000 (~AU$27,749,000)
#4 – $29.5 million
Chopard 201 Carat Watch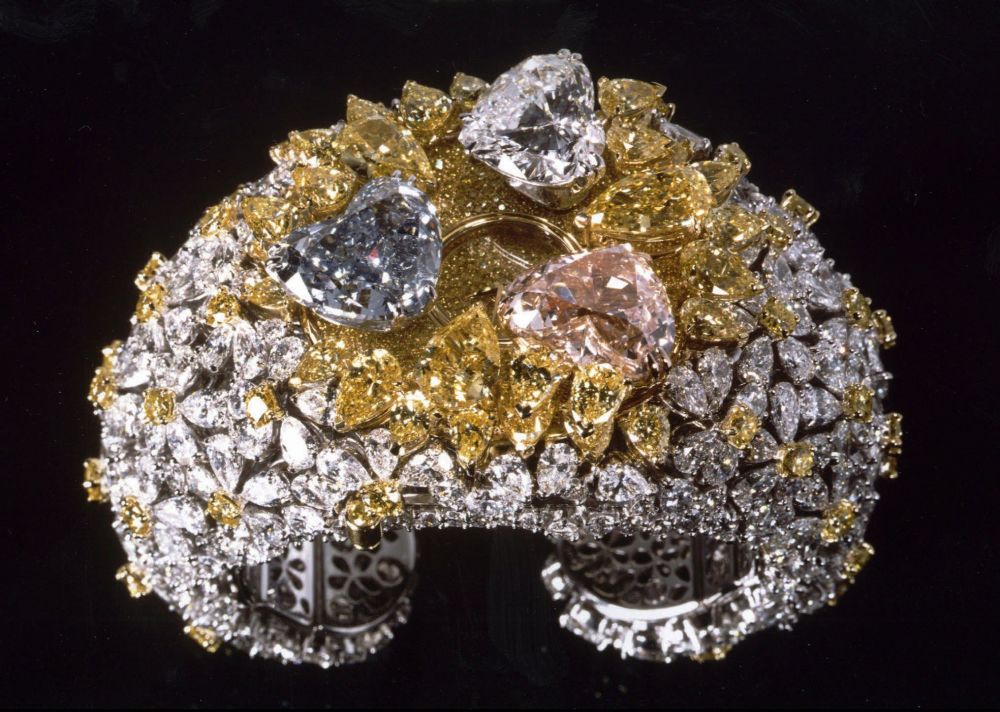 While we aren't focusing much on expensive watches that rack up the commas because of their gem weight, Chopard is a bona fide watchmaker and has been since 1860.
In saying that, like several other manufacturers who have expertise in watchmaking and jewellery, Chopard has flexed its muscles in both departments for this piece.
The Chopard 201 Carat Watch was produced at the turn of the millennium and features 874 high-grade coloured diamonds in its construction.
Set in a combination of both yellow and white gold, the centrepiece of this watch is a trio of three different coloured heart-shaped diamonds with a combined weight of 39.52 carats. Included in this triplet is a 15-carat pink diamond, a 12-carat blue diamond and an 11-carat D-color diamond. With the press of a hidden button, a spring-loaded mechanism opens the three stones like petals in a flower, revealing the face of the watch.
Instead of a platinum bracelet, white and yellow gold was also chosen for the bracelet, which is heavily adorned with 260 not insignificant large carat pear-shaped diamond stones. If diamond watches are your favourite way to spend a million or thirty, this is for you.
€18,480,000 (~AU$29,578,000)
#3 – $34.4 million
Patek Philippe Henry Graves Supercomplication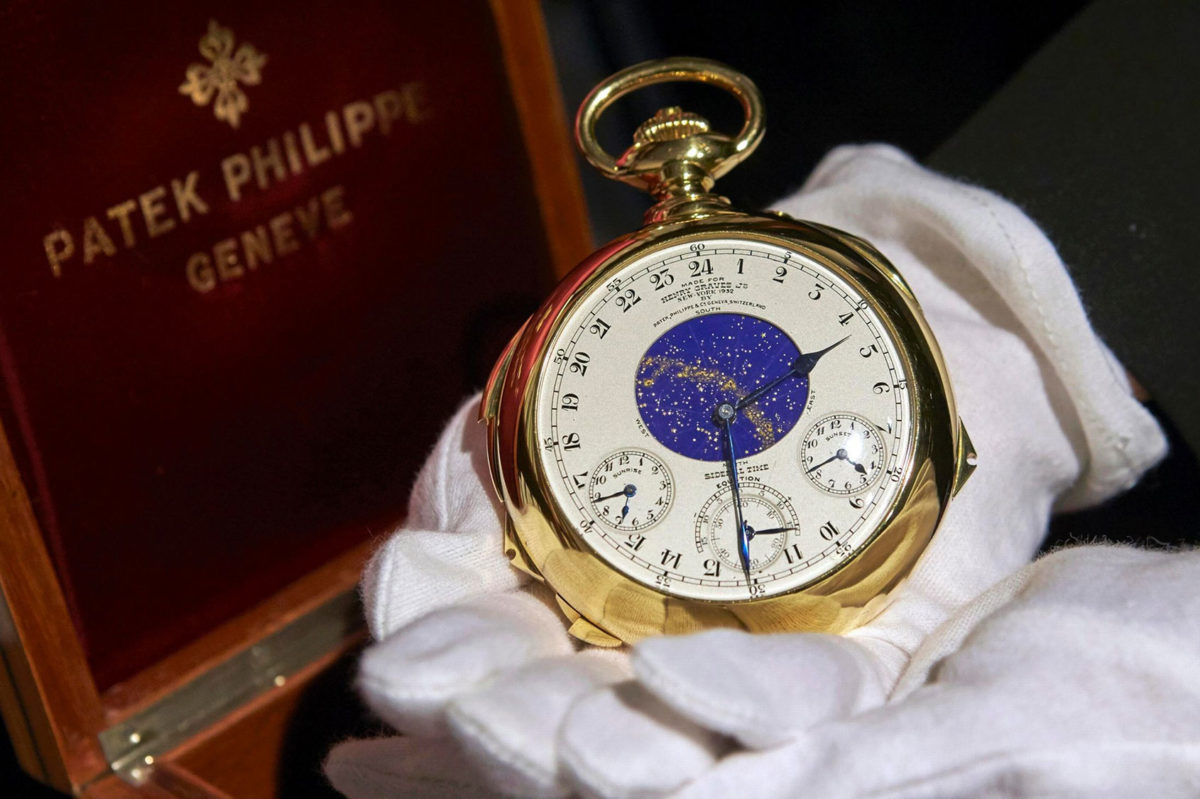 Regarded by experts and enthusiasts alike as the holy grail of modern watchmaking, the Patek Philippe Henry Graves Supercomplication is in a league of its own.
Commissioned by the New York banker Henry Graves Jr., this pocket watch is sculpted from 18kt gold and boasts 24 different complications.
The massive 74mm timepiece contains 920 individual components, features two dials and offers complications including a perpetual calendar, phases of the moon, split-seconds chronograph, sunrise and sunset times and a celestial star chart. If that wasn't enough, the pocket watch is also a minute repeater with Westminster chimes, as well as grande and petite sonnerie.
The watch last sold in 2014 for more than CHF23 million, making it the most expensive watch ever at the time, an impressive appreciation against the US$11 million that it previously sold for in 1999.
CHF23,237,000 (~AU$34,435,000)
#2 – $44.3 million
Breguet Grande Complication No. 160 Marie Antoinette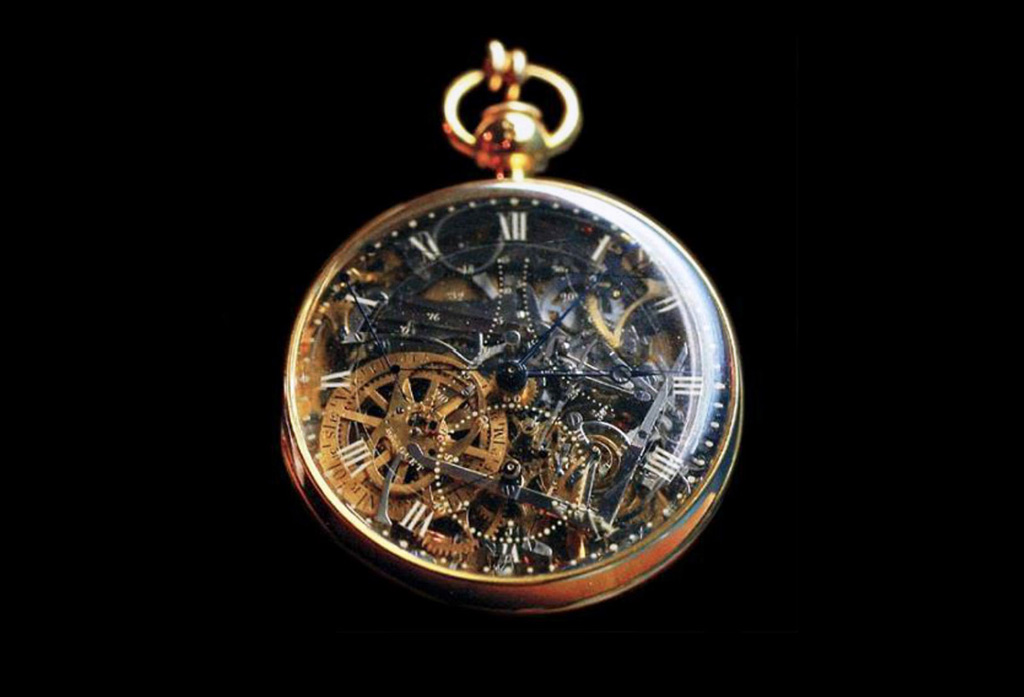 Known as the Mona Lisa of the watchmaking world, the Breguet Grande Complication No. 160 pocket watch is a masterpiece in every sense of the word.
The watch was commissioned by a lover of French Queen Marie Antoinette, who went to the very best watchmaker in the world at the time – Abraham-Louis Breguet.
Nearly a century before the lightbulb was invented, the Breguet workshop spent 44 years producing the incredible 63mm pocket watch. Unfortunately, this was too long for Marie Antoinette to ever receive the gift, as she was executed 34 years before it was completed. As a result of the decades it took to finish, this was likely one of Breguet's most expensive watches when it was finally delivered, costing 17,070 Francs.
The Marie Antoinette masterpiece was thought to be lost when it was stolen from an Israeli museum in 1983, but was recovered in 2007 and was estimated to have a value of $30 million (likely to be significantly more in 2021). For centuries, there would have been no other expensive watches in the world that would even come close.
The French Queen's timepiece features a transparent rock crystal dial and the movement tells not only the time, but the temperature, Celestial time and power reserve. It also has a minute repeating complication and a chronograph function, making it very complex even by modern standards.
Fit for Marie Antoinette, it's a true Breguet grande complication work of art.
US$30 million (~AU$44,361,000)
#1 – $45.8 million
Patek Philippe Grandmaster Chime Ref. 6300A-010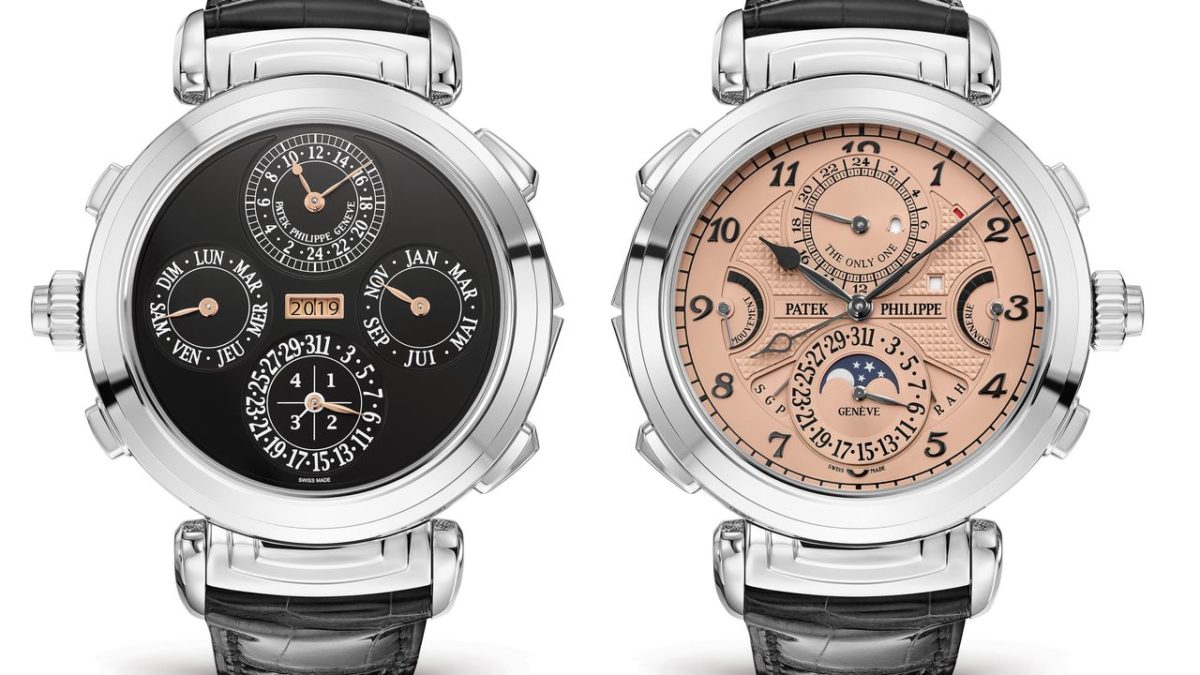 This unique stainless steel watch was made by Patek Philippe specifically for the Only Watch 2019 charity auction in Geneva, a cause that raises funds for research into Duchenne Muscular Dystrophy.
The Geneva-based watchmaker has a history of making unique and record-breaking watches for the biennial charity auction, the next of which will take place in November of this year.
The Patek Philippe Grandmaster Chime Ref. 6300A-010 is a watchmaking work of art, with not one but two dials and features 20 different complications. The Grandmaster Chime series was first introduced by the brand in 2014 to mark the 175th anniversary of Patek Philippe and to showcase the brand's technical sophistication and expert craftsmanship.
This specific watch is special as it is the only Grandmaster Chime to have ever been made in stainless steel, an unusual metal for Patek Philippe watches, also featuring one salmon tone dial and one black dial. Measuring 47.7mm in diameter and just over 16mm thick, it isn't a small watch, but the 1,366 individual components need to fit somewhere.
It remains the most expensive watch ever auctioned from a luxury watch brand.
US$31 million (~AU$45,840,000)