Fans of the legendary action star, Steve McQueen, can now score themselves quite the prestigious bit of memorabilia with an "… unmatchable pedigree…". The King of Cool's Rolex Oyster Perpetual Submariner 5513 from 1964 is set to be auctioned off, which has quite a storied personal history. In addition to being owned by McQueen himself first and foremost, the timepiece was later gifted to his close friend and stuntman, Loren James in the 70s.
This relationship between friends and on-screen greats has been immortalised via an inscription on the back of the case. It reads:
"To Loren, the best damn stuntman in the world. Steve."

---

---
The engraving of McQueen's name actually makes the watch singular in its own right, McQueen's name having never appeared on any other watch.
The Rolex also "… boasts a fresh, era-appropriate restoration…", which was undertaken by Rolex themselves after the timepiece was thought to be destroyed in an unfortunate fire back in 2016. Yet again adding to its "… remarkable tale of survival…". And judging by the images alone, it seems they've done more than a fine job in returning it to its former glory. What do they say about legends never dying again?
The '64 Submariner 5513 is expected to appear on the Phillips auction block on October 25th of this year, with estimated projections that it will fetch anything between $300,000 USD to $600,000 USD in price. The sale of the watch will also be accompanied by a letter from James himself detailing the watch's significance and a letter of correspondence between James and Rolex.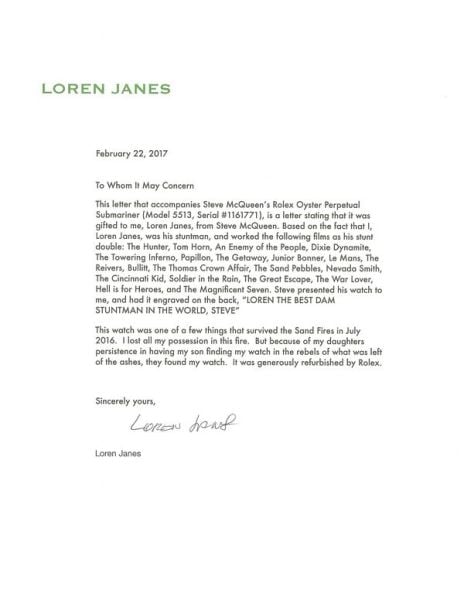 The proceeds of the eventual sale will go towards The Boys Republic, The McQueen Family charity which rehabilitated McQueen in his youth, with a portion going towards the surviving family members of Loren James.