Having experienced everything Las Vegas has to offer on numerous occasions, my latest trip to the neon paradise was a mouthwatering dive into the city's growing food scene.
If you can get past the all-nighter gambling sessions, rooftop pool parties and a somewhat kitschy appearance of the Strip, you'll discover a bubbling metropolis with an incredible culinary culture comprising of some of the best restaurants and eateries in not only Las Vegas but America itself.
Many of the world's top chefs now have restaurants in Vegas, with the likes of Gordon Ramsey, Joël Robuchon, Wolfgang Puck and Roy Choi delivering incredible dishes alongside local eateries, gastro pubs and classic American fast food joints such as In-N-Out Burger and Taco Bell.
---
---
A smorgasbord of gastronomic delights and fine dining establishments await your next visit to Las Vegas, so to make sure you don't miss out on the tastiest breakfast, lunch and dinner options along the Strip.
RELATED: 8 Things To Do In Vegas That Don't Involve Hitting The Tables Or The Club
Wicked Spoon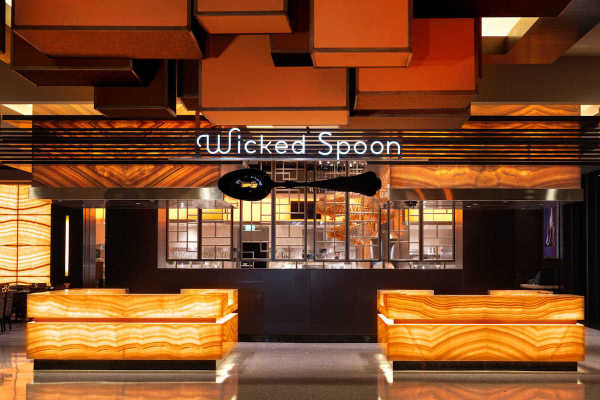 There's a high chance you'll wake up with a cracking hangover during your time in Vegas, and there's no better way to soak up the alcohol than a buffet brunch at Wicked Spoon. The breakfast area is what dreams are made of and I quickly found my plate stacked high with scrambled eggs, bacon, sausage, pancakes and french toast. There's also an omelette station where you can have one custom made and cooked by one of the experienced chefs, or choose from a healthy selection of fruit to balance out the bacon.
If breakfast isn't on the agenda, there's a wide array of Asian and Italian cuisines along with a mouthwatering carvery with an assortment of roast meats and veggies. Make sure you keep room for sweets, with the dessert bar offering a salivating selection of donuts, cookies, cakes and other sweet suggestions. I couldn't recommend the gelato enough. It's so good I wolfed down three cups and could have gone a fourth if people weren't looking at me awkwardly.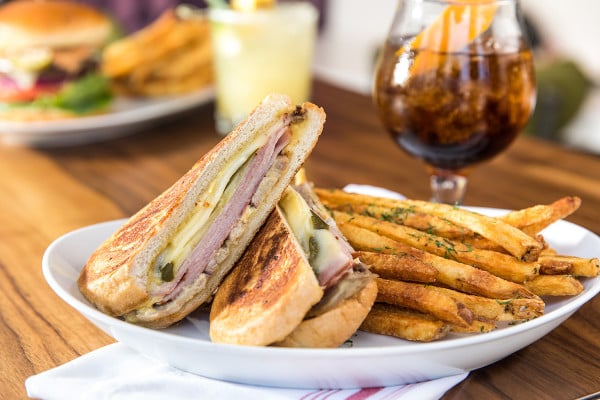 Greene St. Kitchen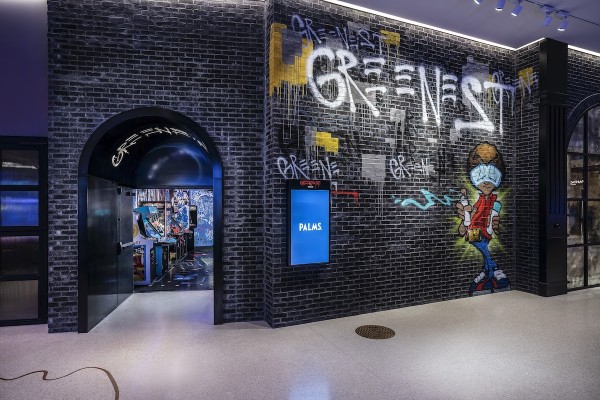 If NoMad is MGM's take on New York fine dining, then Greene St. Kitchen is the Palms Casino Resort's salute to the famed Soho district. You enter the restaurant via a secret door in an old arcade before passing a number of pop culture artworks, including the only Banksy piece in all of Vegas. It feels like you're eating in an art gallery, with the walls adjourned with eye-catching paintings and a number of sculptures dotted about the space.
Like many establishments in Vegas, sharing is the name of the game, with Greene Street's menu bursting with flavoursome dishes ideal for large groups. The tuna pizza, duck pancakes and Philly cheesesteak eggrolls will tantalise your tastebuds, but it's the sliced Wagyu tableside hot rock that stood out. Anytime I get to cook my own food I'm a fan, and watching as the Wagyu sizzles away on the hot rock only heightens the experience of eating it.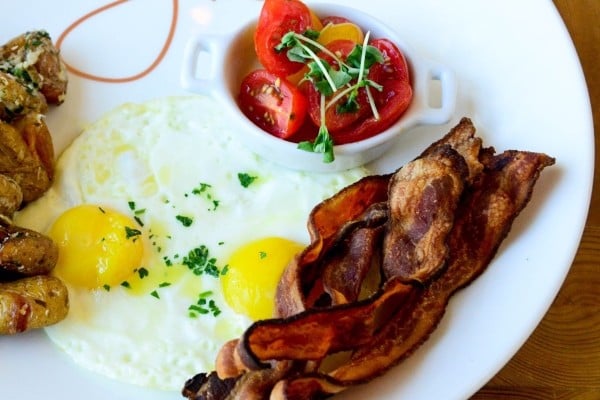 Sadelle's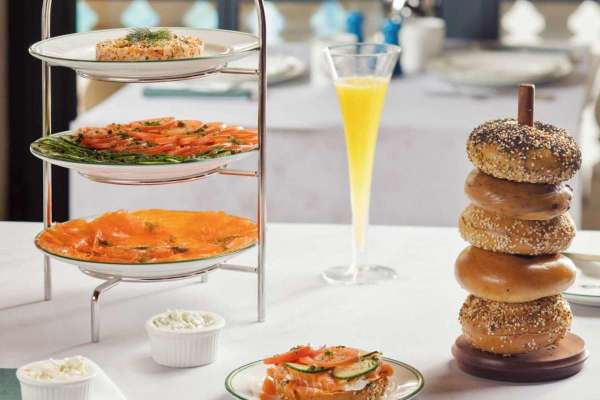 Nestled inside the Bellagio Hotel & Casino opposite the ever-changing Bellagio Conservatory (currently inspired by designer Ed Libby's travel to India), Sadelle's delivers signature New York dishes that'll silence the grumbling of your stomach. Specialising in traditional American cuisine, breakfast, sandwiches and bagels dominate a delicious menu that tastes just as good as it sounds on paper.
I went for the classic egg sandwich and wasn't disappointed, although I did get food envy at my colleague who chose the salmon bagel with the fillings stacked separately alongside a selection of bagels and cream cheese spread. Sadelle's iconic French toast dripping with maple syrup was hands down the best French toast I've ever eaten. Along with fantastic food, the cocktail list is impressive, with the refreshing Blood Orange (made from Aperol, Fresh Blood Orange Juice and Prosecco) the perfect way to kickstart your afternoon.
3600 Las Vegas Boulevard, Bellagio Hotel & Casino
RELATED: Sydney's Best Sandwich Shops For Those Office Lunch Cravings
Matteo's Ristorante Italiano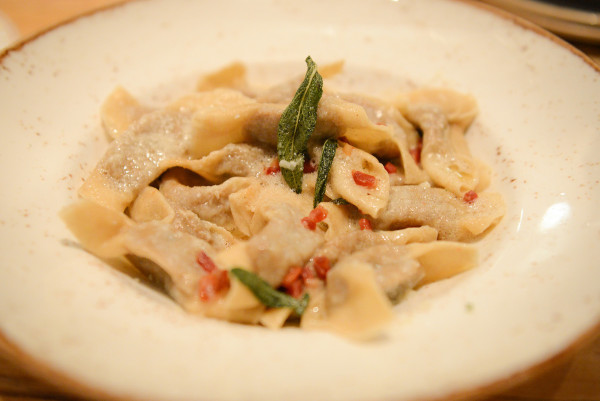 As a big fan of Italian cuisine, I have to recommend the authentic eatery Matteo's Ristorante Italiano inside The Venetian. Opened by good friends Matteo Ferdinandi and Chef Angelo Auriana, Matteo's Ristorante Italiano first appeared in Downtown Los Angeles' Arts District in 2013 as 'The Factory Kitchen' before the duo opened a second spot in The Venetian with a recent name change.
This is simple yet scrumptious Italian food in a warm and welcoming space. While the menu has an abundance of dishes to choose from, it's the homemade pasta that will sway you. The Mandilli – handkerchief egg pasta with almond basil pesto and Ligurian olive oil – is as close to heaven as you'll get in food form, while the tortellini – parma prosciutto filled pasta with pistachios, mortadella and shaved Australian winter black truffles – will convert anyone who thinks truffles are overrated. Oh yeah, if you're a dessert fan, the cannolis will blow your mind.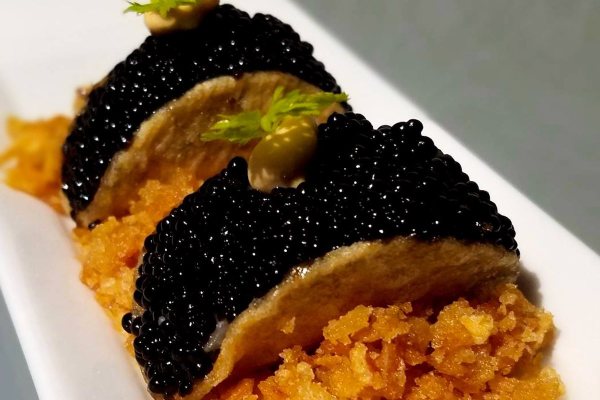 RELATED: MGM's Hotel NoMad Brings A Touch Of New York Elegance To Las Vegas
RELATED: 8 Things To Do In Vegas That Don't Involve Hitting The Tables Or The Club
---
---