While some people will try and convince you that ranking the best Al Pacino movies of all time is entirely subjective, we're here to tell you they're wrong.
For one, we know what movies shouldn't be included: like Gigli (2003), Jack and Jill (2011), American Traitor (2021), Martin Scorsese's laborious misfire that was The Irishman (2020), and certainly not Ridley Scott's House of Gucci (2021). To this day, I still maintain the latter was the worst film of its year.
For another, given how prolific Pacino's career has been across over half a century, there's something of a general consensus that most moviegoers can agree upon.
Ranked: The Best Al Pacino Movies Of All Time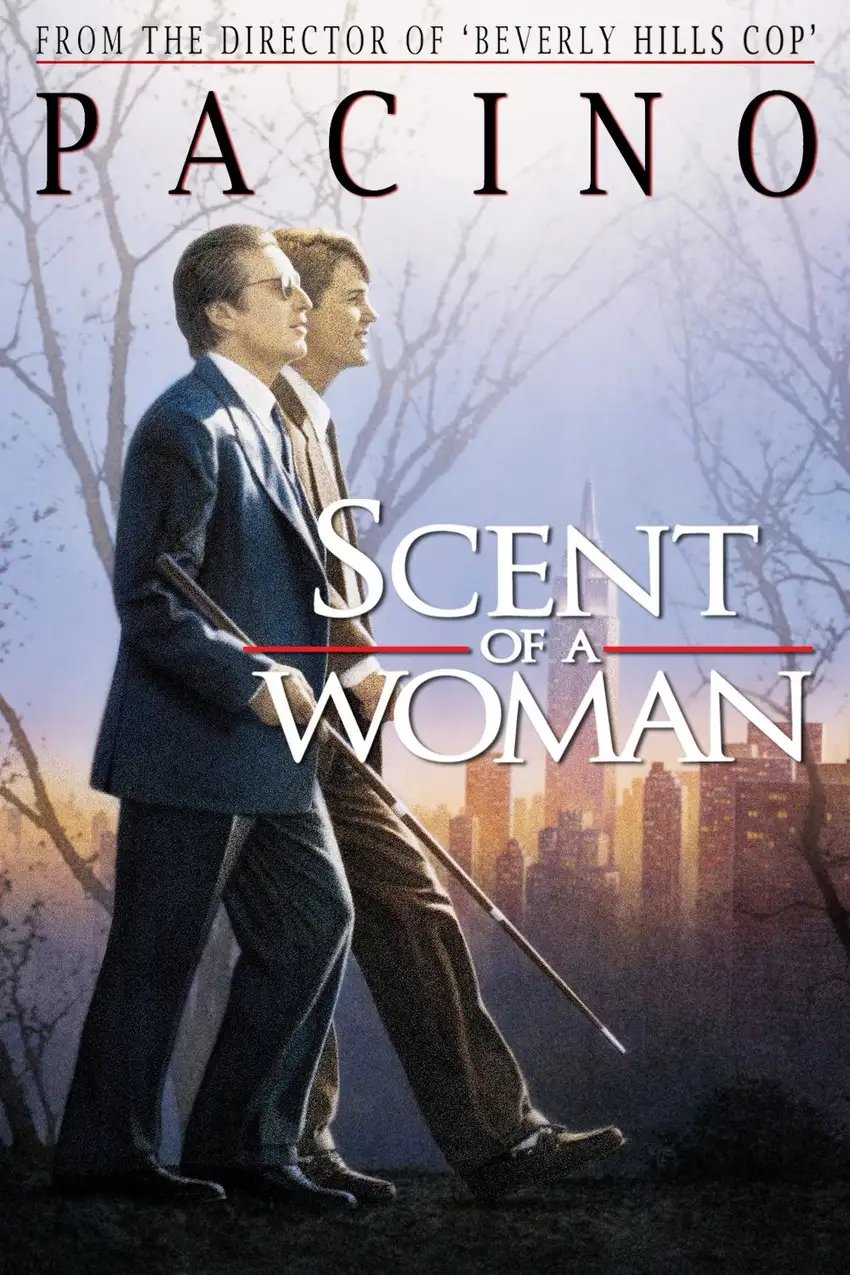 Actors:
Al Pacino, Chris O'Donnell, James Rebhorn, Gabrielle Anwar, Richard Ventire, Bradley Whitford, Ron Eldard, Philip S. Hoffman
Directed by:
Martin Brest
Frank (Al Pacino) is a retired Lt. Col. in the US army. He's blind and impossible to get along with. Charlie (Chris O'Donnell) is at school and is looking forward to going to college. To help pay for a trip home for Christmas, he agrees to look after Frank over Thanksgiving. Frank's niece says this will be easy money, but she didn't bet on Frank spending his Thanksgiving in New York.
Scent of a Woman finds a place at #10 not just because of Al Pacino's Academy Award-winning performance, but because it's one of the few film performances where he ventures outside of his usual wheelhouse (crime, action, straight-up villainy, etc).
His pained monologue about being "in the dark" will go down in history as one of the most memorable ever committed to celluloid. An immortal expression.
In short, a brilliant show of versatility.
---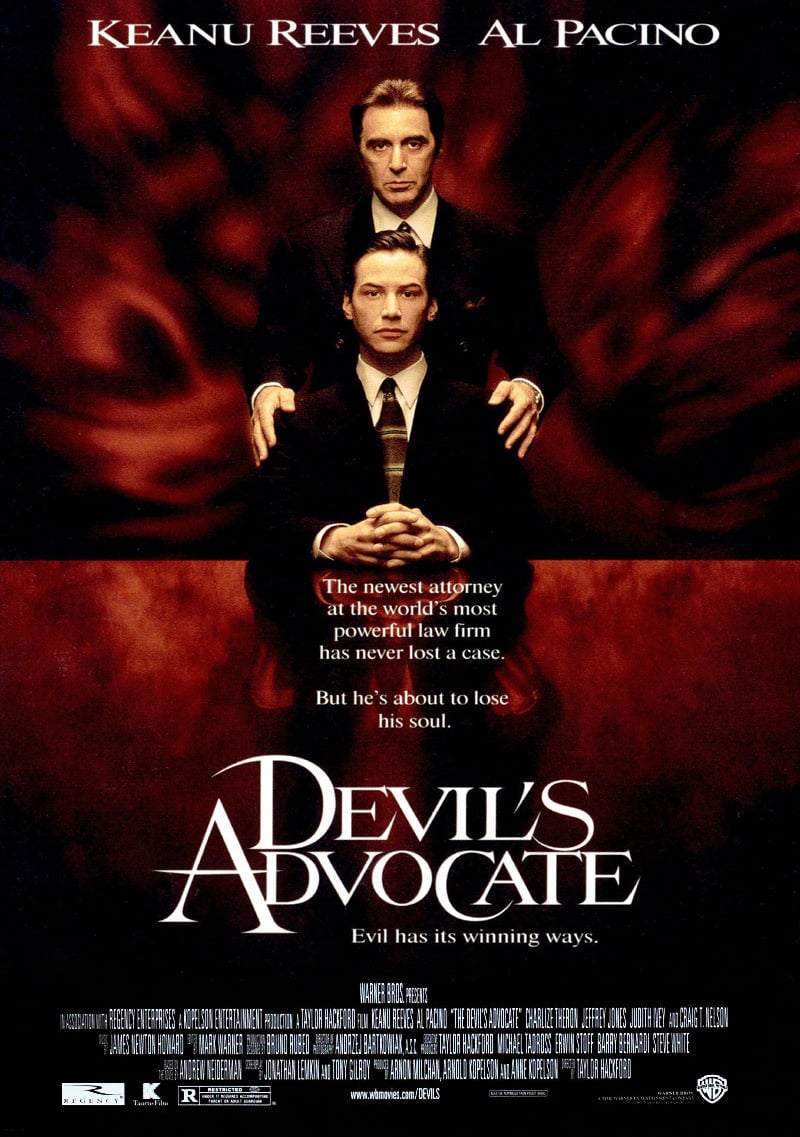 Genre:
Supernatural Horror
Actors:
Keanu Reeves, Al Pacino, Charlize Theron, Jeffrey Jones, Judith Ivey, Connie Nielsen, Craig T. Nelson, Heather Matarazzo
Directed by:
Taylor Hackford
Aspiring Florida defense lawyer Kevin Lomax (Keanu Reeves) accepts a high-powered position at a New York law firm headed by legal shark John Milton (Al Pacino). As Kevin moves up in the firm's ranks, his wife, Mary Ann (Charlize Theron), has several frightening, mystical experiences that begin to warp her sense of reality. With the stakes getting higher with each case, Kevin quickly learns that his mentor is planning a far greater evil than simply winning without scruples.
I anticipate that this may raise some eyebrows, especially in comparison to some other entries on this list.
But the on-screen chemistry between Al Pacino and Keanu Reeves — the latter of whom reportedly sacrificed over US$1 million of his salary so the production could afford to secure the former — was the stuff of cinema magic. Not to mention: virtually every line of dialogue uttered by Pacino is a thing of immense pleasure.
Plus he's playing the literal devil. What more could you want?
---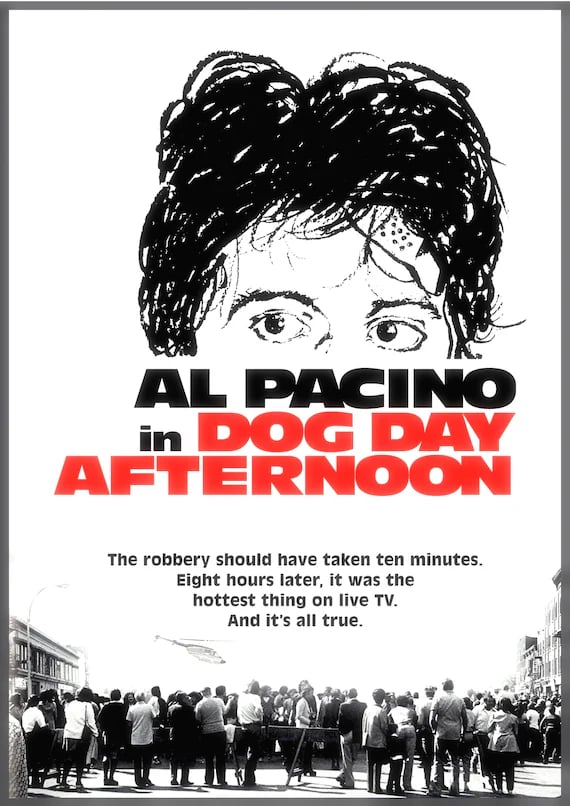 Actors:
Al Pacino, John Cazale, Charles Durning, Chris Sarandon, Penelope Allen, Sully Boyar, Susan Peretz, James Broderick
Directed by:
Sidney Lumet
When inexperienced criminal Sonny Wortzik (Al Pacino) leads a bank robbery in Brooklyn, things quickly go wrong, and a hostage situation develops. As Sonny and his accomplice, Sal Naturile (John Cazale), try desperately to remain in control, a media circus develops and the FBI arrives, creating even more tension. Gradually, Sonny's surprising motivations behind the robbery are revealed, and his standoff with law enforcement moves toward its inevitable end.
Despite the assertions of many, this was Al Pacino at his rawest. Not The Godfather. Not Serpico. Not even Scarface.
There was something about the way he captured the desperation of real-life bank robber John Wojtowicz ("Sonny Wortzik" in the film) that sets Dog Day Afternoon apart from the rest of his filmography.
This also marked the third time Pacino collaborated with The Godfather co-star John Cazale (AKA Fredo Corleone).
---
Genre:
Psychological Thriller
Actors:
Al Pacino, Robin Williams, Hilary Swank, Maura Tierney, Martin Donovan, Nicky Katt, Paul Dooley, Crystal Lowe, Jay Brazeau
Directed by:
Christopher Nolan
Veteran police detective Will Dormer (Al Pacino) is sent to a small Alaskan town to investigate the murder of a teenage girl. Forced into a psychological game of cat-and-mouse by the primary suspect Walter Finch (Robin Williams), events escalate and the detective finds his own stability dangerously threatened.
One of Christopher Nolan's most underrated films, Insomnia is a taut psychological thriller that highlighted both Al Pacino and the late Robin Williams' capacity for claustrophobically introspective acting.
It's a crying shame these two never shared the screen more.
---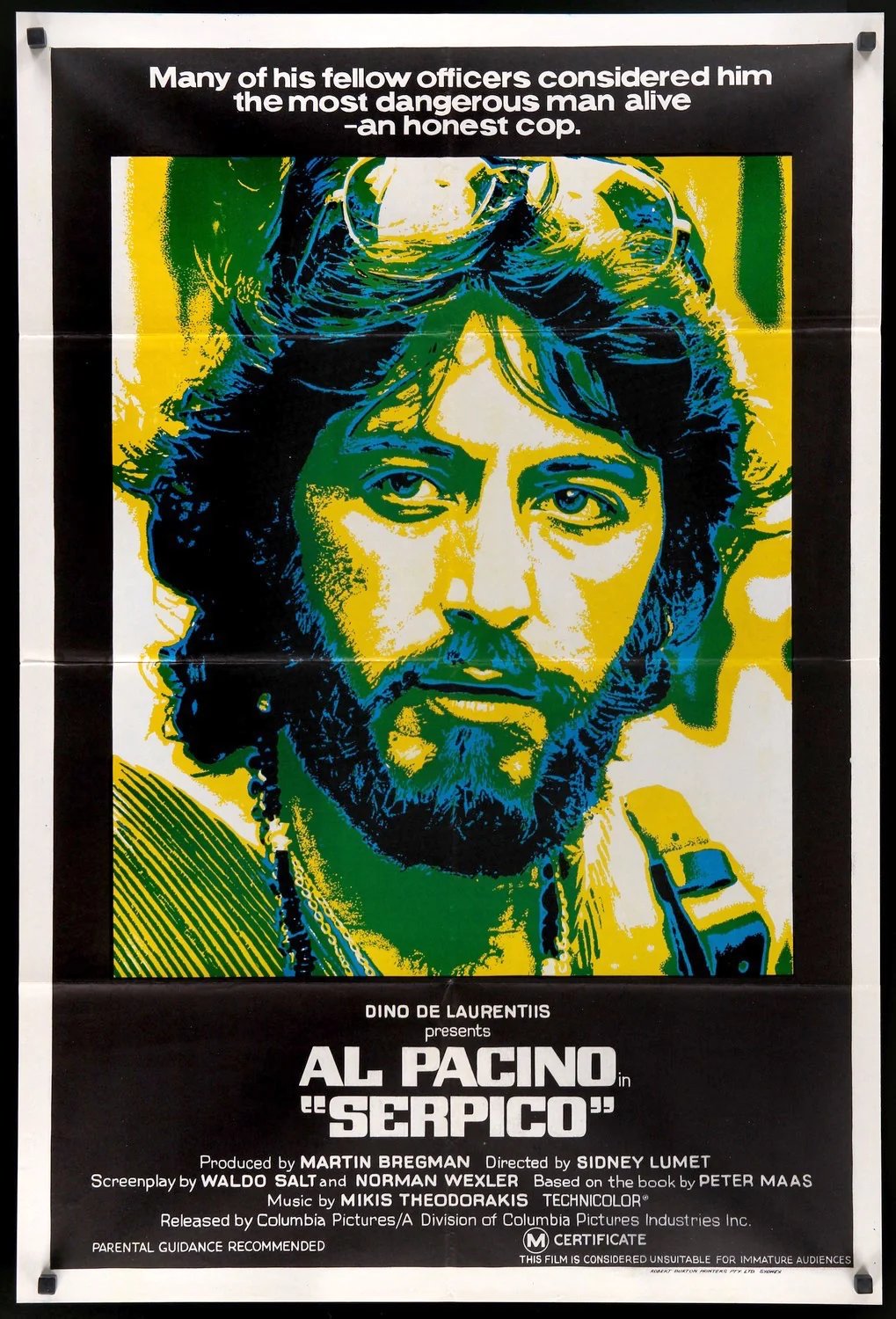 Actors:
Al Pacino, John Randolph, Jack Kehoe, Biff McGuire, Barbara Eda-Young, Cornelia Sharpe, Tony Roberts, Allan Rich
Directed by:
Sidney Lumet
Frank Serpico (Al Pacino) is an idealistic New York City cop who refuses to take bribes, unlike the rest of the force. His actions get Frank shunned by the other officers, and often placed in dangerous situations by his partners. When his superiors ignore Frank's accusations of corruption, he decides to go public with the allegations. Although this causes the Knapp Commission to investigate his claims, Frank has also placed a target on himself. The film is based on a true story.
No serious list of the best Al Pacino movies would be complete without a nod to Serpico. Nor could anyone else have pulled this role off.
---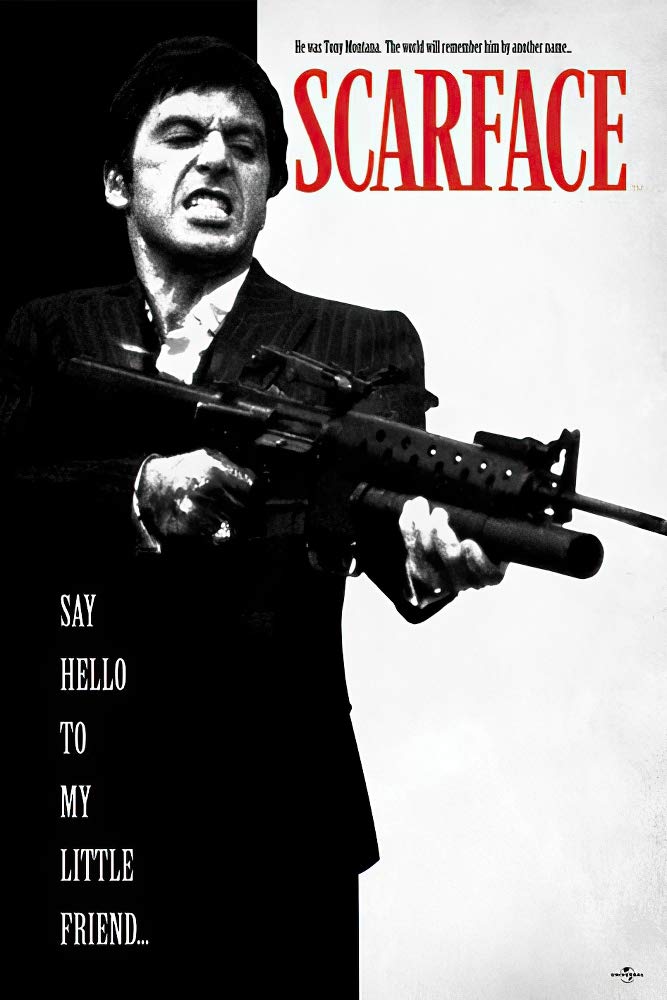 Actors:
Al Pacino, Steven Bauer, Michelle Pfeiffer, Mary Elizabeth Mastrantonio, Robert Loggia, Miriam Colon, F. Murray Abraham
Directed by:
Brian De Palma
After getting a green card in exchange for assassinating a Cuban government official, Tony Montana (Al Pacino) stakes a claim on the drug trade in Miami. Viciously murdering anyone who stands in his way, Tony eventually becomes the biggest drug lord in the state, controlling nearly all the cocaine that comes through Miami. But increased pressure from the police, wars with Colombian drug cartels and his own drug-fuelled paranoia serve to fuel the flames of his eventual downfall.
Bloody, over-the-top, extremely quotable, but above all else: iconic.
Some roles seem to overshadow others. And regardless of how you might personally feel about Scarface, there's no denying it was one of Al Pacino's greatest career moments.
This one was for the culture.
---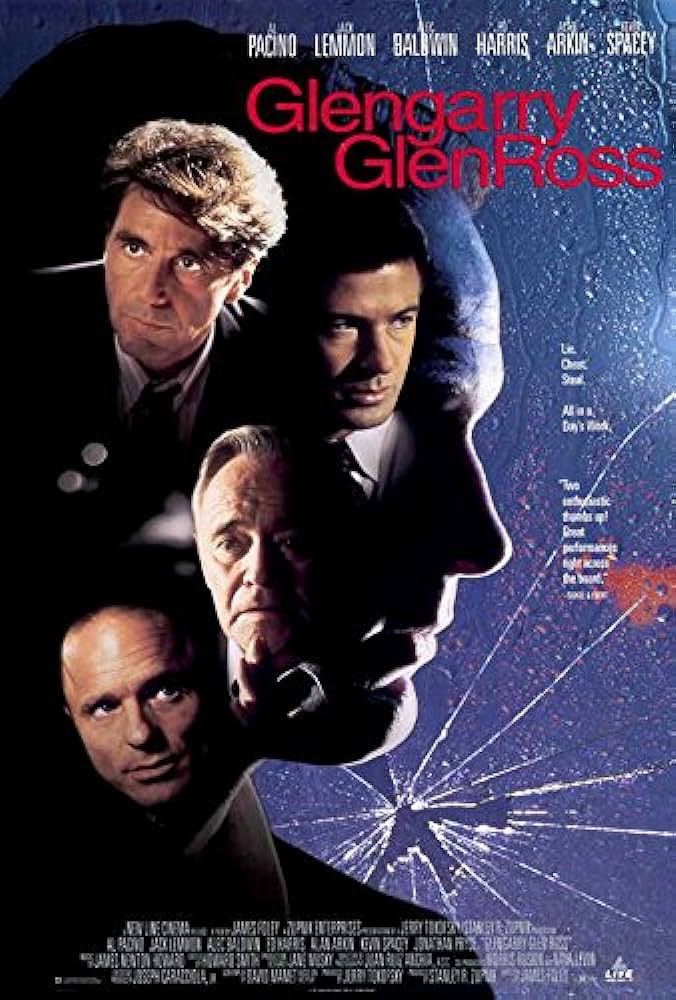 Actors:
Jack Lemmon, Al Pacino, Alec Baldwin, Alan Arkin, Ed Harris, Kevin Spacey, Jonathan Pryce, Bruce Altman, Jude Ciccolella
When an office full of New York City real estate salesmen is given the news that all but the top two will be fired at the end of the week, the atmosphere begins to heat up. Shelley Levene (Jack Lemmon), who has a sick daughter, does everything in his power to get better leads from his boss, John Williamson (Kevin Spacey), but to no avail. When co-worker Dave Moss (Ed Harris) comes up with a plan to steal the leads, things get complicated for the tough-talking salesmen.
I've never understood why blokes who work in sales gravitate towards Scarface when Glengarry Glen Ross is a profoundly more relevant shout.
I guess it's easier to keep a salesman's attention with fantasies of cocaine, guns, and Michelle Pfeiffer than it is with — oh I don't know — people actually trying to survive the bleak and despairing world of sales?
In any case, this star-studded production — which included Alec Baldwin, Jack Lemmon, and, uh… *cough* Kevin Spacey *cough* — isn't just essential Al Pacino viewing. It's essential cinema viewing. And a masterful adaptation of David Mamet's Pulitzer Prize-winning play of the same name.
They just don't make 'em like they used to.
---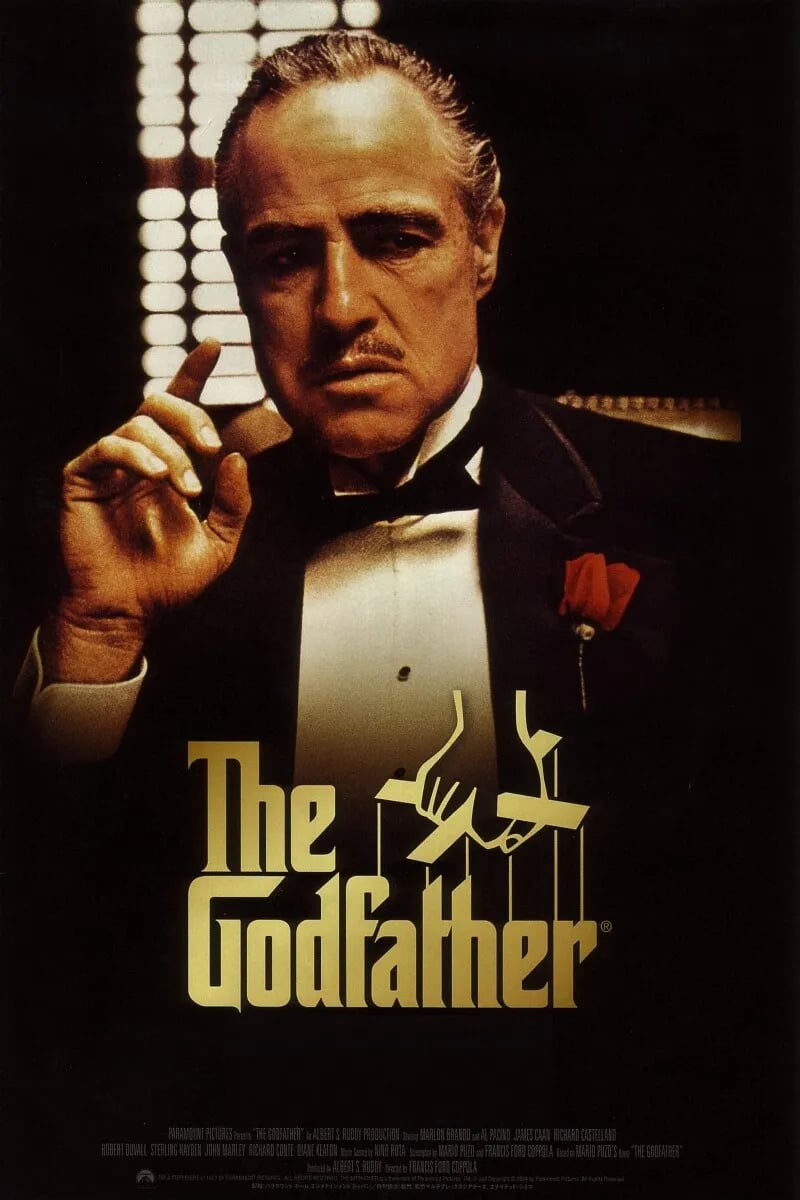 Actors:
Marlon Brando, Al Pacino, James Caan, Richard Castellano, Robert Duvall, Sterling Hayden, John Marley, Richard Conte, Diane Keaton, Abe Vigoda, Talia Shire, Gianni Russo, John Cazale, Rudy Bond, Al Martino, Morgana King, Lenny Montana
Directed by:
Francis Ford Coppola
Based on Mario Puzo's novel of the same name, The Godfather focuses on the powerful Italian-American crime family of Don Vito Corleone (Marlon Brando). When the don's youngest son, Michael (Al Pacino), reluctantly joins the Mafia, he becomes involved in the inevitable cycle of violence and betrayal. Although Michael tries to maintain a normal relationship with his wife, Kay (Diane Keaton), he is drawn deeper into the family business.
Zero explanation required. It's one of the greatest actors of all time breaking out in one of the greatest films of all time. Cinema redefined.
Although, an explanation might be required as to why The Godfather is: a) #3 on a best Al Pacino movies list and not #1; and b) why the first Godfather ranks below Part II. (We've provided the latter further down in this article.)
Side note: imagine making The Godfather with just two feature-length performances under your belt. Legendary stuff.
---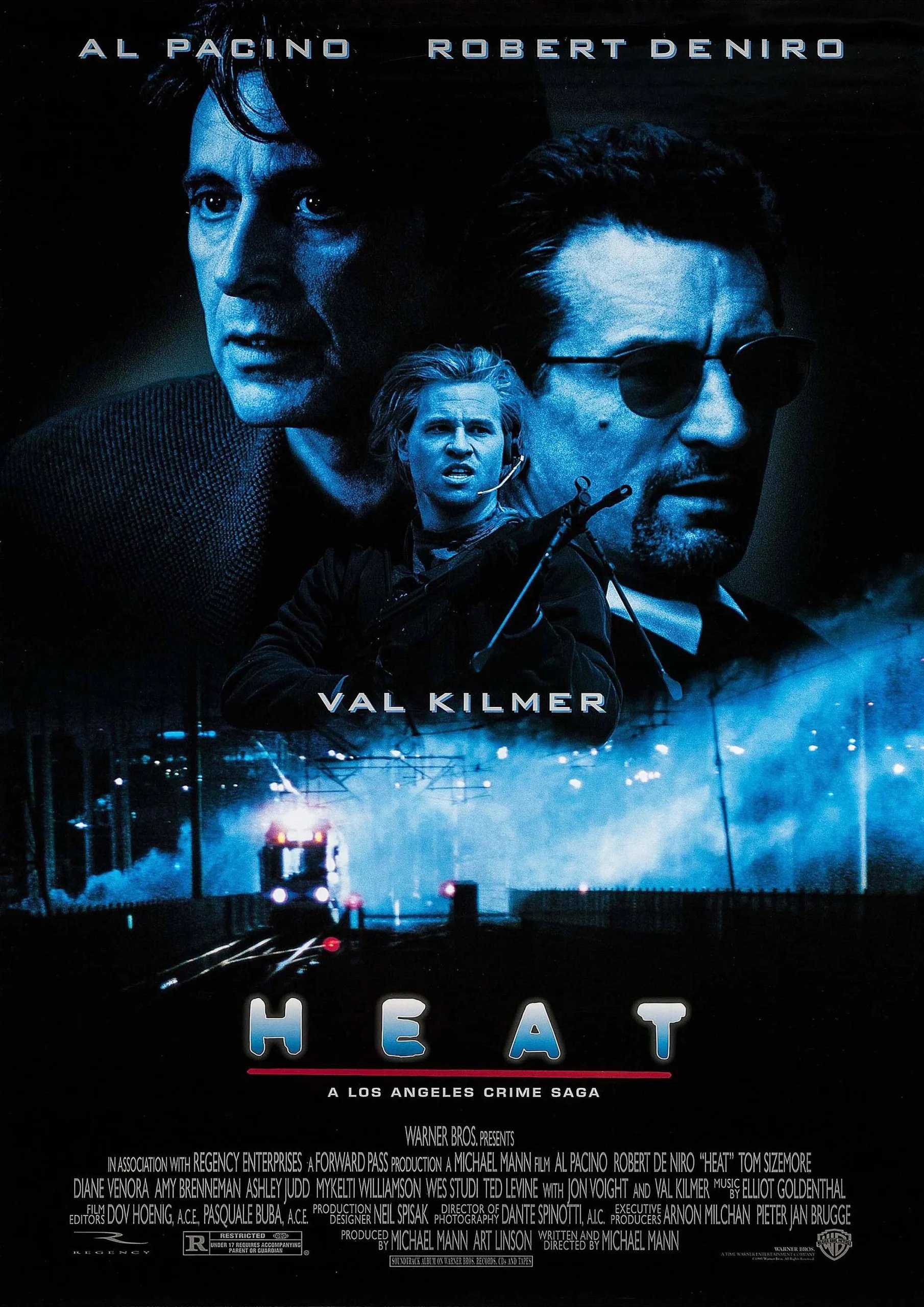 Actors:
Al Pacino, Robert De Niro, Val Kilmer, Jon Voight, Tom Sizemore, Diane Venora, Amy Brenneman, Ashley Judd, Mykelti Williamson, Wes Studi, Ted Levine, Dennis Kaysbert, William Fichtner, Natalie Portman, Tom Noonan, Kevin Gage, Hank Azaria, Danny Trejo
Directed by:
Michael Mann
Master criminal Neil McCauley (Robert De Niro) is trying to control the rogue actions of one of his men, while also planning one last big heist before retiring. Meanwhile, Lieutenant Hanna (Al Pacino) attempts to track down McCauley as he deals with the chaos in his own life, including the infidelity of his wife (Diane Venora) and the mental health of his stepdaughter (Natalie Portman). McCauley and Hanna discover a mutual respect, even as they try to thwart each other's plans.
Al Pacino as Lt. Vincent Hanna in Michael Mann's Heat is the archetypal Al Pacino character. It's a role that perfectly encapsulates the broader strokes of his career success.
Everyone seems to have this idea that it's because he plays bad guys with a redeeming sliver of good in them when it's actually the reverse: a good guy with an unshakeable, almost overwhelming, element of darkness they're constantly grappling with. That's where Pacino shines. Heat is definitive proof.
His characters understand the so-called line; understands his existence is one side of the same coin; and fully acknowledges this while championing consequentialism (ends-justify-the-means/morality-is-relative).
Apply it to any of his characters and you'll start to see the arcs more clearly. Perhaps even appreciate the movies themselves a little more.
---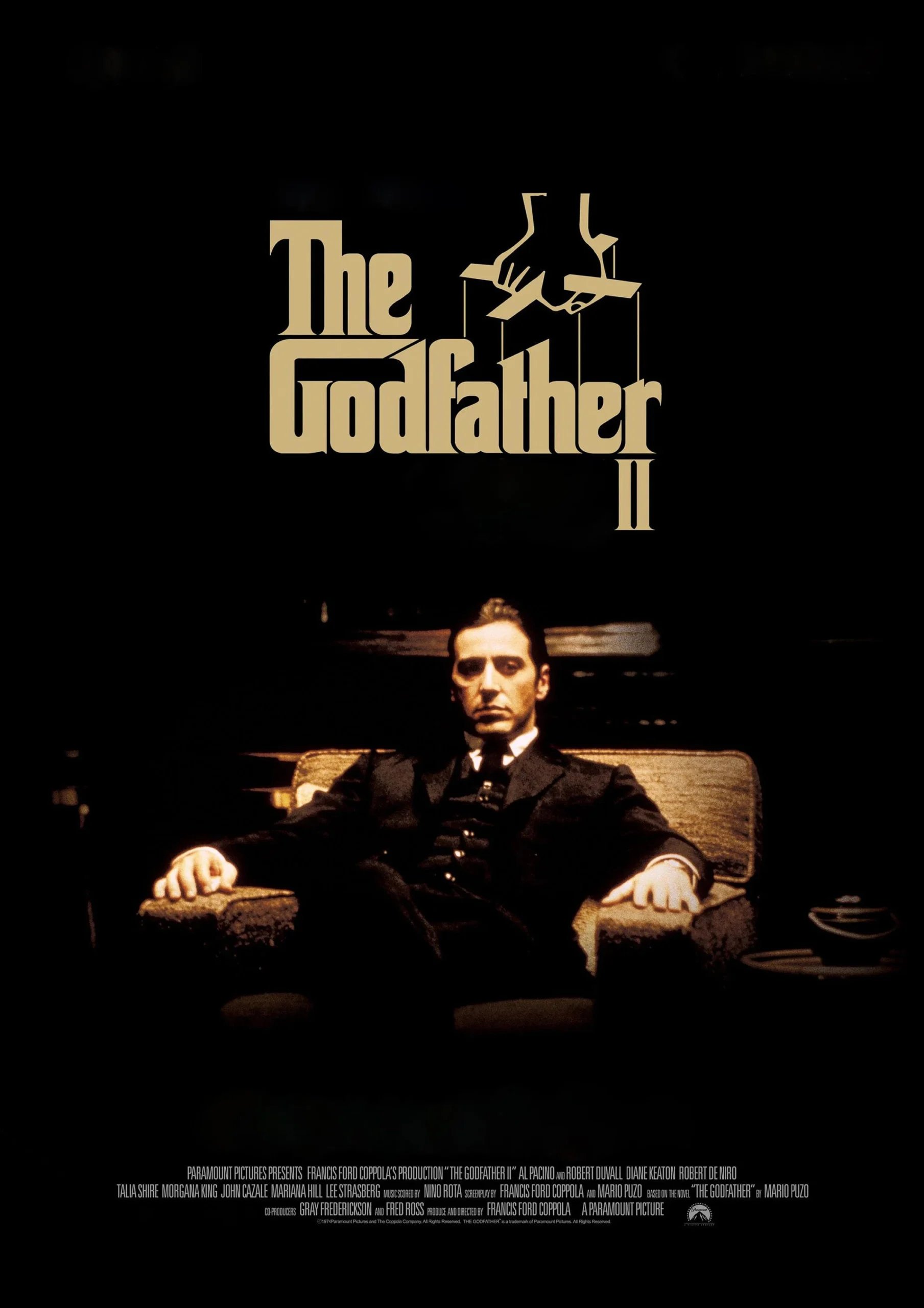 Actors:
Al Pacino, Robert Duvall, Diane Keaton, Robert De Niro, John Cazale, Talia Shire, Lee Strasberg, Michael V. Gazzo, G.D. Spradlin, Richard Bright, Gastone Moschin, Tom Rosqui, Bruno Kirby, Frank Sivero, Morgana King, Francesca De Saplo, Marianna Hill
Directed by:
Francis Ford Coppola
The compelling sequel to The Godfather, contrasting the life of Corleone father and son. It traces the problems of Michael Corleone (Al Pacino) in 1958 and that of a young immigrant Vito Corleone (Robert De Niro) in 1917's Hell's Kitchen. Michael survives many misfortunes and Vito is introduced to a life of crime.
To be sure, the first Godfather was a monumental achievement in cinematic history which many have since attempted to recreate (though none have realistically ever come close).
The inaugural adaptation of Mario Puzo's novel put Al Pacino on the map, and is an undeniably phenomenal performance. But The Godfather, Part II is where the actor had the opportunity to really add nuance to that subdued darkness I've been yammering on about.
It's not the dipping of a toe from conventional morality that audiences find fascinating. It's this: the violent descent. The immolation of one's soul. The portrayal of irretrievable loss. Witnessing just how far a man may fall from grace, all for the supposed benefit of his family.
The transformation of Al Pacino's Michael Corleone is one that's poetic. One that's on par with the Greek tragedies of yore. Hence why The Godfather, Part II will forever hold the crown.
And nothing you say could ever convince me otherwise.
---
Honourable Mentions
Any Given Sunday (1999)
Directed by: Oliver Stone
Actors: Al Pacino, Cameron Diaz, Dennis Quaid, James Woods, Jamie Foxx, LL Cool J, Ann-Margret, Lauren Holly, Lawrence Taylor, Jim Brown, Aaron Eckhart, Bill Bellamy, Matthew Modine, John C. McGinley
Synopsis:
Four years ago, Tony D'Amato's (Al Pacino) Miami Sharks were at the top. Now, his team is struggling with three consecutive losses, sliding attendance, and aging heroes, particularly 39-year-old quarterback Jack "Cap" Rooney (Dennis Quaid). Off the field, D'Amato is struggling with a failed marriage and estranged children, and is on a collision course with Christina Pagniacci (Cameron Diaz), the young president/co-owner of the Sharks organization.
Donnie Brasco (1997)
Directed by: Mike Newell
Actors: Al Pacino, Johnny Depp, Michael Madsen, Bruno Kirby, James Russo, Anne Heche, Zeljko, Gerry Becker, Robert Miano, Brian Tarantina, Rocco Sisto, Zach Grenier, Walt MacPherson, Ronnie Farer
Synopsis:
Joseph Pistone (Johnny Depp) is an FBI agent who has infiltrated one of the major New York Mafia families and is living under the name Donnie Brasco. He develops a relationship with mob hitman Benjamin "Lefty" Ruggiero (Al Pacino) in order to get deeper undercover, but ends up developing a real friendship with the Mafioso. As their relationship develops, Pistone must decide whether or not to complete his job, knowing that it will lead to the murder of his new friend.
Carlito's Way (1993)
Directed by: Brian De Palma
Actors: Al Pacino, Sean Penn, Penelope Ann Miller, John Leguizamo, Luis Guzman, Angel Salazar, Al Israel, Ingrid Rogers, James Rebhorn, John Finn, Michael P. Moran, Joseph Siravo, Frank Minucci, Rocco Sisto
Synopsis:
A free man after years in prison, Carlito Brigante (Al Pacino) intends to give up his criminal ways, but it's not long before the ex-con is sucked back into the New York City underworld. Reconnecting with his dancer girlfriend, Gail (Penelope Ann Miller), Carlito gets entangled in the shady dealings of his friend Dave Kleinfeld (Sean Penn), who also serves as his lawyer. When Carlito and Kleinfeld run afoul of shifty gangster Benny Blanco (John Leguizamo), it sets them on a dangerous path.
The Insider (1999)
Directed by: Michael Mann
Actors: Al Pacino, Russell Crowe, Christopher Plummer, Diane Venora, Philip Baker Hall, Lindsay Crouse, Debi Mazar, Renee Olstead, Hallie Kate Eisenberg, Stephen Tobolowsky, Colm Freore, Bruce McGill
Synopsis:
After seeking the expertise of former "Big Tobacco" executive Jeffrey Wigand (Russell Crowe), seasoned TV producer Lowell Bergman (Al Pacino) suspects a story lies behind Wigand's reluctance to speak. As Bergman persuades Wigand to share his knowledge of industry secrets, the two must contend with the courts and the corporations that stand between them and exposing the truth. All the while, Wigand must struggle to maintain his family life amidst lawsuits and death threats.
The Recruit (2003)
Directed by: Roger Donaldson
Actors: Colin Farrell, Al Pacino, Bridget Moynahan, Gabriel Macht, Kenneth Mitchell, Karl Pruner, Mike Realba, Elisa Moolecherry, Merwin Mondesir, Sam Kalilieh, Chris Owens, Richard Fitzpatrick, Chris Owens
Synopsis:
In an era when the country's first line of defense — human intelligence — is more important than ever, comes an explosive thriller that gives an insider's view into the CIA's secret training ground: The Farm. James Clayton (Colin Farrell) might not have the attitude of a typical recruit, but he is one of the smartest graduating seniors in the country — and he's just the person that Walter Burke (Al Pacino) wants in the Agency.
---
There's more where that came from. Find out why The Godfather, Part II is the perfect sequel which no other sequel shall ever come close to beating.
If you agree/disagree with our picks for the best Al Pacino movies of all time, sound off in the comments with what we may have missed.
Related Articles:
Also Read:
---
Best Al Pacino Movies — Frequently Asked Questions
What film made Al Pacino famous?
The Godfather (1972) directed by Francis Ford Coppola put Al Pacino on the map. In his third-ever feature-length film, Al Pacino achieved legend status as Michael Corleone, crime family successor to Marlon Brando's Don Vito Corleone.
Al Pacino was nominated for Best Supporting Actor at the 45th Academy Awards, alongside co-stars James Caan and Robert Duvall; later earning a nod for Best Actor in the wake of The Godfather Part II (1975).
What was Al Pacino's best role?
Michael Corleone in The Godfather trilogy is considered to be Al Pacino's greatest role. Although Lt. Vincent Hanna in Heat (1995), Tony Montana in Scarface (1983), Ricky Roma in Glengarry Glen Ross (1992), and Frank Slade in Scent of a Woman (1992) all come awfully close.
How much did Al Pacino make for 'Scarface'?
Al Pacino was reportedly paid around US$500,000, possibly with a percentage of the film's gross box office revenue.
Adjusted for 1980s inflation, this equates to around US$10-20 million in present day.
Who is better: Al Pacino or Robert De Niro?
Dumb question. Dumb comparison. Both are iconic in their own right, and leading actors of their generation. You should feel stupid for asking such a question.