When franchise star Michelle Rodriguez revealed Fast & Furious 9 would see Dominic Toretto's familia take their NoS-fuelled antics to outer space, part of us didn't want to believe it. Part of us still had faith director Justin Lin maintained some level of self-awareness. We posted an article – complete with a tongue-in-cheek photoshop courtesy of yours truly – and thought nothing more of it. Fast forward a few months, a fresh trailer has now dropped, and here we sit, with egg all over our face.
"Nobody was supposed to know that… Oh, well, no, I'm not lucky enough to hit space, but we did get a female writer and showed a lot of love, I think, on this one," Rodriguez confirmed during a SiriusXFM interview last year.

"Thanks to Justin Lin. We were able to, to find a little bit more attention and love for the girls in the movie. And so I'm really hopeful that that, that shows through in the final product."
As seen in the latest Fast & Furious 9 trailer above, the select characters "lucky enough to hit space" are none other than comic relief duo: Ludacris' Tej Parker and Tyrese Gibson's Roman Pearce. And as we predicted from several quarter-miles away, they doubled down on the silly factor with a Dodge Charger that's been – to quote myself – modded to fuck.
---
---
RELATED: 'Fast & Furious' – A Timeline Of The Franchise's Escalating Silliness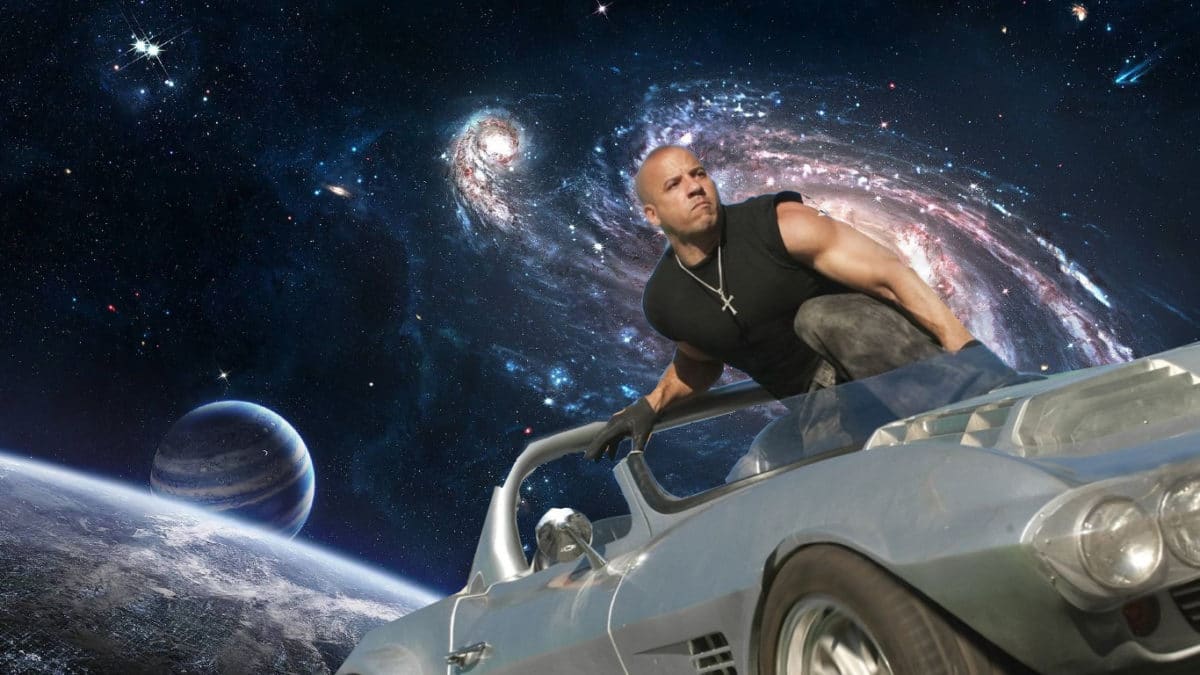 "I think through the years, part of the fun is to come up with crazy ideas to challenge ourselves," Lin tells Collider.

"But I have to say, we never do it just for sake of shock value. It always takes something from the theme or the character journey. I can say that when I was working on Fast 9, there was a thread that felt very appropriate to take us to places that we've never gone to."
"I drove to Vin's house and I sat down with him and we looked at each other and we were like, 'OK… this is the one. This is the one that we're going to try.' And it felt very appropriate. So, I kind of can't wait to share with the world, because the more we push and do crazier stunts and set-pieces, the more we have to check ourselves to make sure we earn that."
Alongside Vin Diesel, Rodriguez, Ludacris, and Gibson, Fast & Furious 9 will also mark the return of Jordana Brewster, Lucas Black, Charlize Theron, as well as Sung Kang (yes… Han's "back from the dead"). John Cena will be introduced to the universe as Dom's master thief/assassin/performance driver brother – sigh – with Cardi B and reigning UFC Heavyweight Champion Francis Ngannou also cast in undisclosed roles (although there's a spoilery hint regarding the latter based on the footage provided so far).
Fast & Furious 9 was originally scheduled for international release on May 20th last year. That date has since been pushed to June 25th of 2021.