If you were confused by the tweet Swedish billionaire Lukas Matsson (Alexander Skarsgård) fired off during the latest episode of HBO's Succession, but more specifically why it threatened to bring the entire Waystar RoyCo investor presentation to a screeching halt… fear not.
We have an easy-to-digest explanation to bring you up to speed without any of the condescension you'd field from, say, Kieran Culkin's Roman Roy. Or any key player orbiting the black belts of acerbic sarcasm that is the Roy clan, for that matter.
Check it out below.
RELATED: Here Are The Very Best Watches Featured In 'Succession' Season 4 So Far
Lukas Matsson Succession Season 4 Episode 6 Tweet Explained:
What Does "Doderick Macht Frei" Mean?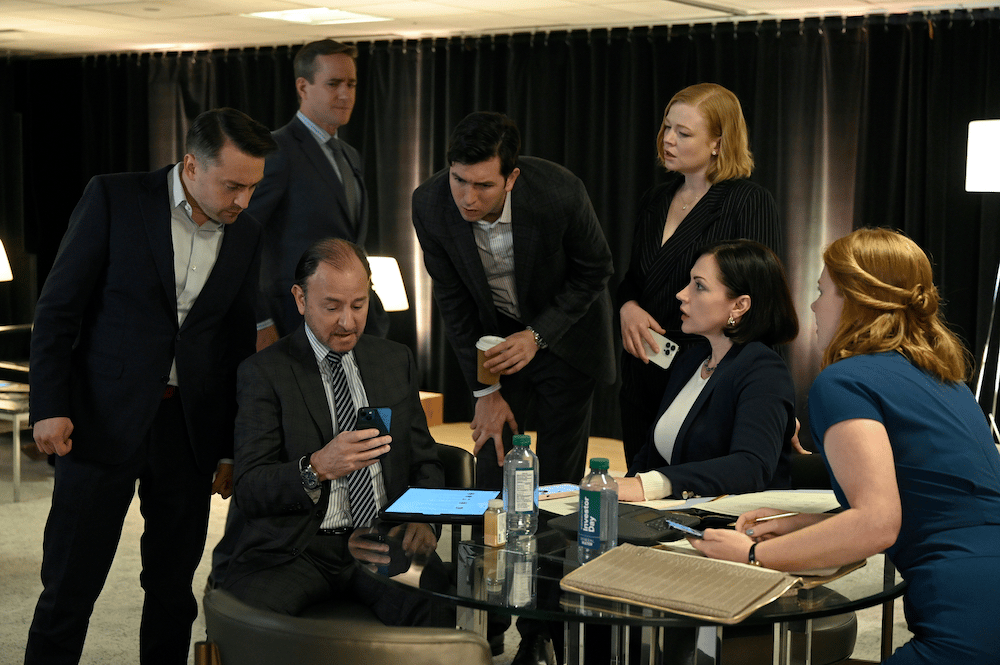 Context
In the Succession season 4 episode 6 (titled 'Living+'), Waystar Royco unveils the eponymous product offering that's a strange blend between their cruise ship experience and gated communities for the elderly.
The dystopic assisted living concept is a spoof of the Walt Disney Company's equally-dystopic proposal: "Storyliving by Disney – vibrant new neighbourhoods that are infused with the Company's special brand of magic." Only with old people in place of grotesque Disney Adults.
Kendall Roy (Jeremy Strong) himself describes Living+ to his fellow CE-Bro Roman as "planning to warehouse the elderly and keep them drunk on content while we suck 'em dollar-dry."
Now, given Skarsgard's Lukas Matsson is on the verge of acquiring Waystar Royco wholesale, he obviously isn't too keen on having to pay for something that's potentially a loss generator. The Roy clan are simply supposed to be "minding shop," after all.
RELATED: Inside The $125 Million Hilltop Mansion From 'Succession' Season 4
During a private interaction with Shiv Roy (Sarah Snook), he urges her to somehow kill the rollout, citing real estate's lack of scalability as a key reason.
When neither Shiv nor Lukas is able to stop the manic runaway train being steered by Kendall and, to a certain extent, Roman, Lukas decides to publicly disparage Living+ with a "very nasty" Holocaust joke a la Elon Musk.
But it backfires thanks to a rousing presentation from Kendall, and positive investor outlook off the back of all this sends the Waystar RoyCo stock price skyrocketing.
NOTE: While Lukas Matsson was the one to physically tweet the dark wisecrack in question, we can also credit Shiv for providing the inspiration; the latter having compared Living+ to prison camps on yet another one of their secretive phone calls right before the Gojo founder & CEO hit send.
RELATED: HBO's 'Succession' Finale Has A Feature-Length Duration Of 90 Minutes
Arbeit Macht Frei
"Doderick macht frei" is a play on the German phrase "Arbeit macht frei," which translates to "work sets you free" or "work makes one free." This appeared at the entrances of Nazi concentration camps throughout World War II, including the infamous Auschwitz.
Essentially, Lukas Matsson was distastefully comparing Living+ to Nazi concentration camps.
Who is Doderick?
As some of you may recall, Doderick is the official Waystar RoyCo mascot. A cartoon dog intended to be the corporation's answer to Mickey Mouse.
Doderick is also who Cousin Greg (Nicholas Braun) was dressed as during his extremely brief employment at a Waystar RoyCo amusement park. Right before he vomited through the costume's eye holes and got his ass fired for reeking of weed on the job.
RELATED: 'Succession' Finale Explained – Why They Crowned [SPOILERS]