The question of when Amazon's Emmy-nominated superhero satire would make like a Thin Lizzy song and return to streaming queues has been on the lips of just about everyone for the past two years. Thankfully, the speculation can now end. The Boys season 3 has a confirmed release date of June 3rd, 2022.
Prior to this latest announcement, series lead Karl Urban – who portrays the gruff-yet-loveable former SAS operator, William "Billy" Butcher – offered the following status update via Instagram after production officially concluded in Toronto, Ontario for what promises to be three times as bloody as season 2:

"And that's a wrap on The Boys season 3," writes the New Zealand dramatic talent.

"Massive thanks to our brilliant cast and crew for all the blood, [sweat, and tears] – and also to everyone involved in the production at Amazon Prime Video and Sony Pictures TV for working so hard to keep us all COVID safe."
---
---
RELATED: 'The Boys' Lands Five Primetime Emmy Nominations
"And of course massive thanks to [series creator Eric Kripke] for delivering a next-level bat shit crazy good season 3. I can't wait for y'all to see it. Be safe y'all."
Elsewhere, fellow cast members Jack Quaid (Hughie Campbell), Karen Fukuhara (Kimiko Miyashiro / The Female), and Erin Moriarty (Annie January / Starlight) celebrated the occasion in a similar fashion – taking to the latter's Instagram with the following caption:
"A labour of love, blood, sweat, tears, tequila, laughs, nose swabs, and so many 🖕s," writes Erin Moriarty.
"There is no group I would rather go through it all with. WRAPPEDIGGITY on season 3 of The Boys."
So what can we expect from the long-awaited follow-up? The two key aspects will involve the introduction of a precursor to Antony Starr's Homelander known as Soldier Boy – portrayed by Supernatural alum Jensen Ackles – and an extremely R-rated storyline, bordering on the X-rated, infamously known as 'Herogasm.'
---
---
Inspired by Captain America, Soldier Boy is a legacy mantle that has seen three different iterations in the original graphic novels written by Garthe Ennis and illustrated by Darick Robertson. The version which Jensen Ackles will portray in The Boys season 3 appears to be the first: among the first successful applications of Dr Vought's Compound V, World War II veteran famed for killing German soldiers by the dozens, and the leader of a team preceding The Seven, Payback.
Armed with a distinctive shield – not entirely unlike his Marvel counterpart – it has been hinted that Soldier Boy will be "much stronger, darker, and more menacing supe" than the one portrayed in the original source material. Homelander before Homelander with the same ego and ambition, Eric Kripke has previously stated.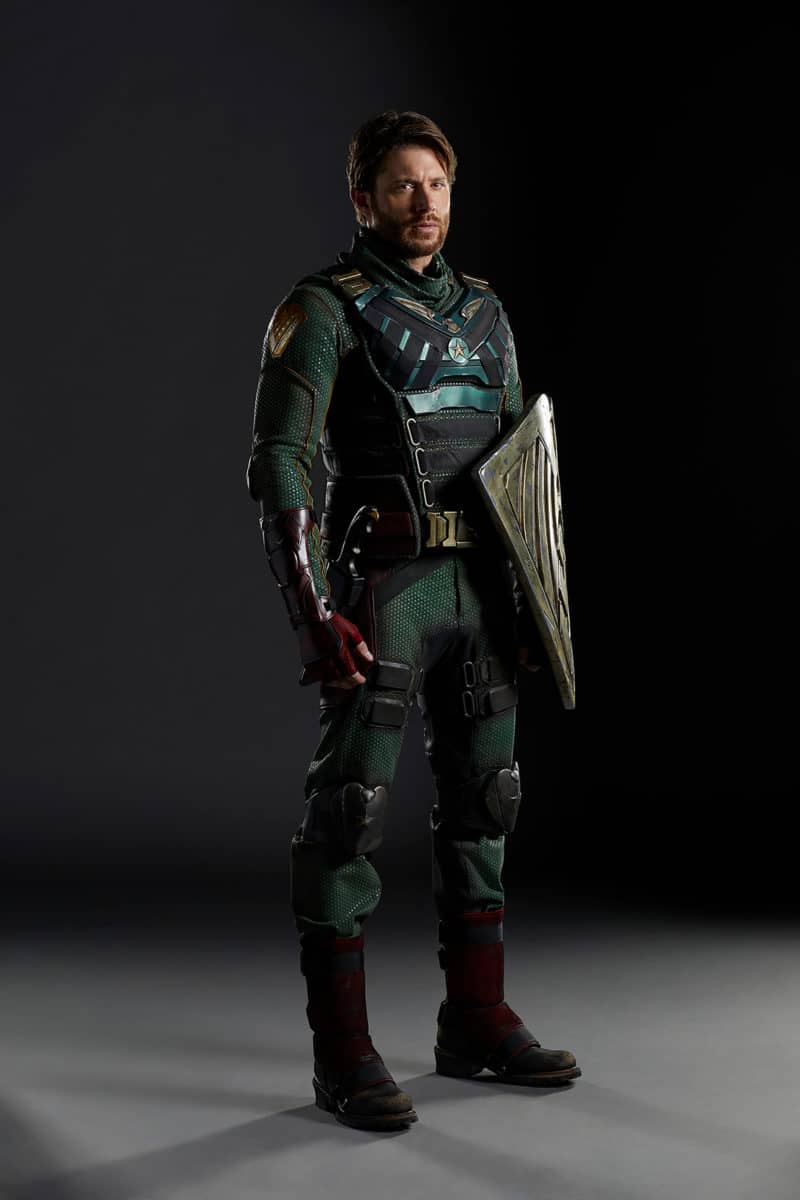 "Soldier Boy is the original badass," explains costume designer Laura Jean Shannon.

"Our goal was to highlight a bygone era of overt masculinity and grit. With that pedigree, we dove headfirst into baking in an all-American quality grounded in a military soldier's practicality with a heavy dose of old school cowboy swagger."

"We knew that the actor had to have Steve McQueen looks and chops with a John Wayne attitude – luckily, Jensen Ackles embodies all of that."
"It took six months but the experience surpassed Jensen's expectations," says Eric Kripke.

"And if you think the photos are cool, just wait till you see Jensen in action."
"Every dent, every scratch, every mark tells a story," writes Jensen Ackles, also via Instagram (sensing a pattern?).

"A story that ends with me winning."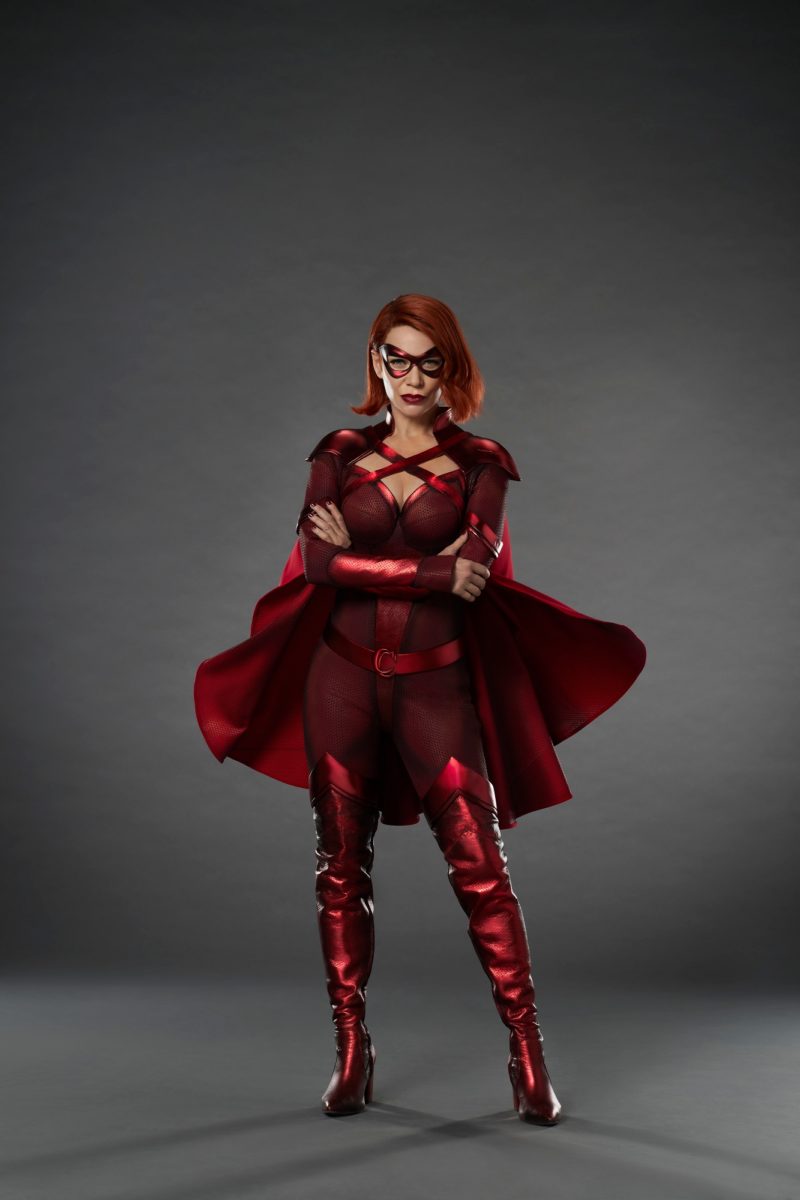 But you'd be mistaken if you thought the buck ended with the introduction of Ackles' character.
"Season 3's fun because it's not just about Soldier Boy… it's about the team he was a part of which is called Payback," adds Eric Kripke.
"And Laurie Holden plays Crimson Countess and there's a bunch of other heroes who are amazing. So sort of seeing who was The Seven before The Seven."
---
---
"And what was life like for Vought? In the history of Vought, what was it like in the 60s and 70s and 80s? To dig into the history of the world, not just the present has been a lot of fun."
RELATED: 'The Boys' Season 3 Will Feature An Extremely R-Rated Storyline
Last year, Eric Kripke confirmed The Boys season 3 would be tackling 'Herogasm', slated for the sixth episode of season 3, Kripke announced the wildly NSFW event via Twitter accompanied by a picture of the script written by Jessica Chou in exceedingly appropriate fashion.
"From day one, everyone dared me to make this episode," writes Kripke.

"Challenge met, motherfuckers."
The story arc depicts Billy Butcher, Hughie Campbell, Mother's Milk (portrayed by Laz Alonso), and Frenchie (portrayed Tomer Capon) sneaking into a secret annual party hosted by Vought – the eponymous 'Herogasm' event. As briefly alluded to in the pilot episode's club scene, this raunchy and off-the-rails affair involves an entire weekend of superhero orgies, drug use, and general debauchery on a secluded island resort, away from the public's prying eyes.
Considering what we've seen already, ranging from head-crushing oral sex, supe with a prehensile extendo penis, as well as The Seven's leader Homelander and his breast milk fetish/perennial mummy issues… one can only imagine the levels of debauchery Kripke has in store for us. Amazon's iteration of The Boys may not have been a completely faithful adaptation thus far, but it sounds as though season 3 will ensure some core elements stay the course (guess we'll find out come the mid-2022 release date).
Ahead of The Boys season 2 premiering back in 2020, Amazon was happy enough with the show's momentum to lock in an early renewal order for season 3; hence why they've eschewed any hang-up about playing things safe to give Kripke & Co carte blanche. Additionally, an accompanying after-show hosted by Aishia Tyler was also announced.
---
---
"Eric Kripke and the incredible cast of The Boys continue to deliver a wild and action-packed series full of surprises and can't-miss moments that have made the series a global hit," says Vernon Sanders, Co-Head of Television at Amazon Studios.
"We couldn't be more excited to see where Eric takes The Boys and the supes in season 3, and to have Aisha Tyler join The Boys family as the host of Prime Rewind: Inside The Boys."
A few months later, in light of data that indicated The Boys season 2 had been the most-watched global launch of an Amazon original series ever, growing in audience by a considerable +89% since the first season, Amazon decided it'd be in their best interest to pre-emptively give an R-rated spin-off about superhero college the greenlight.
RELATED: 'The Boys' Spin-Off Series About Superhero College Will Be R-Rated
According to Variety, here's what we're in for:
The spin-off is set at America's only college exclusively for young adult superheroes (or "supes") that is run by Vought International. It is described as an irreverent, R-rated series that explores the lives of hormonal, competitive supes as they put their physical, sexual, and moral boundaries to the test, competing for the best contracts in the best cities. Part college show, part Hunger Games – with all the heart, satire, and raunch of The Boys.
The Boys writer and executive producer – Craig Rosenberg – will serve as showrunner as well as an executive producer once again for this spin-off. Rosenberg is currently in the process of penning the pilot script. Kripke, on the other hand, has also signed on as an executive producer, alongside Seth Rogen, Evan Goldberg, and James Weaver.
Once again, The Boys season 3 now has a June 3rd of 2022 release date – better fire up those Amazon Prime Video subscriptions.